Everything You Need to Know About Making Marijuana Tincture
A cannabis tincture is a great way to deliver cannabinoids into the body, avoiding the pitfalls of smoking while still inducing a blissful buzz. Here's what marijuana tinctures are and how to make them!
---
Everything you need to know about cannabis tinctures (recipe included).
---
Cannabis tinctures serve as a perfect entry point to the world of cannabis, especially if you aren't a fan of smoking or vaping. They also provide several unique benefits that set them apart from other cannabis concentrates.
Some cannabis-lovers may not have heard about tinctures before, but you can make a marijuana tincture with alcohol quite easily. That's right—with alcohol! Cannabis and alcohol may seem like complete opposites, but rest reassured, they work together brilliantly here.
What Is a Cannabis Tincture?
Technically speaking, cannabis tincture (or marijuana tincture) is an herbal extract made by binding the key components in cannabis with alcohol or glycerine. In simple terms, it's a cannabis-infused liquid you can consume directly, or in food and drink.
Tinctures present an alternative avenue for users interested in the effects of cannabis. They're discreet, convenient, straightforward to consume, and you can make them at home. Tinctures also tend to be a lot stronger than smoking a joint or using a vaporizer. In fact, for most people, a few drops of cannabis tincture is all they need at a time.
Cannabis Tincture vs Cannabis Oil and RSO
It's common for people to question the difference between cannabis tincture, cannabis oil, and Rick Simpson oil (RSO). After all, each is a concentrated cannabis liquid. However, there is a key difference between these extracts that you should know.
Cannabis oil and RSO both feature an oil base (typically olive oil). Oils bind well with cannabinoids (THC, CBD, CBC, etc.), and olive oil provides a few nutritional benefits too. By comparison, cannabis tinctures use alcohol or glycerine (if alcohol isn't suitable) as a base.
Edible vs Topical
Although not as popular of a method, you can apply marijuana tinctures directly to skin. You won't feel the mental effects like you would if you consumed it orally, but cannabinoids have shown promise in supporting and soothing the skin. Edible or sublingual consumption, however, are far more common, and for most people will be the preferred ways to use cannabis tincture.
Whether you choose edible, sublingual, or topical application, know that there isn't a superior option. It's about balancing the effects with your specific needs.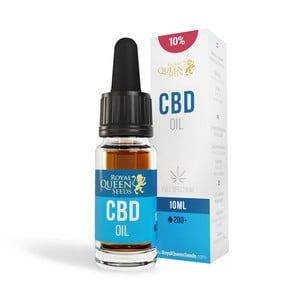 | | |
| --- | --- |
| | THC: 0.2% |
| | CBD: 10% |
| | CBD per drop: 5 Mg |
| | Carrier: Olive Oil |
Alcohol vs Glycerine
We alluded to this earlier, but you can make cannabis tincture with either high-proof alcohol or food-grade glycerine. The former binds more easily with THC and other cannabinoids, but the obvious downside is that alcohol isn't always suitable—for example if you need to dose frequently or you're at work.
The latter, glycerine, is a colourless, odourless, plant-based liquid used widely throughout the food industry. Although it's more versatile, the potency of glycerine tinctures isn't as high as alcohol variants. That being said, you can circumvent this issue by performing our step-by-step instructions (below) multiple times to improve the concentration of your glycerine tincture.
Again, the choice of alcohol or glycerine cannabis tincture comes down to personal preference and the ingredients you have to hand.
Types of Alcohol
If you choose the alcohol tincture route, you must pick the right liquid for the job. While you can use options from your local supermarket (Bacardi rum, for example), the higher the proof, the stronger the infusion and the more potent each drop will be.
The best option for alcohol tinctures is food-grade ethyl alcohol (95%). You won't find it on the shelves of your local store, but there are plenty of reputable sellers online. Just remember, these solutions are not for mixing cocktails!
THC vs CBD
One of the greatest benefits of cannabis tincture is the ability to customise. You can infuse tinctures with any cannabis strain you can think of, which gives you infinite freedom to tweak the ratio of THC and CBD.
Bear in mind, though, that tinctures made from high-THC cannabis strains are going to be much stronger than smoking a joint or hitting a bong. A tincture can contain up to 60% THC, so don't underestimate their potency!
If you want a tincture focused on promoting overall well-being, consider a CBD-rich cannabis strain like Tatanka Pure CBD or Joanne's CBD.
Cannabidiol (CBD) is the non-toxic, non-psychotropic cousin to THC, and it won't get you high. It does, however, have a reputation for supporting various mental and physical functions, while also mediating the intoxicating effects of THC. With that in mind, you can also choose a 1:1 CBD:THC strain to benefit from the influence of both cannabinoids.
How to Make Cannabis Tincture
With the basics of cannabis tincture covered, it's time to move on to the most crucial stage—making you own! Preparation is vital, so, in addition to the key ingredients and equipment outlined below, make sure to give yourself at least an hour, undisturbed, to complete the process.

Ingredients
28g cannabis flower (strain of your choice)
Food-grade ethyl alcohol (or equal amount of food-grade glycerine)
Equipment
1-litre Mason jar
Filter paper or cheesecloth
50ml dropper bottles
Funnel
Decarboxylation
Before even thinking about mixing your weed with alcohol, we need to decarb it. If you were to stick a few buds in a jar with your booze, the resulting tincture would be far less potent.
There are several ways to decarboxylate cannabis buds, but one of the simplest is to use an oven. Our decarboxylation guide covers the topic in more detail, but in essence, just make sure you heat the buds slowly—don't try to rush the process by turning up the temperature. Burning your beloved buds will only destroy the THC inside, not activate it.
Steps
After decarbing roughly 28g of weed, grind the buds finely.
Place your cannabis flower in the mason jar. Pour in enough food-grade ethyl alcohol to fully submerge your weed.
Secure the lid and give the jar a vigorous shake.
Leave the cannabis/alcohol infusion to sit for 2–3 months. Check on your jar periodically, giving the mixture a good shake each time.
Alternative method: If time is short and you need your cannabis tincture in a hurry, at step 3, shake the jar vigorously for over an hour.
Once the tincture is ready, strain the mixture into your dropper bottles using either the coffee filter paper or cheesecloth. If you want to make a glycerine tincture, substitute the alcohol for glycerine in equal measure.
Differences Between Cold and Warm Method
Do nothing with your cannabis-alcohol infusion, other than leave it for several months, and you will have a potent tincture. Waiting patiently for the compounds inside the weed to bind is truly the hardest part of the process. There are, however, subtle variations to the method outline above that can speed up the infusion and increase the potency or quality.
The theory behind the cold method is that it helps separate unwanted compounds (like chlorophyll) from THC or CBD, thus improving the quality of the final tincture. After combining buds with alcohol and shaking, you store the jar in a freezer. Alcohol has a significantly lower freezing point than other liquids, so it won't solidify.
Over five days, periodically shake the mixture for several minutes, before returning it to the freezer. Once the five days are up, your tincture is ready to be strained into a dropper bottle.


The hot method has a few additional risks, but the extra heat speeds up the infusion process significantly. Start making cannabis tincture using the steps outlined above, but after step 3 place the jar in a pan and add about one inch of water (do not put any water inside the jar).
With the lid of the jar open, bring the pan to a boil, before leaving the water to simmer at 73°C (165°F) for 30 minutes. Fumes from the heated alcohol can be a problem at this stage, so make sure the area is extremely well-ventilated. Remove the jar with oven gloves and leave it to cool. Then follow step 5 as normal.

How to Store Cannabis Tincture
With your homemade cannabis tincture in hand, it's paramount to store it correctly. Not only will this help maintain the mixture's potency, but it'll ensure the infusion stays effective for months, maybe even years.
Exposure to air, UV rays, and excessive temperatures will all degrade the active components in your tincture, so keep your alcohol tincture sealed, away from direct sunlight, and in a cool, dry location. For most people, a kitchen or bathroom cupboard is ideal. If you've made a glycerine tincture, make sure it stays refrigerated to preserve the cannabinoids within.
How to Use a Cannabis Tincture
Using your cannabis tincture couldn't be simpler. In fact, the sheer convenience of infused tinctures is why they're so popular. All you have to do is place 1–3 drops under your tongue, hold for 30–60 seconds, then swallow any remaining liquid.
If you find the technique challenging to master, try doing it in front of a mirror first. Or, if you find the taste off-putting, drop the infusion directly onto food or into a glass of juice.
Should You Swallow Cannabis Tincture or Not?
If you want the maximum effect in the shortest time possible, you should administer cannabis tincture sublingually (under the tongue). Once you've held it there for at least 30 seconds, any remaining liquid is perfectly safe to swallow.
On the other hand, if swallowed immediately or taken with food, the effects won't kick in as quickly, but they'll last longer, which is a nice trade-off depending on the situation.
What Are the Effects and How Long Do They Last?
A tincture made with a high-THC strain may induce feelings of euphoria, couch-lock, the munchies—just like it would if you took a hit of the same strain from a bong. But, unlike with a bong or pipe, the effect of a cannabis tincture lasts several hours. Provided you stagger your drops, it's entirely possible to feel the effects all day long.

The Benefits of Cannabis Tincture Over Other Consumption Methods
We've covered almost every facet of cannabis tincture, from how it's made to whether it's safe to swallow. Now, it's time to wrap up this definitive guide with the benefits of cannabis tincture versus traditional consumption methods. After all, if you can smoke, vape, or eat cannabis, why should you even consider cannabis tincture?
Tinctures deliver potent effects that start in minutes.
Sublingual consumption gives THC and CBD direct access to your bloodstream, improving its bioavailability.
Store cannabis tincture (alcohol) correctly, and it will last years.
Discreet and straightforward. You can easily use cannabis tincture at work, home, or while socialising, without drawing attention to yourself.
A couple of drops can have the same THC concentration as an entire joint.
Easily added to your favourite drinks and dishes in seconds, without any prior preparation.
Tinctures offer a precise and accurate way to microdose.
Cannabis tincture is much friendlier on the waistline. Each drop is only a few calories compared to eating an entire edible.
And there you have it; a complete guide to cannabis tinctures, with everything you need to know to start making your own. All that's left now is to try our simple recipe for yourself!