Royal Queen Seeds is proud to offer the world's first true F1 hybrid cannabis seeds, which produce a stable, uniform crop every time.
8  products
What Are F1 Cannabis Seeds?
If you thought all cannabis hybrids are created equal, think again. F1 hybrids are the future of cannabis genetics, offering unrivalled stability, vigour, and yields. Unlike regular hybrids, which can be created by crossing virtually any two cannabis plants, F1 hybrids are made by crossing two pure (also known as "inbred") genetic lines. The resulting seedlings not only grow bigger and stronger, but also maintain stable growth traits that result in a uniform crop.
While F1 seeds have long been common in the world of vegetable and ornamental gardening, they are completely new to cannabis.At RQS, we're pioneering F1 hybrids by being the first to offer genuine F1 cannabis seeds, transforming cultivation at any scale.
What Are the Advantages of F1 Hybrid Seeds?
Uniform plants with stable grow traits (no stark phenotypic variations)
Improved vigour, resulting in faster growth and stronger resistance to unfavourable conditions and stress
Higher yields
Higher and more stable cannabinoid and terpene production, resulting in a more potent and stable end product
Are F1 Cannabis Seeds Feminized?
Yes. All Royal Queen Seeds F1 hybrids are feminized and produce only female plants, giving you maximum control over your grow.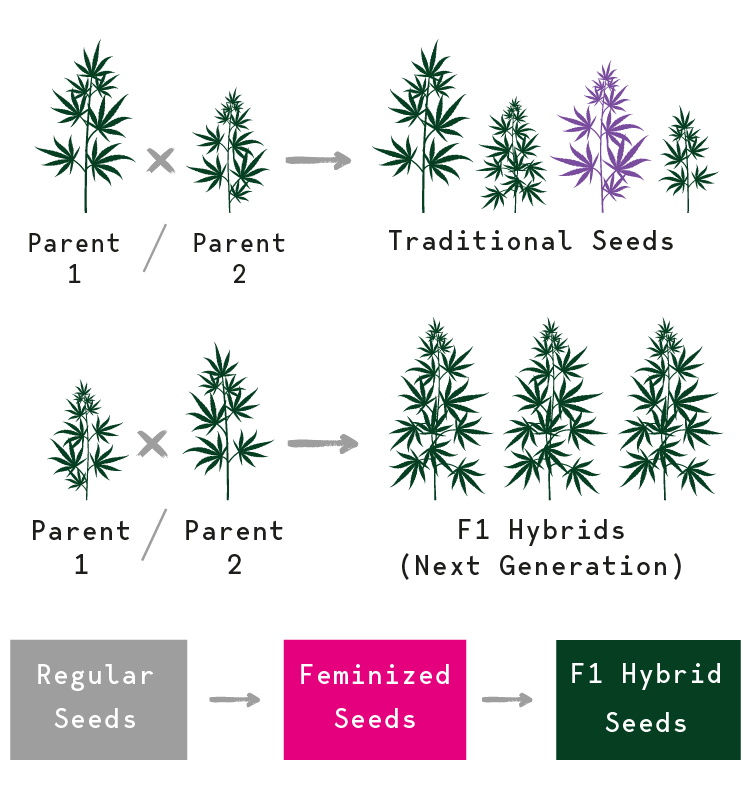 Why Choose F1 Hybrid Cannabis Seeds?
Our F1 cannabis seeds boast significant benefits for growers and smokers alike:
Whether you're a hobby grower or the head of a large-scale cannabis farm, our F1 hybrids grow into plants with unrivalled stability, uniformity, and vigour, and produce top-shelf flower indoors, outdoors, or in a greenhouse.
Regardless of your smoking preferences, RQS F1 hybrid seeds will delight you with their higher and more stable concentration of terpenes and cannabinoids, resulting in a reliable smoke, every time.