Could CBD Oil Make You A Better Athlete?
Athletes are finding that CBD helps them in a number of ways. Used before exercise as oil, this cannabinoid can help them perform. After they are done, however, CBD also can be used to help them recover. As a result, CBD is well on its way to becoming a must-have health supplement for athletes.
---
Anyone who has trained seriously in an endurance sport knows that it is always hard. It impacts your muscles. It creates pain. It also affects your immune system. Even if you aren't training for your next charity Iron Man competition, being in shape also means living in a certain amount of pain.
Now consider that you are a professional athlete. Your job is athletic performance and pushing yourself to the peak. No matter how non-impact the sport, this kind of activity takes its toll. If you are a professional member of a high-contact sport, the situation changes again. Perhaps the perfect example is American football players. Professional members of the NFL – the National Football League, learn to live with pain.
How they deal with it is another matter. Drug use of all kinds is a major issue in this environment. Steroids are one concern. The other is opioid use. This is particularly true because, in the U.S., this is the number one pain killer prescribed for such ongoing pain. And thanks to the drug war, cannabis is included in every drug test. It's appearance in body fluids cause for censure.
Reality these days? Athletes are currently chafing at anti-pot rules in every sport globally. Even more intriguing is where this might start to be challenged effectively. The American NFL is the current battleground on this issue. Even more encouragingly, there is already a sign that real change is in the offing. With even a deadline.

THE PROBLEM
Not only is it relatively easy to become drug dependent. Opioids are also very easy to overdose from. Further, it is often hard for the user to understand the difference between a palliative and fatal dose in time to get help.
For this reason, particularly in the age post reform, football players are lobbying hard to get cannabis included in their list of approved drugs. This includes THC. However it also increasingly includes CBD.
And here is the interesting thing about the cannabis revolt in the NFL. There are many sporting organizations now looking at the impact of cannabis on athletic performance. For the time, it is still banned. Athletes are still tested for it. That also goes far beyond THC use. What NFL league policy means in practice is that even athletes who use a CBD infused tincture to treat a muscle sprain topically, could get disqualified for "drug use." In the NFL this has become an issue for both players and team owners, three years ahead of a renegotiation of league contractual terms. It is widely expected that the no-cannabis rule will be taken out of the league at that time.
This may have a ripple effect on other sporting organizations overseeing regulated sports. This includes everything from the Olympics and soccer to competitive long distance running and biking events.
This means something else a bit more revolutionary. CBD cannabis is about to enter a new sphere. It is not "just" for patients anymore.
WHY IS CBD SO GOOD FOR ATHLETES?
There are many answers to this question.
The first one stems from wellness and health rather than illness or injury. When you exercise, your body produces a number of chemicals naturally. These are endorphins. However, your body also produces something called Anandamide. It is a neurotransmitter also known as the "Bliss Molecule." Anandamide is also classified as an endocannabinoid. In other words, a "natural" cannabinoid produced by the body.
As a result, its receptors also binds exceedingly well with cannabinoids. This includes CBD of course. When anandamide binds to a cannabinoid receptor, it creates a calming effect. This may not be as effective in people with naturally high levels of anandamide. However, in people with low levels of anandamide and people who need an extra push, like athletes, CBD seems to go where no drug has gone before.
CBD interacts with a receptor known as TRPV-1. This is a receptor which mediates pain perception, inflammation, and body temperature. It also activates the Adenosine receptor. This plays a big role in cardiovascular blood flow and function.
What many athletes find is that CBD also helps them find "flow" during exercise. Afterwards, particularly when applied topically, it also helps them recover.
While CBD may not work exactly the same way as THC, there is one thing it does do. Like other cannabinoids, CBD seems able to help the body recover. It also seems to create the ability to seek a more normal "homeostasis."

INCORPORATING CBD INTO A REGIME
For these reasons, many athletes are already considering how they can work CBD into their existing health regimes. This goes obviously far beyond the professionals.
There are several ways to do this that are easy, and require no more than a little organization plus ingredients.
CBD OIL
Either CBD oil itself, or mixed into an edible or smoothie is a popular choice. Runners, in particular, find that taking CBD drops before, during and after runs just makes the entire experience more rewarding. Mixing them with yogurt or juice is also a way of prolonging and intensifying impact.
CBD CREAM
Once the athletic exertion is over, athletes still turn back to CBD. Many report that applying it to tired muscles topically is a great pain reliever. Some people use the oil directly. Others use tailored creams and lotions.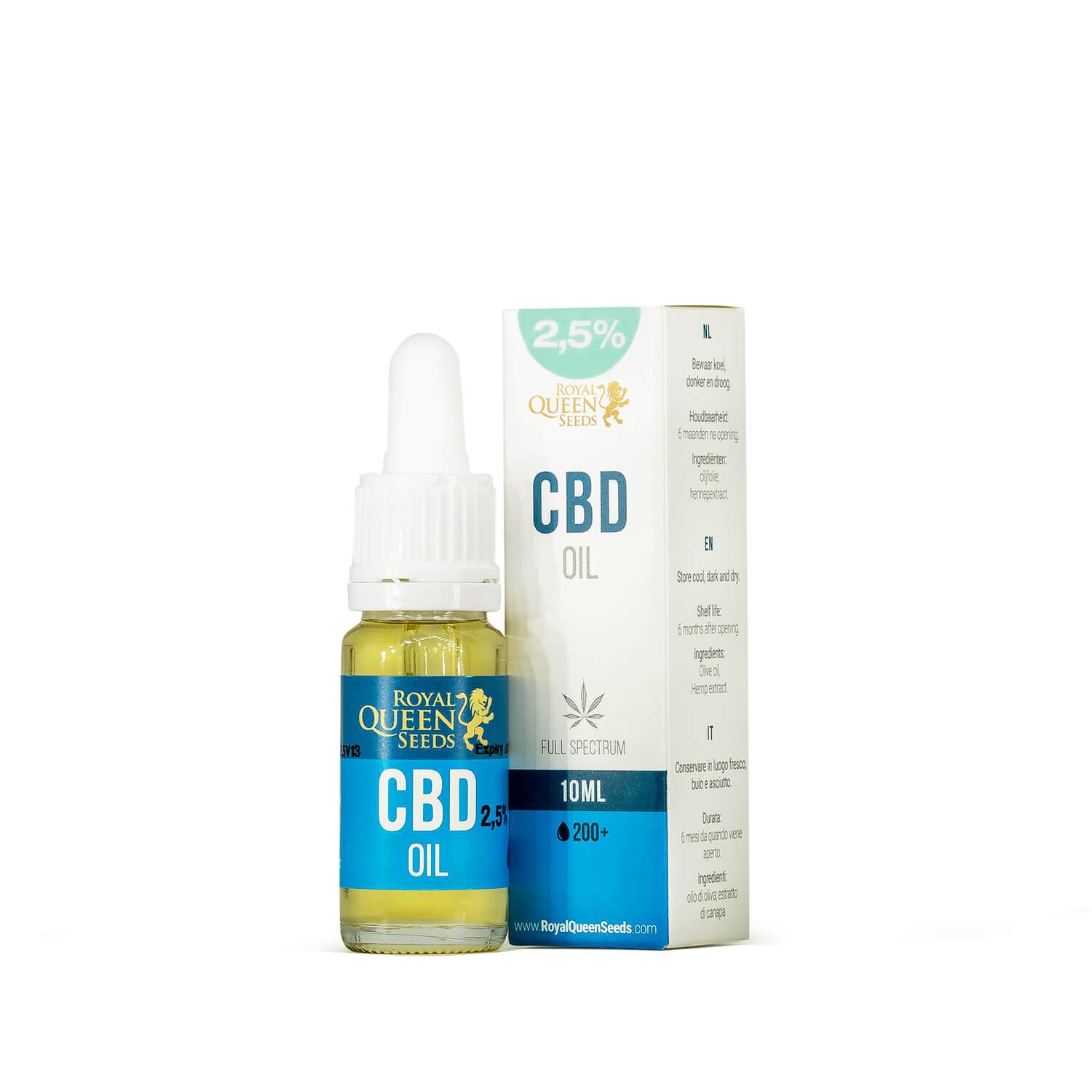 RQS CBD Oil is available in 10ml, 30 and 50ml bottles in 3 different concentration strenghts: 2.5%, 5% and 10%.
Buy CBD Oil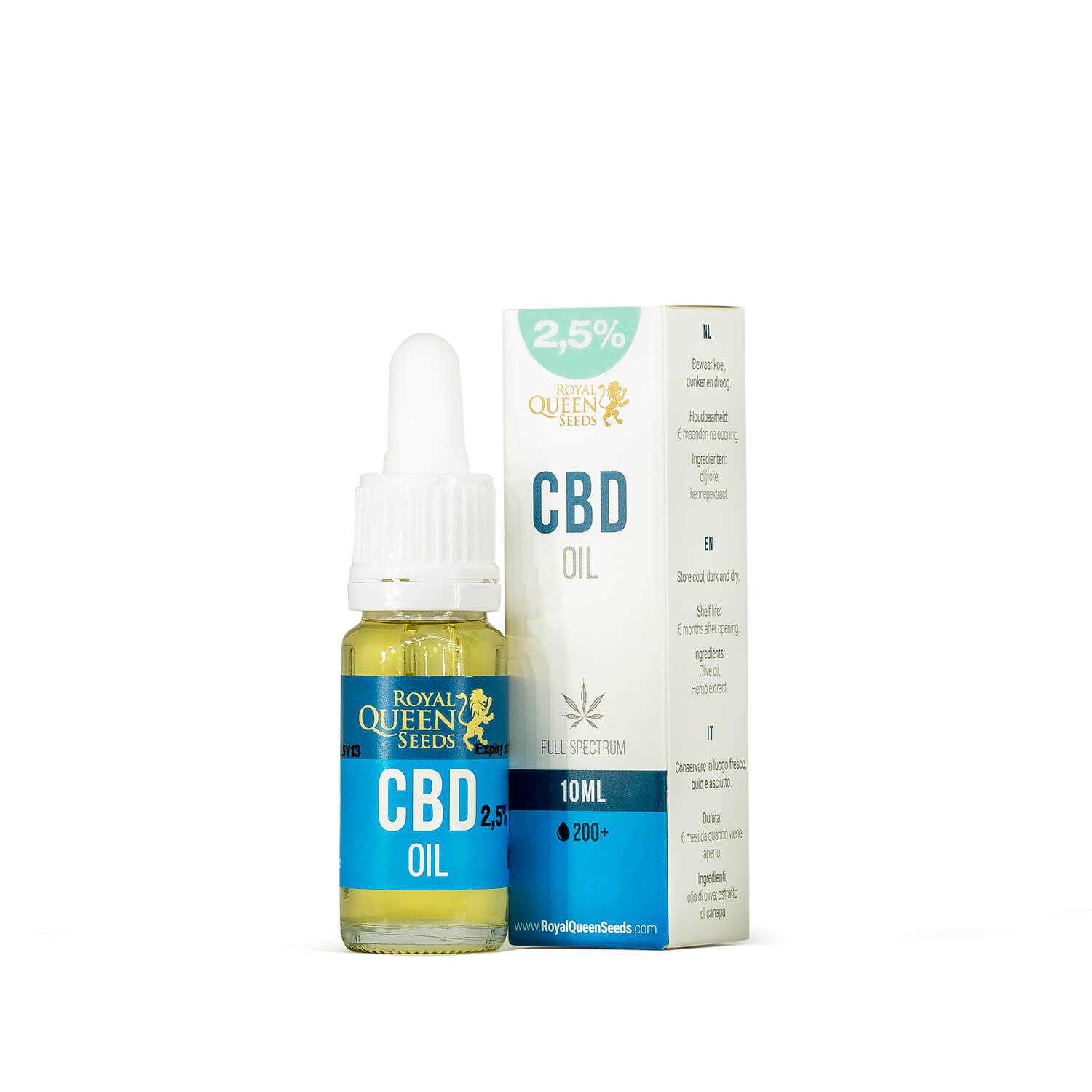 RQS CBD Oil is available in 10ml, 30 and 50ml bottles in 3 different concentration strenghts: 2.5%, 5% and 10%.
Buy CBD Oil
Medical DisclaimerInformation listed, referenced or linked to on this website is for general educational purposes only and does not provide professional medical or legal advice.

Royal Queen Seeds does not condone, advocate or promote licit or illicit drug use. Royal Queen Seeds Cannot be held responsible for material from references on our pages or on pages to which we provide links, which condone, advocate or promote licit or illicit drug use or illegal activities. Please consult your Doctor/Health care Practitioner before using any products/methods listed, referenced or linked to on this website.