CBD Flowers: Dose CBD Without The THC
CBD flowers are an ideal choice for those seeking high levels of cannabidiol and next to no THC. They can be used just like regular cannabis flowers, offering versatile options for all types of consumers.
---
CBD, or cannabidiol, is a cannabinoid mainly produced within the trichomes of the cannabis plant. This compound has risen to superstar status over the past few years due to potential scientific application. Early research has suggested it could have anti-inflammatory, anticonvulsive, antioxidant, and neuroprotective effects. CBD is also non-psychoactive, meaning it's much more widely accepted across the world, even by regions that actively forbid THC and cannabis in general. Although THC also has potential, its psychoactive nature has made it controversial in many countries, and this aspect proves impractical for certain people seeking relief who don't want to get high in the process.
Just as cannabis plants have been selectively bred for decades to churn out massive quantities of THC, strains are now being bred to produce sky-high levels of CBD with next to no THC. This strain profile allows growers in some countries where it is illegal to grow cannabis to cultivate hemp or CBD-rich cannabis to their heart's content. It also means that cannabis users seeking CBD without getting high can smoke and vape its flowers in the same format they would high-THC flowers.



USING CBD FLOWERS
CBD flowers are the same as psychoactive cannabis flowers in form; it's just the cannabinoid content that is different. They can be used in the exact same way. You can load them into bongs and use them to roll joints. You can even get creative and use them to make edibles by creating cannabutter, which can be used in an entire array of recipes. Users can also utilise CBD flowers to create high-potency extracts such as tinctures and oils.
A NEWLY EMERGING MARKET
The CBD flower market is on the rise, especially within countries that haven't yet legalized cannabis. Switzerland, for example, now has a soaring CBD flower market that is tolerated by the government because the THC content of the plants used is less than 1%. Entrepreneurs within the region have set to work sowing fields of cannabis plants. Specialised CBD shops have also started opening up around the country and its island territories.
OUR NEW CBD STRAIN: SOLOMATIC CBD
Our breeders have been working hard on a high-CBD strain that will be available in 2019. The goal of this breeding program was to produce a strain with large quantities of CBD, alongside very minimal levels of THC. Royal Queen Seeds is proud to present to you: Solomatic CBD.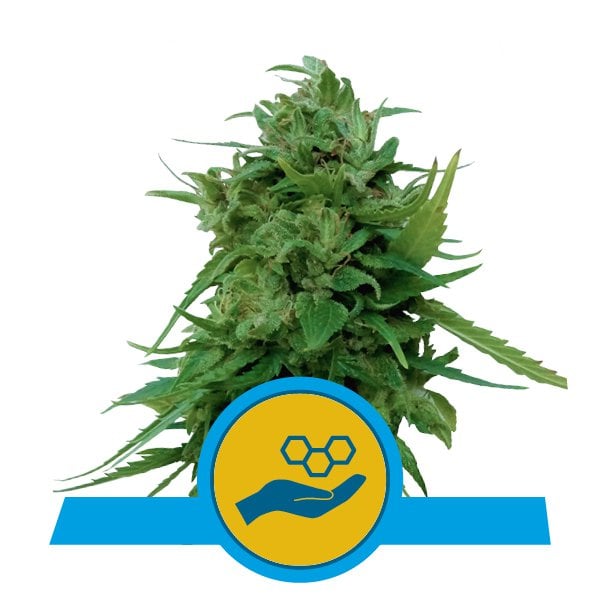 Solomatic CBD
Diesel CBD x Asia CBD Auto
425 - 475 g/m2
90 - 120 cm
7 - 8 weeks
THC: 1% (aprox.) / CBD: 21%
| | |
| --- | --- |
| | 20% Sativa, 70% Indica, 10% Ruderalis |
| | 110 - 150 g/per plant (dried) |
| | 110 - 150 cm |
| | 9-10 weeks after planting |
| | Soft, Clean and very light |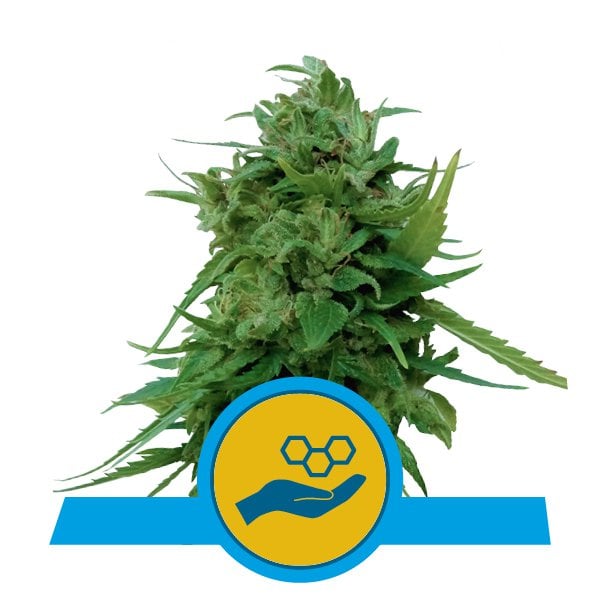 | | |
| --- | --- |
| | Diesel CBD x Asia CBD Auto |
| | 425 - 475 g/m2 |
| | 90 - 120 cm |
| | 7 - 8 weeks |
| | THC: 1% (aprox.) / CBD: 21% |
| | |
| --- | --- |
| | 20% Sativa, 70% Indica, 10% Ruderalis |
| | 110 - 150 g/per plant (dried) |
| | 110 - 150 cm |
| | 9-10 weeks after planting |
| | Soft, Clean and very light |
Solomatic CBD produces massive quantities of cannabidiol at 21%, all the while producing levels of THC of less than 1%. These are truly industry-leading percentages. She's the perfect option for users seeking large amounts of CBD, without getting even a little bit high. The effects produce a clear, focused, and relaxed state of mind. The flowers of this strain contain a unique terpene profile that produces pleasant scents and aromas of fruit, ginger, and pine.
Solomatic CBD is the result of parent strains Diesel CBD Auto and Asia CBD Auto. As an autoflowering strain, she is beginner-friendly and extremely easy to grow, without the need to alter the light cycle to induce flowering. What's more, her autoflowering genetics also ensure rapid growth, meaning growers won't have to wait long to be rewarded by a harvest. She explodes from seed to harvest in as little as 9–10 weeks.