Top 10 Best Sativa Cannabis
Marijuana gardeners often choose Cannabis Sativa strains for their uplifting highs and cerebral effects.
---
While pure Sativa strains may take longer to flower than pure Cannabis Indica strains, growers are rewarded for their efforts with outstanding yields. One of the most famous strains, the legendary Haze, takes up to 12 weeks to finish in an indoor setting, but the medicinal high is sought after by experienced connoisseurs. Cannabis Sativa strains are native to the world's leading marijuana growing regions, and Royal Queen Seeds is happy to bring you varieties with the tastes of Thailand, Mexico, India, and Colombia. Sativa varieties are ideal for smokers who enjoy herb throughout the day, and the uplifting high is perfect for creative work. Here are our top 10 Cannabis Sativa strains.
1. POWER FLOWER
Power Flower has been engineered for commercial growers who demand high yields and bag appeal. Indoor growers can easily harvest up to 650 grams per square metre with a 600-watt light. Outdoors, the plant thrives in warm climates, and it thrives in Italy or California. Power Flower's cerebral high is smooth and energetic, and the finished buds have a sweet and sour taste that is reminiscent of lemons and limes.
2. HAZE BERRY
Our Haze Berry is a classic medicinal marijuana strain that combines the taste of Blueberry with the cerebral high of Haze. The finished buds have a sweet flavour, and the energising high is ideal for those who have goals to accomplish during the day. Haze Berry offers excellent yields, and the Sativa growth characteristics make for huge plants that fill out nicely in an indoor or outdoor garden.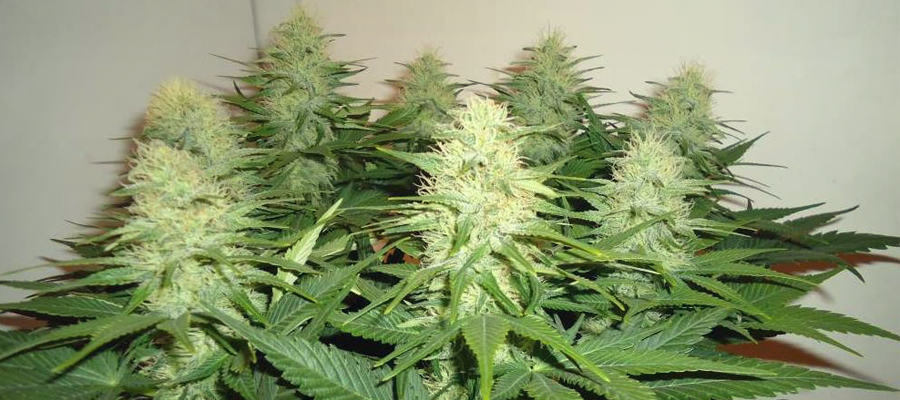 3. SHINING SILVER HAZE
Haze is one of the most sought after pure Sativa strains, and our Shining Silver Haze brings you genetics that have been stabilised for years. At Royal Queen Seeds, our Shining Silver Haze traces its lineage to Skunk, Northern Lights, and Haze, and the hybrids are suited to indoor or outdoor marijuana gardens. The plants love full sun in the outdoors, and indoor growers can expect yields that are up to 450 grams per square metre. Seasoned smokers love the taste and instant high of Shining Silver Haze, and the buds are known for the haze of thoughts that immediately enter a connoisseur's consciousness.

4. MOTHER GORILLA
Mother Gorilla is the latest addition to our hybrid line-up. This plant is a cross between Gorilla Glue 4 and Reina Madre and is a blend of 70% Sativa and 30% Indica. The plant carefully balances THC and CBD levels, making it an ideal smoke for medicinal users. Mother Gorilla is the perfect choice for growers who need a fast-maturing plant, and our strain will be ready for harvest within eight weeks.

5. AMNESIA HAZE
Our Amnesia Haze is a plant that works great for indoor or outdoor marijuana growers, and the specimen is one of the top yielding Cannabis plants in our catalogue. Indoor growers can easily harvest up to 600 grams per square metre. Amnesia Haze has an immediate and cerebral high with psychedelic overtones.

6. SOUR DIESEL
Sour Diesel is known by experienced smokers from around the world, and these genetics hail from California's Emerald Triangle. Our Diesel strain is suited to indoor or outdoor growers, and the plant's Sativa characteristics are easily seen in the plant's huge structure and large branches that fill with resinous buds after 10 weeks of flowering.

7. ROYAL MOBY
Royal Moby is a Dutch take on the classic Spanish plant, Moby Dick. Our variety brings you the best qualities of Sativa and flowers fast under optimal conditions. The plants have huge branches, and you can easily harvest your crops after nine to ten weeks of flowering.

8. HULKBERRY
Of all the fine sativas on offer, there is one in particular that is fast gaining legendary status. The Hulk of Marvel Comics is already an iconic figure for his raw, frightening power. The sativa-dominant hybrid that bears his name is quite fittingly a formidable monster. Hulkberry is a smashing hit in Dutch coffeeshops and American dispensaries alike. The combination of Strawberry Diesel and OG Kush in its genetics has led to a whopper 27% THC content. Toking only a little of this monster will bring a long-lasting high with strength unlike any other. Seriously, this special sativa is not just flavourful—with delicious hints of strawberry and citrus—it will blow your mind with its powerful cerebral head high. Hulkberry should be energising if you are an experienced smoker. But you will want to build up a tolerance before you're ready to experience a strain taking the world by storm.

9. ROYAL AK
Royal AK is our take on the timeless one-hit classic AK 47. The plant's genetics are a blend of the finest Cannabis landraces from Thailand, Colombia, Afghanistan and Mexico. Indoor growers should note that carbon filters are essential to cut down the strong diesel and berry scents that will emanate from their garden. Our Royal AK is especially well suited to indoor or outdoor gardens, and growers can expect great yields of finished buds that test at more than 18% THC.

10. DANCE WORLD
As a cross of our two favourite Dance Hall phenotypes, Dance World is mainly of Mexican and Afghan origin. The short plants feature a blend of Indica characteristics with a Sativa growth pattern. The plant has high CBD levels, making it ideal for medicinal smokers who are looking to treat pain, inflammation or anxiety.