Cannabis as Treatment of Migraine Headaches
If you've ever suffered from a migraine headache, then you know how debilitating they can be. It's estimated that over 30 million people in the U.S. suffer from the pulsating headaches which are usually accompanied by nausea, vomiting, and hypersensitivity to light.
---
DOCTORS AND MIGRAINE HEADACHES
The cause of migraines is heavily debated and currently, there are about thirty potential causes for migraine headaches. There are also about twelve different classes of drugs currently used for treatment. This can obviously be confusing to both doctors and patients. Prescribed sedatives like phenobarbital and minor tranquilizers like Valium and Ativan come with a long list of side-effects. Emergency room visits are frequent for migraine sufferers, where Demerol and Ergotamine injections are used to control migraine attacks.
PATIENTS AGREE THAT CANNABIS WORKS
Desperate for relief, many patients have resorted to alternative treatments. Patients like Edie L., a thirty-eight year old stock broker and former law student, have found that Cannabis can minimize the effects of a migraine headache. After visiting numerous specialists and undergoing various procedures such as spinal taps, brain-wave studies, and psychiatric interviews, Edie realized that marijuana offered relief from migraines. She soon learned that the side-effects from Cannabis were minimal compared to the plethora of pills she would usually take. Eventually Edie found a Doctor willing to prescribe Marinol, a form of oral cannabis, and the migraine attacks ceased.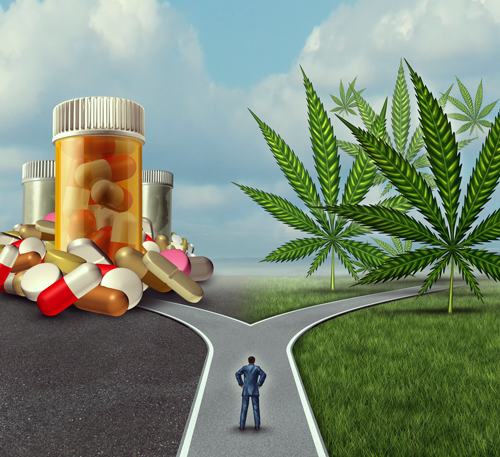 MARINOL PILLS FOR MIGRAINES
The California Cannabis Doctors seem to be at the forefront in treating migraines with Cannabis. One of the benefits of Marinol is that it won't get you high like smoking. This is an obvious benefit for most people as they can continue their daily routines. The list of negative side-effects for Marinol is a bit longer, however. Because Marinol is ingested orally, it takes one to two hours before it's effective. This can be a problem. The onset of a migraine usually begins suddenly and without warning. Waiting one to two hours for relief is often not an option. Furthermore, one of the side-effects of migraines is nausea. Taking pills can increase this nausea even further. Finally, Marinol is very expensive. The cost can be extremely prohibitive to most sufferers.
SMOKING MARIJUANA FOR MIGRAINES
Smoking Cannabis provides migraine sufferers instant relief. It relieves nausea and if taken at the onset, can stop the migraine. Its euphoric effects calm the patient down, and relieve the stress and anxiety often associated with migraines. It appears in fact, that Cannabis intake via vaporizer may be the safest and most effective treatment for the relief of migraine headaches.
Due to the cost of Marinol, the patient Edie was forced to resort to illicit ways to consume Cannabis. This put her at obvious risk. The benefits of smoking Cannabis were impossible to resist, however. The potency of illegal Cannabis varies as well, making it difficult to predict appropriate levels of consumption. Unfortunately Edie's case is not the first of its kind. Today most physicians are unaware or unwilling to accept the benefits of Cannabis and/or Marinol for migraine headaches.

It seems that the safest and quickest route to relief for a migraine headache is to inhale the medical fumes of Cannabis through a vaporizer. The beneficial action, migraine and headache relief occurs in under a minute! While research is still being conducted, it's widely believed that the cannabinoids found in Cannabis may also fight against cancer, seizures, ADD and ADHD, Alzheimer's, Crohn's disease, and more. As research continues and acceptance grows, Cannabis will continue to be used as an effective treatment for many diseases.
Medical DisclaimerInformation listed, referenced or linked to on this website is for general educational purposes only and does not provide professional medical or legal advice.

Royal Queen Seeds does not condone, advocate or promote licit or illicit drug use. Royal Queen Seeds Cannot be held responsible for material from references on our pages or on pages to which we provide links, which condone, advocate or promote licit or illicit drug use or illegal activities. Please consult your Doctor/Health care Practitioner before using any products/methods listed, referenced or linked to on this website.