New Medical Marijuana Strains 2014
Here at Royal Queen Seeds, we are always on the lookout for wonderful new strains to share with our customers. Recently, we have added three new medical marijuana strains to our lineup that we are quite excited about.
---
If you are looking for some great new medicinal varieties of cannabis to grow, take a look at adding one of these three fabulous new medical marijuana strains seeds to your next medical grow.
Painkiller XL
One of the new strains that we are most excited about here at Royal Queen Seeds is Painkiller XL. This potent new strain of medical marijuana is a cross of Royal Highnessand Juanita la Lagrimosa, which means "Juanita the Tearful" in Spanish. The goal of crossing these two strains was to create a strain that would be equal parts mind and body high.
That goal has been accomplished. Painkiller XL has six percent tetrahydrocannabinol (THC) and seven percent cannabidiol (CBD). The equal balance of these two substances makes this strain a truly perfect medicinal variety that will be very useful for treating many conditions. The six percent CBD means that Painkiller XLwill be especially useful for those who need pain relief.
Painkiller XL is 70 percent sativa and 30 percent indica. It will yield around 400 to 450 grams of dried cannabis per plant.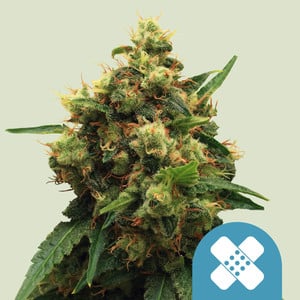 | | |
| --- | --- |
| | Respect 13 x Juanita la Lagrimosa |
| | 500 - 550 gr/m2 |
| | 60 - 100 cm |
| | 8 - 9 weeks |
| | THC: 9% |
| | |
| --- | --- |
| | Sativa 75% Indica 25% |
| | 500 - 550 gr/plant |
| | 120 - 150 cm |
| | Late September |
| | Physical, clear high |
Medical Mass
Another new medical marijuana strain that Royal Queen Seeds is proud to have is Medical Mass. This amazing new variety is a hybrid of Critical and Medical Madre. It is primarily an indica variety. It has been bred as a strain that sacrifices THC percentage to up the level of painkilling CBD in it.
Smokers will really enjoy the flavor of Medical Mass. It has a very rich, deep honey flavor that makes smoking it a true pleasure. It will yield between 500 to 550 grams of dried product per plant.
Medical Mass is a very hearty variety that is well suited for inexperienced growers. It will thrive even in tough conditions, and it will really grow well for those who give it a lot of care. It only takes seven or eight weeks for full flowering of this strain, making it the perfect variety for those looking for a fast-growing strain to keep their medicinal supply flowing.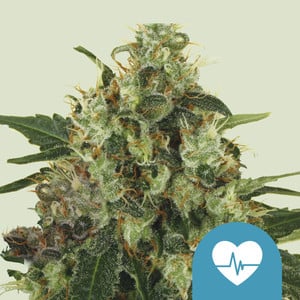 | | |
| --- | --- |
| | Critical Mass x CBD dominant plant |
| | 500 - 550 gr/m2 |
| | 60 - 100 cm |
| | 7 - 8 weeks |
| | THC: 10% |
| | |
| --- | --- |
| | Sativa 40% Indica 60% |
| | 500 - 550 gr/plant |
| | 120 - 150 cm |
| | Late September |
| | Relaxing and full of flavour |
Euphoria
One of the new medical marijuana strains seeds that Royal Queen Seeds is most proud of is Euphoria. This is a very exciting new variety that has been bred to produce a high-energy high that makes users very active and social. A hybrid of Royal Medic and Shark Shock, Euphoria actually contains more CBD than THC at seven percent to six percent.
This means that while Euphoria does produce a very heady high that gets users active, it also has tremendous painkilling properties that make it a perfect medicinal variety. The high ratio of 80 percent indica to 20 percent sativa in Euphoria is what gives it such unique abilities to give users pain relief and an energy boost at the same time.
The high indica ratio in this strain means that it will produce short, bushy plants. The average dried yield per plant will be in the range of 400 to 450 grams. Growers will only need seven to eight weeks of flowering to achieve this high yield.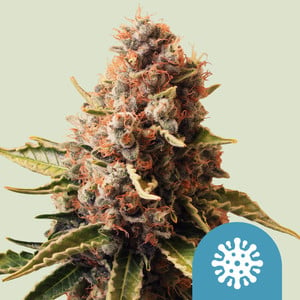 | | |
| --- | --- |
| | Great White Shark x CBD dominant plant |
| | 450 - 500 gr/m2 |
| | 60 - 100 cm |
| | 8 weeks |
| | THC: 9% |
| | |
| --- | --- |
| | Sativa 20% Indica 80% |
| | 450 - 500 gr/plant |
| | 120 - 150 cm |
| | Early October |
| | Relaxing and well balanced, more physical |