Top 5 Cannabis Strains for Indoor Growing in 2021
Are you growing cannabis indoors during 2021? If so, you need to check out these 5 strains designed for indoor spaces. They possess high levels of THC, delicious terpenes, and yields to fawn over. But, breeders also created them with space in mind. They'll thrive in small grow tents without sacrificing yield.
By
---
---
Growing cannabis indoors has unique advantages and disadvantages. Cultivators have almost complete control over the environment, and can easily regulate light, water, and nutrients. However, space can quickly become an issue, especially when growing strains that like to reach rapidly toward the light source.
Fortunately, breeders have tinkered with cannabis genetics to create varieties that are ideal for indoor growing. These plants remain short, and are easy to manage and train. They're suitable for small grow tents, and some cultivators even go to the extremes of raising them in refurbished computer towers and cupboards for added stealth.
Why Grow Cannabis Indoors?
Indoor growing makes life easier for many cannabis cultivators. If you live in a cold climate with bad weather, or your garden lacks direct sunlight, indoor grow tents provide a safe haven. The ability to manipulate the light schedule, humidity, and nutrients with precision allows growers to raise weed on their own terms.
Growing cannabis indoors also helps weed lovers keep their herbal interest to themselves. Indoor grow tents with carbon filters will eliminate the stink and dramatically reduce the chances of facing any penalties.
Are All Weed Strains Suitable for Indoor Grows?
Technically, yes. All strains can be grown indoors—although some varieties are much more suited to this environment than others. Bushy indica and autoflowering strains rarely exceed 120cm in height, and are thus naturally compatible with small spaces.
Indoor growing also allows cultivators to take control of time (to a degree, at least). Photoperiod cannabis varieties begin to flower only when the hours of light decrease leading up to autumn. Indoors, growers can change the light cycle to trigger flowering whenever they want. Alternatively, they can extend the growth phase by keeping plants under a veg-specific light cycle.
Towering sativa strains have the potential to surge to heights of 300cm. Growers can limit vertical growth by planting them in small containers, but they won't produce as good of a yield as strains specifically bred for indoor cultivation.
If you're planning to grow weed indoors, consider the strains below. They're ideal for small spaces and produce fantastic harvests.

Infamous — Northern Light
This award-winning cannabis strain stems from the West Coast of the United States. Breeders created Northern Lights using indica genetics from Afghanistan.
Our Northern Light strain descends from a premium cutting and features a completely pure indica genetic profile. Her bushy growth and medium size make her an ideal candidate for indoor cultivation.
She forms a dense, bushy canopy loaded with colas. Left unchecked, she'll reach a height of 160cm. Growers can keep her even lower to the ground, at around 100cm, through training techniques such as LST and ScrOG.
After reducing the light cycle and triggering flowering, Northern Light will produce a canopy full of mature flowers in 8–9 weeks. Her dense flowers possess a respectable THC content of 18% alongside a complex palette of citrusy, earthy, fruity, and peppery terpenes.
These flowers exert a stoning effect that soothes and relaxes the body while keeping the mind clear and lucid. Smoke them throughout the day to stay productive, or in the evening to gear up for restful sleep.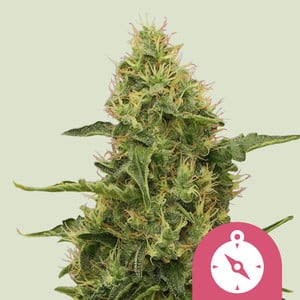 | | |
| --- | --- |
| | Northern Light S1 |
| | 500 - 550 gr/m2 |
| | 100 - 160 cm |
| | 8 - 9 weeks |
| | THC: 18% |
| | |
| --- | --- |
| | Sativa 0% Indica 100% |
| | 575 - 625 gr/plant |
| | 180 - 220 cm |
| | Late September |
| | Balanced, Clear, Stoned |
All-New — Wedding Crasher
Wedding Crasher boasts incredible shades of bright pink, deep purple, and striking orange. Not only will she brighten your growing tent, but her flowers will also blow minds when you bring them to smoking sessions.
This botanical beauty emerged from a cross between Wedding Cake and Purple Punch. Featuring a balanced genetic profile of 55% sativa genetics and 45% indica, she's well-suited to indoor growing, where she thrives under high-powered LEDs.
Plants reach a peak height of 180cm, making her a good candidate for those with larger growing tents. Through the use of main-lining and LST, growers can keep her at around 150cm while still achieving optimal yields. It's possible to keep plants below 100cm, although this will impact yields slightly.
With the right amount of nutrients and adequate lights, Wedding Crasher will deliver 500g/m² at the end of her 9–10 weeks of bloom. Each bright bud produces a THC content of 21%. Paired with her balanced genetic profile, this level of potency stones the body while energising the mind. Smoke these flowers when you want to feel relaxed while also getting things done.
Every inhalation introduces high levels of limonene into the bloodstream. This terpene synergises with THC to produce a cognitive effect that boosts the mood and reduces feelings of nervousness.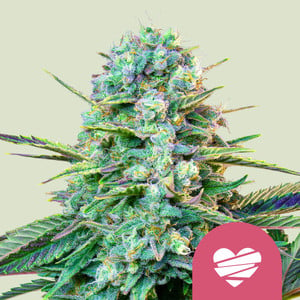 | | |
| --- | --- |
| | Wedding Cake x Purple Punch |
| | 450 - 500 gr/m2 |
| | 150 - 180 cm |
| | 9 - 10 weeks |
| | THC: 21% |
| | |
| --- | --- |
| | Sativa 55% Indica 45% |
| | 550 - 600 gr/plant |
| | 160 - 200 cm |
| | Late October |
| | Laughter, Physically Relaxing |
If you want to dedicate your indoor growing space to delicious terpene production, you need to try Haze Berry. This mouth-watering cultivar produces a cocktail of tasty molecules that not only light up the taste buds, but significantly impact the high.
In particular, Haze Berry features high levels of the monoterpene myrcene. This natural chemical works side by side with THC to induce a deeply relaxing, blissful state. It also contributes refreshing earthy and herbal tastes to the strain.
Her buds also house high levels of beta-caryophyllene, a peppery terpene that soothes the body, and terpinolene, another relaxing terp that helps to still the mind.
Haze Berry inherited this profile from parent strains Blueberry and Shining Silver Haze. By crossing these two varieties, our breeders created a strain with 60% sativa genetics and 40% indica.
Haze Berry grows wonderfully indoors. She reaches a maximum height of 100cm, and can be trained not to exceed 60cm. We recommend topping this variety early in the vegetative phase for a dense canopy of evenly sized flowers. Expect an impressive yield of 525–575g/m² after a flowering time of 9–11 weeks.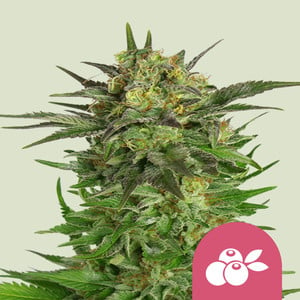 | | |
| --- | --- |
| | Blueberry x Shining Silver Haze |
| | 525 - 575 gr/m2 |
| | 60 - 100 cm |
| | 9 - 11 weeks |
| | THC: 20% |
| | |
| --- | --- |
| | Sativa 60% Indica 40% |
| | 600 - 650 gr/plant |
| | 160 - 180 cm |
| | Late October |
| | Long Lasting , Physically Relaxing, Powerful |
Classic and Unique — Special Kush
Special Kush provides an extremely affordable option for indoor growers. Her small size also means cultivators can fit several plants into a small space.
What else is special about this plant, you might ask? Well, her speedy flowering phase of 7–8 weeks is certainly an anomaly. With barely any wait, you'll be harvesting up to 475g/m². Although she can hit up to a metre indoors, it's possible to keep her at around 60cm.
Special Kush churns out dense and frosty flowers coated with trichomes and decorated with pretty orange pistils. Each bud offers a moderate THC content of 17%.
This indica-dominant strain won't overwhelm you or send your mind to the moon. Instead, she hits the sweet spot between sobriety and being way too high. Smoke these buds throughout the day to remain productive while enjoying her soothing and relaxing effects.
As for her flavour profile, this strain allows you to really indulge in the characteristic notes of her namesake. Earthy, dank, and subtly fruity Kush flavours are apparent with each toke, and pleasurably so.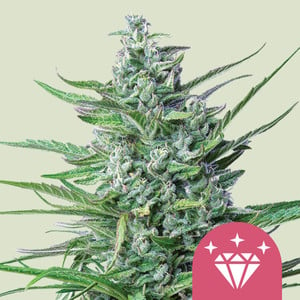 | | |
| --- | --- |
| | Afghan x Kush |
| | 425 - 475 gr/m2 |
| | 60 - 100 cm |
| | 7 - 8 weeks |
| | THC: 17% |
| | |
| --- | --- |
| | Sativa 20% Indica 80% |
| | 500 - 550 gr/plant |
| | 200 - 270 cm |
| | Late September |
| | Heavy, Physically Relaxing, Stoned |
THC Beast — Wedding Gelato
Wedding Gelato holds the title of one of the strongest strains within the Royal Queen Seeds catalogue. Her THC level of up to 25% ignites a fast-acting and long-lasting high that keeps users feeling euphoric and motivated for hours at a time.
Deriving from Animal Mints, Triangle Kush, and Gelato 33, this 60% indica-dominant treat will have your mouth watering as soon as her flowers start to take shape.
Luckily, growers don't need a spacious garden to cultivate this variety. In fact, she performs incredibly well in small indoor spaces. Reaching 60–100cm in height, she's suitable for essentially all tents, closets, and even modified cupboards and boxes.
Wedding Gelato produces stunning dark purple flowers that are almost as wide as they are tall. These high-THC nuggets manufacture a complex terpene profile characterised by tastes of citrus, earth, fruit, and herbs.
This productive strain pumps out up to 500g/m² over a flowering time of 8–10 weeks.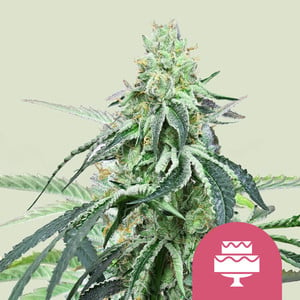 | | |
| --- | --- |
| | Wedding Cake x Gelato x Gelato 33 |
| | 450 - 500 gr/m2 |
| | 60 - 100 cm |
| | 8 - 10 weeks |
| | THC: 25% |
| | |
| --- | --- |
| | Sativa 40% Indica 60% |
| | 350 - 400 gr/plant |
| | 130 - 200 cm |
| | Early October |
| | Calming, Euphoric, Physically Relaxing, Uplifting |