The Latest and Best CBD Products From RQS
We at Royal Queen Seeds are committed to offering nothing less than the highest-quality CBD products on the market, and we're standing firm on that promise with our latest lineup. Our new 30% and 40% CBD oils are made with nutritious MCT oil, and we now offer 2.5% and 5% oils boosted with CBG and CBN! Learn about them here and pick some up today.
By
---
Ever since we entered the CBD oil market, we've made a promise that any CBD product we offer will be engineered to enhance your well-being, not detract from it. We're holding ourselves to that standard with our latest line, and we think they're some of the best CBD products we've ever released.
---
The Best CBD Products From RQS (New Releases)
As the most potent CBD oil varieties in our range, our 30% and 40% oils utilise an MCT oil carrier, while our 2.5% and 5% varieties are carried by hemp seed oil and enhanced with CBG and CBN—two cannabinoids that research suggests could enhance wellness. Every component is held to the highest quality standard, coming together in formulas that stand high above the competition.
We'll show you how each of these CBD oils can benefit you, and how to incorporate them into your wellness routine. We'll also detail precisely how to use them, and how to determine your optimal dosage.
Why Try CBD Oil?
Slowing down for a second, we figure we should make a point to say why, exactly, we think people should try CBD oil. It's not a cure for any ailment, but scientific research[1], along with anecdotal experience, has shown that CBD has significant potential to help people maintain and enhance their well-being.
Those who find their muscles routinely need soothing, for instance, could find relief in the blend of cannabinoids these oils offer. Researchers have only observed early signs of how cannabinoids could treat inflammation[2] and pain, but there's enough evidence out there for scientists to continue pursuing a definitive answer.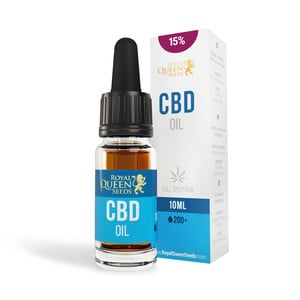 | | |
| --- | --- |
| | THC: 0.2% |
| | CBD: 15% |
| | CBD per drop: 7.5 mg |
| | Carrier: Olive Oil |
Those who tend to feel nervous in their daily life, or easily pressured when they needn't be, could also possibly benefit from these CBD oils. There need to be further clinical trials measuring therapeutic potential and consistent dosing.
Lastly, those who suffer from Lennox–Gastaut or Dravet Syndrome have already been offered a CBD treatment. Approved by the FDA back in 2018, Epidiolex[3] is made with CBD and designed to reduce seizure rates by slowing down certain signals, reducing inflammation in the brain, and adjusting the amount of calcium in its cells.
These findings are exciting, yes, but it's also worth remembering that every person is different. That said, given its good safety profile and lack of toxicity, it's worth giving CBD oil a shot if it interests you. Just remember to always consult your doctor before adding a new supplement to your regimen, especially if you're taking any medications.

2.5% and 5% CBD Oil with CBG/CBN: Best CBD Products for Beginners
If you're seeking the best CBD products for beginners, we're happy to recommend the latest renditions of our 2.5% and 5% CBD oils. They're sourced from our fields of top-shelf European hemp, and the cannabinoids are extracted via supercritical CO₂, ensuring no harmful solvents make it into the final product.
The extracted concentrate is then brought together with a hemp seed oil carrier to dilute the extract and increase CBD's absorption by the body. The CBD extract also contains other phytochemicals found in hemp, such as terpenes, that work with the cannabinoids to enhance their effects.
As you may have noticed, there are multiple cannabinoids in these formulas, not just CBD. Sure, you likely already know there are many other cannabinoids (over 100, actually) that can be found in negligible amounts. However, this line of oils is enhanced with sufficient doses of CBG (cannabigerol) and CBN (cannabinol), potentially bringing new levels of relief.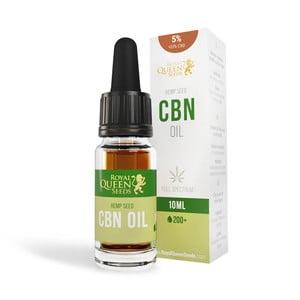 | | |
| --- | --- |
| | THC: 0,02% |
| | CBD: 2.5% |
| | CBD per drop: 1.3 Mg |
| | 5% |
| | 2.5 Mg |
| | |
| --- | --- |
| | Carrier: Hemp Seed Oil |
CBG and CBN — Newly Discovered Potential
What do CBG and CBN have to offer, though? Well, the research is relatively unsubstantial, but there could be some unique benefits to each that make them an ideal component of CBD oils.
For instance, if you use CBD oil to soothe a troubled digestive system, you might be keen to hear how CBG was observed quelling inflammatory bowel symptoms in a 2013 study on rodents[4]. That doesn't prove it would do so in humans, but these findings still clear the path for future studies.
Along with that, as it turns out, CBN has been observed to display similar potential anti-inflammatory effects[5]. Specifically, researchers found it helped rats with arthritis function in a healthier manner, noting a particular mechanism they want to see tested in future clinical trials.
Notably, cannabigerol and cannabinol have also been observed to function as appetite stimulants in rodents. Both a CBN[6] study in 2012 and a study on CBG[7] in 2016 described the cannabinoids as new potential triggers for increased appetite.
30% and 40% CBD Oil with MCT: Our Most Potent CBD Oil
For those who have been using CBD for a while, or just need a stronger dose, our 30% and 40% CBD oil is engineered to offer more pronounced effects.
You may have noticed that these oils feature higher CBD concentrations than what's usually available, particularly in the European market. As we've noticed more people taking larger amounts of low-concentration oils, it's led to more product wastage and more time spent shopping.
Considering that predicament, we decided it was time to put some more potent oils on our shelves. They're made with the same European hemp plants as our lower-concentration oils, and they're processed via supercritical CO₂ as well, so you don't have to worry about adjusting your quality standards if you're making the switch.
Along with offering higher doses of CBD, we've also boosted these solutions by utilising MCT oil as the carrier. This sort of oil is made with medium-chain triglycerides, which makes for exceptional absorption of CBD into the system.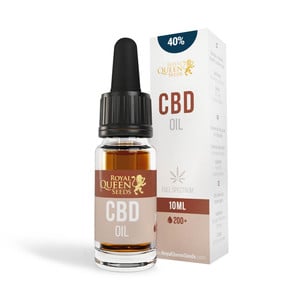 | | |
| --- | --- |
| | THC: 0,02% |
| | CBD: 40% |
| | CBD per drop: 20 Mg |
| | Carrier: MCT Oil |
The Benefits of MCT Oil
Besides enhancing the efficacy (bioavailability) of CBD oil, what benefits can MCT oil offer? There aren't many studies on it yet, but we know enough about its mechanics to understand the potential.
For starters, since medium-chain triglycerides contain less carbon than the long-chain triglycerides we usually eat, we can absorb them into our system at a faster pace. In turn, we can enjoy a more immediate energy boost than the one we'd get from eating long-chain fats.
Scientists have also found that coconut oil, which contains these same triglycerides, has been observed fighting off yeasts like Candida albicans[8], which can cause skin infections. That could be partly due to other components of coconut oil, but MCT on its own has also been shown to help decrease the spread of a fungal infection, specifically Malassezia[9], by a significant margin.
It was also shown to promote weight loss[10] in a research setting when obese subjects added it to their diets. That effect, of course, could also potentially help with fending off heart disease in turn.
There are even more potential effects to consider, but more research is needed to clarify what's been observed up to this point.

Determining Your CBD Oil Dose
So, if you've decided that you'd like to try out CBD oil, how should you go about measuring your dose? Well, that'll depend on why you're taking it and what your doctor recommends.
If you've never taken CBD oil before, you'll usually want to start off light. A low dose will give you a mild sense of the effects, and any potential side effects will be muted enough that you shouldn't experience any real discomfort.
If you find that a lower dose doesn't cause issues, but isn't doing the full job, increase it in small increments over a series of days or weeks. Bumping it up in small amounts will help you more precisely determine your ideal dose; that way, you get the full range and intensity of the effects you need, without going overboard.
How Should You Take CBD Oil?
Now, onto our final question: how should you go about physically taking CBD oil?
Really, all you have to do is fill up the included dropper with oil, which is made to fit exactly one dose, and drop said oil under your tongue. Hold it there for 60 seconds. During this time, it'll absorb into your sublingual membrane, enjoying a direct path to systemic circulation without undergoing digestion.
If you want to switch it up, you could also drop CBD oil into your tea; it would have to contend with digestion then, but the effects will last longer. You could also add CBD oil into edibles for an even tastier delivery method!
Try CBD Oil Out (After Speaking With Your Doctor)
All in all, we think that CBD oil could have a lot to offer you, and you should give it a shot if you can. Before doing so, though, make sure to speak with your doctor about an appropriate starting dose and intake regimen. Once you've got that sorted, check out these and other fantastic CBD oil options on our site.
When you buy from RQS, you can rest assured that you're only getting the best CBD products. But don't just take our word for it. Check out the CBD reviews on our site, and those on sites like Trustpilot for unbiased perspectives on our CBD products.