Cherry Pie: A Fruity, Uplifting Powerhouse
"Tastes so good, makes a grown man cry". Warrant might not have been singing about the Cherry Pie cannabis strain in their 1990s hit song, but they sure hit the nail on the head—Cherry Pie's aromas, flavours, and well-balanced effects have earned her a spot in every cannabis connoisseur's heart.
By
---
Cherry Pie, also known as Cherry Kush, is a beloved indica-dominant weed strain boasting bold, fruity aromas and an uplifting yet relaxing high. Bred from Californian purple legend Granddaddy Purple and the sativa goddess Durban Poison, Cherry Pie has all-star genetics to back up her vibrant aroma, rich flavours, and great effects. Keep reading to learn more about this popular hybrid.
---
Origins & History of Cherry Pie
The exact origins of Cherry Pie haven't been confirmed (which isn't unheard of in the cannabis world). Cannabis folklore has it that Cherry Pie was one of the first creations of Kenny Dumetz, aka PieGuy, the co-founder of Californian genetics brand Powerzzzup. Kenny got introduced to cannabis by his neighbours—a nice lesbian couple living a few blocks down the street. At a cousin's party, Kenny eventually met Jason Mejia. They instantly struck up a friendship over their love for weed, and together went on to create their own brand of powerhouse Californian hybrids. In interviews, Jason and Kenny suggest that Cherry Pie laid down the genetic foundations of many of Powerzzzup's beloved strains.
The original Cherry Pie by PieGuy is believed to be the offspring of Granddaddy Purple (GDP) and Durban Poison. GDP is a Californian classic treasured for its deeply relaxing effects, unique aromas, and beautiful purple colours. It was made famous by Ken Estes in 2003, who says he inherited the strain from Native Americans in Humboldt County, who had kept the strain alive for over 22 years.
Durban Poison is equally famous as GDP. Named after the South African port city of Durban, Durban Poison is a landrace sativa popularised by Ed Rosenthal, Mel Frank, and Sam the Skunkman. With a spicy yet sweet aroma and moderate levels of THC, Durban Poison is an ideal strain for daytime use, producing a creative, energetic, and uplifting effect that many users enjoy outdoors or while tackling daily tasks.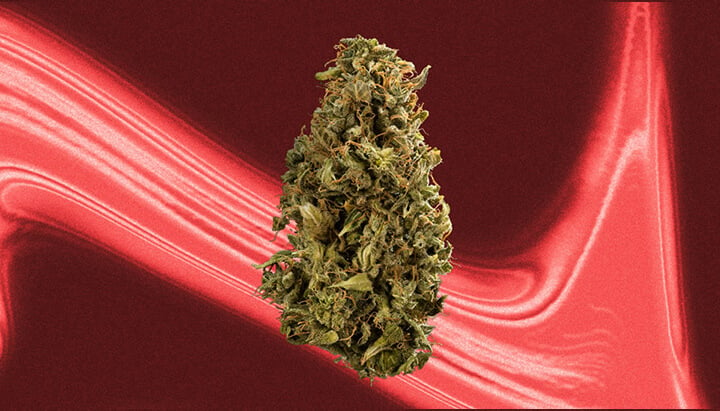 Effects of Cherry Pie Weed
By combining Granddaddy Purple and Durban Poison, Cherry Pie makes for a well-balanced hybrid with effects that perfectly balance cerebral stimulation and physical relaxation. While each batch of Cherry Pie may be a little different, samples typically contain 16–20% THC. Just a few minutes after inhaling Cherry Pie's sweet smoke, you may experience a notable boost in mood, a sharpening of the senses, and an increase in out-of-the-box thinking. Gradually, you'll notice Cherry Pie's relaxing nature shine through, producing a grounding and warming body buzz.
Thanks to its balanced effects, some users choose to smoke Cherry Pie during the day or even in the mornings before settling into a session of focused creative or analytical work. Those more prone to her physical effects may prefer enjoying Cherry Pie in the afternoon or on weekends when they can bask in her relaxing effects guilt-free.
Note that Cherry Pie, like other high-THC cannabis varieties, may produce some unpleasant side effects, such as dry eyes and dry mouth, dizziness, and paranoia.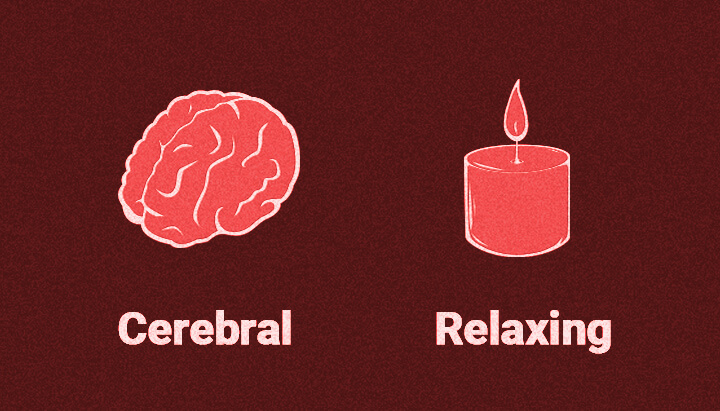 Aroma and Flavour of Cherry Pie
Cherry Pie is held in very high regard for its bold aroma. As her name suggests, this strain boasts an upfront sweet, slightly tart cherry aroma. A delicate nose may also pick up on notes of dark berries as well as subtle herbal and floral undertones. As Cherry Pie flowers cure for extended periods of time, their more dank, hash-like aromas may creep to the forefront.
Light her up, and Cherry Pie will cover your palate with sweet fruit notes and hints of toasted biscuits, reminiscent of Cookies and other modern US dessert strains. The most commonly reported terpenes in Cherry Pie are: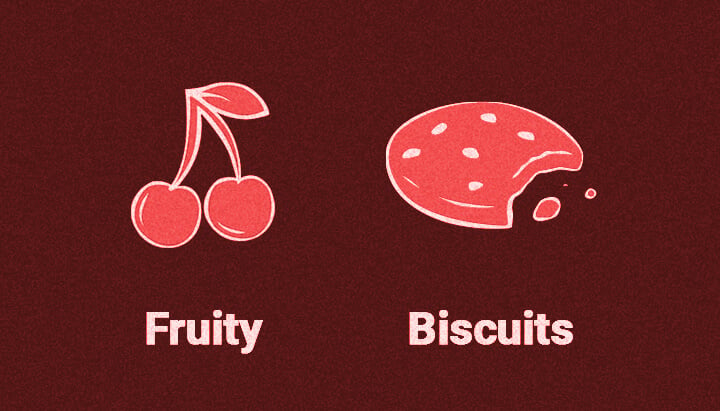 Cultivation — Is Cherry Pie Hard to Grow?
There is very little specific grow information available for Cherry Pie. However, her strong lineage suggests that she is a fairly straightforward strain to cultivate, even for beginners. Given her indica dominance, Cherry Pie plants grow short and bushy, with wide lateral branching, which makes her an attractive strain for indoor growers with limited space. Cherry Pie's bushy growth, however, might require some regular trimming and defoliation (especially indoors) to ensure light can penetrate her thick canopy and reach all of her bud sites. In cooler temperatures, some Cherry Pie phenotypes take on beautiful purple hues, which only add to the eye candy of the dense, frosty flowers.
Outdoors, Cherry Pie performs best in slightly humid and warm climates. Jason Mejia, one of the founders of Powerzzzup genetics, and among the first growers to cultivate Cherry Pie, says he grew the strain in a greenhouse/atrium in San Francisco to preserve a little extra heat and humidity, to really help the plants flourish.
Want to Try Cherry Pie Genetics for Yourself?
Are you eager to add top-shelf Cherry Pie genetics to your grow room or garden? At Royal Queen Seeds, we don't directly provide Cherry Pie, but be sure to check out Sherbet Queen, a direct descendant of Sunset Sherbet, heir to the Cookies and Cherry Pie throne. This delicious, fruity hybrid inherited Cherry Pie's thick bud structure and delicious fruit overtones and offers a well-balanced high that perfectly unites cerebral euphoria with a warming, relaxing body buzz.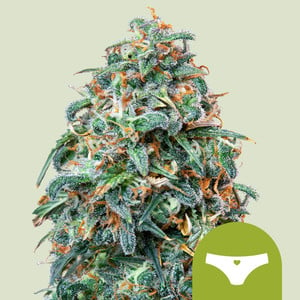 | | |
| --- | --- |
| | Pink Panties x Cookies Auto |
| | 325 - 400 gr/m2 |
| | 70 - 100 cm |
| | 6 - 7 weeks |
| | THC: 20% |
| | |
| --- | --- |
| | Sativa 35% Indica 60% Ruderalis 5% |
| | 100 - 150 gr/plant |
| | 80 - 120 cm |
| | 8 - 9 weeks after sprouting |
| | Calming |
Cherry Pie Strain: FAQ
Is Cherry Pie indica or sativa?

Cherry Pie is a slightly indica-dominant hybrid cannabis strain.

What are the effects of Cherry Pie?

Cherry Pie is known to have well-balanced effects that combine cerebral stimulation and subtle physical relaxation.


Is Cherry Pie a Cali strain?

While its exact origins aren't confirmed, Cherry Pie is believed to have been created by Kenny Dumetz in the San Francisco Bay Area of California.


Is Cherry Pie clone only?

Cherry Pie was originally only available as a clone. Today, however, many seed banks sell Cherry Pie in seed form.


What is the yield of Cherry Pie?

Cherry Pie's yields vary depending on the phenotype as well as how it is grown. Because of its short height and wide branching, Cherry Pie may perform well in SOG and ScrOG setups. Some sources suggest that Cherry Pie can produce up to 400g of flower per plant.


What is the flowering time of Cherry Pie?

The exact flowering time of Cherry Pie can vary slightly across phenotypes, but typically clocks in at 8–9 weeks.