Cannabis Is The Fastest Growing Industry In The US
The legal marijuana industry is on fire and new businesses are thriving throughout the US. If you like sustainable business opportunities with a quick turnover and exceptional growth rates, here is your chance to invest and learn more.
---
Taking a closer look at the cannabis industry in North America is not only interesting for people with solid financial resources, it can also be inspiring for European politicians and decision makers, maybe thinking of similar scenarios of how to establish a reasonable drug policy that fits the reality of the 21st century. That's politics. Let's completely focus on the business aspects on this one.
The US senate introduced the Marijuana Businesses Access to Banking Act in 2015 that allows financial institutions to invest in legitimate businesses of the marijuana industry. Potential investors who are interested in further details can follow the link to the US congress below. This blog is meant to provide some basic information on this market and suggests a few strategies for both private and institutional investors.
INVESTING IN A MARKET WITH HIGH UNCERTAINTY
Financial institutions and private investors are usually a little skeptical when being confronted with the thought of investing in weed in a business context. This is understandable when taking the legal situation into consideration, especially the contradiction between federal and state law in the US makes things more complicated. The following points are meant to provide a small selection of reasons why investments in the marihuana industry could be the right thing to do.
1. The legal situation is changing rapidly towards a business friendly environment.
23 out of 50 US states legalized the use of medicinal, and in some cases, recreational cannabis. This number of states will continuously grow and there are more states in the US that will vote on this issue in 2016. This blog already mentioned the Marijuana Businesses Access to Banking Act that provides a safe haven for financial investors.
2. The growth rates and future perspectives are more than promising.
It's basically the "green rush" of modern times. The ArcView Group is a cannabis industry investment and research company based in Oakland, California. They found out that the market for legal cannabis grew 74% in 2013 to $2.7 billion, up from $1.5 billion in 2013. Troy Dayton, CEO of The ArcView Group, states: "In the last year, the rise of the cannabis industry went from an interesting cocktail conversation to being taken seriously as the fastest growing industry in America." According to a market research report of this company, marijuana sales would top $36.8 billion when all 50 US states will be legalizing.
3. The market is still developing and many large investors luckily hesitate.
Bigger companies are hesitating to seize the great opportunities of this market. Reasons might be that federal law is still not fully at the point of acknowledging the money that comes from dispensaries. These businesses are kind of forced to operate with cash, just like back in the old days of cannabis prohibition. This will most likely change and large investors will flood cannabis businesses with money as soon as the federal legal framework gives them reason to think that their money is safe. Private investors and financial institutes who are willing to operate in an area that is legally not 100% accepted have the chance to buy in before big-time investors do so.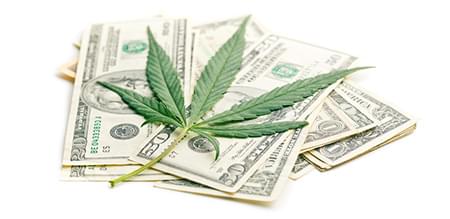 BUSINESS MODELS TO INVEST IN
Private and institutional investors need to decide how close they want to be to the final product, meaning the blossom of the cannabis plant. There are lots of different opportunities along the value chain that can potentially be considered.
1. Invest in companies that produce and distribute cannabis.
The most obvious strategy would be to invest in cannabis production facilities that actually grow the plant and then sell it to dispensaries. Those dispensaries are usually small businesses that sell the product to the customer, just like coffeshops in the Netherlands. It can be an idea to look for enterprises that are doing both, producing weed, and distributing it to the final costumer. These companies are more likely to survive the stage of falling prices that can already be observed. Strict regulations of companies who grow and sell the final product are the downside of this direct approach.
2. Take a look at companies who develop technology for growers and consumers.
When there is gold rush, it's good to be in the shovel business. Production facilities need seeds, pots, soils, fertilizers, artificial lightning, and all kinds of state-of-the-art technology to ensure a high quality product and a cost-efficient production. There are a lot of companies who are very successful in developing new products like organic fertilizers, LED-lights, or smoking equipment for the cannabis enthusiast of today. It's basically like investing in every other legitimate business without the strict regulations one has to face when handling the actual bud. This would be a strategy to take advantage of these amazing growth rates without being confronted with too much uncertainty.
3. Consider new business models that satisfy specific needs of potheads.
A good example is the investment of venture capitalist Peter Thiel. He funded the online cannabis platform leafly.com with $75 million. According to Forbes, this guy has assets of about $3.3 billion and therefore seems to know a little bit about investments. This information platform is very valuable for potheads because it provides data to literally every cannabis strain that exists, along with numerous other features that are valuable for cannabis smokers. If you can't find a company that seems to be promising enough, start your own. Right now seems to be the perfect time for a project like this.