Growing Cannabis Outdoors In The UK: Month-By-Month Guide [2022]
Don't let the heavy rain and seasonal humidity put you off. It's perfectly possible to raise a healthy and vibrant crop of cannabis plants outdoors in the UK. Follow our in-depth guide below to find out how.
By
---
A complete month-by-month guide to growing cannabis outdoors in the UK.
---
Growing outdoors comes with a unique set of challenges per location. Everything needs to be considered, from local pest species to the best strain for the job. Simply follow the growing guide below to boost your chances of a successful outdoor harvest in the UK.
GROWING CANNABIS OUTDOORS IN THE UK IN 2022
Growing cannabis outdoors in the UK usually involves (at least) one consistent weather condition: rain! Your plants will rarely go thirsty or wilt from the heat. The UK experiences a temperate climate defined by cool, wet winters and warm, wet summers. The country rarely experiences extreme weather events, although flooding and droughts do occur from time to time. The UK sees an average of 133 days of rain and around 1,350 hours of sun per year. This fine balance of rain and sun gives plants plenty of the key resources to develop properly.
The UK features four climate segments:
• South-east: This region experiences cold, biting winters along with warm, dry, and pleasant summers. Continental winds keep things relatively dry in general. South-east UK encompasses London, Brighton, Cambridge, and Norwich.
• South-west: This area of the country sees mild and very rainy winters contrasted by warm and wet summers. Tropical winds from the south extend the growing season. Includes Cornwall, Devon, Bristol, and Cardiff.
• North-west: The north-west experiences mild winters and cool summers. Maritime winds bring a whole load of rain all year round. This region covers Northern Ireland, northern Wales, and western Scotland.
• North-east: Arctic winds from the north bring cold winters, cool summers, steady rain, and a shorter growing season. Includes Newcastle, York, Edinburgh, and Aberdeen.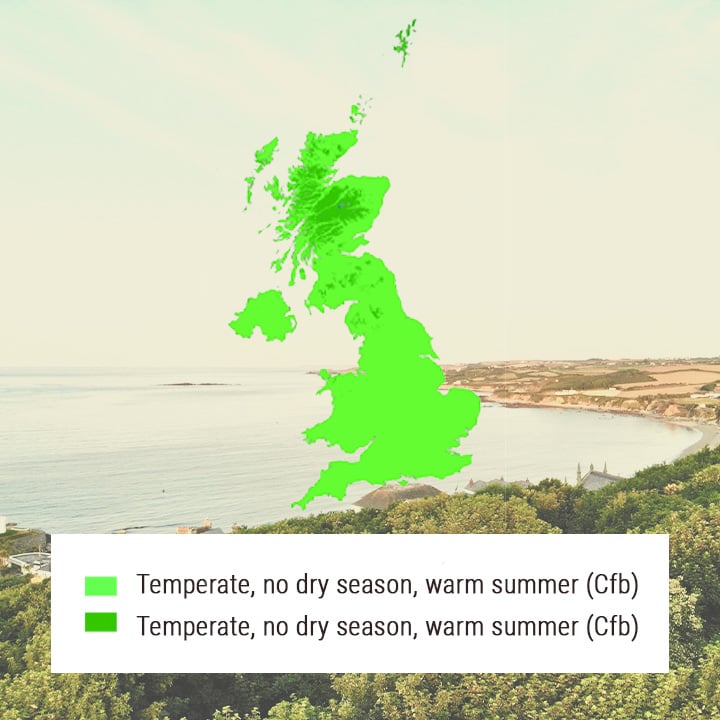 IS WEED LEGAL IN THE UK?
Unfortunately, the United Kingdom is lagging behind more progressive European nations when it comes to cannabis legislation. The government categorises cannabis as a class B substance, meaning mere possession can lead to a maximum 5-year prison sentence, an unlimited fine, or both. Growing and supplying cannabis can lead to the more extreme punishments of up to 14 years in prison, an unlimited fine, or both.
Despite the draconian nature of UK cannabis laws, things are improving. CBD products are widely available over the counter in stores, so long as they possess no more than 0.2% THC. The government also allowed doctors to start prescribing cannabis products to patients in 2018. In 2019, the NHS received the all-clear to start prescribing cannabis-based products for Lennox–Gastaut syndrome and Dravet syndrome.
The UK has a long way to go to match the more relaxed approaches of certain American states and European nations.
A GUIDE ON GROWING CANNABIS OUTDOORS IN THE UK
Below, we'll generalise and focus on the south-east, south-west, north-east, and north-west, while touching on specific locations along the way. It'll help if you do a little more research on your specific area just to make sure you have all the bases covered.

MARCH
• Day length March 1st: 10h 57m
• AVG temperature: 3–10°C
March marks the official start of spring. However, things are still pretty chilly in most of the country. But this doesn't mean growers can't get a head start indoors. Start germinating your seeds and placing emerging seedlings under LED lights or on a sunny windowsill.
Start weeding your beds and dressing them with high-quality compost. Layer them with straw or wood chip mulch to trap moisture and prevent weeds from returning. If you're growing in containers, dress them with good compost, too. Start cleaning out and preparing your polytunnel or greenhouse, if you're lucky enough to have one. Scrub down any algae from the glass panels, brush out debris, and get it ready to host your cannabis plants in the coming weeks.
Certain microclimates around the UK allow lucky growers to plant outside during March. Cultivators in the Scilly Isles, Anglesey and Dungeness usually see the last frost around late February.. Pay close attention to the forecast and decide whether the risk might pay off. Make sure to keep a backup crop growing indoors just in case.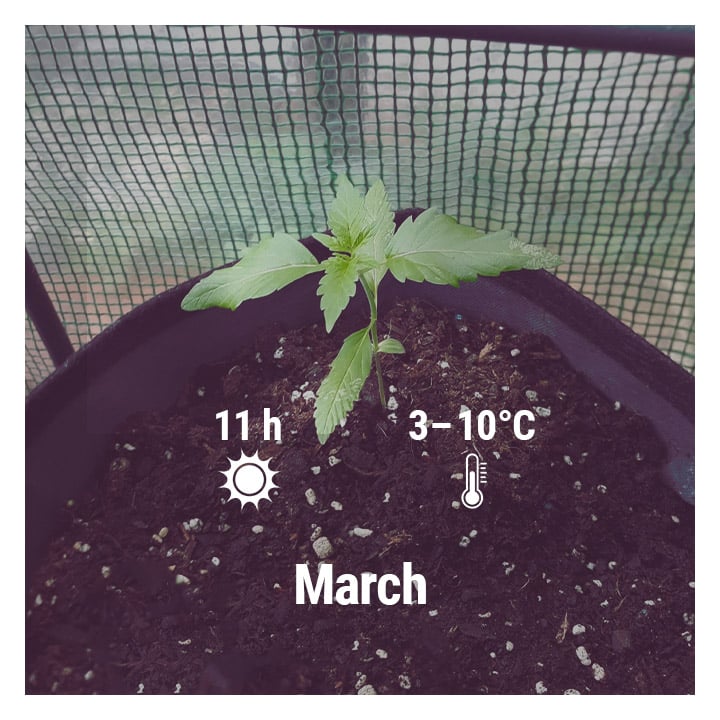 APRIL
• Day length April 1st: 12h 59m
• AVG temperature: 5–13°C
April brings a significant improvement in weather and sunlight. Bluebells, wild garlic, and other aromatic spring flowers lead the charge of emerging plant life. Although April brings a nice, warm heat, frost still poses a significant risk. Growers in most regions will need to keep their plants indoors under lights and on windowsills for a couple more weeks to be safe. However, cultivators with greenhouses or polytunnels will be able to safely move their plants to these structures during April.
Only water your seedlings when the top inch of soil dries out, being careful not to overwater. Head out into the garden and keep the "bad weeds" under control. You'll be able to sow hardy companion plants during April, such as peppermint, yarrow, coriander, and marigold. These plants will start flowering in the coming months, helping to distract pest insects and attract beneficial ones. Take a stroll around your beds, look out for weeds, and remove them by hand if you stumble across any.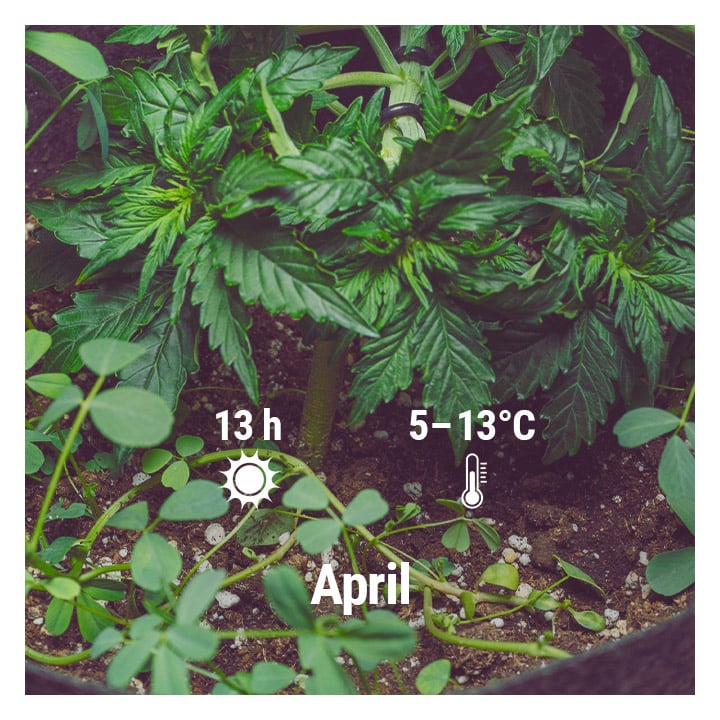 MAY
• Day length May 1st: 14h 53m
• AVG temperature: 8–16°C
The coastal regions will see their final frost at the start of May. However, more central areas—the East and West Midlands—and Northern Scotland will have to hold back until the middle of the month. If you choose to move your plants outdoors, containers will be the best option. They'll allow you to move your plants indoors or into your greenhouse if you suspect a sub-zero night.
Growers in the south-east and south-west should make sure their greenhouses and polytunnels are well-ventilated. Occasional heat waves will greatly increase the temperature in these structures, to the degree that it might harm your plants.
Transplant your seedlings into containers or beds filled with organic, living compost. This contains microorganisms that will help your plants thrive. Consider adding mycorrhizal fungi to your growing medium for root system support and enhanced nutrient uptake.
After planting out, water in your plants and keep them well-hydrated throughout the month. The north-west, north-east, and Northern Scotland receive heavy rain during May. If things get to be too much, erect a tarp over the beds or move containers indoors to prevent overwatering. Growers in the south-east and south-west will see less rainfall and should begin setting up drip irrigation systems or hand watering to keep up with demand.
Dress your beds and containers with compost and worm castings to provide slow-release nutrients throughout the vegetative phase. Use compost tea or seaweed fertiliser to make sure your plants get all the minerals they need. Alternatively, mix your soil with Easy Boost Organic Nutrition and water plants with Easy Grow Booster Tablets to provide the necessary nutrients with minimal fuss. Follow the instructions on your chosen products to prevent overfeeding and nutrient burn.
Start sowing more delicate companion plants, such as chamomile, to help stave off pests later in the growing season. Set up fences and netting if your area experiences a lot of deer and other browsing mammals.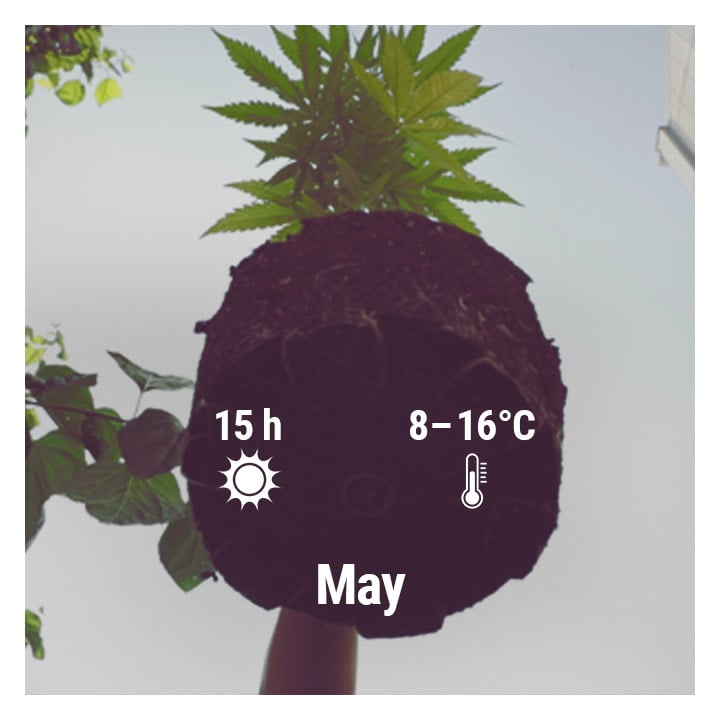 JUNE
• Day length June 1st: 16h 20m
• AVG temperature: 11–19°C
Summer officially arrives! June sees temperatures boom and daylight hours greatly increase. The risk of frost will have passed in all regions, except certain areas of the Scottish Highlands. Vegetating cannabis plants take advantage of this and start packing on some serious mass—increasing their demand for water and nutrients. The south-east and north-east typically see a drop in rainfall during June. Make sure your irrigation systems are running correctly, and be sure to water plants in the morning or evening for best results.
Keep an eye out for persistent weeds and remove them on sight to prevent them from pulling nutrients from the soil. Layer down more mulch as the older material begins to break down to reinforce these natural weed barriers.
Your increasingly mature plants will be resilient enough to undergo training techniques. Employ methods such as low-stress training (LST) to keep plants low to the ground, making it an optimal choice for discreet UK growers.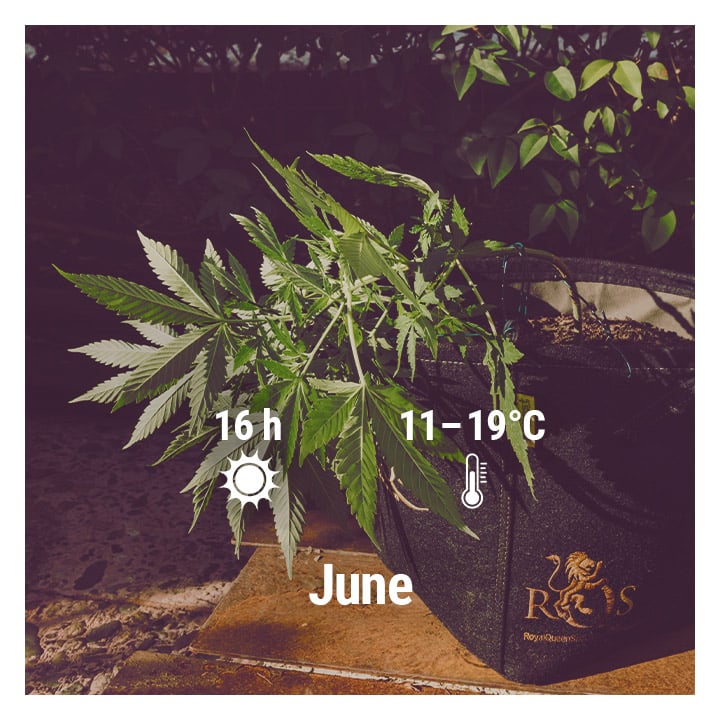 JULY
• Day length July 1st: 16h 33m
• AVG temperature: 13–22°C
July ushers in the peak of summer, the hottest temperatures, and longest days of the year. Your vegging plants will continue to surge in size, put out new fan leaves, and burrow their roots deep into the Earth. Growers in the north-west will receive around 100–300mm of rainfall during July—enough to keep watering at a minimum. However, rainfall will become scarce in the rest of the country. Keep up with watering—especially in greenhouses—and don't let your plants dry out.
Dedicate time in the morning to take a meditative walk around your crop. Inspect fan leaves for signs of nutrient deficiencies. These signs usually manifest as yellowing leaves, dropping leaves, and curled leaf tips. Learn how to identify and remedy deficiencies here.
You'll also want to keep an eye out for common cannabis pest species such as whiteflies and aphids. Remove any by hand if the numbers are low. If they start to multiply, employ biological control methods such as introducing beneficial insect species.
Continue training your plants, aiming to keep the canopy as even as possible to provide future flowers with optimal light exposure. Make some final adjustments towards the end of July, as training during the flowering stage will be detrimental to growth.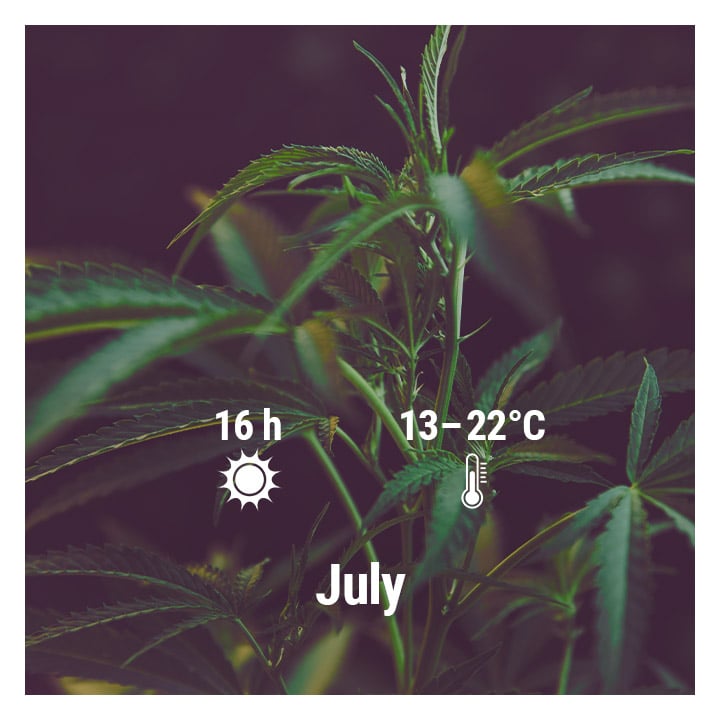 AUGUST
• Day length August 1st: 15h 23m
• AVG temperature: 13–21°C
The final month of summer has arrived. Both temperature and daylight hours begin to dip. Cannabis plants pick up on the reduction of available light, which triggers them to begin flowering.
Flowering plants require lower levels of nitrogen and higher levels of phosphorus and potassium. You'll need to change your feeding regimen to cater to these demands. Top-dress your soil with worm castings, kelp meal, and bone meal for a slow-release formula. Water regularly with Easy Bloom Booster Tablets to provide adequate levels of potassium, calcium, and magnesium.
Humidity can become an issue as flowers start to develop. Their resinous and compact nature makes them an ideal breeding ground for mould. All of the UK can hit humidity highs of around 90% during August. Water the ground around your plants and don't spray your flowers directly. Keep polytunnels and greenhouses extremely well-ventilated.
Defoliation serves as a great weapon in the battle against mould. The technique involves cutting away several fan leaves to improve airflow through the canopy. Defoliation also works well to allow more light to reach bud sites deeper in the canopy.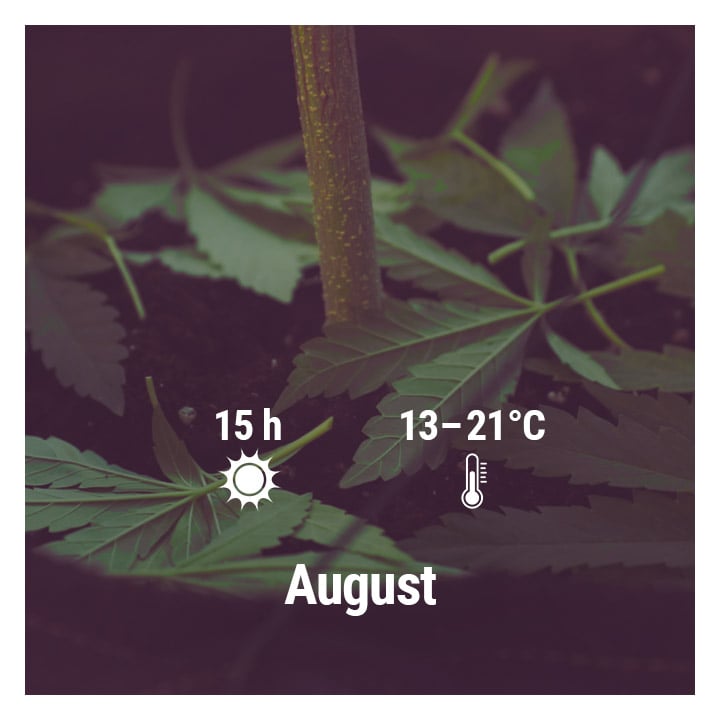 SEPTEMBER
• Day length September 1st: 13h 32m
• AVG temperature: 11–18°C
Temperature and daylight hours continue to drop. Your flowers will start edging towards maturity. Scents of aromatic terpenes will fill your garden. Although pleasant, the smell can attract unwanted pests. Thankfully, the companion plants you sowed earlier in the season will help to minimise any damage. You can even start harvesting species such as chamomile and lavender to craft relaxing teas.
Fast-flowering indica strains will be nudging closer to maturity. Flush your plants with pure water two weeks before harvest. Proceed to harvest, dry, and cure your bounty.
The south-east and north-east experience little rainfall throughout September. Keep up with hand watering and carry out routine checks on your irrigation system to ensure everything is running smoothly. The south-west and north-west will see between 100–500mm of rain come through. Allow nature to water your plants, but keep a tarp on handy in case severe and prolonged rainfall occurs.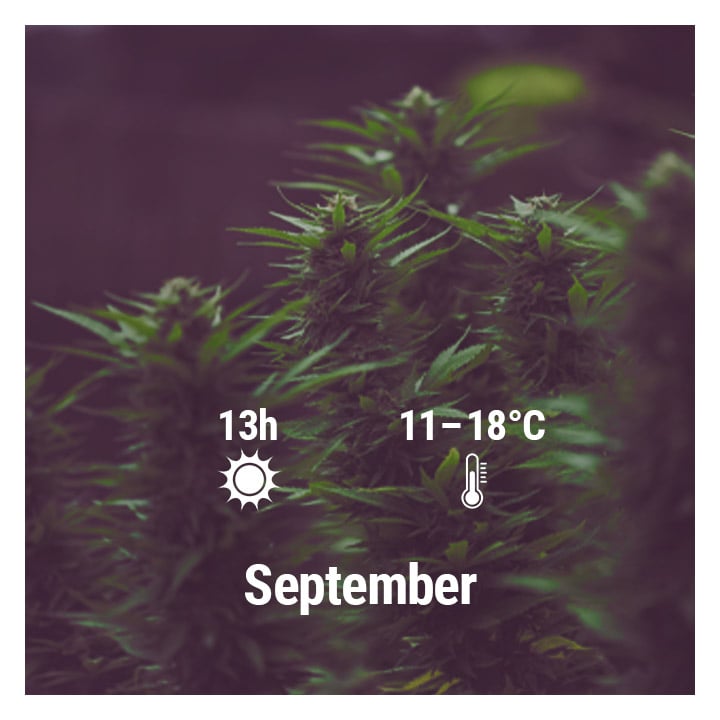 OCTOBER
• Day length October 1st: 11h 36m
• AVG temperature: 8–14°C
In October, the leaves start dropping from the trees, and temperatures become noticeably colder. Autumn has arrived, winter waits around the corner, and the growing season comes to a close.
Now, turn your attention to longer-flowering sativa cultivars. Keep them well-fed, watered, and ventilated. Keep up with defoliation as new fan leaves begin to develop. Most of the country will start to experience a good amount of rainfall during October. However, cultivators in Northern Ireland and several locations in the north-west and south-west will need to continue manual watering.
Growers in central Scotland, central England, and south of London will need to be vigilant of the first frost setting in before harvest. Inspect your mature flowers for mould and consult our mould guide if you spot anything unsightly.
Harvest, trim, and dry your plants. Now it's time to kick back, relax, and enjoy the fruits of your labour!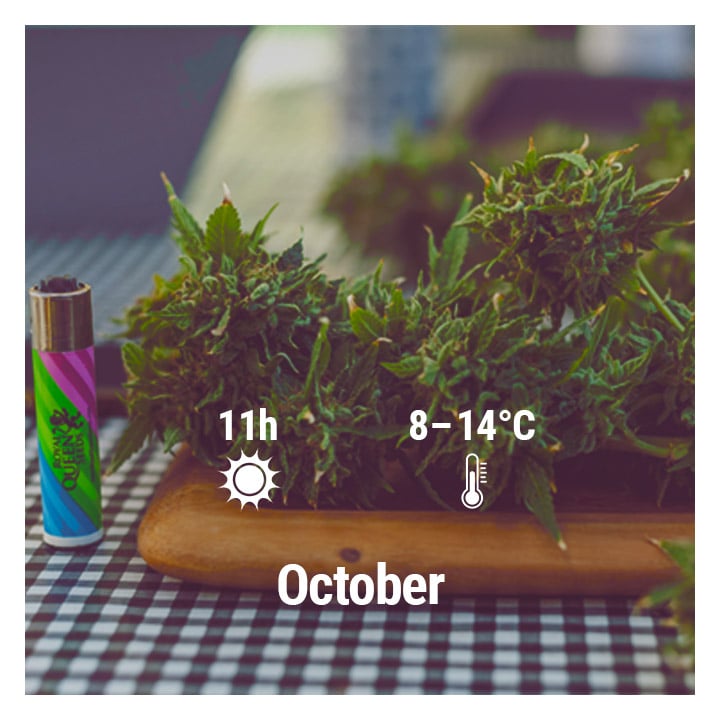 PROS AND CONS OF GROWING CANNABIS OUTDOORS IN THE UK
Sure, the sheer amount of rain can be annoying, but it keeps plants healthy and luscious when dealt with correctly!
Pros:
• Plenty of rain
• Mostly dry during the late flowering stage
• Growers know to expect occasional bad weather, which keeps them prepared with tarps, fans, and other equipment
Cons:
• Excess rain can lead to root rot and bud rot
• Draconian laws make growing cannabis a discreet activity
TOP 3 RQS STRAINS RECOMMENDED FOR OUTDOOR GROWING IN THE UK
Check out three of the best strains to grow in the UK below.
• Northern Light — Grow her anywhere in the UK
Known all over the world for her impressive genetics, Northern Light can easily handle the often wet and humid conditions of the UK summer. This pure indica strain delivers a soothing body high fuelled by a THC level of 18%. Her fruity can spicy terpenes make the high even more enjoyable. Prepare to harvest a rewarding yield of 575–625g/plant after a flowering time of 7–8 weeks.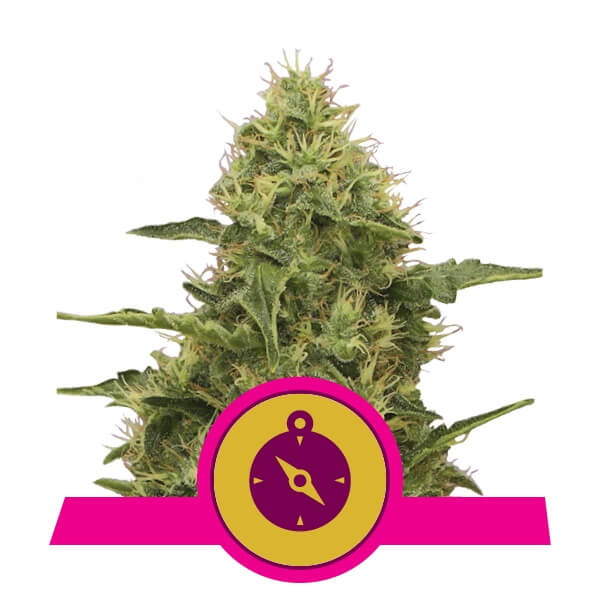 Northern Light
Northern Light S1
500 - 550 gr/m2
100 - 160 cm
7 - 8 weeks
THC: 18% (aprox.) / CBD: Medium
| | |
| --- | --- |
| | 0% Sativa, 100% Indica, 0% Ruderalis |
| | 575 - 625 g/per plant (dried) |
| | 180 - 220 cm |
| | Late September |
| | A combination of stoned + high |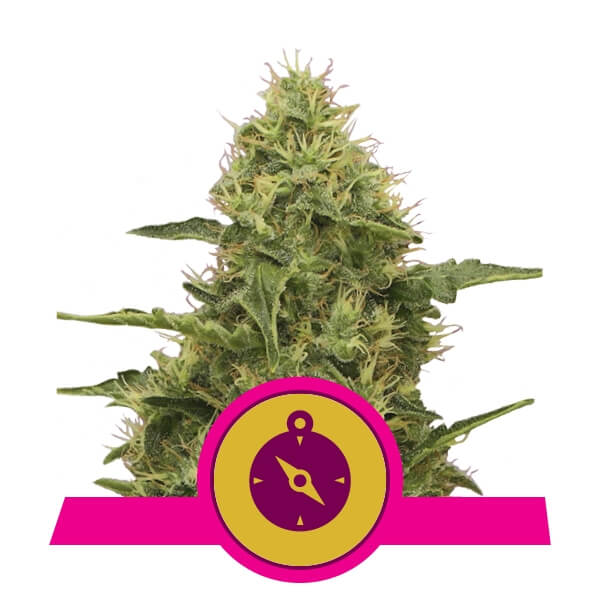 | | |
| --- | --- |
| | Northern Light S1 |
| | 500 - 550 gr/m2 |
| | 100 - 160 cm |
| | 7 - 8 weeks |
| | THC: 18% (aprox.) / CBD: Medium |
| | |
| --- | --- |
| | 0% Sativa, 100% Indica, 0% Ruderalis |
| | 575 - 625 g/per plant (dried) |
| | 180 - 220 cm |
| | Late September |
| | A combination of stoned + high |
• Haze Berry — For south-west growers
Those in the warmer south-west can enjoy growing longer-flowering sativa varieties. Haze Berry provides a stimulating cerebral high, berry-flavoured terpenes, and a rewarding yield. She'll pump out up to 650g/plant after a flowering time of 9–11 weeks when grown in containers or garden beds.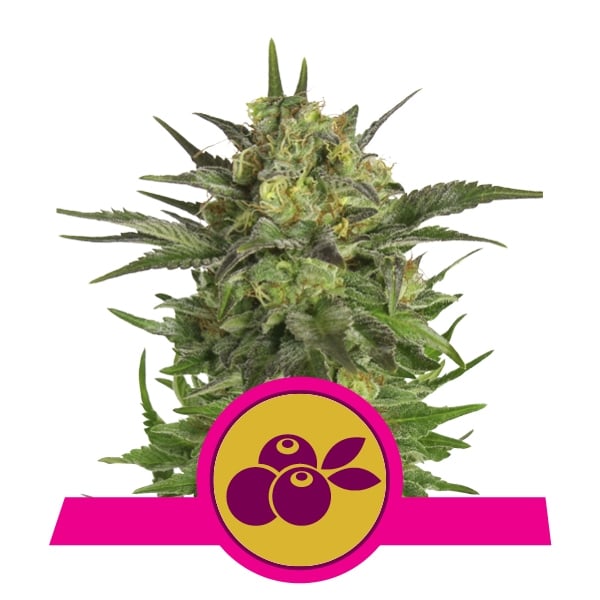 Haze Berry
Blueberry x Shining Silver Haze
525 - 575 gr/m2
60 - 100 cm
9 - 11 weeks
THC: 20% (aprox.) / CBD: Low
| | |
| --- | --- |
| | 80% Sativa, 20% Indica, 0% Ruderalis |
| | 600 - 650 g/per plant (dried) |
| | 160 - 180 |
| | Finals d'octubre |
| | Extremely stoned long-lasting & body relaxing |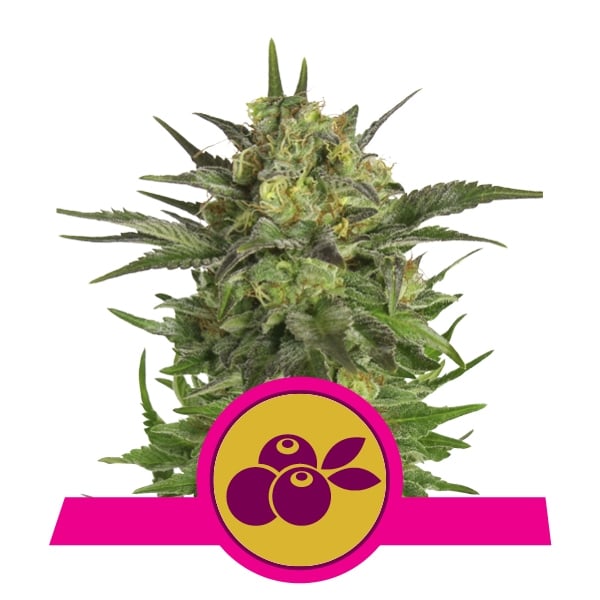 | | |
| --- | --- |
| | Blueberry x Shining Silver Haze |
| | 525 - 575 gr/m2 |
| | 60 - 100 cm |
| | 60 - 100 weeks |
| | THC: 20% (aprox.) / CBD: Low |
| | |
| --- | --- |
| | 80% Sativa, 20% Indica, 0% Ruderalis |
| | 600 - 650 g/per plant (dried) |
| | 160 - 180 cm |
| | Finals d'octubre |
| | Extremely stoned long-lasting & body relaxing |
• Critical — For northern growers
Not every grower in the UK enjoys such seasonal warmth as the south-west. Those up in Northern Scotland and the Highlands need something that can handle a shorter growing season and cold snaps—a strain like Critical. This descendant of Afghani and Skunk provides a well-balanced high that wakes up the mind while relaxing the body. Her bushy indica morphology and hardy genetics can handle the cold with ease. Enjoy a yield of 600–650g/plant after a brief flowering period of 7–9 weeks.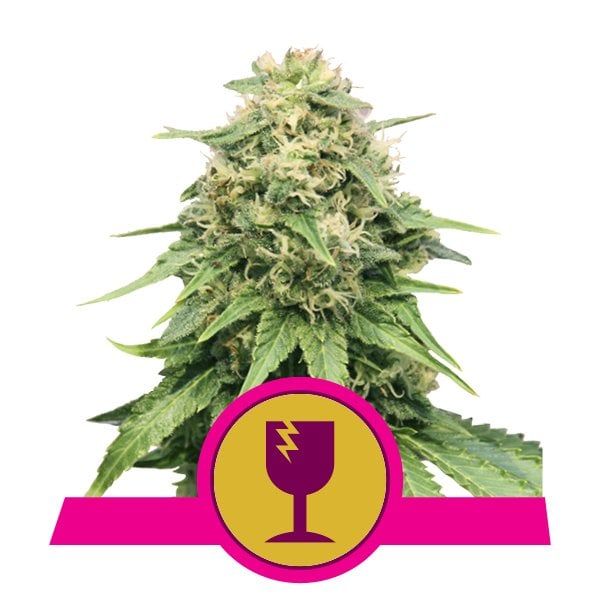 Critical
Afghani x Skunk
550 - 600 g/m2
80 - 140 cm
7 - 8 weeks
THC: 18% (aprox.) / CBD: Low
| | |
| --- | --- |
| | 40% Sativa, 60% Indica |
| | 600 - 650 g/per plant (dried) |
| | 180 - 220 cm |
| | Late September |
| | Stoned, physically and mentally |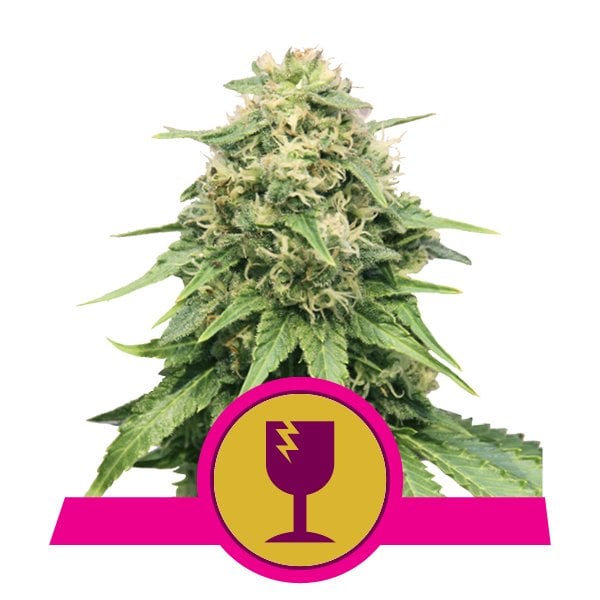 | | |
| --- | --- |
| | Afghani x Skunk |
| | 500 - 550 g/m2 |
| | 80 - 140 cm |
| | 7 - 8 weeks |
| | THC: 18% (aprox.) / CBD: Low |
| | |
| --- | --- |
| | 40% Sativa, 60% Indica |
| | 500 - 550 g/per plant (dried) |
| | 180 - 220 cm |
| | Late September |
| | Stoned, physically and mentally |
YOU TOO CAN GROW CANNABIS OUTDOORS IN THE UK
Many cannabis cultivars thrive in the UK, providing growers with satisfying yields year after year. Frequent rainfall keeps plants hydrated and luscious—just keep a makeshift shelter handy in case of non-stop precipitation. Certain areas experience a shorter growing season, so erecting a cheap polytunnel can help growers extend the season and cultivate sativas with fewer hurdles. Growing in the UK comes with a few challenges, but none that can't be risen to; you just need to start the season prepared and ready to act.