Preparing For The Game Changer Of Legalized Cannabis In Canada
In 2018, Canada will become the first G7 country to legalize recreational marijuana at a federal level. This is a game-changer for cannabis policy throughout the world. Most nations are making slow progress towards a fully legal, regulated cannabis market. Here's how Canada's will work.
---
Change has come to Canada. At least that's the impression Prime Minister Justin Trudeau wants to convey. There is one campaign promise he is close to fulfilling with potentially huge consequences. His mainstream Liberal Party backing the legalization of recreational marijuana could be a watershed moment. Plans are currently being implemented for a regulated cannabis market throughout Canada.
Trudeau has argued for this from a harm reduction standpoint. He claims it is easier for Canadian teenagers to access marijuana than alcohol. He wants to remove the criminal element from the cannabis trade. With a safely regulated supply of cannabis, health risks in the preparation of the product are vastly reduced. Trudeau has repeatedly defended his plans to legalize marijuana, even during a VICE News special.
WHAT THE NEW LAWS MEAN
Changes to cannabis laws are scheduled to come into effect on Canada Day, 1st July, 2018. They will remove criminal penalties for adults possessing less than 30 grams of cannabis (just over an ounce). Provinces and First Nation reservations will maintain discretion in terms of regulating the sale of cannabis, which could vary widely. When it comes to age restriction, 18 has been set as the federal minimum age to access cannabis. Provinces may decide to set their own age limit higher, to 21 or even as high as 25.
There will also be regional flexibility in regulating the sale and distribution of marijuana. Ontario and New Brunswick have already outlined a model of state-licensed dispensaries similar to how alcohol is sold. Whatever the regional differences, strict guidelines around zoning, advertising, and product packaging must be observed. It will also be allowed for Canadian citizens to cultivate up to 4 cannabis plants at home. This ambitious policy resulted from government consultation with experts, the public, and international experience. Its implementation has of course been controversial.
PROHIBITION IS STILL IN EFFECT
It is not the concept of recreational marijuana that is controversial for Canadians. They have accessed medical cannabis for years through their world-class single-payer healthcare system. Public support for recreational marijuana has been strong since the turn of the century. And a cannabis culture has already been thriving, particularly around the west coast city of Vancouver. Some of the larger cities already have dispensaries, selling marijuana on the "grey" market.
Trudeau has called for existing laws to be observed until changes come into effect in 2018. This has led to a controversial escalation of prohibition policies shutting down such dispensaries. Police operations have arrested thousands of people for activities that will no longer be an offence under the new laws. For example, cannabis entrepreneurs Marc Emery and Jodie Emery were recently sentenced to two years probation for drug-related charges.
While the spread of legalized marijuana throughout the world is encouraging, those left behind are too often overlooked. Retroactive pardoning of small marijuana offences is necessary for the introduction of legal marijuana to be just. The Liberal Party's plans do not include this, leaving many Canadians in a tough situation for something that will soon be completely legal.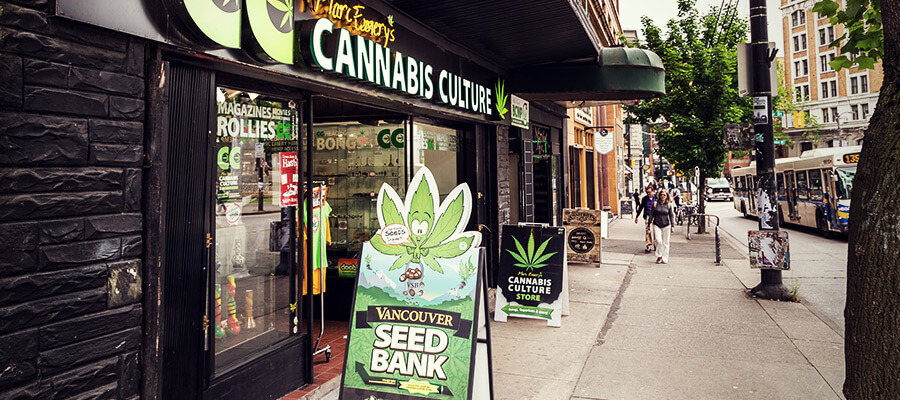 WILL THERE BE DELAY?
So, marijuana has not been decriminalized during this transitionary period. The laws will switch from prohibition in June 2018, to one of the most open (and potentially lucrative) cannabis markets in July 2018. Its rollout hasn't been perfect, but it will put in place a fairer system within a year, right? Well, these teething problems could be setting it back. The Canadian police themselves are struggling to prepare for an abrupt shift in the law. They have called on the government to allow more time to train their officers according to new laws.
This could set the introduction date later than July 1st, 2018, as could opposition from the Conservative Party in the Canadian Senate. The reforming legislation passed the House of Commons, but must now go through the Senate. Conservatives hold more than twice the seats Liberals have in the Senate. They are more right-wing than the Liberals and far less supportive of legalizing recreational marijuana. They argue the legislation is not ready and requires more scrutiny.
The House of Commons spent eight months deliberating the law; could the Senate ask for the same? This would delay legalization until 2019. Any further delay would push the date closer to the next federal elections in late-2019. So there is still a chance this will all be scuppered if it's delayed long enough for a less-committed government to take power. If 11 vacant seats in the Senate could be filled with reform advocates, then the changes will proceed.
HOPE FOR ELSEWHERE?
Presuming the outstanding issues are resolved, cannabis will be legal to enjoy from Canada Day onward. This will ensure one visible impact of Trudeau's legacy - a boom in cannabis stores. This will be big business, projected by Deloitte to generate more than $23 billion. Canada will have a "first-mover" advantage when it comes to cultivating cannabis. Only Uruguay has legalized cannabis on a national level thus far, and they have a more restrictive cannabis club system. Canada legalizing commercial cannabis on a national level is a first. It sends an important signal from a country so often stereotyped as straight-laced.
This will put pressure on the neighbouring United States to advance federal legalization. Other countries will see a large, wealthy nation with centrist political leaders regulating a cannabis industry. Already, New Zealand's new government has committed to a referendum on legalizing recreational marijuana. As more countries follow, international drug treaties will come under review. Right now, they specifically require countries to actively enforce prohibition against cannabis.
With attitudes changing across a diverse range of countries, we could see a change to these treaties in the near future. In an optimistic scenario, the international treaties could remove any mention of cannabis within the next two decades. At that point, it would no longer be considered an illicit drug under international law. It would be another commodity, with each country setting its own regulations for sale and consumption. Since this would be transformative for weed-lovers around the world, here's to hoping Canada can pull off this bold first step.