PAX 3 Portable Dry Herb & Concentrates Vaporizer Review
With the Pax 3, Pax presents to us the latest and sleekest from their famous line of portable vaporizers. Find out what's new and notable with the Pax 3.
---
No other company has reshaped the vaping industry like Pax did when they introduced their legendary Pax vaporizer more than ten years ago. The Pax quickly rose to fame and gained many trusted followers due to its simplicity, great vaping performance, ruggedness, and overall excellent quality. Building upon the success of Pax 2, the Pax 3 is their latest portable vaporizer for herbs and concentrates. Find out what's new with the Pax 3 in this review!
PAX 3—WHAT'S NEW?
The Pax 2 shines with a number of improvements over the previous model, and the same can be said of the Pax 3. And these improvements are not just cosmetic. One of the biggest changes is that the Pax 3 now heats up even faster. They also added a concentrates insert and a new companion app for your phone. Pax also tweaked the design so that the latest iteration is sleeker than ever before.
There are those who think that Pax is like the Apple of the vaporizer industry, and frankly these folks wouldn't be wrong. Just take the Pax 3 in your hand, and it feels like a high-quality product that is designed exceptionally well. It is made from aluminium, with stylish rounded edges that give it a classy look and allow it to slide effortlessly in your pockets. And just like the popular phones by Apple, there are no moving parts or extruding buttons, giving the unit a very stylish look.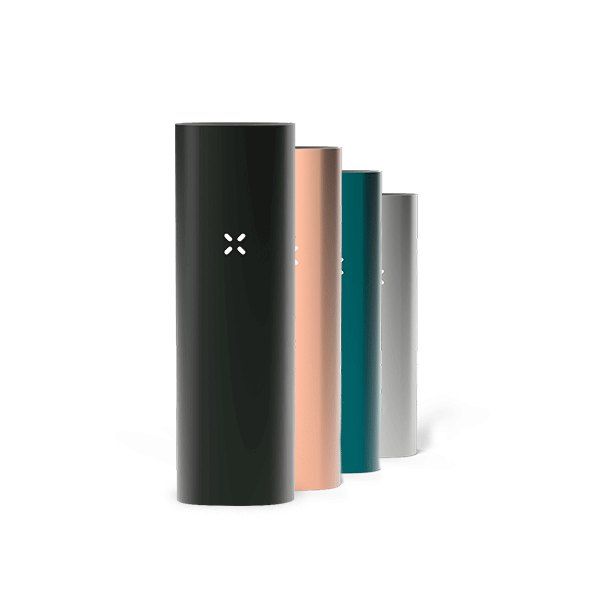 PAX 3
Conduction
30 x 21 x 98 mm
93 gr
182°C - 215 /
360°F - 420°F
| | |
| --- | --- |
| | 15 - 20 SEC |
| | 0,35 + 0,20 g |
| | APP |
| | Dried herbs and concentrates |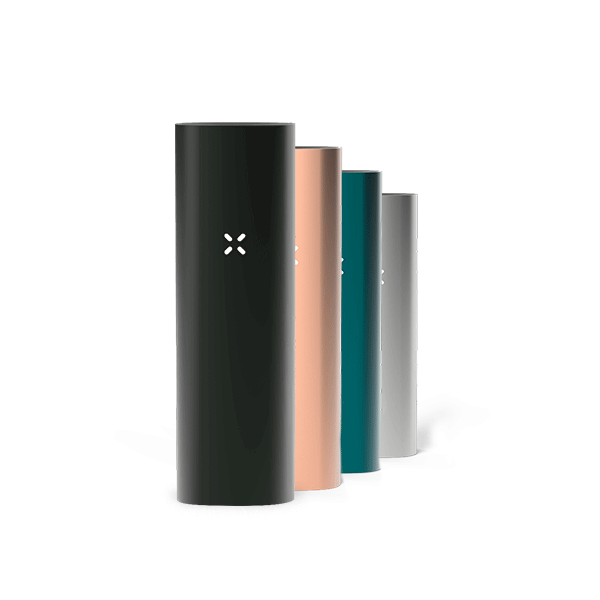 Conduction
30 x 32 x 98 mm2
93 gr
182 - 215°C /
360°F - 420°F
| | |
| --- | --- |
| | 15 - 20 SEC |
| | 0,35 + 0,20 g |
| | APP |
| | Dried herbs and concentrates |
TOP PERFORMANCE
Looks are not everything, right. What about performance? This is one area where many portable vapes can be disappointing. Not so with the Pax 3. According to Pax, the vape will heat up in a very short 10–15 seconds. If you want to vape at maximum temperatures, it will heat in a still impressive.On the other hand, dialling your Pax 3 to the highest possible vaping temperature isn't necessarily recommended. It can be best if you start out with lower temps at first and then gradually increase until you find the sweet spot. This way, you can capture more of the flavour of your herb, which may otherwise diminish at higher settings.
PAX 3—VARIOUS TEMPERATURE OPTIONS AT YOUR FINGERTIPS
The Pax 3 features four heat settings that you can quickly switch between:
Temperature 1 182°C (360°F)
Temperature 2 193°C (380°F)
Temperature 3 204°C (400°F)
Temperature 4 215°C (420°F)
Each temperature is indicated by the coloured LEDs, which go from green to yellow to orange to red depending on your temperature settings. We found the heating time at about 16 seconds for the lower settings, and about 18 seconds for the highest. Once the unit has reached temperature, it will vibrate to let you know.
THE PAX APP ALLOWS YOU TO CUSTOMISE YOUR VAPE
With the Pax app on your phone, you can further customise your vaping session with individual temp selections and heating profiles. The heating profiles are standard, boost mode, efficiency mode, stealth mode, and flavour mode. Boost mode keeps the oven hotter for longer with less auto cooling. This is a good mode if you like intensive clouds or if you're using the Pax 3 with a water pipe. The efficiency mode slowly ramps up the temperature as you're vaping. Stealth mode is a nifty mode that cools quicker for quick hits if you're on-the-go. The flavour mode uses particularly gentle heating so you can get maximum flavour from your herbs.
PAX 3—FOR DRY HERB & CONCENTRATES
The Pax 3 is quite a flexible beast since you can use it not just for dry herb, but also for concentrates with the included concentrates insert. There are different kinds of lids for the chamber: a regular lid and a half-oven lid that you can use for vaping flowers. You can use the half lid if you have very small amounts of material you want to vape.
Pax 3's performance for concentrates is decent, although we think that it does best when you vape flowers. On the other hand, having the option for concentrates in a portable vape is always nice.
SIZE OF THE BOWL: PERFECT FOR LONGER SESSIONS
The PAX 3 can hold as much as the PAX 2—with an oven capable of holding about 0.3 grams. This can get you as many as 15–25 draws from a fully packed oven, perfect for extended on-the-go sessions.
PAX 3: WHAT'S INCLUDED IN THE BOX
Pax 3 Vaporizer
Concentrate insert
Battery
Charging cable and dock
Maintenance kit with multi-tool
2x oven lids
Free app
Pax 3 comes with a 10-year manufacturer's warranty.

PAX 3—BOTTOM LINE
The Pax line of portable vapes has always been something special. With the Pax 3, you are guaranteed sleek design, great performance, and a suite of features. If you're looking for a quality portable vape, you won't be disappointed by Pax 3!
GET IN ON THE RQS PAX 3 SPECIAL OFFER: GET PAX 3 + FREE SEEDS + GRINDER
Buy your Pax 3 at Royal Queen Seeds and get the Pax 3 Complete Kit along with 3 FREE quality cannabis seeds and a free grinder!
RQS PAX 3 SPECIAL PACK CONTENT
Pax 3 Vaporizer "Complete Kit"
RQS Pollinator Grinder with Mill
3x FREE cannabis seeds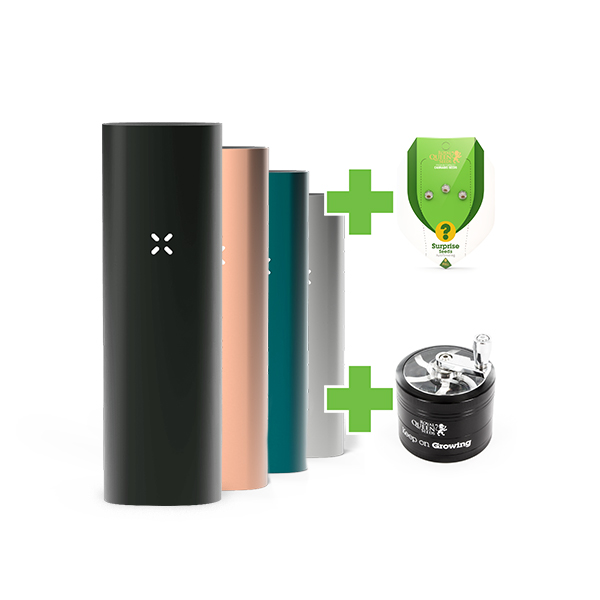 This device includes the latest battery technology, multiple settings, and the capacity for dry herb or concentrates. Plus, get a free grinder and 3 quality cannabis seeds as part of our complete kit!
Buy PAX 3 Vaporizer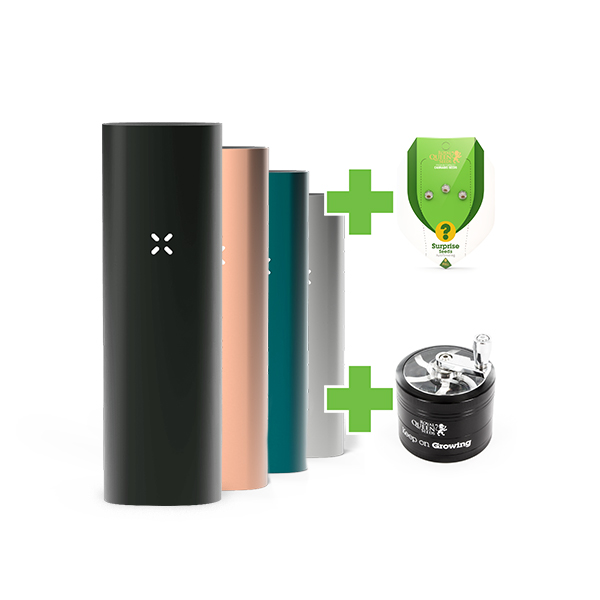 This device includes the latest battery technology, multiple settings, and the capacity for dry herb or concentrates. Plus, get a free grinder and 3 quality cannabis seeds as part of our complete kit!
Buy PAX 3