Review Of The MIGHTY Vaporizer
The MIGHTY Vaporizer is a favourite in the world of portable cannabis vapes. But does it live up to its great reputation and ambitious name? We review this product, provide some pros and cons, and finally, a verdict on whether the MIGHTY is all it's cracked up to be.
---
Many vaporizers claim efficiency, ease of use, or portability, but few claim to be mighty. Storz & Bickel's MIGHTY Vaporizer does. But is it truly as mighty as the company claims?
Storz & Bickel know about might—they produce the famed Volcano Vaporizer, frequent haunter of vape lounges and homes of serious weed aficionados. The MIGHTY Vaporizer has been compared to a portable Volcano—if it can measure up to this high praise, it surely deserves the mantle of "mighty".
HOW IT WORKS
The MIGHTY Vaporizer is simple to use—open the top and pack the bowl with weed. Finely ground will produce a denser cloud, which may get bitter towards the end, while unground weed will produce a lighter, more consistent cloud. The MIGHTY Vaporizer comes with a filling tool, which is useful for filling the bowl evenly if you'd rather not use your fingers. The bowl size is generous, easily holding a quarter gram.
Now you turn on the device, and the heating begins. The MIGHTY Vaporizer has a memory system which records your previous temperature setting. The device can take up to two minutes to heat up, which some consider a drawback of the system. Once the vape reaches the right temperature, it'll vibrate.
The MIGHTY offers highly precise temperature control with its LED display. The psychoactive effects of weed vary with temperature, so if you want to precisely control the effects of your weed—either as a medical user or a connoisseur—this is a major plus.
Now you toke. And here, another drawback of the MIGHTY Vaporizer comes into play—it automatically turns off after two minutes, which can be annoying if you're doing an extended sesh. However, it vibrates when this happens, so you can keep going if you're paying attention.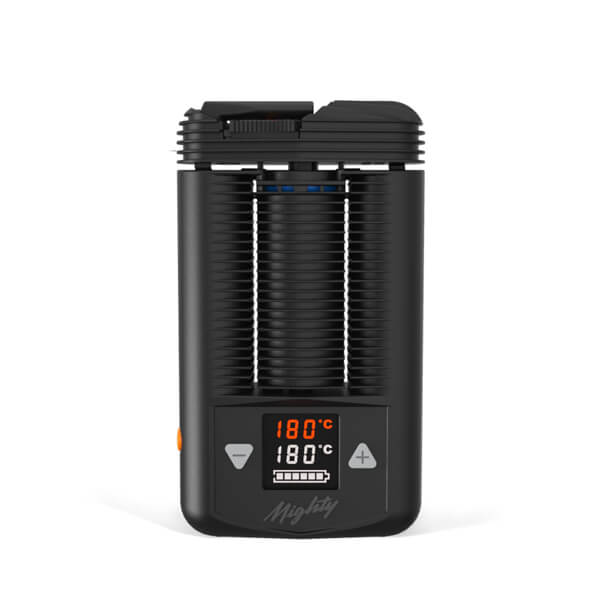 MIGHTY Vaporizer
Conduction & Convection
140 x 80 x 30 mm
230 gr
40°C - 210°C /
104°F - 410°F
| | |
| --- | --- |
| | 2 MIN |
| | 1,4 CM3 |
| | Control |
| | Drip, Liquid Pad |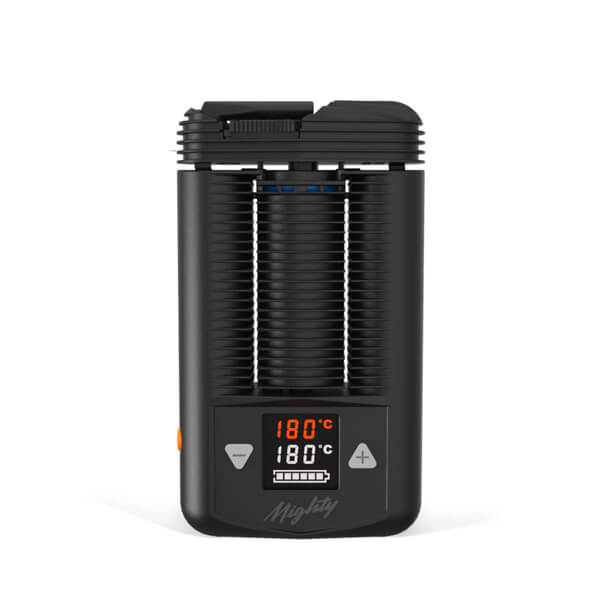 Conduction & Convection
140 x 80 x 30 mm2
230 gr
40°C - 210°C /
104°F - 410°F
| | |
| --- | --- |
| | 2 MIN |
| | 1,4 CM3 |
| | Control |
| | Drip, Liquid Pad |
MAINTENANCE
The MIGHTY Vaporizer comes with a cleaning brush, which should be used to clean the chamber after each use, while the device is still hot. For optimal maintenance, a deep clean of the cooling unit should be performed every fifteen to twenty uses. Alcohol swabs and Q-tips will come in handy here—the whole operation shouldn't take more than ten minutes.
PROS
The MIGHTY Vaporizer has a truly impressive battery life—when fully charged, it'll go for ninety minutes without issue. It can also be used while charging, which is a major plus. It's easy and intuitive to use, highly durable, offers little draw resistance, reaches high temperatures, and produces rich flavour and potent weed clouds. It's also extremely safe, carrying safety and medical certifications—it's even been certified as a medical product in Canada, Europe, and Israel.
The cost is also reasonable—the MIGHTY Vaporizer sells for €299.00, a great price for a portable, high-quality vape.

CONS
The slow heat-up time and automatic shutdown combine to form a drawback. It might be annoying to look over and find your vape cold, only to have to wait several minutes for it to heat up again.
Some users report that the plastic around the cooling unit can crack with prolonged use. However, Storz & Bickel provides a full two-year warranty, and most users report that the device keeps working like new for far longer than this.
Another con could be the design. The MIGHTY Vaporizer is bulky and heavy for a portable vape, and has got a look that only a mother could love. That said, it's not called the DAINTY Vaporizer; maybe a product that boasts its might needs to be a bit of a beast!

VERDICT
The MIGHTY is indeed a mighty product! If you're looking for a hefty portable vape with great performance, this product won't lead you wrong. If you're buying the MIGHTY Vaporizer online, make sure to do so from a reputable source—the MIGHTY is so mighty that it's inspired a line of cheap knock-offs, which sellers might disguise as the real thing on Craigslist, eBay, or the like.