CBD Oil 2.5% And 10% Now Available At RQS
In an effort to reach more people than ever before, Royal Queen Seeds is launching two new CBD concentrations for our crowd-pleasing CBD oils. With new 2.5% and 10% varieties, nearly anyone can test or amp-up their intake with greater options that make dosing your CBD a breeze.
---
Royal Queen Seeds is unveiling CBD oils in two brand new concentrations of 2.5% and 10%. If there's one thing we know to be true across all CBD consumers, it's that everyone is unique. These additions reflect our desire to provide CBD oils to as many customers possible, regardless of their dosing, needs and experience using CBD. In keeping with the standard 5% bottle, our 2.5% and 10% RQS CBD oil is sourced from certified organic European fiber hemp that undergoes extensive testing to ensure quality and consistent concentration from bottle to bottle.
WHAT IS CBD?
CBD is an abbreviation for cannabidiol, the second most abundant naturally occurring cannabinoid in hemp. CBD is non-psychoactive and can be harvested and used as a well-rounded dietary supplement in the form of CBD oils.
ALL-NATURAL QUALITY
Concerning raw materials for our 2.5%, 5% and 10% oils, we ensure that none of our plants are introduced with pesticides, herbicides, fungicides or other unnatural fertilizers and additives that could potentially harm the consumer or the environment. In addition to being certified organic, our crop is thoroughly tested for contaminants and put through an effective filtration process.
Royal Queen Seeds CBD oils are processed via CO2 extraction, which is one of the cleanest ways to cull cannabinoids, without leaving remnants of harmful solvents in its wake. What's more, we strictly adhere to legal standards by removing all psychoactive content.
We guarantee that all three of our varieties are safe to use, side-effect free and won't get you high! Each and every one of our oils contains less than 0.02% THC, but emphasizes full CBD content. Our CBD oils are legal and easy to purchase online in most European countries. If you're unsure about regulations in your country of origin, you can easily conduct research online or ask your doctor for further guidance.

MAXIMIZED CANNABINOID CONTENT
At Royal Queen Seeds, we don't cut corners when maximizing cannabinoid content. While retaining high concentrations of CBD, our products undergo a proprietary process to remove impurities and keep a full spectrum of other non-psychoactive cannabinoids and terpenes.
By spotlighting a complex environment of phytonutrients, RQS CBD oils favor only the essential elements and filter out the rest. This is evidenced in "The Entourage Effect," a theory supporting that cannabinoids like CBD work better in concert with other compounds than they do on their own.
YOU HAVE OPTIONS
RQS CBD oils are discreet to carry and are easy to use. Simply squeeze 1-4 drops under your tongue or on food 1-3 times a day as a wholesome dietary health supplement. Both our 2.5% and 5% concentrations are available to purchase in three volumes: 10ml, 30ml and 50ml, while our strongest 10% concentrated oils appear in 10ml and 30ml options.
Our 2.5% Mild oil is perfect for new consumers, or those requiring only a small dose.
5% Regular oil is a time-tested standard that facilitates regular use for consistent benefits.
10% Strong oil is perfect for when you need a high dose of CBD in the moment.
We recommend starting with our 2.5% or 5% oils to orient yourself with cannabidiol, but the 10% variety is a necessary addition for our customers who understand the many rewards of taking CBD oil regularly for health and wellness.
At Royal Queen Seeds, we are upping the ante by offering the same potent and pure CBD oils we always have, but with more options for our dedicated customers. Since none of our oils contain preservatives, they are perishable and should be stored in a cool, dark place, such as a refrigerator. If you still haven't hopped on the CBD bandwagon, it's time to try your hand with RQS CBD oils to see what it's all about.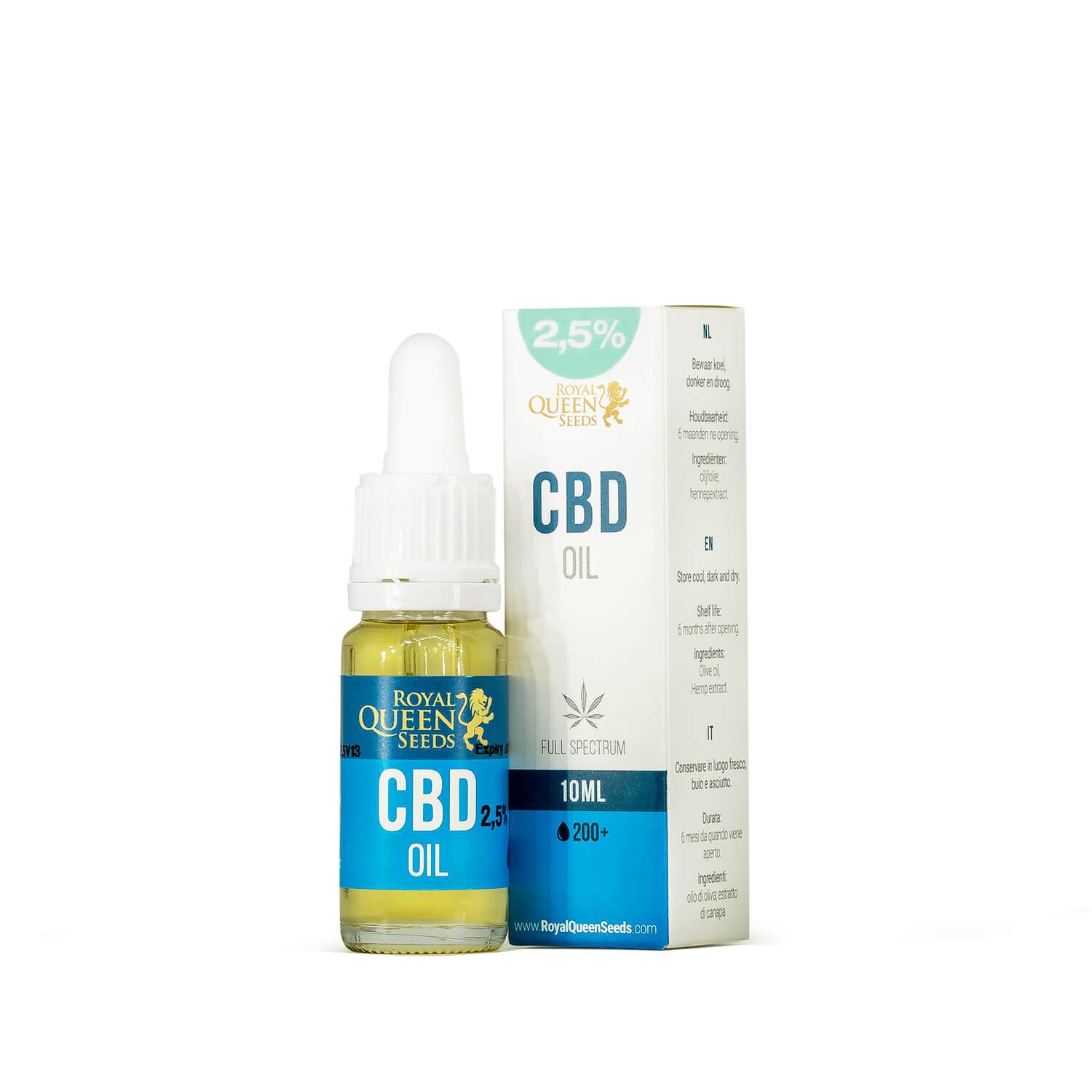 RQS CBD Oil is available in 10ml, 30 and 50ml bottles in 3 different concentration strenghts: 2.5%, 5% and 10%.
Buy CBD Oil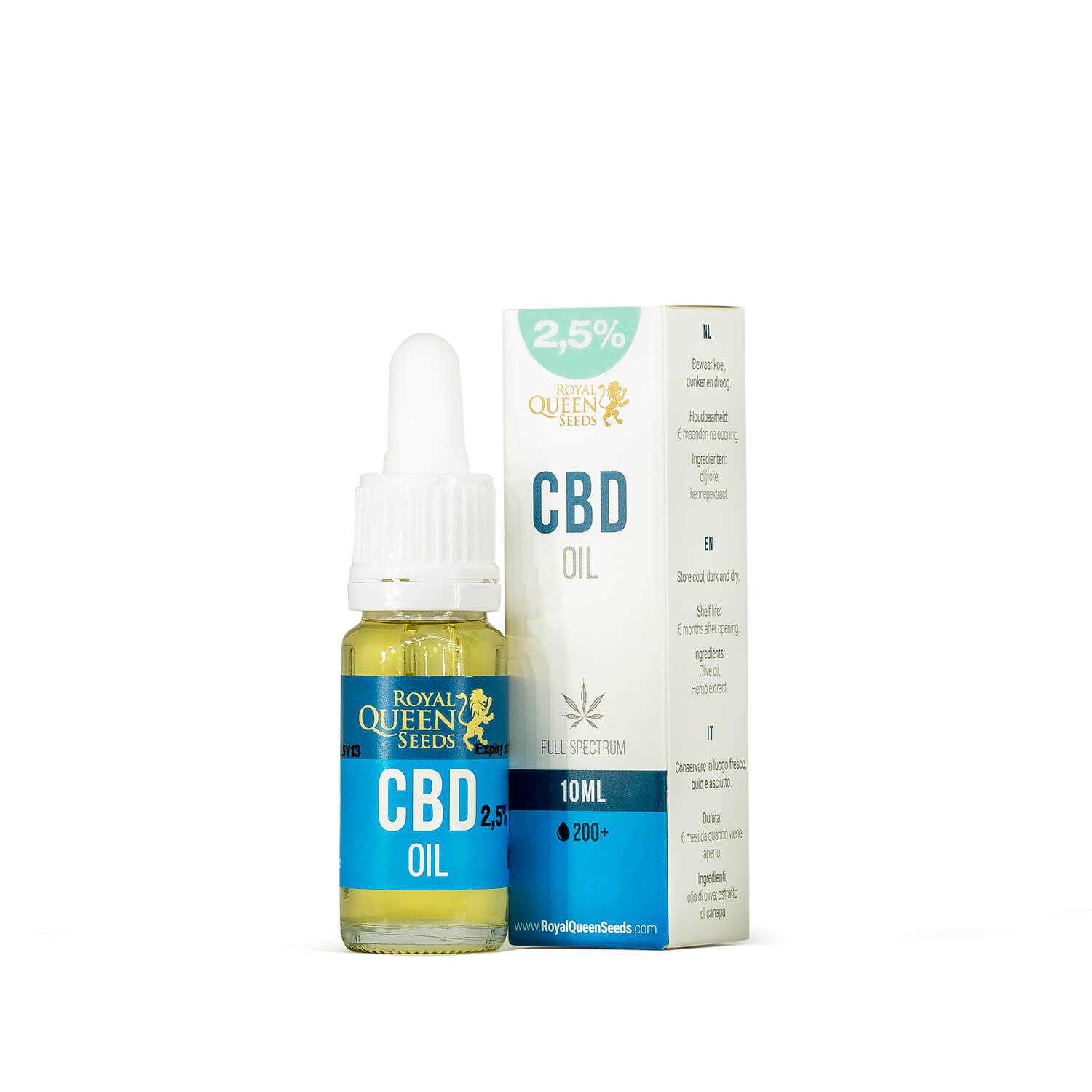 RQS CBD Oil is available in 10ml, 30 and 50ml bottles in 3 different concentration strenghts: 2.5%, 5% and 10%.
Buy CBD Oil