Cannabis Can Reduce Arthritis Pain And Inflammation
In the midst of a painkillers' epidemic, some patients choose cannabis to ease pain and inflammation caused by arthritis. Research is proving THC and CBD can be effective against artrithis symptoms with no side effects.
---
Arthritis indicates any disorder that affects joints with pain, stiffness, swelling and reduced mobility. It is the most common cause of disability and there is no cure. Cannabis is gaining popularity among patients as a treatment for arthritis because it can reduce pain and swelling, and both THC and CBD are under lab or clinical experimentation since a few years.
WHAT ARTHRITIS ARE
The most common forms are osteoarthritis, a degenerative joint disease usually occuring with age, and rheumatoid arthritis, which is an autoimmune disorder. Other types of rheumatic diseases include gout, lupus, fibromyalgia, and septic arthritis. Pain is a common symptom in all types of arthritis, while the reduced mobility can lead to other adverse effects. In addition to physical therapy, exercise and weight control, a few medicines can reduce inflammation and pain. A lot of patients become addicted to painkillers, and many of them die because of opiates' suppressive action on the central nervous system. In USA and other countries, a painkillers' epidemic is ongoing because of patients trying to mitigate arthritis' and other ailments' symptoms. In states where cannabis is legal and many people are taking cannabis derivatives instead of painkillers, the deaths from opiate medical use have reduced by 25 percent.
CANNABIS GETTING LAB-PROOFED AGAINST ARTHRITIS
Evidence from both lab research and human trials suggests that THC, CBD, and the whole cannabis phytocomplex have therapeutic action in the treatment of chronic pain and inflammation. An important hint from scientific research about cannabis and pain came from this 2007 study[1]. Here researchers indicate that our nerves in charge of transporting the pain signals from joints to brain are packed with cannabinoid receptors. The study concludes observing that peripheral CB1 receptors may be important targets in controlling osteoarthritis pain.
As research goes on, animals' cannabinoid receptor system is getting more and more attention as a therapeutic target for the treatment of pain and inflammation associated with both rheumatoid arthritis osteoarthritis, as confirmed by this 2008 study[2]. Following the same path, in 2014 this other study[3] analyzes the involvement of the endocannabinoid system in osteoarthritis pain.
A whole research branch is today looking at CBD for its efficacy as an anti-arthritic agent without the psychotropic effects of THC. One of the first studies on CBD action[4] suggested a possible oral intake of CBD as an anti-arthritic substance, while a more recent one[5] concludes that a CBD-derived synthetic cannabinoid represents a potential novel drug for rheumatoid arthritis and other inflammatory diseases. The CBD receptor CB2 also regulates central sensitization and pain responses associated with osteoarthritis of the knee joint, according to this 2013 research[6].
It's finally worth mentioning that the cannabis-based medicine Sativex, developed by GW Pharmaceuticals, showed a significant analgesic effect[7] in the treatment of pain caused by rheumatoid arthritis and caused a significant suppression of the disease activity.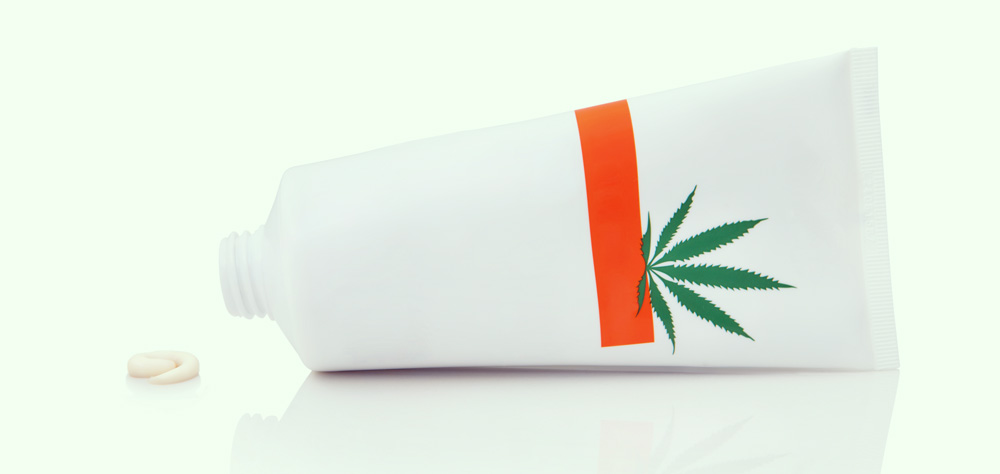 WHY NOT CANNABIS INSTEAD OF PAINKILLERS?
A scientific consensus is emerging after these mentioned studies and others showed that the anti-inflammatory action of the two main cannabinoids can effectively slow down arthritis and mitigate its symptoms. A growing body of research identifies cannabinoids as possible arthritis treatments, yet the vast majority of specialized or family doctors are unaware of this potentiality. The lack of official directions and specific treatment protocols prevents healthcare personnel to eventually care for patients' experiences with cannabis. Proven methods, compositions and dosage are needed to reassure mainstream medicine regarding cannabis efficacy against arthritis. This is quite urgent since opiate and other painkillers use has reached worrying proportions.
OILS, SPRAY OR TOPICALS?
An array of reliable cannabinoid products designed for human health is today available according to local laws. Assumption methods and doses are not yet fully determined, also because in phytotherapy and pain reduction the effects can vary from patient to patient. Cannabis edibles, oils or inhalable extracts can help ease different kind of pain, yet cannabis-infused topicals are probably the most common treatment with cannabinoids for joint pain.
Balms and creams allow patients to target only the painful areas and saturate their local cannabinoid receptors with phytocannabinoids. In most people's experience, these products do help almost instantaneously with pain relief. Latest research also indicates that CBD and THC may partially repair already damaged joints. These effects of cannabis derivatives' topical applications on parts affected by rheumatoid arthritis were recently analyzed in a study titled "Transdermal cannabidiol reduces inflammation and pain-related behaviours in a rat model of arthritis". This 2016 research[8] indicates that topical CBD applications actually relief arthritis pains and inflammation without causing evident adverse effects.
Given the amount of positive data accumulated in just a few years, chances are one day a cannabis treatment against arthritis will be fully developed. While waiting for further research, why not trying an already valued cannabis balm or, better yet, make your own home-made arthritis natural remedy? Here is how to prepare a potent cannabis balm from resin-rich buds.