Explore the Relationship Between Cannabis and Back Pain
Back pain is a common ailment, and usually, the problem is resolved within weeks. However, many people are not so lucky. Medical treatment may be required. Let's take a closer look at cannabis as an alternative to opioids and surgery when treating back pain.
By
---
GOT A BAD BACK?
If you've got a bad back, you're certainly not alone. According to a recent WebMD analysis[1], "540 million people worldwide" are affected by lower back pain. But back pain is not limited to lumbago or lower back problems. Plenty of people also suffer from upper back pain and/or experience side back pain.
Back pain is arguably the leading cause of disability in the world, and studies evidence a rising trend since the 1990s. For most people, it is a sudden and temporary health problem that works itself out. Unfortunately, others experience episodic occurrences and some even suffer from chronic, persistent back pain.
The good news is cannabis is becoming increasingly recognised and recommended as an effective treatment by medical professionals. Well, in the US and Canada at least. New York has allowed back pain patients access to the state's medical marijuana program since 2016.
Furthermore, the latest WHO data[2] indicates some 2.5% or 147 million people on the planet use cannabis. This number could swell significantly with new medical cannabis users seeking relief from back pain.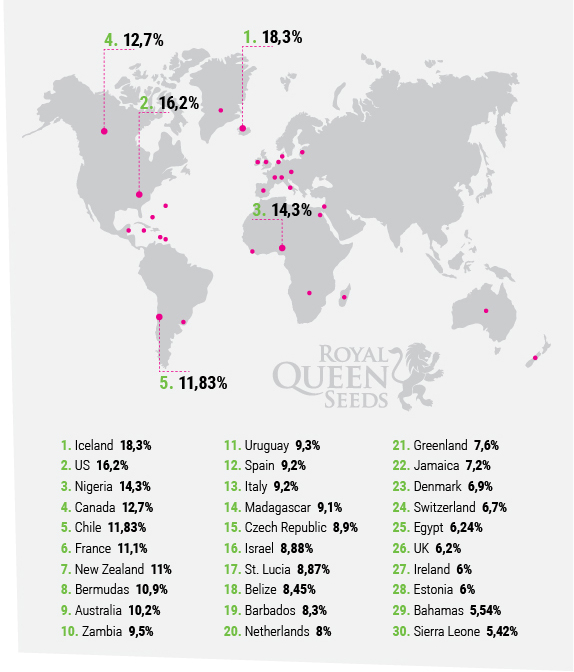 COMMON CAUSES AND TYPES OF BACK PAIN
The Mayo Clinic[3] defines back pain of fewer than 6 weeks as "acute", while back pain that lasts 3 months or more is categorised as "chronic". Simple back pain or "mechanical" back pain is believed to be the most common type. "This means that the pain is not related to any serious underlying condition and there are no trapped or compressed nerves" so says the British Chiropractic Association[4].
Ageing, everyday wear and tear, poor posture, and stress can cause simple back pain. More serious back pain usually stems from trapped nerves and slipped discs. Sports-related injuries, slips, trips, and falls are the usual suspects as the cause. Shooting pains running down into the legs are indicative of sciatica. However, back pain can also be associated with other serious underlying conditions like arthritis and osteoporosis. Surgery is always a last resort, but sometimes inevitable whether you use cannabis or not to treat pain.
CANNABIS AND BACK PAIN: EXPLORING THE RELATIONSHIP
Cannabis and back pain are two areas steeped in nuance. Far from a single-molecule drug, cannabis produces hundreds of unique compounds with varying effects on our biological systems. And back pain, rather than stemming from a single cause, can arise from myriad physical and psychological conditions, making it a tricky issue to accurately pinpoint and diagnose.
Many clinicians are stepping away from the "one molecule, one receptor" paradigm when treating back pain, and are seeing increased success in educating patients[5] about their condition and incorporating prescribed[6] resistance training enforced by the concept of progressive overload.
With that said, pharmacological options are still harnessed to help nip pain in the bud. So, where does cannabis fit into this complex and often confusing paradigm? That's what researchers are attempting to find out by testing its constituents, including CBD and THC, in models of back pain.
Studies targeting the endocannabinoid system (ECS) are elucidating[7] the role of this regulatory network in the central nervous system and pain signalling pathways in the body. Research has also found that molecules from cannabis are able to interact with this network, partially by mimicking endocannabinoids produced in the body.
Clinical trials have taken things a step further, testing mixtures[8] of CBD and THC in patient populations with chronic pain. However, the researchers involved in these investigations stress the need for further studies to clarify the efficacy of these formulas.
The application of THC in these circumstances also comes with some drawbacks; the cannabinoid induces an intoxicating effect that some patients find undesirable. In contrast, CBD-rich herbal cannabis and CBD oil don't cause any sort of high, as they have a different mechanism of action within the endocannabinoid system. Researchers are now exploring the potential of CBD to tackle symptoms of discomfort through different biochemical avenues.

CANNABIS AS AN ALTERNATIVE TO OPIOIDS
Post-surgery pain management can be a slippery slope into an opioid addiction. Just one day on a prescription for opioid-based painkillers gives you a 6% chance of finding yourself still popping pills a year later according to an in-depth CDC study[9] from 2006–2015.
Cannabis is not an addictive substance, certainly not in the way that opioids are. Patients from all walks of life are choosing to manage their back pain with cannabis instead. Professional athletes in arguably the most physically damaging contact sports MMA and American football are the most well-known advocates.
THE LAST WORD ON CANNABIS AND BACK PAIN
Back pain remains one of the trickiest musculoskeletal conditions to treat. Physicians are constantly hunting for the underlying cause in individual patients; some experience pain following tissue damage, whereas others have no physical trauma at all. More holistic treatments that address both the physical and psychological nature of the condition, such as pain neuroscience education[10] (PNE), are coming to the fore. Does cannabis have a place alongside these modalities?
Medical DisclaimerInformation listed, referenced or linked to on this website is for general educational purposes only and does not provide professional medical or legal advice.

Royal Queen Seeds does not condone, advocate or promote licit or illicit drug use. Royal Queen Seeds Cannot be held responsible for material from references on our pages or on pages to which we provide links, which condone, advocate or promote licit or illicit drug use or illegal activities. Please consult your Doctor/Health care Practitioner before using any products/methods listed, referenced or linked to on this website.