Triple G: Gorilla Glue Meets Gelato 33
Triple G is a potent hybrid strain that combines the genetics of 2 classic modern-day cannabis strains; Gorilla Glue and Gelato 33. You'll learn all about how it grows, and what its buds have to offer, as you read through this article.
By
---
Triple G is a super potent hybrid strain with excellent genetics. If you're looking for stunning THC levels, respectable yields, and delicious aromas/flavours, look no further than our variety of the powerhouse strain!
Triple G's Genetic Background: Gorilla Glue Meets Gelato 33
Triple G is an 85% indica-dominant strain with some killer genetics. A cross between our original Royal Gorilla (Gorilla Glue) and Green Gelato (Gelato 33), Triple G is the direct descendant of 2 of the biggest names in cannabis strain history.
Gorilla Glue, also known as GG4 or Original Glue, was first bred in the US by Joesy Wales, now one of the co-founders of GG Strains. After losing his first crop of Original Glue to hermaphroditism, Joesy threw out all of his remaining seeds out of frustration. Luckily he'd previously passed some of the seeds to a buddy, who grew a few plants of the strain later on and stabilized phenotype #4, which eventually went on to win a High Times Cup in 2014 and become Gorilla Glue, the strain so many of us love and treasure today.
Gelato #33, on the other hand, was bred in Northern California and is the product of a collaboration between the Cookie Fam (behind classics like GSC and Thin Mint Cookies) and Mario Guzman, now the founder of SHERBINSKIS. Ever since its creation, Gelato 33 has served as the genetic backbone of countless new hybrids, including Gelato Sorbet, Koolato, and many more.
By combining these 2 classic strains, our expert breeders have birthed a sticky, ultra-potent hybrid that delivers on all fronts; effects, flavour/aroma, and grow traits.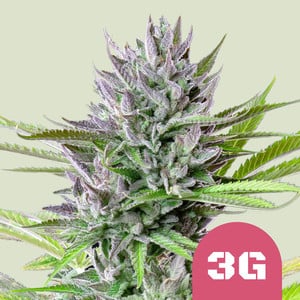 | | |
| --- | --- |
| | Gorilla Glue 4 x Gelato 33 |
| | 525 - 575 gr/m2 |
| | 90 – 140 cm |
| | 8 - 9 weeks |
| | THC: 26% |
| | |
| --- | --- |
| | Sativa 15% Indica 85% |
| | 600 - 650 gr/plant |
| | 140 - 180 cm |
| | Middle of October |
| | Clear, Euphoric, Fast Thinking, Motivating |
Effects of Triple G
Be warned; this strain isn't for the faint-hearted. Capable of producing up to 26% THC, Triple G delivers potent effects that can last for hours. After just a few hits, this strain produces a strong head-rush that can be invigorating for the seasoned smoker and provide the perfect creative spark for cannabis-loving artists/creatives. If you're new to cannabis or have low tolerance, however, try microdosing Triple G to prevent its effects from becoming overwhelming.
As the effects of Triple G progress or you increase your dose, you might experience more deep contemplation and introversion. In this case, we recommend pairing the strain with a good book, movie, record, or meditation.
Flavours / Aromas of Triple G
Triple G's flavours and aromas are reminiscent of its parent strains. A fresh batch of Triple G can easily cover an entire room with its pungent earthy, spicy pine aroma. Some phenotypes might smell notably sweeter and combine hints of berries, cookies, reminiscent of its Gelato parent.
Triple G's Grow Traits
Triple G's heavy indica dominance shines through very clearly in the grow room. This is a short strain that typically doesn't grow above 90-140cm indoors and boasts very short spaces between its nodes. Given their short stature, Triple G plants respond really well to cropping and topping, LST, and ScrOG or Sea of Green setups. When grown outdoors, Triple G plants can reach heights of 180cm (given you grow them in big pots) but keep up their short, bulky physique. While these are hardy plants, they prefer warm daytime temperatures, cool nights, and low humidity.
Indoor plants can typically be flipped to flower after 4 weeks of vegging and will typically be harvest-ready after 8-9 weeks of bloom. At this point, your Triple G plants will be laden with thick, frosty flowers with great bag-appeal. Your grow room or outdoor garden will likely reak of dank weed, so we recommend properly ventilating your room/tent and keeping your outdoor plants far away from prying noses.
While Triple G isn't one of our biggest yielders, this strain still produces very respectable harvests. While the exact figures will vary from one grow to the next, you can expect these plants to produce roughly 525g/m² indoors or up to 600g per plant outside.
Triple G: A Powerhouse Strain Fit For Any Garden
Given its killer genetics, there's literally nothing bad to say about our Triple G. if you're looking for a new, stable hybrid to add to your garden and reward you with frosty, ultra-potent buds in as little as 12 weeks, don't look any further! Order your Triple G seeds today.