Green Gelato By Royal Queen Seeds
Green Gelato is here. The all-conquering dessert cannabis from California has finally arrived, to the delight of European connoisseurs. RQS has perfected the Gelato recipe and successfully created sticky green perfection. This is the delicious dankness you've been waiting for.
By
---
A TASTE OF GANJA FROM HEAVEN
The Thin Mint phenotype of Girl Scout Cookies is arguably the tastiest, and adds an essential layer of sweet, minty biscuit flavour. Whisked with an orange citrus twist from Sunset Sherbet, a unique, delectably dank Green Gelato combo of confection and fruit is created.
THE NEW QUEEN OF THE WEST COAST
OG Kush is no longer the connoisseur cannabis of choice on the West Coast. For a while now, two Cookies phenotypes have been vying for the number one spot; Thin Mint Cookies blew up in California and became a marijuana world star. Sunset Sherbet is the rising star with a cult following in the San Francisco Bay area. Cuttings from both varieties have been circulating across the US over the past couple of years, displacing OG Kush from grow-ops. Dessert cannabis is taking over.
Now, the international cannabis community is scrambling for the definitive hybrid combination of gourmet Cookies. Numerous Gelato phenotypes are now trending as the supreme dessert cannabis for connoisseurs. You've probably heard of Pheno #33 AKA Larry Bird. The master breeders at RQS did too. Our Italian ice-making began with choice specimens of this particular Gelato.
Green Gelato is regal Gelato. The 25-odd Gelato variants in circulation have their strengths and weaknesses. Our mission was to develop the Gelato to define the ganja genre. Green Gelato is the product of a lengthy pheno hunt and hybridisation project.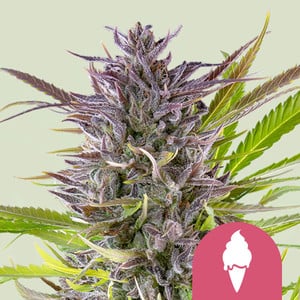 | | |
| --- | --- |
| | Sunset Sherbet x Thin Mint Girl Scout Cookies |
| | 500 - 700 gr/m² |
| | 80 - 120 cm |
| | 8 - 10 weeks |
| | THC: 27% |
| | |
| --- | --- |
| | Sativa 45% Indica 55% |
| | 800 gr/plant |
| | 150 - 200 cm |
| | Early October |
| | Clear, Physically Relaxing |
FIRE FROM ITALIAN ICE
Genuine Gelato is the richest, most flavoursome dessert. What most people don't know is that its preparation starts hot. The sugar is heated first. This process is key to achieving the dense consistency of the frozen finished product. Similarly, our Green Gelato produces sweet flavoursome frosty buds with a unique density.
Genetically, Green Gelato is 55% indica and 45% sativa, but her nugs look like pure sugar-coated heavy indica. This is a stash that must be cured. Aromas of confections and earthy kush will be noticeable during the cultivation process. However, to truly experience and appreciate the complete flavour profile and bouquet of the flowers, this stash demands a slow and careful cure. Fruity notes of cherry and lime will evolve to complement the dominant sweet biscuit and citrus character of dried Green Gelato.
Feel-good weed is an understatement. Green Gelato is proof the entourage effect is a reality. It's not just THC levels in excess of 25% that give this delicious sticky green its simultaneous hit of uplifting cerebral bliss accompanied by a powerful physical sensation that feels like slow motion; Green Gelato is also chock full of cannabinoids, terpenes, and flavonoids that are interacting to fuel a one-of-a-kind, head-tripping couchlock ride.