Is Weed Legal in Thailand?
Is Thailand about to become the Amsterdam of Asia? Not quite. However, in a landmark decision, the Thai government removed cannabis from the narcotics list, meaning citizens can grow an unlimited amount of plants at home, and restaurants can serve cannabis-infused dishes. But there are still many grey areas of the law to consider.
By
---
---
What do you know about Thailand? Perhaps ancient temples, stunning vistas, and incredible food come to mind? Besides that, on June 9th, 2022, the Thai government made the pioneering step of removing all parts of the cannabis plant from the narcotics list, making the country the first in Asia to decriminalise weed.In what must have seemed like a fever dream to cannabis-loving citizens, the government marked the occasion by giving out one million marijuana plants. Approximately 4,200 prisoners placed behind bars for cannabis offences also had their freedom restored due to the change in legislation.
This move seems unreal—almost bizarre—and sets Thailand apart from most countries when it comes to cannabis policy. The catchy headlines and bombastic claims surrounding this momentous occasion have some looking at Thailand as a weed-centric utopia. However, like all things in politics, there are some rather large caveats at play. Below, you'll learn everything you need to know about the new cannabis laws in Thailand.
New Weed Laws in Thailand: A Quick Glance
Don't let the headlines confuse you. Thailand has legalized cannabis, but citizens in the country still need to obey certain laws to stay out of trouble. Before we delve deeper into the implications of this legislation, let's take a quick look at the biggest changes ushered in by Thailand's new weed laws:
The Thai government liberated the plant mainly for medicinal purposes. If you get caught smoking weed in public, you'll face a €686 fine and up to three months in prison.
Cannabis extracts with a THC percentage of over 0.2% remain strictly illegal.
Restaurants and cafes can serve cannabis-infused foods, considering their products don't contain more than 0.2% THC.
Citizens can smoke cannabis in their own homes without fear of legal repercussions.
Citizens can grow an unlimited number of weed plants at home.
Citizens can legally distribute cannabis plants.
As you can see, Thailand has made some monumental legal changes around cannabis, making it one of the most liberal nations in the world when it comes to weed. However, due to public health concerns, stringent rules remain in place when it comes to public recreational use and THC-containing extracts as a whole.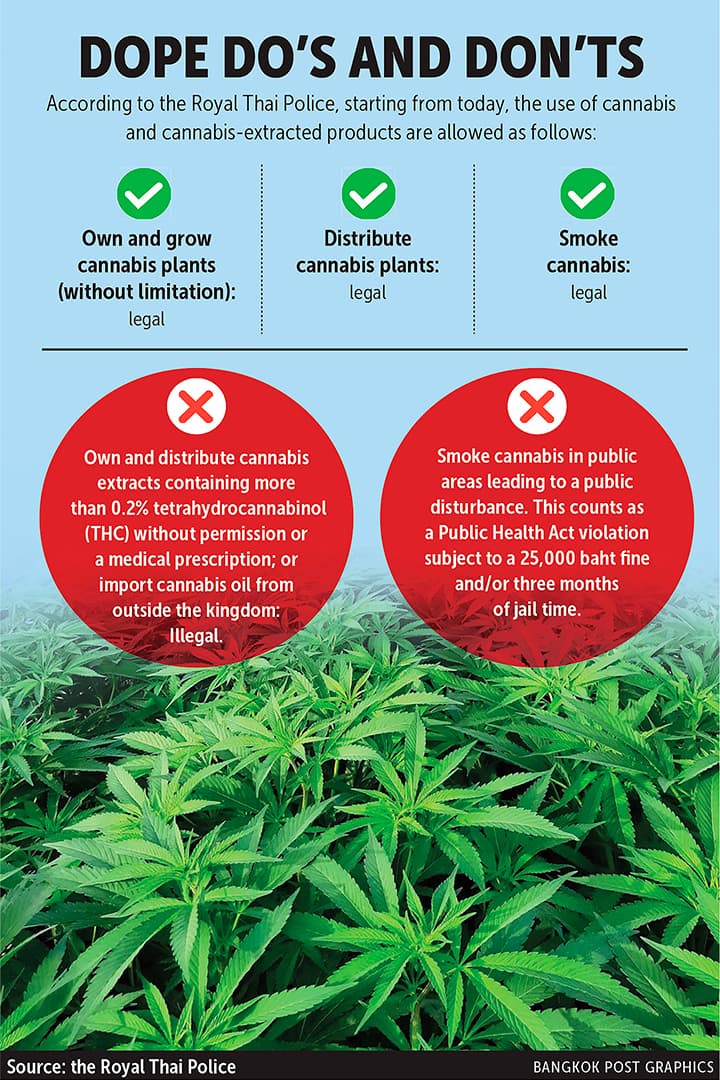 Why Did Thailand Legalize Weed?
Upon hearing about the shift in policy and watching the government hand out cannabis plants to the public, it's easy to assume that thousands of people are now walking around with lit joints and potted plants. But matters aren't quite this liberal.
The government went ahead with legalization for three primary reasons, including:
For medical purposes
For economic benefits
To give citizens another option when it comes to their own health
As you can see, recreational use remains off the list of objectives. In certain contexts, recreational use remains a criminal activity. However, this change in legislation has opened up an entirely novel area of the economy that ministers hope will help to remedy the post-covid slump. Cafes, restaurants, and other businesses can even serve up cannabinoid-infused food—but these enterprises face significant restrictions.
Can You Grow Weed in Thailand?
Yes. An infographic published by the Bangkok Post outlines the rules surrounding the cultivation and smoking of cannabis. According to the Royal Thai Police, citizens can:
Legally own and grow an unlimited amount of plants
Distribute cannabis plants
Legally smoke cannabis
Thai citizens can now sow and plant away as they please in gardens, grow rooms, and on balconies. However, citizens that elect to develop their green fingers are encouraged to register with the government app PlookGanja. On top of this, growers in the country are able to enjoy the fruits of their labour in the privacy of their own homes without fear of repercussions.
While many Thai citizens are rejoicing at this newfound freedom, some figures within the cannabis cultivation industry are concerned. Suphamet Hetrakul of the Teera Group, for example, has expressed worries over the ability of new growers to control the quality of their flowers.
Of course, big businesses have now also turned their attention toward cannabis. While citizens can grow at home at will, corporate entities must first obtain a licence from the Food and Drug Authority before cultivating a profitable crop.
Did Thailand Legalize Recreational Marijuana?
As expressed by the Thai government, the objectives of legalizing cannabis centre around medicinal use. While the Royal Thai Police have given cannabis users the green light to use the herb at home, recreational use itself lies in a grey area. For example, smoking cannabis in public can land users a 25,000 baht (€686) fine and a three-month prison sentence under a public nuisance offence.
Strict laws also remain in place around cannabis extracts and other preparations. These products are capped at a THC content of just 0.2%, similar to the European Union's rules regarding hemp used for agricultural purposes. Businesses selling these goods will have to rely on the allure of other cannabis constituents, including non-psychotropic cannabinoids, terpenes, and flavonoids.
Are Restaurants and Cafes Allowed to Sell Cannabis-Infused Products in Thailand?
Restaurants and cafes are likely to generate increased profits if they capitalise on legal cannabis in Thailand. Establishments in Bangkok have offered CBD-infused dishes for some time. Now, these venues are able to incorporate cannabis into their menus, so long as the products they use don't exceed THC concentrations of 0.2%. Anutin Charnvirakul, the Deputy Prime Minister and Health Minister of Thailand, publicised this novel industry by sharing a Facebook picture of a chicken dish garnished with cannabis leaves.
What Does Legal Weed Mean for Tourism in Thailand?
Things look promising in Thailand. But the legal barriers that remain post-legislation will prevent the country from becoming the Amsterdam of Asia, at least for now. During an interview, Charnvirakul discouraged tourists visiting the country purely to access recreational cannabis, stating, .."if you think that you want to come to Thailand just because you heard that cannabis or marijuana is legal … (or) come to Thailand to smoke joints freely, that's wrong".
How Thailand Legalized Weed: A Brief Look at the Past
While legalization in Thailand appears revolutionary from an outside perspective, politicians have promised the move for quite some time. In 2016, Thai Justice Minister Paiboon Koomchaya called for the government to decriminalise cannabis. In 2019, the newly elected cabinet implemented a policy to alter the Narcotics Act and legalized cannabis for medicinal purposes. During 2018, the Bhumjaithai Party, a member of the ruling coalition, promised to legalize cannabis as a campaign pledge leading up to an election. The new legislation takes things much further, and, as you've read, allows for large-scale private cultivation across the nation.
However, things remain somewhat murky. Professor Sarana Sommano of Chiang Mai University has expressed concerns, and views the move as rushed. Sommano has criticised the lack of clear rules when it comes to limits on use and drug-impaired driving laws. Lawmakers in the country are also predicting a handful of large companies to take over the sector, in a similar fashion to the alcohol industry, and want to put measures in place to prevent such a move. Only time will tell!