Canada to Become the First G7 Nation to Legalize
Justin Trudeau, his liberal party, and many Canadian cannabis experts are of the opinion that Canada's current system of marijuana prohibition is not effective.
By
---
If one guy understood the difference between action and political activism, than its Justin Trudeau, the newly elected prime minister of Canada. He and his liberal party understood how weed works and clearly state that the current legal situation doesn't prevent young people from using marijuana and that they are about to change it.
Wasting government resources that lead to criminal records of Canadians that live a normal life, are in no way criminal, and pay taxes to help to continue Canada's story of success, doesn't seem to be right to him.
Here is a quick summary of some official reasons his party published on their website:
1. Cost-effectiveness: Locked up people that could potentially be working is from an economic point of view highly questionable.
2. Current laws trap too many Canadians in the criminal justice system for minor, non-violent offenses. Criminalizing a large percentage of Canadian citizens for their private choices doesn't make sense.
3. Earnings from the (illegal) sale of cannabis are more or less going into the pockets of criminal organizations. This is how something that has not been proven to be very harmful for the human body, is threatening public safety by supporting criminals that might also be involved with things like human trafficking and hard drugs.
4. Legalizing, regulating and restricting access to marijuana is the better approach to keep it out of the hands of children, and the profits out of the hands of criminals.
5. Establishing a new, stronger legal framework that is tough on those who sell weed to minors, operate a vehicle while being under the influence, or sell it without governments permission makes way more sense than fighting a war on marijuana and it's users that obviously can't be won.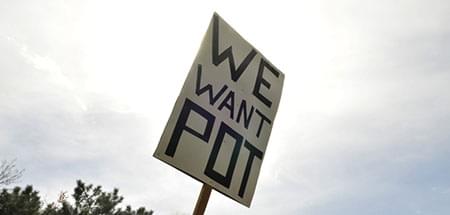 It's actually quiet refreshing to see how a politician first analyses the situation, comes to a conclusion, and then, immediately is working on changing the situation. There are a lot of cannabis users around the world that are kind of fed up, listening to the same lies governments are trying to tell them about cannabis since it's legal status changed in 1937.
If you haven't know this, one of the reason why it became illegal in the first place was the argument that it made black males solicit to sex with white woman. Just to give you an idea of the solid political arguments that politicians of today need to be beat when advocating the legalization of weed. Easy game!
Changing things by not talking about it all the time, just doing it, is the approach European politicians hopefully also might follow in the future, to restore the loss of faith that their predecessors have sadly caused. Way to go, Mr. Trudeau!