The Ultimate Guide To Indoor Cannabis Growing Equipment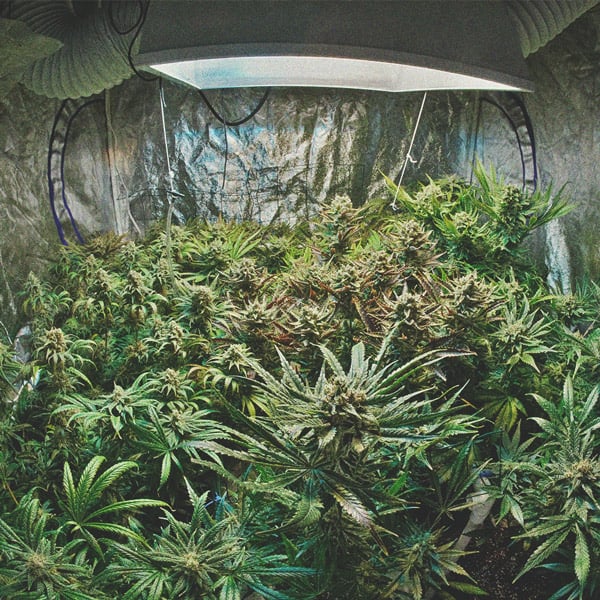 Explore this comprehensive guide to find the best growing equipment for your needs and skills as a cannabis cultivator.
Best Growing Equipment For Beginner, Intermediate, And Experienced Cultivators
Growing weed indoors needn't be difficult. All you need is the right equipment. Below, we've built the most comprehensive cannabis grow equipment list out there—complete with everything from seeds and pots to lights and tents. We've even included various options for each piece of equipment suited for beginner, intermediate, and advanced growers.
Seeds
The first step to growing great weed is to start with the right genetics. Cannabis plants can vary a lot, and you'll need to take the time to research strains and find something to suit your grow room, budget, and skills as a grower.
At RQS, we pride ourselves on creating strains to suit any and every grower. Below are three strains for beginner, intermediate, and advanced growers:
• White Widow Automatic: White Widow is a world-renowned, classic Dutch strain. For this autoflowering variety, we crossed a potent, profit-yielding White Widow phenotype with a sturdy strain of _Cannabis ruderalis_. The result is a potent autoflower that goes from seed to harvest in just 8–9 weeks and produces great results regardless of your skill as a grower.
• Royal Cookies: If you want to grow top-shelf US genetics at home, this is the perfect option. Royal Cookies was bred by crossing two unique Forum 1 phenotypes to create a super potent Cookies strain with up to 23% THC, capable of producing massive yields to suit. With a flowering time of just 8–9 weeks, this is a great intermediate strain that will produce some top-shelf bud every time.
• Shining Silver Haze: If you're an experienced grower looking for a killer sativa hybrid to add to your garden, look no further. Shining Silver Haze is our own version of the iconic Haze varieties that revolutionised cannabis around the world. With 21% THC, a 9–11 week flowering cycle, and an uplifting high like no other, this is easily one of our most beloved strains.
Grow Tent
When growing cannabis indoors, you'll want to ensure you have as much control over your growing environment as possible. And the best way to do this is to grow your plants in a tent where you can tightly control variables like temperature, relative humidity, air circulation, ventilation, and more.
That's where grow tents come in. Available in all shapes and sizes, grow tents make it easy to create a dedicated space for your plants without having to renovate an entire room. Below are three different grow tent options for growers of all skill levels:
• GrowPRO 2.0 Grow Tent S Eco: This is a small tent perfect for beginners or first-time growers. It's completely light-proof, boasts an extra-durable design complete with super-strong and stable rods, multiple air intake windows and "Superflaps" for maximum airflow, a watertight interior base and three ventilation socks. This is a perfect option if you're tackling your first indoor grow and working with a tight budget.
• Apollo Horticulture Mylar Tent: This is a great medium-sized grow tent ideal for intermediate growers looking to step up their game with more professional gear. Apollo Horticulture is a respected brand, and its grow tents are made from high-quality materials. They are also highly reflective, meaning your plants will get the most out of their light source. All Apollo products also come with a 90-day warranty and a 30-day money-back guarantee should you have any problems.
• Gorilla Grow Tent GGT59: Gorilla Grow Tents are renowned as the best horticultural indoor grow tents around. Supported by interlocking 100% steel frames, 1680D canvas density, large viewing windows, industrial zippers, and diamond-shaped reflective interior walls, these tents are literally as good as it gets. Keep in mind, however, that you get what you pay for, and these tents can be a little expensive. But for experienced growers dedicated to producing top-shelf harvests, the investment is totally worth it.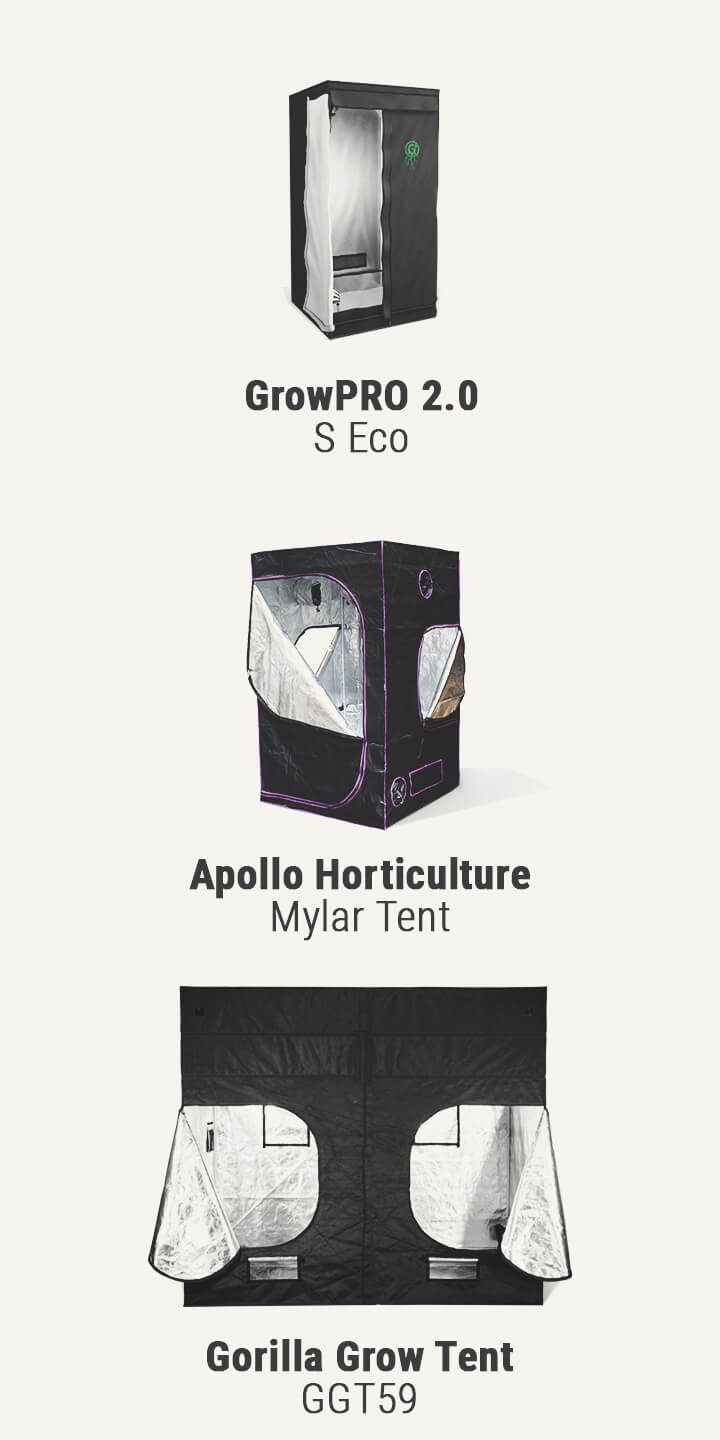 Soil
There's a simple truth about growing weed: Your plants can only grow as big and healthy as their growing medium lets them. That's why it's super important to invest in top-shelf soil right from the get-go.
Remember, cannabis has different growing requirements than other plants. It likes slightly acidic soil with a pH of roughly 6–6.8 (5.5–6.5 for soilless grows). In terms of nutrients, cannabis needs varying concentrations of nitrogen, phosphorus, and potassium during its life cycle, as well as a rich balance of micronutrients like calcium, manganese, iron, copper, sulphur, and more.
Below are three different soil options for beginner, intermediate, and advanced growers:
• Miracle-Gro Potting Mix: Miracle-Gro is a well-established brand, and its Potting Mix is very popular among cannabis growers. It's very well-suited for beginner growers as it contains all the nutrients your plants need in order to grow big and healthy. In fact, Miracle-Gro contains enough nutrients to feed plants for up to six months and promises to double your harvest without any extra work on your end.
• Nature's Living Soil: This is one of the best shop-bought super soils available. Nature's Living Soil is a concentrated super soil used to enrich regular soils like Roots Organic or Fox Farm. It contains all the organic nutrients your plants need to grow big and healthy and to produce the best possible harvests. If you're an intermediate grower looking to get a bit more hands-on in the garden, this is a great option.
• Homemade super soil: If you're an experienced grower, nothing beats preparing your own organic super soil at home. Using natural fertilisers, compost, and other organic ingredients, you can create a tailor-made potting mix. Plus, you'll get the added peace of mind of knowing exactly what you're feeding your plants.
Pots
Cannabis pots come in all shapes and sizes. The exact pots you plan to use will vary more on the size constraints of your grow space than your skills as a grower. Ideally, you'll want to give your plants sufficient room to develop a healthy root system while keeping them at a manageable size.
Most growers will usually opt for one of the following potting options:
• Homemade pots: If you're growing on a budget, you can make your own pots out of buckets, bins, or other similar containers. If you're growing indoors, we generally recommend using containers of about 10l. Outdoors, you'll want to use larger containers (20l or more), especially if you're only growing a few plants. Whatever container you use, always remember to drill drainage holes in the bottom.
• Standard flower pots: Standard plastic flower pots are cheap, easy to get your hands on, and serve their purpose. For growers with a limited budget, simple 12l nursery pots are perfect.
• Fabric "smart" pots: If you're an advanced grower looking to help your plants develop the strongest roots possible, you can't go past our fabric pots. Complete with our very own "Aqua Breathe" technology, these pots provide the right balance of aeration and moisture retention to ensure your plants grow strong, healthy roots.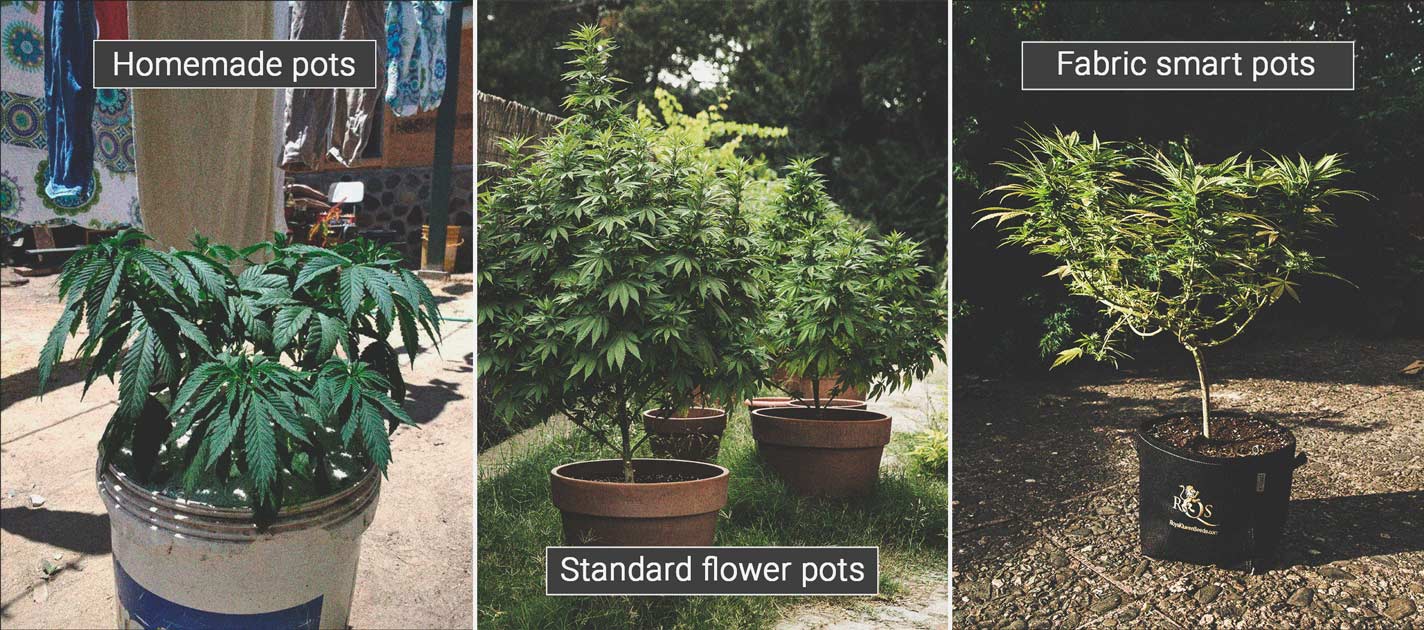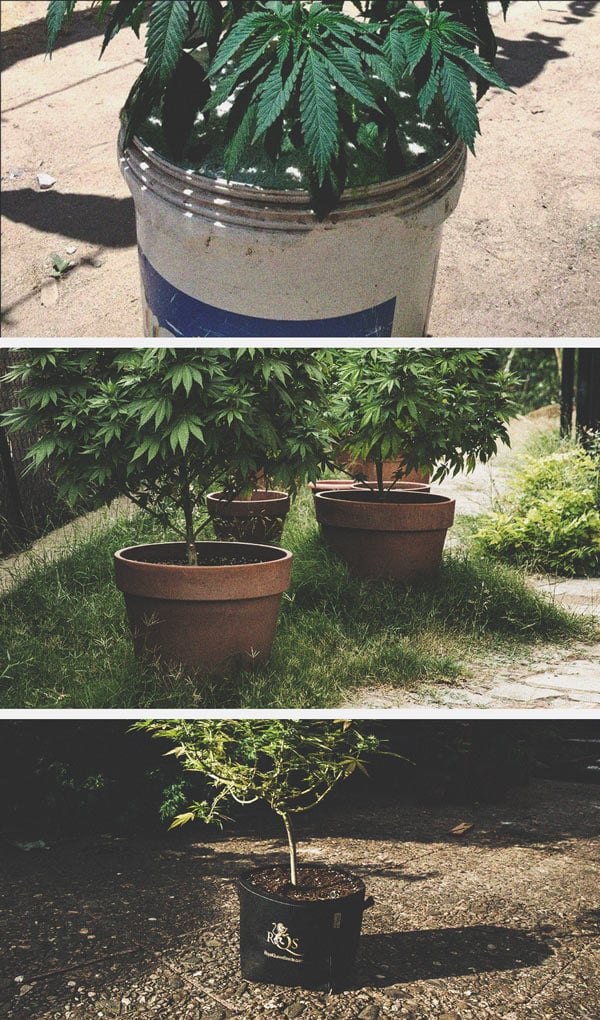 Humidifier And Dehumidifier
Humidity control is key when growing cannabis indoors, as cannabis plants benefit from different levels of humidity during different stages of their life cycle.
Seedlings, for example, like high humidity levels of around 65–70%. During the vegetative growth phase, you can gradually lower humidity by 5% every week. In the final weeks of vegetative growth, the humidity in your grow room should sit at roughly 40%, which is where it should stay during flowering to avoid issues with mould and mildew.
The best way to control the humidity in your grow room is with humidifiers/dehumidifiers. Below are three options to consider:
• Electric Dehumidifier with 2 l Tank: If you're a beginner grower with a small grow tent and just a few plants, this little dehumidifier is perfect. Once the water tank is full, the device automatically switches off to conserve power. This is a really cost-effective option for growers working with a budget.
• Vornado EV200 5l Dehumidifier: If you're working with a medium-sized grow tent (roughly 120 × 120cm), the Vornado is a great choice. With its vortex action, the Vornado fully circulates humidity all throughout a room of up to 65m² (700ft²). It also comes complete with three fan settings (low/high/auto), push-button controls, an electronic humidistat, and automatic humidity control.
• TROTEC B 400 Air Humidifier: Advanced growers with a larger grow tent will need a larger humidifier. That's where the TROTEC B 400 Air Humidifier comes in. With 34l capacity, this beast can manage humidity levels in a room of up to 360m². Plus, the unit automatically switches off once it has reached the right humidity level. If you're running a big grow op, this is the perfect solution for you.
Fans
Air circulation is super important when growing weed. Stagnant air not only creates hot pockets, but can also create a breeding ground for mould, pests, and diseases that could prove detrimental to your plants and harvest.
Luckily, managing air circulation is easy; just invest in some fans to keep air steadily moving throughout your grow space. Below are three fans you can use for your grow room:
• Lorell LLR49256 Wall Mount Fan: Sometimes, you don't need equipment with fancy bells and whistles. That's where this simple wall fan from Lorell comes in. This 40cm (16'') fan is super simple, offering three speed settings that you can cycle through using a pull-chain. While it's nothing fancy, it's exactly what you need if you're a beginner grower or are working with just a few plants in a small grow space.
• Hurricane Super 8 Oscillating Fan: This oscillating fan by Hurricane is a step up from the previous model. It oscillates in a figure 8 pattern, offering maximum air circulation around your grow space. It also has three speed settings and features a strong build for extra durability, making it an ideal mid-range option for intermediate growers.
• Oscillating Wall Mount Fan: A 72cm (30") fan is ideal for more advanced growers working with large grow rooms. These industrial-strength fans are designed to efficiently keep air circulating around large spaces, like commercial kitchens and warehouses. While the airflow from these fans will be far too strong for small grow tents, it's well suited for large, professional grow operations.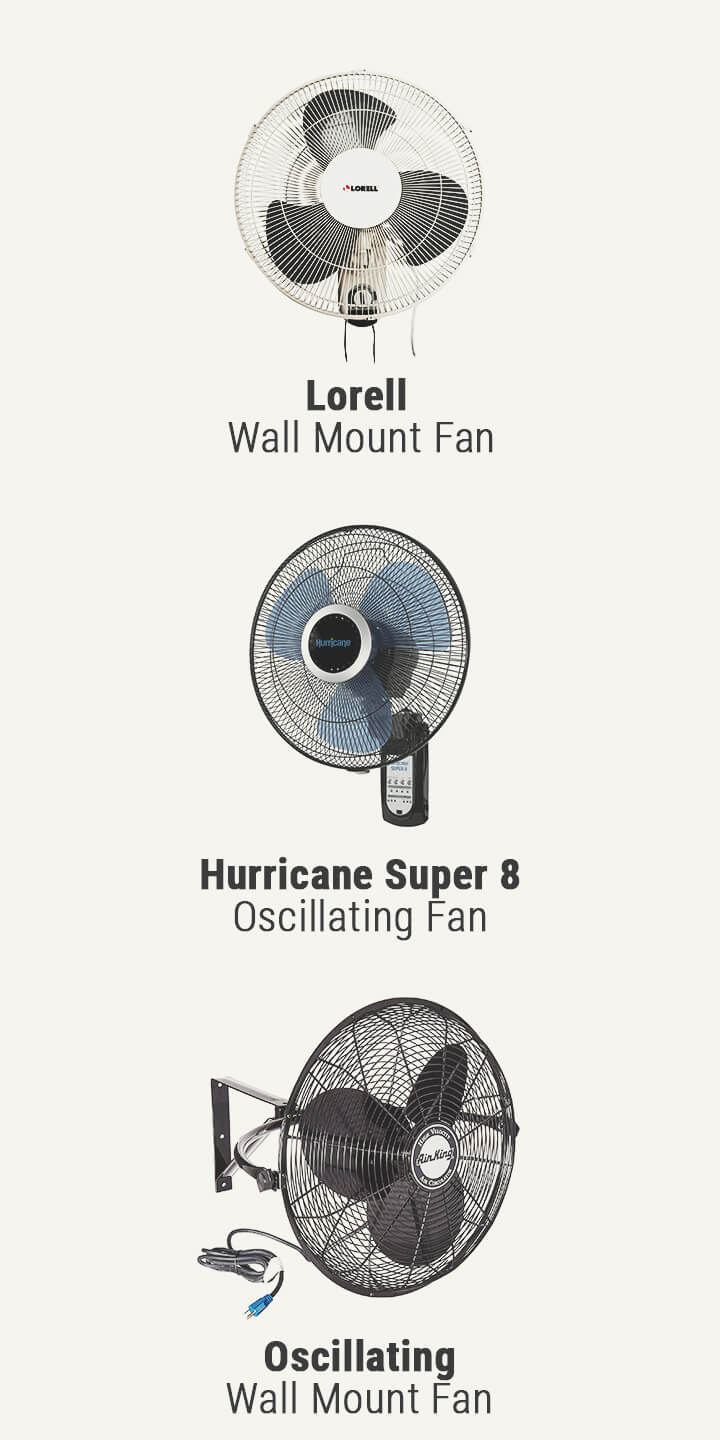 Thermometer And Hygrometer
To grow the best weed indoors, you need to have complete control over your plants' environment. Two of the most important variables are temperature and humidity, so you'll want to monitor both of these closely using a thermometer/hygrometer.
Below are three different thermo-hygrometers to consider for your grow room:
• ThermoPro TP50: This digital thermometer/hygrometer is perfect for beginner growers or anyone working with a small number of plants in a small grow space. It's got a 3-year warranty and provides accurate readings of roughly ±2/3% RH and ±1°F.
• ThermoPro TP65A: This is the TP50's big brother. It comes complete with a large backlit touchscreen, remote control range of up to 60m (200ft), and an extra weatherproof design that's capable of resisting extreme temperatures as low as -35°C. The TP65A also comes with a 3-year warranty if you register your device with ThermoPro. This is a really comprehensive device built to last.
• Ambient Weather WS-3000-X3: If you're looking for the most comprehensive thermometer-hygrometer combo, this is it. Complete with three wireless sensors, the Ambient Weather WS-3000-X3 is great for growers who have separate grow rooms for seedlings, vegetating, and flowering plants. The device also has a comprehensive data logger that graphs and logs data from all three sensors for temperature, humidity, dew point, and heat index. If you want maximum control over the environment in multiple grow spaces, you can't go past this device.
Nutrients
If you want to harvest big, you need to feed your plants right. And when it comes to cannabis nutrients, you've got a lot of options.
Cannabis needs three macronutrients to grow: nitrogen (N), phosphorus (P), and potassium (K). Different nutrient formulas will carry these compounds in different concentrations. But beyond standard NPK formulas, you'll also want to feed your plants micronutrients like calcium, sulphur, zinc, boron, manganese, copper, and iron. Give your plants a healthy combination of all of these nutrients, and you'll be well on your way to producing some killer harvests.
Below are three different nutrient solutions to try on your next cannabis grow (if you're not using them already):
• Fox Farm Nutrient Trio: Fox Farm is a well-respected brand among cannabis growers. And this 3-pack of nutrients gives you all the basics you need in order to grow big, dense buds at home. Complete with a growth booster and two bloom boosters, this complete kit is perfect for beginner growers who want to keep things simple.
• Technaflora Recipe for Success Starter Kit: If you're looking for a more advanced approach to feeding your plants, this kit by Technaflora has everything you need. It includes regular veg and bloom fertilisers, plus some micronutrient solutions including magnesium, calcium, iron, essential carbohydrates, and amino acids to really bring your buds to the next level.
• Biobizz Starters Pack: If you want to grow organically, this kit is perfect. Biobizz is another well-respected brand, and this box contains its iconic Bio·Heaven™, Bio·Bloom™ and Bio·Grow® nutrients, as well as their Top·Max™ (to improve the size of your flowers) and the Root·Juice™ to encourage root development.
Royal Queen Seeds Easy Nutrition: this range of organic nutrients provides cannabis plants with everything they need to survive and thrive. Easy Grow meets all of the demands of the vegetative phase, whereas the specialised flowering formula in Easy Bloom encourages fast and healthy floral growth. Easy Boost fills the growing medium with vital macro and micronutrients, and Easy Roots introduces beneficial fungi that assist plants in absorbing their food.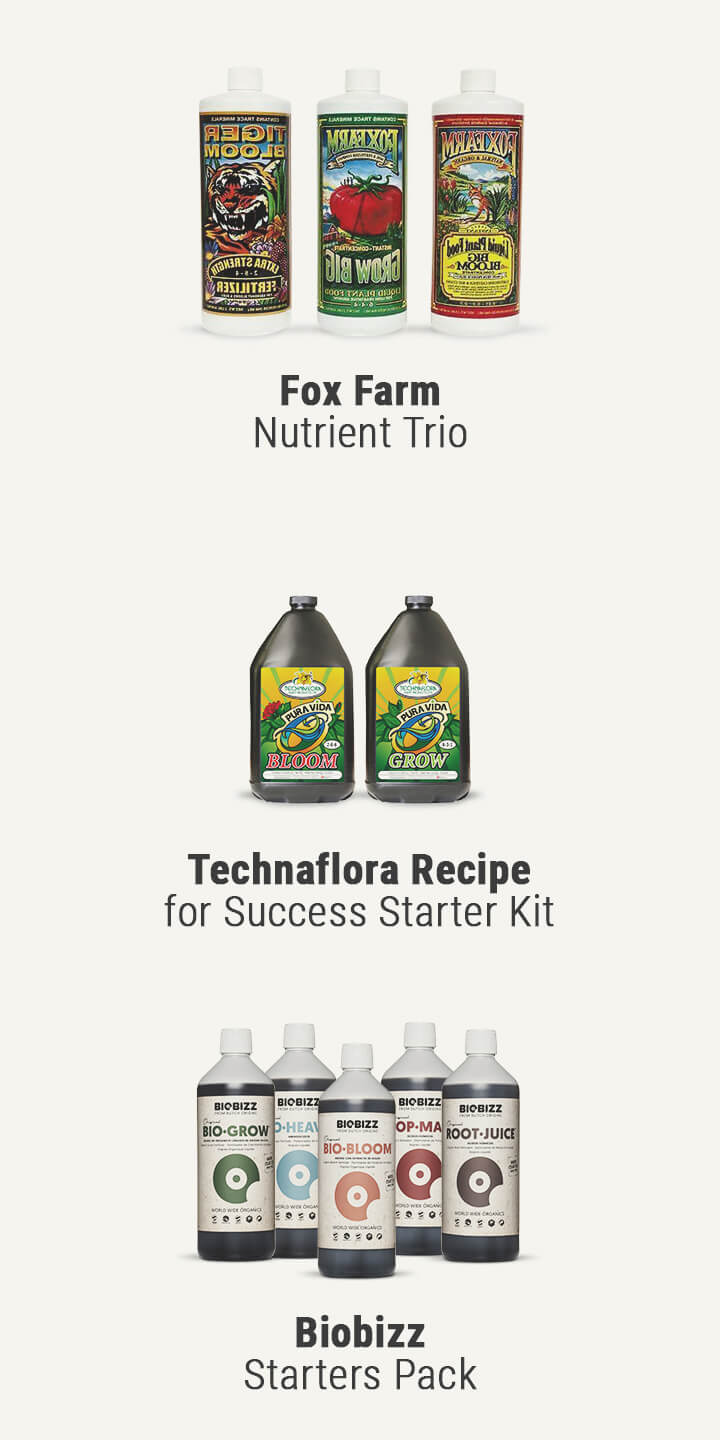 Grow Lights
No list of growing equipment would be complete without mentioning lights. Grow lights are the heart of your indoor grow room and easily have the biggest impact on the quality and size of your harvest.
Lights come in many different shapes, sizes, and at varying price points. Below, we've hand-picked three of the best grow lights currently on the market for beginners, intermediate, and advanced growers:
• Advanced Platinum Series P300: This is an unbeatable light for beginners. It offers 300W of LED power and a 12-band light spectrum ranging from UV to IR, offering one of the best spectral outputs on the market. The P300 also has two ultra-quiet fans and an aluminium cooling element to help keep temperatures as low as possible. Finally, the P300 has a veg and flower switch to make it super simple to flip your plants once they're ready. While there are other beginner lights out there, the P300 is well worth the extra cash.
• California Lightworks Solar System 550: This 400W light is perfect for intermediate growers running larger grow rooms but still operating on a budget. While it's a little pricey, the Solar System 550 has to be one of the best mid-range lights out there. It combines 50,000 LED lights in a single unit, draws 400W at full power, and can cover a 1.1m² (3 × 4ft) area in bloom and up to 2.2m² (6 × 8ft) in veg. It also boasts really low heat output, so you might even be able to get away with not using ducts.
• G8LED 900W MEGA LED: High Times named the Mega LED the best grow light of 2017 and 2018; and with good reason. This light offers amazing wattage and incredible penetration of up to 1.5m (60'') past the canopy. If you're an advanced grower who doesn't mind investing in real top-shelf equipment, then this is the light for you.
Bonus Tip
For an extra easy start to your next grow, make sure to check out our very own Feminized Starter Kit. Complete with a tray of seedling pots, a pack of Bacto (bacterial mix to promote strong root growth), a Propagator Pro (enclosed tray for faster germination), perlite, lighting, and three RQS Critical feminized seeds, this kit literally has everything you need to kickstart your next harvest.
Once your seeds are germinated, plant them in soil mixed with Royal Queen Seeds' Easy Boost Organic Nutrition mix. Simply mix 25–50 grams of pellets into every 10l of soil and water as usual. Our pellets are designed to continue feeding your plants for a full 10–12 weeks, helping you to avoid any problems associated with over/underfeeding.
Remember, this list is by no means exhaustive; there are countless options out there when it comes to cannabis grow equipment. That said, the list above represents a selection of our favourite options tailored to growers of all skill levels. If you've found a piece of equipment that works great for you and isn't on this list, make sure to share it with us in the comments below!