Vaping on the Move: 3 Vaporizers You Should Try
There are plenty of reasons why you should switch to a vaporizer, yet finding one that vapes well on-the-go can be difficult. Check out these 3 portable vaporizers that may be just what you're looking for.
---
There are seemingly countless reasons to switch from smoking to vaporizing. Vaporizers come in all shapes, sizes, colours and models to suit your needs. Whether you prefer a whip vape that consistently produces smooth, even vapour, or a bag vape that feels more like a bong than a vaporizer, there is a desktop vape for every taste.
However, vaporizing on the go is a much dicier proposition. Early versions of portable vaporizers were plagued with problems ranging from faulty batteries to burned herbs. Over time, many of these problems have disappeared and newer models have been fine-tuned to perform just as well as any desktop vape, at a fraction of the size (and sometimes cost). Thanks to technological improvements like hybrid heating systems, isolated air pathways, and digital temperature settings, you can now vape just as efficiently on the go as at home.
Here are 3 of our favourite portable vaporizers, which can be found right here at Royal Queen Seeds.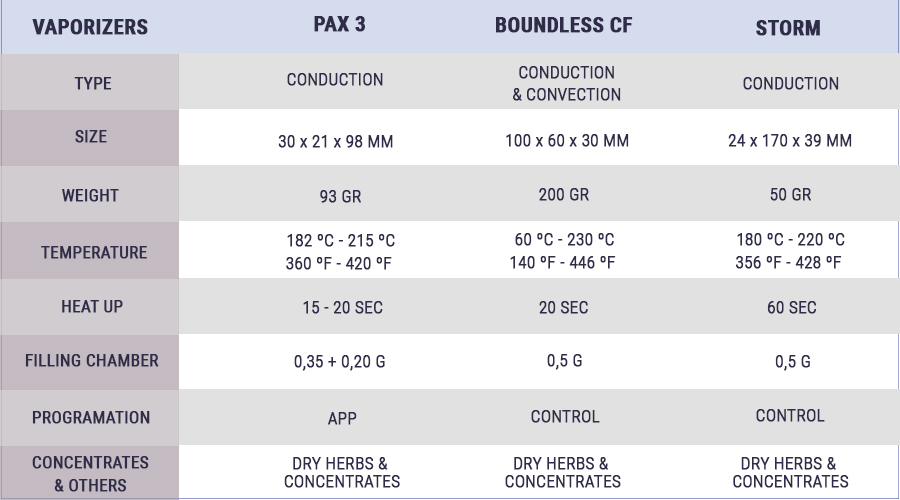 PAX 3 VAPORIZER — DISCREET, YET POWERFUL
Despite its sleek, smooth, and compact design, the Pax 3 portable vaporizer is capable of producing vapour of excellent quality. If portability and discreetness are your priorities, you can't go wrong with the Pax 3.
The Pax 3 is a simple, yet stylish system that packs a surprising punch. It is a versatile vaporizer that works just as well with both dried herbs and sticky concentrates. The Pax's minimalistic design has left it standing at just over 10cm tall, making it very easy to slip into a pocket or bag. Despite its small stature, the unit is certainly not fragile. Its anodized aluminium frame is more than capable of protecting it on the go, even if it is a magnet for fingerprints.
The Pax is more customisable than just about any other portable vape on the market. This unit comes with 2 "oven" lids that let you customise the size of your vape bowl. The full-oven lid allows you to pack roughly 0.35g of dry herb into the unit, whereas the half-oven has room for about 0.15–0.20g of dried herb.
But the Pax doesn't stop there. It also features up to 75 digital memory settings that let you customise the experience of each and every session. The Pax's memory settings can be used to enhance the flavour profiles of individual strains and to perfectly vaporize different kinds of concentrates, among other things.
This little vape can perform exceptionally well for its small size. Within 15–20 seconds the unit is hot enough to use, and within 30 seconds it is capable of producing phenomenal vapour clouds. Moreover, out of the box, its 3500mAh battery is capable of running for approximately 70–90 minutes before dying. You will be hard pressed to find another portable unit capable of producing vapour of such high quality.
If you prefer to vape on the go or outside of the house, don't hesitate to make the Pax 3 your go-to portable vaporizer. Take advantage of the Pax 3 complete kit now available at Royal Queen Seeds in order to receive an extra grinder and 3 cannabis seeds along with your vaporizer.
BOUNDLESS CF VAPORIZER — SLEEK DESIGN, SMOOTH VAPING
The Boundless CF Vaporizer is a hybrid convection/conduction unit that is capable of vaping both dried herbs and concentrates. The CF has no fancy digital display or full temperature control, but that's because it simply doesn't need them. Its quick heat-up time, consistency, and impressive vapour quality make it an excellent choice for both beginner and experienced vapers. Retailing for roughly €120, the Boundless CF is undoubtedly one of the most consistent and well-performing vaporizers in its price range.
The CF's stylish and ergonomic modern design catches the eye immediately. Its sleek, smooth, and minimalistic design make it a pleasure to use and convenient to carry. Additionally, thanks to its compact size, it is also simple to clean and maintain. The unit can be thoroughly cleaned with just some water, isopropyl alcohol, and a Q-tip.
The CF's hybrid heating technology, superior airflow, and isolated air path make it a delight to use. The unit is capable of consistently producing deliciously smooth and flavourful vapour clouds that will blow your mind.
Thanks to its isolated air path, the Boundless will not irritate your throat with harsh or hot vapour. And thanks to its hybrid heating system, it is capable of producing some huge vapour clouds. While some vapes may require a bit of lung power to use, the CF's smooth and isolated airflow system allows for even and easy draws with each hit.
The CF requires a mere 20 seconds to heat up and has 5 preset temperature settings to choose from. Moreover, its sizeable chamber can be packed with over half a gram of dried herbs at once, sometimes being able to fit even more without issue. Its small size, excellent performance, and huge chamber capacity make this an excellent unit for both solo or group use.
STORM VAPORIZER PEN — THIS PEN IS DEFINITELY MIGHTIER THAN THE SWORD
The Storm Vaporizer Pen is a stealthy and elegant vape pen that gets the job done with just the click of a single button. Its stainless steel body not only gives it a smooth, glossy finish, but also does an excellent job of protecting the delicate technology inside. Moreover, unlike most other vape pens, the Storm is capable of vaping both dry herbs and concentrates. Its durability, relatively small size, and simple technology make it the perfect choice for quick on the go vaping.
This Storm pen is a serious improvement over previous models. The endless clicking that was required to operate prior models has been replaced by a button that can simply be held down. With the click of a single button, the pen can be adjusted between its 5 preset temperatures ranging from 180°–220°. The Storm's isolated air pathway ensures that this pen produces nothing but smooth and flavourful vapour with every hit.
The Storm's removable and replaceable battery is capable of powering the unit for up to 1 hour. Moreover, its 5 minute automatic shutoff will protect your battery life when you forget to. Although its heat-up time of nearly 60 seconds is much lengthier than some pricier portable vaporizers, the Storm's simplicity and ease of use make this point of criticism easy to forget about. If you are looking for a pen vape that performs great at a low price point, you can't go wrong with the Storm.