How To Build A DIY Cannabis Grow Tent In Just 3 Steps!
Want to grow your own weed? DIY grow tents are easy to build and give you complete control over your plants' growing environment so you can produce top-tier bud!
By
---
Looking for a simple, cost-effective setup for growing your own weed? Below, we'll walk you through the simple process of building your own grow tent for a fraction of the price of a store-bought tent/box.
---
Why Build a DIY Grow Tent?
Growing your own weed is a great experience. Germinating your seeds and watching them grow into healthy plants with big, aromatic buds is a great way to develop a deeper connection with this ancient plant. Not to mention, you'll likely end up with a far superior product than what you're able to score elsewhere.
Unfortunately, not everyone has enough space to grow plants outdoors under the sun. That's where a DIY grow tent comes in; for many people, a homemade grow tent proves to be the most cost-effective and efficient setup. While small grow tents are pretty cheap, you can build your own tent for next-to-nothing if you take the time to hunt around for supplies. Plus, they allow you complete control over your plants' growing environment and produce a great harvest every time!
Important Considerations for Your DIY Grow Tent

Before you start looking around for building materials, take a few minutes to reflect on these important considerations for your tent:

☀️ Lightproof

Cannabis plants need well-defined light and dark periods in order to flower properly. Light leaks during dark hours can stress photoperiod strains, stunting their growth, interrupting their flowering, or even triggering hermaphroditism. Even autoflowering strains are believed to rely on consistent dark hours for respiration, photosynthesis, and more. Hence, your DIY tent must be lightproof.

💧 Waterproof

Cannabis needs regular watering and feeding. Make sure your tent is waterproof so runoff or spills don't cause any damage to the area around your tent.

💨 Airflow

Cannabis plants need proper airflow to grow properly. Poor airflow, on the other hand, can create hot spots in your tent that trap heat and humidity, creating a breeding ground for bacteria and attracting pests. Your tent needs to be well-ventilated to prevent these problems.

🎪 Size

The size of your grow tent will vary depending on the amount of space you have available, your budget, and how many plants you plan on growing. A 1 x 1m tent is arguably the most common size used by hobby growers, but you can go bigger or smaller than that based on your needs. Just know that if you want your plants to reach their full potential, your tent will need to be at least 1.5–2m tall to give them enough space to grow and prevent them from getting too close to your lights.
What Do You Need to Build a DIY Grow Tent?
Building your own tent is surprisingly simple. Here's a list of everything you'll need:
Materials
19mm PVC pipes are sturdy, cheap, and ideal for creating the frame of your tent. You'll need:
• 16x straight pipes for the verticals and horizontals (the length of pipe will vary depending on how large you want your tent to be)
• 8x 90-degree corner fittings
• 4x t-fittings
• 1x cross fittings
Panda Film works great as the walls of your tent. Remember to use the black side of the film on the outside to absorb light, and the white side on the inside to reflect it.
There are many different grow lights on the market, but we recommend LEDs for their energy efficiency and durability. HID lights are cheaper than LEDs and can produce great results, but they'll need replacing after two harvests and use a lot of energy.
There are plenty of fans on the market. If you're building a large tent for big harvests, we recommend using a fan and carbon filter to eliminate the odour from your plants. If you're building a tent to grow just a few plants, a regular wall fan will do fine.
Once you've got your materials, you'll need the following tools for the assembly of your tent:
• Duct tape (to create the Panda Film covering for your tent)
• Hand saw (in case you need to cut any of your PVC pipes to size)
• Velcro (for the opening of your tent)
How to Set Up Your DIY Grow Tent
Now that you've got your materials and tools, follow these steps to build your very own cannabis grow tent in less than a day:

Step 1: Assembling the frame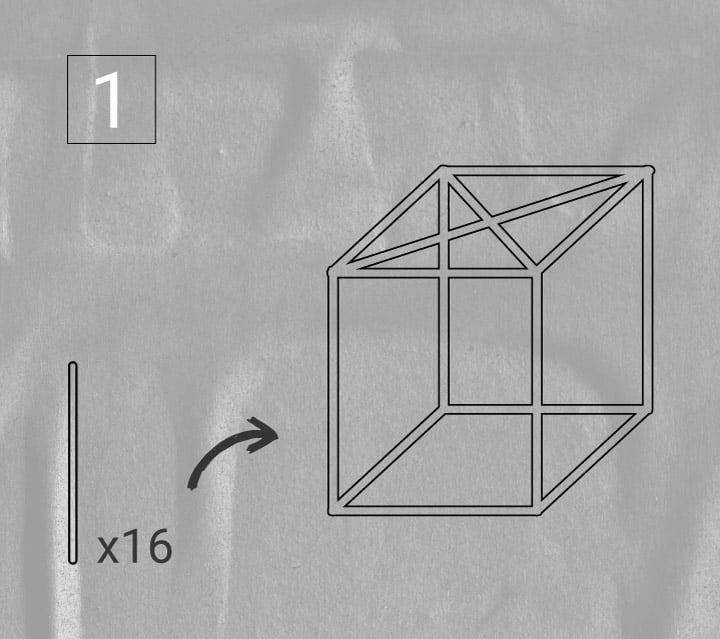 If you weren't able to buy your PVC in the size you need, cut it to size using a hand saw. Whatever size tent you're building, you'll need 16 straight pieces of pipe; 4 for the verticals (which should be at least 1.5m long), 4 for the base, and 8 for the roof of your tent.
Once you've got your straight pieces of pipe cut to size, use the fittings to connect them and build the frame of your tent. Keep in mind that your roof should have a cross fitting in the middle for extra stability to hold your light, fan, etc.
Step 2: Covering your tent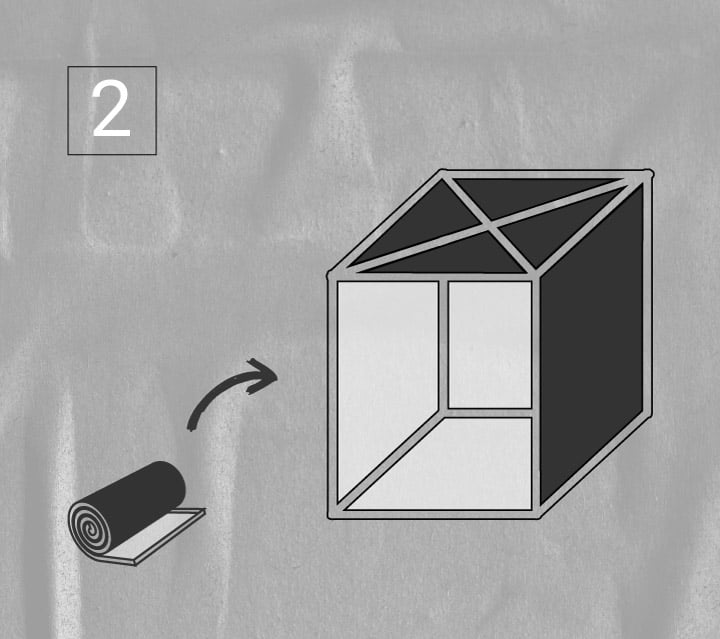 You'll need to cover your tent twice; once with the white panda film for the inside of the tent, and again with black film for the outside.
The easiest way to do this is to start with the walls; tightly wrap a single piece of film around 3 of the 4 walls (the 4th will be the opening of the tent). Secure the film to the PVC pipes where your opening will be.
Next, cover the roof of your tent with another piece of film. Make sure there's at least 3–5cm of overlap on every wall, and stick the sides down with duct tape. Step inside your tent, look for light leaks, and cover them using duct tape from the outside.
Finally, for the opening of your tent, cut a piece of film long enough to run from the middle of the roof to the floor. Secure it to the roof of your tent using duct tape and to the PVC frame on the side and bottom using Velcro.
Step 3: Installing your light and fan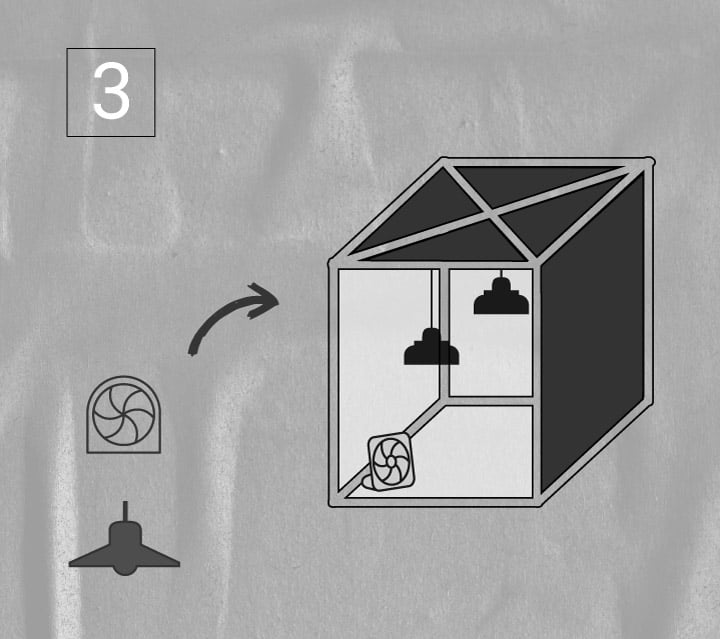 Install your grow light to the top of your tent according to the instructions that came from the manufacturer. Remember to pull the power cord out through a small opening in the roof and seal the sides with duct tape to avoid light leakage.
Finally, sit your fan on the floor, and you're done!
---
Time to Start Growing Cannabis!
Now that you've got your DIY tent built, it's time to get growing. Make sure to read our post on indoor cannabis growing equipment for a complete list of all the gadgets you'll need to grow your plants, and don't forget to order your seeds directly from our web store to ensure a great harvest. Happy growing!