The Importance Of Pistils To Cannabis Growers
Cannabis growers that understand the cannabis life cycle and can tell the difference between male and female plants before flowering will always enjoy more success than the uninformed. Pistils can tell you a whole lot about your cannabis plants. In this blog, we take a closer look at why they are so important.
By
---
---
What is a Pistil?
A pistil is a female cannabis plant sex organ. To the ordinary decent home grower, a pistil is a hair that protrudes from a calyx on a female flower. They are also known as stigmas. When a pistillate hair comes into contact with pollen from a male cannabis plant, it is then pollinated. The part of the pistil covered with receptive papillae that receive the pollen is known as the stigma.
Instead of focusing on producing more resinous flowers the female cannabis plant begins to develop seeds. The cannabis will be less potent, and seeds will form in the bracts that contain the ovule. Sinsemilla, which means seedless, is entirely dependent on female cannabis plants not getting pollinated.
WHAT CAN A PISTIL TELL YOU ABOUT YOUR YOUNG CANNABIS PLANTS?
Typically male cannabis plants will develop preflowers sooner than their female counterparts in the cannabis garden. 4-6 weeks post germination you should be able to confirm that your feminized photoperiod seeds really are all females even if they are still in vegetative growth. Likewise, if you have regular seeds, you should be able to identify the male plants for removal before flowering.
Pistils tend to poke out from nodes pretty randomly on young cannabis plants. Carefully inspect your cannabis plants and you will spot preflowers sooner or later during vegetative growth. Sometimes they are obvious, close to the top of the plants and easy to spot. But this is not guaranteed so really examine the plants carefully.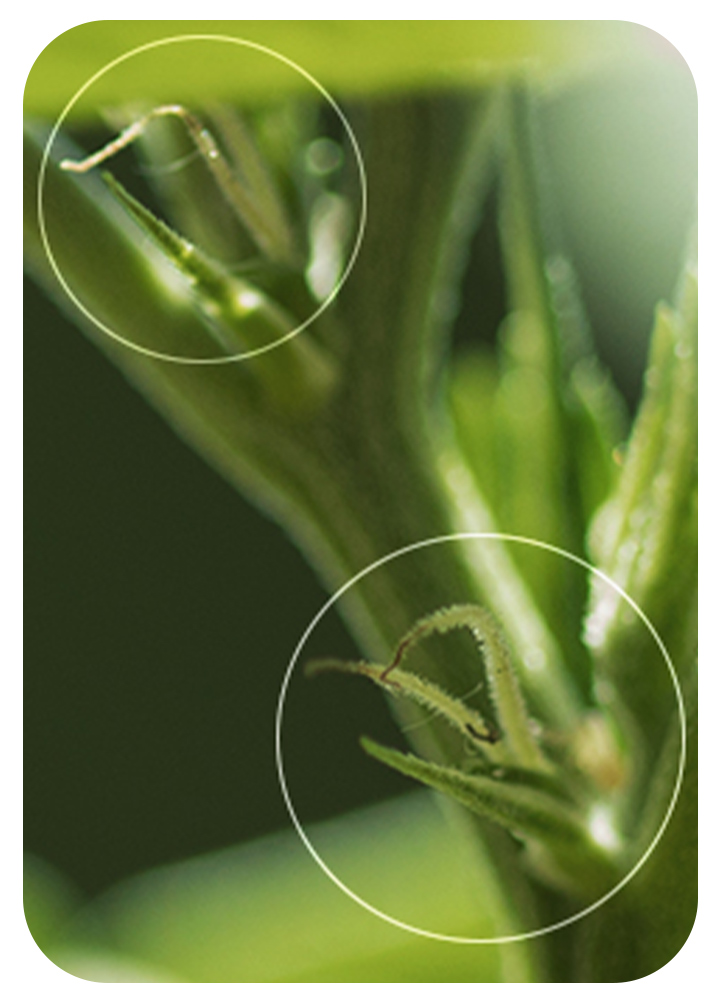 Beside a stipule which is itself a green hair like growth on the stem, you will see the preflowers. You are hoping to see a wispy white hair at the node. If you see any kind of ball and no hair you've got a male. Until you can see a white hair emerging from a few nodes you really can't be sure you've got a female cannabis plant.
You may have to wait as long as 8 weeks of vegetative growth with some strains to confirm female cannabis plants. However, after 4-6 weeks most growers can at least weed out the males. And keep an eye on one or two uncertain plants in early bloom if need be.
What Can a Pistil Tell You About Your Mature Cannabis Plants?
Autoflowering cannabis plants tend to suddenly erupt with flowers quicker than you would expect. Somewhere between day 25-35 post-germination, your feminized autoflowering cannabis seeds will have multiple white pistils bursting forth from the first flowers. A week or so later and buds are beginning to swell up with calyx's and sparkling with resin. Pistils will rapidly change colour from white to orange/red in days rather than weeks.
With photoperiod cannabis strains, flowering has three substages: early bloom, mid-bloom, and late bloom. Pistils are a great indicator of how your female cannabis plants are progressing. With the onset of a 12/12 light cycle, the pistils will be completely white. Somewhere around week 4-6, midway through flowering, is when the first orange, red and/or pink colours begin to emerge and proliferate. Not until sometime during weeks 7–10 will a majority of the pistils show beautiful ripe shades of red, orange, and brown.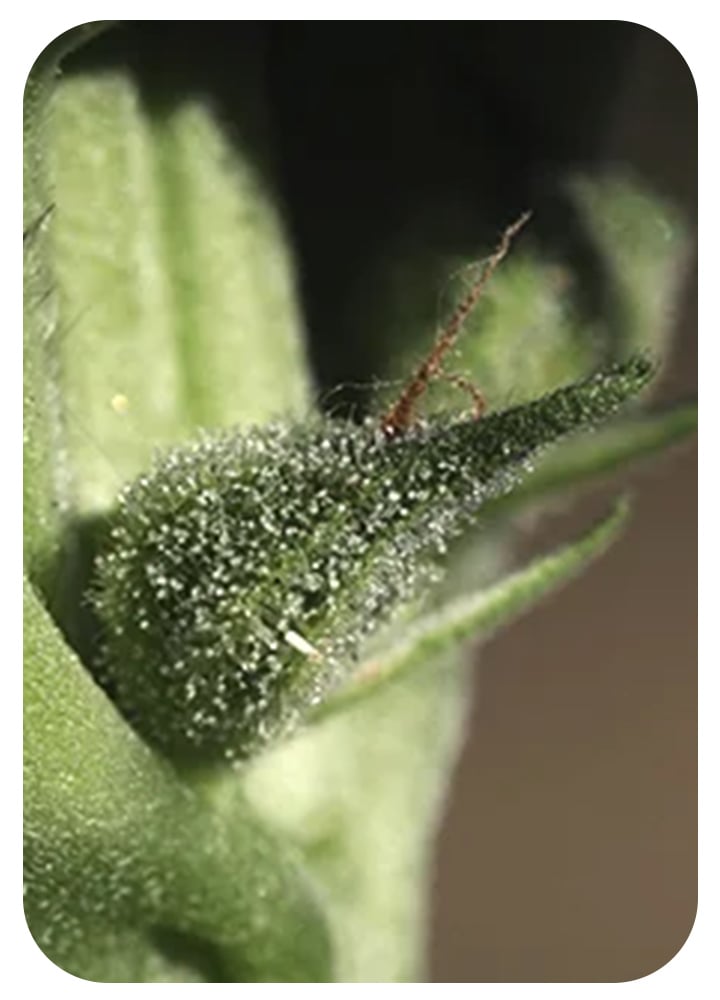 Do Only Female Cannabis Plants Have Pistils?
Female plants and hermaphrodite plants will display pistils. Unfortunately, hermaphrodite plants will also produce pollen, and are as great a threat to your females as a rogue male cannabis plant. Moreover, stress can cause any cannabis plant to develop male flowers. Some varieties of industrial hemp are bred specifically for their hermaphrodite characteristics.
Do you want Sensimilla? Then you need to make sure none of your female plant's pistils get pollinated. This means you must continue to monitor your plants throughout flowering. Disturbances in the dark cycle are perhaps the greatest stress factor that contributes to hermies.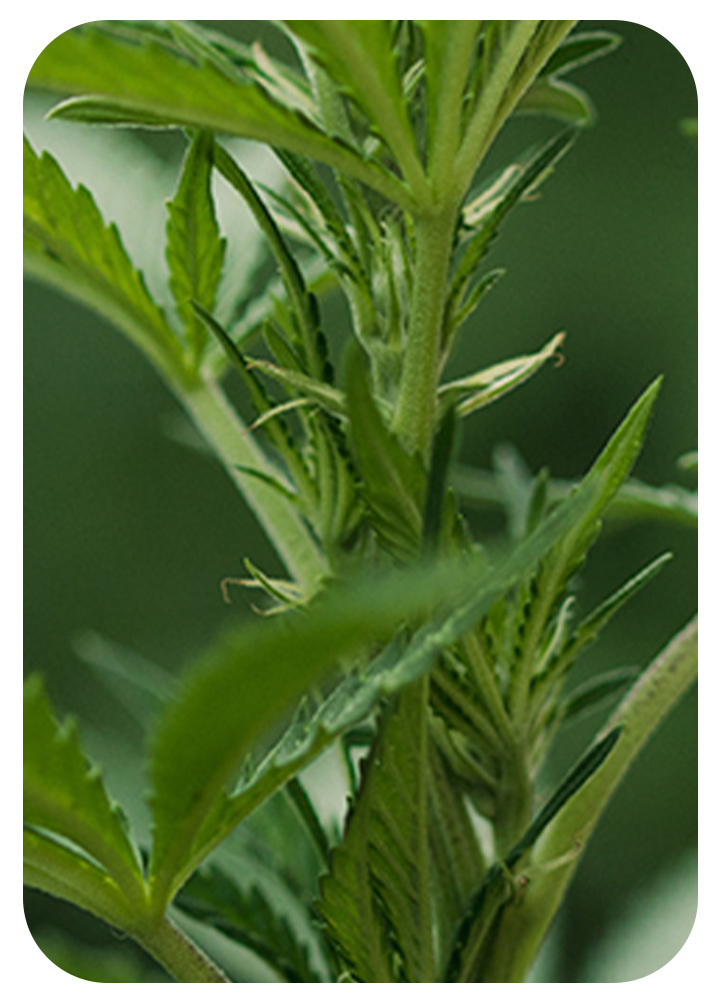 How Can Pistils Help You Decide When to Harvest?
Before the advent of microscopes and zoom lenses, ganja farmers had to rely on their intuition when harvesting cannabis. The good old-fashioned eyeball inspection of cannabis flowers is a tried and trusted pre-harvest practice. When 75% or more of the pistils are full of vibrant colours, most cannabis growers will call time on cultivation. Flowers covered in red, orange, pink and brown hairs are definitely mature.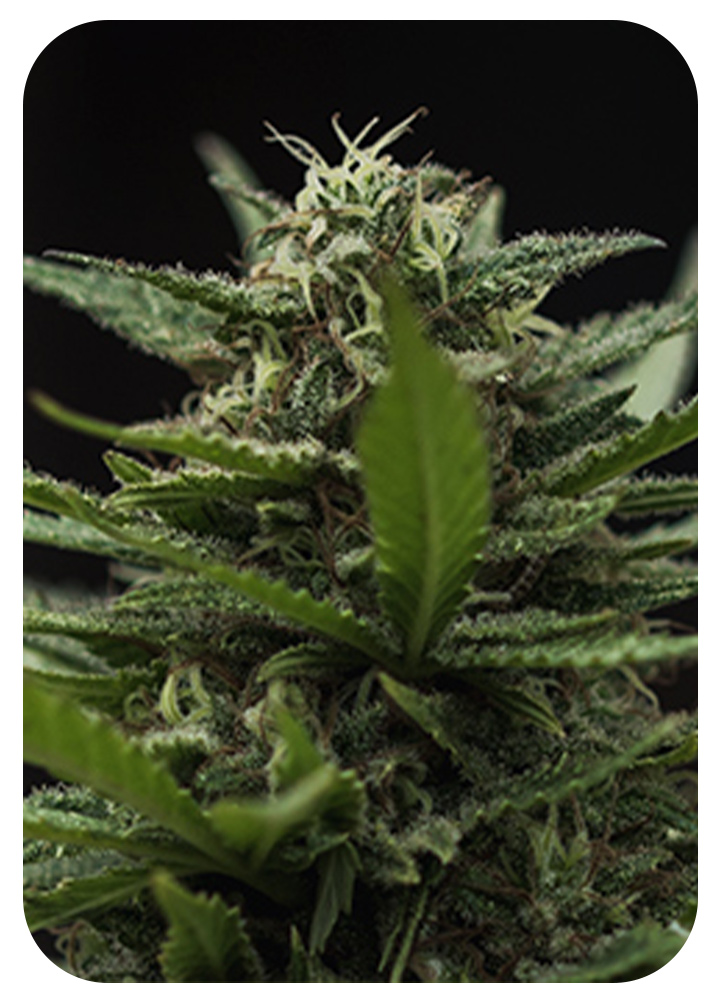 Without advanced optics, you'll also be able to see the shimmer of trichomes. Besides, buds will be sticky to the touch — although you shouldn't handle them excessively unless you're making charras. Furthermore, the pungent aroma of ripe reefer should be a loud cue your female cannabis plant is finished. All five senses have a role to play. Pistils are a valuable visual aid throughout the cannabis lifecycle.