Royal Runtz Strain: A True Powerhouse
Royal Runtz solves a big problem when it comes to strain selection. We don't all have unlimited space, and shopping for seeds usually involves trading off one trait for another. Not anymore. This hard-hitting variety offers all that you're after in one, aromatic botanical package. Gear up for 27% THC, sugary terps, and rewarding yields.
By
---
---
There are tasty strains. There are potent strains. There are productive strains. And then there are strains like Royal Runtz that combine all three of these traits into one. But how did she end up so well-rounded? Far from a genetic luck of the draw, the breeders at RQS worked diligently to create this incredible strain using some of the most sought-after parent strains available. Royal Runtz packs an abundance of terpenes, more THC than most can handle, and superb yields at the end of a brief flowering phase. Let us tell you more about Royal Runtz, her background, what to expect when smoking, and how to grow her successfully. Discover Runtz weed.
Royal Runtz Genetic History: What Is Runtz?
As a USA premium variety, it won't shock you to learn that Royal Runtz descends from two of the nation's biggest cannabis superstars: Gelato and Zkittlez. Sure, countless strains hail from the United States, but few have gained such international recognition and acclaim. Gelato shot to fame riding the reception of her terpene profile; this strain stinks, in a good way! Her fruity and sweet aromas made her an instant hit, and high levels of the terpene caryophyllene make for a soothing and relaxing high.
Then we have Zkittlez, a variety that sounds suspiciously like a popular candy (and for good reason). As one of the sugariest strains out there, this variety will make the taste buds on the tip of your tongue tingle. But her winning attributes don't stop there. A THC content of 20%, a CBG content of 1%, and great productivity make her a unique favourite among cannabis connoisseurs.
Our skilled breeders took these parent strains and let their talent loose. It didn't take them long to identify the best specimens and develop what would become Royal Runtz. This shining successor offers sweet tastes, extreme levels of THC (surpassing both of her parents), and yields that will keep you elevated for weeks. Her perfectly balanced genetic profile, consisting of 50% sativa and 50% indica, makes her appealing to all manner of growers, and her massive mind-body high.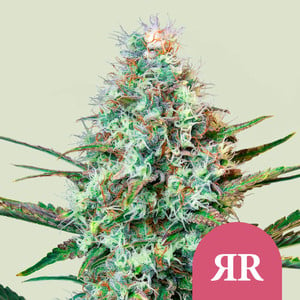 | | |
| --- | --- |
| | Gelato x Zkittlez |
| | 450 - 500 gr/m2 |
| | 90 - 130 cm |
| | 8 - 9 weeks |
| | THC: 27% |
| | |
| --- | --- |
| | Sativa 50% Indica 50% |
| | 400 - 450 gr/plant |
| | 160 - 180 cm |
| | Middle of October |
| | Euphoric, Uplifting |
Flavour, Aroma, and Potency of Royal Runtz: Sweet Tastes That Don't Stop
Let's start with what this strain does to the olfactory system. Come the late flowering phase, you'd better hope you have a functioning exhaust fan fitted with a carbon scrubber. These flowers release waves of terpenes that will leave your whole house smelling somewhere between a skunk's rear end and a candy shop. However, this trait works wonders when you unscrew a jar in front of your friends before a smoking session.
These aromatic notes also translate over to her flavour. You'll catch heavy hits of candy, fruit, and sugar with every toke. Pack these buds into a vape to really get a grip of what she offers.
Flavour aside, Royal Runtz ranks as one of the most potent strains in our entire catalogue. A THC content of 27% means most smokers don't need to use very much material to get high, which means her harvests last much longer than those produced by weaker varieties. A combination of lively terpenes and high THC levels results in a fast-acting effect that induces euphoria and bursts of creativity, before tapering off into a warm body high and ravenous munchies.
Growing Royal Runtz: Big Yields From Medium-Sized Plants
So, how should you go about getting the best results when growing Royal Runtz? If you're growing in a soil-based medium, focus on beneficial organisms. Implementing mycorrhizal fungi and rhizobacteria from the get-go will create a thriving environment that fuels growth and deters disease. If you're growing outdoors, sowing companion plants in close proximity to your cannabis crop will help to pull in beneficial insects that keep threatening pests at bay.
If you're growing Royal Runtz indoors, expect her to reach a height of 90–130cm. Low on space? Employ topping and LST to keep her at the lower end of this spectrum. After switching your lights to a flowering schedule, get ready to harvest up to 500g/m² within 8–9 weeks.
If you prefer growing outdoors, expect plants to top out at a taller height of 160–180cm. This strain grows well in containers and directly in the ground, though containers will give you the option of moving your plants inside should adverse weather strike. Royal Runtz does best in regions with longer growing seasons; sow seeds indoors in early spring to get a much-needed head start if you live up north. Get your stash jars prepped to harvest up to 450g/plant during the middle of October.
Royal Runtz Automatic
Not all growers get on with photoperiod strains. Some opt for autos because of their faster growth, hardy genetics, and the overall easier growing experience that they offer. We've created autoflowering versions of many of our most-loved strains, and we couldn't leave Royal Runtz out. Our breeders created the masterpiece that is Royal Runtz Automatic by crossing the original with a high-performing ruderalis male.
Royal Runtz Automatic doesn't rattle the brain in the same way as the original; many cannabis users find her THC content of 19% to be much more tolerable. However, she packs incredible flavours and a terpene profile not far removed from her mother's. The strain also grows to a much more manageable size, making her ideal for clandestine indoor operations and outdoor guerrilla grows. When it comes to yield, expect a return of up to 450g/m² from indoor plants and 70–100g/plant from those grown outside. The best part? You'll start harvesting buds in as little as 10 weeks from germination.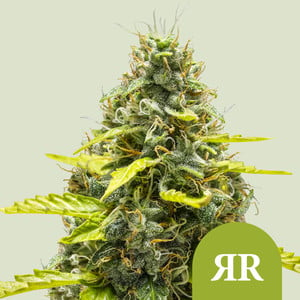 | | |
| --- | --- |
| | Royal Runtz x Ruderalis |
| | 350 - 450 gr/m2 |
| | 70 - 100 cm |
| | 7 - 8 weeks |
| | THC: 19% |
| | |
| --- | --- |
| | Sativa 50%, Indica 45%, Ruderalis 5% |
| | 70 - 100 gr/plant |
| | 70 - 120 cm |
| | 10 – 11 weeks after sprouting |
| | Long Lasting , Uplifting |
Royal Runtz: An Instant New-School Classic
Royal Runtz came into existence too late to stand on the pantheon of classics alongside Skunk, Haze, and White Widow. However, the genetic foundation of this strain simply didn't exist back then. But this hard-hitting THC powerhouse, with her ridiculously sweet terpenes, has made a real impact in the modern era. Smokers in decades to come will look back on this new-school variety with a smile and certainly bestow her with the title of a classic. If you desire potency, flavour, and yield, this well-rounded cultivar has everything you're after, and then some.