Kali Dog, a Royal Chemdawg
The feminized Kali Dog seeds are being considered one of the stronger strains with it's overwhelming lemony fuel flavor and heavy stoned feeling.
---

It is a cross between OG Kush and Sour Diesel with a strong lean toward the Sativa side of the strain's genetics. Kali Dog is 60% Sativa with obvious Indica traits.
This strain, when smoked, has an extremely strong lemon taste, almost too strong, with the fuel taste often associated with the Sour Diesel strain. The strong, pungent flavor and smell are almost enough to turn anyone away from smoking this strain.

The effects from smoking though, are well worth the smell and taste. For anyone looking for a heavy stoned feeling, then this is the cannabis strain for you. The stoned feeling completely relaxes the body, and alleviates stress. Many users of this strain, rely on it for relief from their pain. Muscles are relaxed, aches and pains seem to melt away. As a plant, Kali Dog easily absorbs all nutrients and bloom boosters given to it. As a result, it easily grows to a mature plant topping out at around 90-130cm. It is an extremely dense and compact plant, though it's Sativa genetics comes through in it's tendency to stretch upwards during it's first couple of weeks of flowering. This is easily taken care of with careful pruning.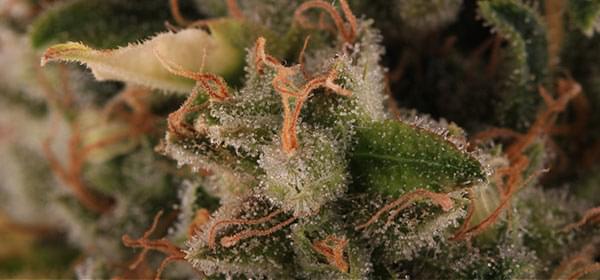 The Kali Dog seeds have a flowering time of about nine to ten weeks and at the end of the flowering period, the Kali Dog plant will produce 600g/m2 of large, beautifully dense and skunky smelling buds. One word of caution though when growing this powerful strain, because of the extreme denseness of the plant, moisture can be a problem. To help avoid any problems with rot and mildew, the humidity levels must be kept low to prevent any problems.

While there is little in the way of information available for these seeds when grown outdoors, indoors they have proven to be predictable winners. With yield, smell, taste, and effects of smoking the cannabis staying constant, it is easy to see why this Sativa and Indica cross is getting all the fuss.

Ordering the seeds is safe and reliable, and with a relatively short flowering time, this is sure to be a popular strain in any garden. Whether you are looking for a new strain to use for medical purposes, or simply want to try a new strain of cannabis, Kali Dog will not disappoint and may become a favorite in your personal garden.

For consumers interested in other feminized strains of cannabis that go well with the Kali Dog strain some recommendations are,
*Royal cheese
*Royal Moby
*Fruit Spirit
Go ahead and try any of these strains of cannabis, you may realize that you too have found a new favorite strain of cannabis.