Kali Dog — Bold, Strong, And Stimulating Cannabis
Kali Dog by RQS may not be a strain for the inexperienced smoker, but for those who love their cannabis strong, this hybrid will be right up your alley! Get ready for a bold smoke with a powerful, uplifting effect!
By
---
When it comes to cannabis, some just prefer it a bit stronger. Backed by strong US genetics, Kali Dog by RQS is certainly no slouch in the arena of potency. The strain induces an uplifting cerebral rush that blasts you off before you've even finished your first puff. Seasoned smokers enjoy her very aromatic smoke with overtones of lemon and diesel. A top example of what the best US strains have to offer.
KALI DOG GENETIC BACKGROUND: CHEMDAWG AND SOUR DIESEL
Royal Queen Seeds went for a straightforward, but nevertheless effective, recipe when creating Kali Dog. Breeders simply crossed two of the most popular strains around—all-time West Coast favourite OG Kush and East Coast Sour Diesel. Out comes Kali Dog, an immensely potent strain that shines with a tangy, zesty terpene profile with a hint of diesel.
Kali Dog boasts THC levels of 17–20%, with an effect that, despite her slight indica dominance (60% indica, 40% sativa), leans more to the sativa side. For over 20 years, she's been regarded as one of the best party strains, but is also beloved among medicinal users.
GROWING KALI DOG: STRONG WEED WANTS LOTS OF NUTES
On paper, Kali Dog looks like your average indica-dominant hybrid. Surprisingly, she grows in the typical structure of a sativa-leaning plant—tall and with a good stretch once she enters flowering. Indoors, she shows off more of her indica side, growing shorter and bushier. As the strain really likes to grow, she may need some topping or trimming if space is limited.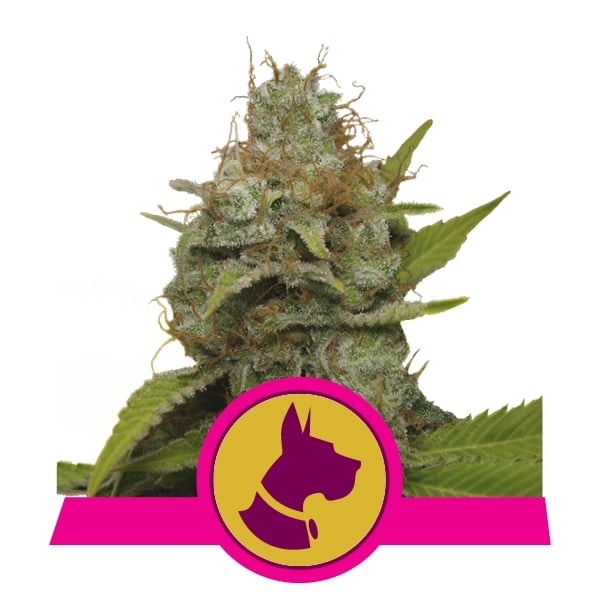 Kali Dog
Chemdawg x Sour Diesel
450 - 500 gr/m2
90 - 160 cm
9 - 10 weeks
THC: 18% (aprox.) / CBD: Low
| | |
| --- | --- |
| | 40% Sativa, 60% Indica, 0% Ruderalis |
| | 500 - 550 g/per plant (dried) |
| | 175 - 210 cm |
| | Late October |
| | Cerebral and uplifting |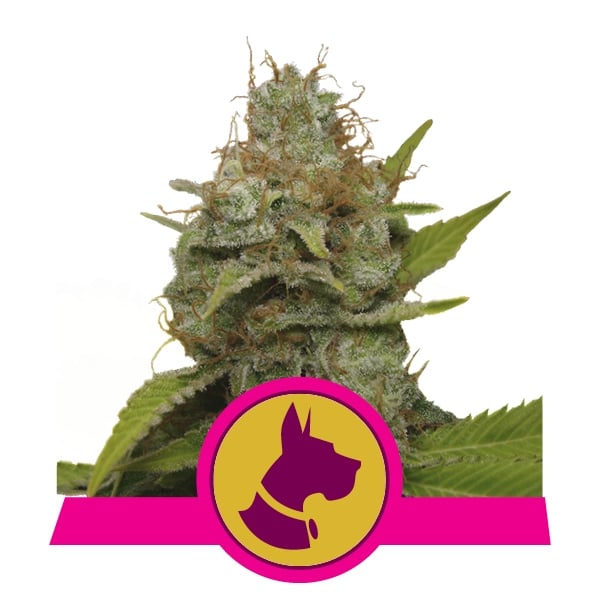 | | |
| --- | --- |
| | Chemdawg x Sour Diesel |
| | 450 - 500 gr/m2 |
| | 90 - 160 cm |
| | 9 - 10 weeks |
| | THC: 18% (aprox.) / CBD: Low |
| | |
| --- | --- |
| | 40% Sativa, 60% Indica, 0% Ruderalis |
| | 500 - 550 g/per plant (dried) |
| | 175 - 210 cm |
| | Late October |
| | Cerebral and uplifting |
Kali Dog is a strong strain in more than one sense, but she doesn't get this strength from nothing: she is a really heavy feeder. Depending on how you look at this, it can be a good thing because you won't need to worry about nutrient burn, and you finally have a use for that bloom booster!
We wouldn't say that Kali Dog is particularly "difficult" to grow (see above), but if there is one thing that you should keep an eye on, it's high humidity levels. Her compact buds make the plant somewhat sensitive to mould, so she may not be the best choice for growing outdoors in humid and rainy climates. If you happen to live in such a location, it's better to keep her indoors where humidity can be kept in check. And while we're at it, the plant's strong scent may also warrant some good air filtration during bloom.
Indoors, Kali Dog flowers for 9–10 weeks, yielding up to 500g/m² of super dank and very resinous buds. Outdoors, where she will be ready at the end of October, growers have raked in as much as 650g/plant in optimal conditions.
AN UPBEAT, SATIVA-LIKE EFFECT
With OG Kush and Sour Diesel as parents, it isn't exactly a surprise that Kali Dog is a very potent strain. You will understand this as soon as you take your first hit. But what's surprising is that her effect is not what you'd expect from an indica-dominant hybrid. She provides a cerebral, uplifting rush that will make you smile silly from one ear to the other.
Her high is not the sort to knock you down in lethargy, but instead will "buzz you up" with motivation and creativity, making you eager to try new things. You will have a clear head and newfound mental focus for hours. Only after you've enjoyed her uplifting and energetic high for quite some time will you notice a deep relaxation taking over your body—the perfect finish for an awesome high!
With her energetic and cerebral effect, Kali Dog may not be for everyone. Those prone to paranoia and anxiety when smoking may want to take it slow with this potent strain.
MEDICAL USES
With up to 20% THC, Kali Dog can be beneficial for those who use THC for therapeutic purposes. Users report that the strain helps them with chronic pains, aches, and sore muscles. The strain is also said to be good for stress relief, depression, PTSD, and other mood disorders. Kali Dog is known to induce the munchies, so this strain can come in handy as an appetite booster.
AROMA AND FLAVOUR
Kali Dog is famous for her very intense aroma that blends lemony notes with diesel and a hint of earthiness. These notes carry over into her flavour, making for a super-rich, very pungent smoke dominated by citrus, with more pronounced diesel notes on the exhale.
STRONG GENETICS FOR LOVERS OF STRONG CANNABIS
If you combine two most-excellent cannabis legends such as OG Kush and Sour Diesel, only good things can come about. Royal Queen Seeds did a fabulous job merging these top US genetics into a strain that no doubt is worthy of its famous parents. We like that Kali Dog features the best aspects of a sativa in an indica-dominant package. She is quite easy to grow, with more flavour than you can throw a stick at, and with a very uplifting high that's just outright fun, especially as a social smoke among good friends.