Flavourful Combinations For Your Cannabis Dinner Party
Cannabis edibles unlock a world of creativity. Every strain produces its own unique terpene profile, accenting a dish in different ways. Discover which foods and strains work best together before treating your friends to the meal of their dreams.
By
---
Cannabis is a social substance. Nothing beats sitting around and smoking with friends—apart from enjoying a dinner party with them! Treat your fellow cannabis lovers to a night they might not remember by cooking up a THC-loaded storm.
WHY CONSIDER PAIRING CANNABIS WITH DIFFERENT FOODS?
Cannabis is more than a psychoactive substance. It's a culinary herb that ranks among the likes of rosemary and thyme. Cannabis flowers produce complex terpene profiles and punchy flavours. Some cultivars produce sweet notes of fruit or chocolate; others hit the tongue with savoury tastes of earth and pine. Brownies and space cakes have been the go-to cannabis edibles for decades, but modern cannabis chefs are now infusing cannabinoids and terpenes into just about anything; from pasta to salad dressings!
The enormous diversity in terpene profiles allows cooks to get creative in the kitchen. Different strains go well with different meals. Does that stash jar tickle the nose with hints of fruit? Then infuse it in a cheesecake! Does it reak of diesel and wood? Harness those rich tastes in a hearty soup.
Not only does cannabis-infused food taste superb, it's also more psychoactive! Edible cannabis takes longer to take effect, but provides a more potent experience. This is because THC must first pass through the digestive system. It's then converted into 11-hydroxy-THC before passing through the blood-brain barrier. This powerhouse molecule is responsible for the amplified effects.
Now, let's treat your smoking crew to a psychoactive smorgasbord. To start things off, you'll need to plan your menu.
PLAN YOUR MENU BASED AROUND YOUR FAVOURITE FOODS
There are no strict rules to follow when creating your menu. You could stick to a theme—cuisine from a certain region—or serve up a mixed bag of cultural delights. Regardless of what you treat your guests to, it'll help to have some kind of structure. Are you going to dish out a three-course meal or offer a free-for-all buffet? In the case of the former, you'll need to plan out a starter, main course, and dessert.
Before you start spinning pizza bases and chopping veg like Gordon Ramsey, make sure you have your extracts ready. Cannabutter is an easy extract to make and can be added to almost any dish imaginable. If you're prepping meals for vegan guests, whip up a batch of cannabis-infused coconut oil instead.
The main focus of your menu should be taste! Incorporate your favourite foods and give them a psychoactive twist. Here are a few suggestions to start with.
Open strong with a weed-infused appetiser. This psychoactive vinaigrette kicks any salad up a notch, and will impress guests with its instant class. In the colder months, any number of soups are delicious and simple to prepare. For a similar, summer-friendly option, try a cool gazpacho made with cannabis-infused oil.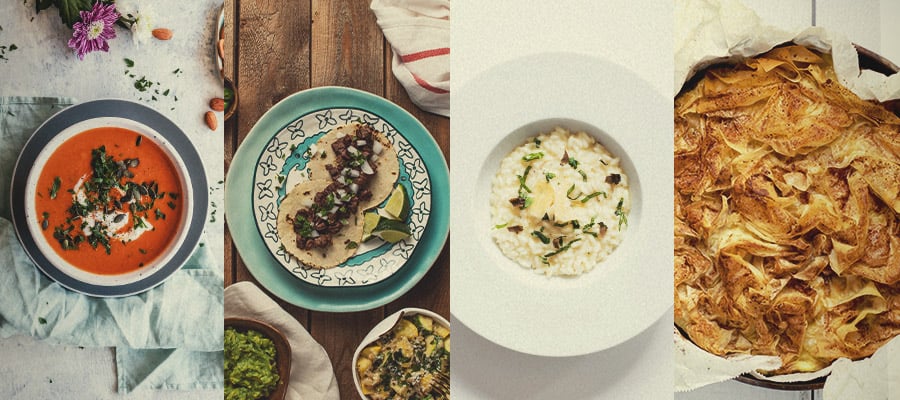 If you're craving Mexican eats, serve up some ganja guacamole. Then, move on to crowd-pleasing cannabis tacos. Just remember to "taco 'bout" portions with your guests. We all know how easy it is to binge on these babies, and this is one time you don't want to go overboard.
ITALIAN "HERBS" AND SPICES
Make your Italian grandmother proud with a creamy cannabis risotto. Grandma likes to blaze, right? If your guests have dietary restrictions, this pot pesto is both vegan and gluten-free. For a sweet finish, whip up some mouth-watering tiramisu.
It's hard to go wrong with bud burgers and some good old-fashioned American apple pie. The great thing about burgers is you can make them last-minute by adding finely ground bud straight into the patties. There's no need to prep an oil infusion beforehand (just remember to decarboxylate your weed).
ENHANCE YOUR DINNER PARTY WITH TERPENES
Cannabinoids such as THC and CBD are responsible for many of the effects of cannabis. However, terpenes play an arguably more important role when it comes to crafting food with weed. Terpenes are aromatic molecules responsible for the many tastes and smells associated with the cannabis plant. Every strain produces its own terpene profile based on its genetics and growing environment.
Cannabis is like a fine wine that tastes different depending on the grapes used. Research the strain you want to use before cooking with it. You'll likely be able to find information about the main terpenes within the cultivar, how it tastes, and what smells stand out in the mix.
Selecting the right terpene profile goes beyond just taste. Cannabis science has discovered that terpenes play a fundamental role in the effects of a strain, synergising with cannabinoids to influence the high.
Let's briefly get to know some of the primary terpenes in cannabis:
• Myrcene is a mellow terpene that contributes a sedating effect.
• Limonene is a citrusy terpene that elevates the mood and invigorates the senses.
• Caryophyllene is a terpene and "dietary cannabinoid" known for its potential to reduce pain.
Be sure to select a strain rich in the terpenes you're after. Serve your guests a side dish of pre-rolled joints if they want an even higher dose of featured terps.
CANNABIS STRAIN AND FOOD COMBINATIONS TO GET YOU STARTED
Are you feeling confused about where to start? We get it. There are hundreds of strains, around 100 terpenes, and endless food options. Use the combinations below as surefire crowd-pleasers that will leave your guests feeling satisfied every time. Each one of these offerings will fill their bellies and blow their minds. Here too, you can feature terpenes in their full glory by smoking each strain alongside each meal, or by infusing it directly.
LEMON SHINING SILVER HAZE AND CHICKEN
Lemon and chicken is a timeless combination; it's also a popular Chinese dish. Add an extra hit of citrus to your dish by incorporating Lemon Shining Silver Haze. This sativa-dominant hybrid houses sweet and spicy tastes, along with a hint of pepper. Her intense cerebral high will get the conversation flowing and stoke the appetite of your guests. Just make them aware of her 21% THC level so they know what they're getting themselves into.

ROYAL COOKIES AND CURED MEAT
Cured meat is a delicious and rich food high in protein. It's scrumptious on its own, but many recipes call for the addition of spices or sugar to enhance the taste. Hitting a strain such as Royal Cookies between each bite will light up the palate with flavours of sugar, cookies, and intense sweetness. This indica-dominant specimen also slams the body with a sedating high powered by a THC level of 23%. Serve up some espresso shots with dessert to counter the sleepy effects.

PINEAPPLE KUSH AND PIZZA
Pineapple on pizza is a controversial topping. You either love it or hate it. However, there are not many people who won't love the addition of Pineapple Kush. This stoning indica strain delivers sweet tastes of tropical fruits that complement the savoury ingredients in the pizza. The more you smoke, the hungrier you'll become. A THC level of 18% and unabating munchies mean there won't be a crumb left over.

WHITE WIDOW AND SWEET DESSERTS
It's true that weed enhances the senses. It makes music sound better, lights appear brighter, and the most mundane food taste spectacular. White Widow is an excellent strain to make the taste buds hypersensitive. A few tokes of this legendary hybrid will prime the tongue for some sweet treats. Prepare for an explosion of flavour as you chow down on chocolate, cake, or ice cream.

LEGENDARY OG PUNCH AND COFFEE
Cannabis and coffee have a push-pull relationship. They're almost opposing forces. But the stimulation of coffee and the relaxation of cannabis can give rise to a comfortable equilibrium. A fresh cup of coffee can help to fight off post-meal fatigue, and a few tokes of Legendary OG Punch will smooth off the jittery edges. This hybrid delivers a swift blow of sedation to the cranium. What's more, tastes of sweet fruits define every hit. Infuse Legendary OG Punch coconut oil into your brew for a sustained lift.

CANNABIS DINNER PARTY TOP TIPS
Of course, food is the centrepiece of the occasion! But, it's important to cover all your bases to ensure everyone has a good experience. Follow the tips below to host a flawless night!
GET YOUR DOSES RIGHT
We've all been burned by super-potent edibles at some point, and improper dosing could turn your delicacies into disasters. Luckily, a little preparation and communication are all it takes to avoid this particular pitfall. When cooking with cannabis, make sure you pay attention to the THC content of the strains you use. Be as precise as possible and measure what you're putting in at every step. When in doubt, use this handy guide to calculate the potency of your dishes. You should also talk with your guests about what to expect before dinner is served. Letting people make informed choices will lead to the best possible experience for everyone.
PREPARATION IS KEY
You'll need to prepare thoroughly to ensure your dishes are fully psychoactive! Make sure all of your plant material and extracts have been properly decarbed. People haven't come just for the food; they want to get baked in the process. If you're making burgers or similar recipes, it'll help to grind all of your weed beforehand. It's little tips like these that simplify the process.
Preparing well also means you get to have fun too! Chances are you're going to be as baked as the guests. It'll put a downer on your high if you realise you forgot to make enough of a particular dish or run out of weed. Make sure you've completed everything so you have time to relax too. Cook everything you need, wash up, top-up on dank weed, and create a long music playlist. With all the boxes ticked, it's time to relax and have a good time.
DON'T FORGET THE DRINKS
Your guests are going to get thirsty. It doesn't take long for cottonmouth to set in. Prepare a good selection of beverages for your guests to enjoy, and a suitable strain for them to enjoy it with. We've already covered coffee, but what about pairing some strains with wine? Fruit Spirit will go down well with a fresh rosé.
WHAT CANNABIS PAIRINGS HAVE YOU DISCOVERED?
Before you start cooking up delicious dishes and pairing them with strains, you'll need to experiment. Acquaint your palate with some of the tastiest cannabis strains around while you perfect your recipes. Eventually, you'll find out exactly which terpene profiles work best with each meal. Once you're confident that your cannabis matches you're cuisine, it's time to invite your friends over!