How To Infuse Your Dinner Party With Cannabis: A Complete Guide
Cannabis-infused dinner parties are the latest culinary craze. We lay out the steps to planning a legendary evening with Mary Jane.
---
There's a lot that goes into the perfect dinner party: the menu, the guest list... the right strain? Cannabis-infused dinner parties are a hot trend for 420-loving foodies, adding an exciting new dimension to a classic ritual. It's ganja gourmet, baby! From strain pairings to the art of ambiance, here's our recipe for throwing the perfect stoner soirée.
PLAN YOUR MENU
Before you start cooking, decide whether you want a sit-down dinner or buffet-style get-together, and figure out how many dishes you're going to serve. Don't forget to set aside some time to make your cannabis-infusion. Olive oil, butter, coconut oil, even flour are great options. When it comes to meal planning, there are lots of creative cannabis cookbooks and recipes out there. The theme of your party doesn't need to be weed-related. Why not build a menu around your favourite cuisine?
Here are some suggestions:
Open strong with a weed-infused appetiser. This psychoactive vinaigrette kicks any salad up a notch. In the colder months, any number of soups are delicious and simple to prepare. For a similar, summer-friendly option, try a cool gazpacho made with cannabis-infused oil.
If you're craving Mexican eats, serve up some ganja guacamole. Then, move on to crowd-pleasing cannabis tacos. Just remember to "taco 'bout" portions with your guests. We all know how easy it is to binge on these babies, and this is one time you don't want to go overboard. 
ITALIAN "HERBS" AND SPICES
Make your Italian grandmother proud with a creamy cannabis risotto. Grandma likes to blaze, right? If your guests have dietary restrictions, this pot pesto is both vegan and gluten-free. For a sweet finish, whip up some mouth-watering tiramisu.
It's hard to go wrong with bud burgers and some good old-fashioned American apple pie. The great thing about burgers is you can make them last-minute by adding finely ground bud straight into the patties. There's no need to prep an oil infusion beforehand (just remember to decarboxylate your weed).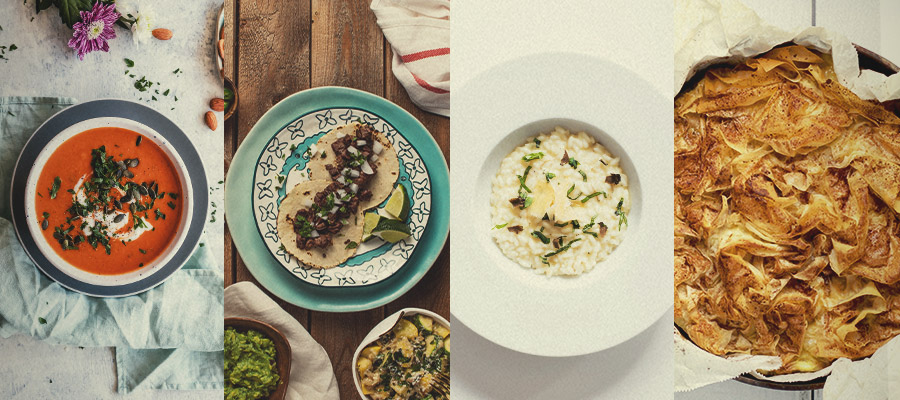 GET CREATIVE
We've given you a head start with some cannabis-friendly cuisine, but don't hold back from building your own marijuana menu. Dinner parties are a great time to get creative and pull out all the stops. If scheduling a dinner is too hard, throw a blazin' brunch with weed-infused waffles instead.
PAIR WITH THE RIGHT STRAINS
Weed is a bit like fine wine, offering diverse pairings to enhance your culinary experience. When selecting a strain, the key considerations are effects and flavour. Infusing your menu with too much heavy indica might leave your guests communing with the couch and not each other. To avoid couch-lock or antisocial paranoia, a balanced hybrid is a good way to go. Blue Cheese, for example, produces a relaxed yet cerebral high, perfect for intimate social settings.
You want to make sure the flavours in your dishes harmonise, and you should think of cannabis like any other ingredient. Here's where the distinct aromas and terpene profiles of different strains come in. The sweetness of strains like Fruit Spirit are perfect for desserts. Varieties with citrus notes like Lemon Shining Silver Haze will add a zesty hint to your meal. On the other hand, pine-forward strains, like Solomatic CBD, pair well with earthy spices like oregano. A CBD-rich strain also has the benefit of giving guests a break from THC overload.
GET YOUR DOSES RIGHT
We've all been burned by super-potent edibles at some point, and improper dosing could turn your delicacies into disasters. Luckily, a little preparation and communication are all it takes to avoid this particular pitfall.
When cooking with cannabis, make sure you pay attention to the THC content of the strains you use. Be as precise as possible and measure what you're putting in at every step. When in doubt, use this handy guide to calculate the dosage of your dishes. You should also talk with your guests about what to expect before dinner is served. Letting people make informed choices will lead to the best possible experience for everyone.

SET THE AMBIANCE
The right ambiance is essential for a good dinner party and for an enjoyable high. You want people to feel comfortable, and music helps set the mood. Go for something chill or create a playlist related to your theme. Lighting is equally crucial: think twinkle lights or soft, relaxing lamplight.
Of course, don't forget your guest list. If it's a collection of close friends who all know each other, you're probably set. Otherwise, make sure you're a proactive host. Introduce everyone, check in throughout the night, and be prepared to guide the conversation.
BE SAFE AND RESPONSIBLE
While many people have no problems mixing weed with a bit of alcohol, it might be best to leave the drinking for another night. Fancy mocktails are a fun replacement for boozy beverages. You can even serve cannabis-infused drinks to complement your food spree. At the end of the night, don't forget to make sure your guests get home safely. If any of your friends live far away, offer them a place to crash in case the party goes late.
DON'T FORGET TO HAVE FUN
While throwing the perfect cannabis-infused dinner party takes a good deal of planning, don't let that discourage you. Think of it as an opportunity to get creative and craft a novel experience for you and your friends. If you love to cook, preparation is part of the fun, not to mention your ticket to legendary status. Once dinner is served, you can sit back, relax, and see where the night takes you. Bon appétit!