How to Make Highly Potent Cannabis Butter
You only need a few basic ingredients like salted butter, tab water, and of course, a good amount of trimmings, buds, or a mix of both. Learn how to make your own cannabutter!
---
When harvest day is on the rise, a sense of excitement lies in the air. We invest a lot of time, money, and love, to guarantee ideal conditions for our precious plants. Let's be honest, as soon as trichomes begin to change in colour, most of us get nervous and can't wait to manicure, dry and cure. 
First step after harvesting is trimming. This can be a delightful thing to do. After countless hours of being highly concentrated on trimming like an artist, following question might arises:
WHAT TO DO WITH THE LARGE AMOUNTS OF TRIM AND LOWER GRADE BUDS?
It's only logical for us to use all the THC and other cannabinoids, provided by our plants. One way of using our trim is producing delicious and potent cannabis butter. This blog will walk you through the step-by-step process of making butter, using the "long simmering method". If you are really interested in producing a butter that is strong, delicious and perfectly natural, then look no further and try this recipe. Let's cook!
INGREDIENTS AND EQUIPMENT
• 28g of cured trimmings (preferably the small, sugary bud leaves)
• 14g of cannabis blossoms (choose the quality you like)
• 250g of salted butter (salted butter = higher melting point)
• 300ml of tab water (plus approximately 50ml for every hour of simmering)
• 1x cooking pot (pan works fine)
• 1x sharp knife (for fast results use kitchen blender)
• 1x stove (camping cooker can be a mobile option)
• 1x cheese cloth (a fine kitchen sieve , or any kind of finer mesh material does the job)
• Storage containers (glasses look very nice, plastic can also be used)
• Anything from 8-24 hours of your time (due to the long-simmering at low heat)
DISCLAIMER: YOU EXPERIMENT AT YOUR OWN RISK
This recipe is meant to produce very potent butter. It uses 28g grams of sugary bud leaves, together with 14 grams of buds. The trimmings and buds are a blend of two different strains, one being indica-dominant, with strong Afghani influences, and Cheese. The raw material has been cured in jars for 14 days.
If this is your first time making cannabis butter, you might want to use substantially less raw material and experiment with lower amounts of trim and bud.
Producing cannabis butter always involves the risk of doing an excellent job, and ending up with a product that is very potent. Be responsible and slowly work your way up until you reached the desired effect. Sometimes it takes up to 3 hours until you feel anything. Wait a long time-span before eating more. There is the potential risk of throwing up and having a bad trip full of self-doubt, anxiety and paranoia. Try to relax when you ate too much, you feel better the next morning.
Do not operate any heavy machinery, including cars when being under the influence of cannabis butter. The effect can last up to 8 hours and has a strong influence on your skills, necessary to operate any kind of machinery. You might end up having problems operating a microwave.
STAGE 1 - FIND A PLACE TO COOK, BUY INGREDIENTS, CHOP UP RAW MATERIAL
Think of the delicious but risky smell when choosing a location to produce your butter. Depending on the quantities you want to produce, smell can be a small issue. It's always present when making cannabis butter but can be reduced by a good airflow in your kitchen. Another option is making a rather smelly type of food while making butter at the same time. This can help to camouflage up the smell.
Chop up your trimmings and lower grade buds. 
You can use a kitchen blender if you're not willing to use a sharp kitchen knife. What you aim for is a nice blend of trimmings, combined with buds of the quality you prefer. It makes sense to use the airy and fluffy ones from lower branches. If you aim for higher or lower potency, you can increase or decrease the amount of buds. You can get very good results by just using trimmings to be honest.
STAGE 2 - MELT YOUR BUTTER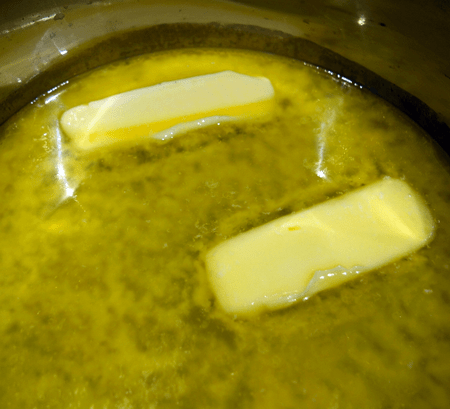 If you want to, you can smoke some of you freshly cured buds or some scissor hash from harvesting. It's better to do the following steps very relaxed, without being hectic.
Generally, there are two variables that lead to success when making butter: The right temperature and the right time frame. This method tries to get as much cannabinoids and THC into the butter as possible, by using low temperatures over a long period of time.
It's time to melt 250g of salted butter in 300ml of water. 
 vPour the 300ml of water into your pot and start to slowly heat it up. When the water is warm, you can add the 250g of salted butter. Wait until the butter is completely dissolved, forming a yellow mixture with the water. 
STAGE 3 - ADD YOUR RAW MATERIAL AND LET IT SIMMER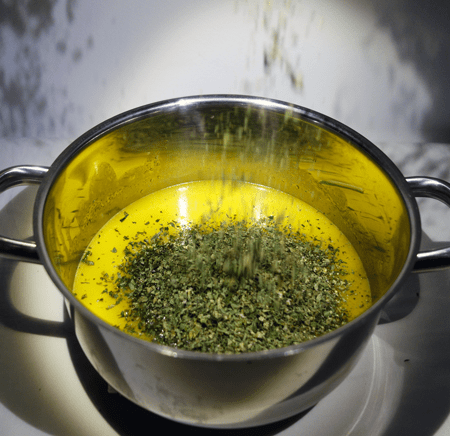 This recipe was tested by letting the mix simmer for 8 hours. If you are aiming for extreme potency, you can let your butter simmer for up to 24 hours. When you have enough time for that, do it!
After creating your blend of butter and water, you can go ahead and mix in your trim.
What follows is a simmering of your mixture at very low temperatures. By not putting a lid on the pot, we allow the water vapour to leave our mixture. Heat can escape our pot/pan, too. The 300ml of water, we added at the beginning, will turn into water vapour over time but the butter will stay in our mixture. This is very important because we still need the butter at the end. The butter is our carrier material for cannbinoids and THC, and therefore must be protected from too much heat and evaporation.
When checking for the right temperature. You need to closely monitor the surface of your mixture. Do you see tiny bubbles forming at the surface? They are an indicator for being within the right temperature range. These small bubbles are only a few millimeter in size and differ from the bubbles, caused from cooking at high temperatures.
Here is a picture of the small bubbles you are aiming for.

You also need to check if the amount of water is sufficient to submerge all the raw material. This is important to get the highest amount of THC and cannabinoids possible. It's natural to add between 50-100ml of water every hour due to evaporation.
After 8 hours of low simmering most of your work is done. You still need to filter the mixture to separate any raw material from your butter. Your mixture should be dark in colour by now, similar to the one in this picture.
STAGE 4 - FILTER THE MIX, FILL IT INTO CONTAINERS, COOL DOWN
If you want to give your premium product a high-class packaging, you can use all kinds of different glasses. Big Swedish furniture stores often have a nice selection of curing jars and smaller glass containers that can be used.
Filter your mixture through a cheese cloth, or any other kind of material that separates the raw material from the butter. Fill the liquid into the desired container and place it into your fridge. After a few hours of cooling down, you can simply take the butter from the surface, leaving a brown liquid behind.
Your final product is most likely to look anything like this. You can see that the colour of the mixture is dark brownish while being in its liquid form. After separating the brown water from the butter, you will see what you skillfully created, a pile full of highly potent green deliciousness. Have fun experimenting with this recipe and remember to be careful. Don't be the guy who ate too much!