Amnesia Haze Automatic Smoke Report
The Amnesia Haze Automatic strain is bred from a popular sativa strain from the Netherlands. I was excited to try this strain because I had heard of its unique effect on the mind and wondered what made the original so famous.
---

In color, Amnesia Haze Automatic is lime and dark green, and the flower has large, pointy leaves. I noticed immediately that it was covered in crystalline white trichomes, which promised a high content of THC. The flower is sticky and dank to the touch, and the strain has a mixed aroma of natural scents. I detected a subtle but delightful hint of citrus.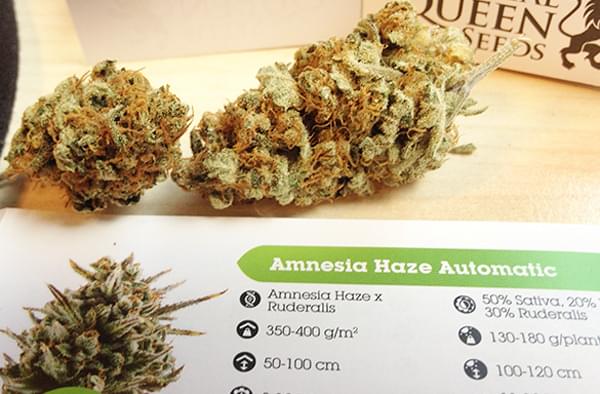 I smoked Amnesia Haze Automatic in a water pipe, and the smoke was heavy and thick in my mouth but easy on my lungs. It tasted sweet but woody with a touch of spice, and the flavor remained in my mouth, which made for an enjoyable aftertaste. I may have tasted a bit of pepper as well.

The effects of the high hit me quickly and were smooth but intense. I was reminded of everything I love about sativa strains. Amnesia Haze Automatic is 50 percent sativa, which is what gives it its uplifting cerebral effects. The buzz I experienced was definitely cerebral in nature as opposed to a body high. My mind was active and alert, and I felt especially creative. The short-term memory loss effect did not prevent me from making connections in my head. My perspective on my surroundings was slightly renewed as it often is when I enjoy a good strain.

Prior to smoking, I had a slight headache, but as the smoke filled my lungs, I felt oncoming relief from the tension. While my mind was buzzing with ideas, I was simultaneously relaxed. While using Amnesia Haze Automatic, I was free of anxiety, and all stress was lifted from me. Though I can be prone to negative thoughts, this strain had me in a haze that was entirely euphoric. My appetite was as active as my mind.
Though the high was slightly energetic, I was able to drift off into a deep, peaceful sleep during the comedown. I had a very pleasant buzz, but this is a strong strain with a high THC content that makes it ideal for experienced smokers. Those who do not smoke regularly should probably start with small hits and then see how they feel.

I would use Amnesia Haze Automatic prior to a small social gathering because it aids conversation and helps me to feel at ease expressing myself. However, I definitely enjoyed it on my own when I was left to contemplate its effects on me. Amnesia Haze Automatic is a multipurpose strain with clear potential for both medicinal and recreational uses.