Critical, The best cannabis strain for commercial growers
As far as Royal Queen Seeds products go, Royal Critical is quite possibly the most bang for your buck we offer.
By
---
As far as Royal Queen Seeds products go, Royal Critical is quite possibly the most bang for your buck we offer. By crossing an Afghani strain and a Skunk variety, we've created a potent indica-dominant cash crop that is great for any large-scale grower.
THE CREATION OF CRITICAL CANNABIS STRAINS
Gram for gram, Critical is one of the top-yielding strains of all time―a trait owed to its Skunk #1 and Afghani heritage. Also going by the title of Critical Mass, when you see it in full bloom, it's not hard to see why growers the world over use Critical as a cash crop. Its genetics are not only the basis for its industry-leading performance, but have been used to create countless hybrids, all hoping to replicate the efficacy of the Critical bloodline.
Critical is an indica-dominant strain (60%), inheriting a short flowering period and an unassuming stature (80–140cm). The strain is famously easy to grow, produces a pleasant, relaxing high, and yields large enough to make your eyes water with anticipation. By selecting the best phenotypes, Critical's original creators have guaranteed that it will be a mainstay in any grower's arsenal for years to come.
Now, thanks to the breeding prowess of RQS, the tried and tested Critical genetics have been refined even further with Royal Critical. Retaining all of the attributes Critical strains are revered for, she is so simple to grow that all that stands between you and over 600 grams per plant is the "add to basket" button.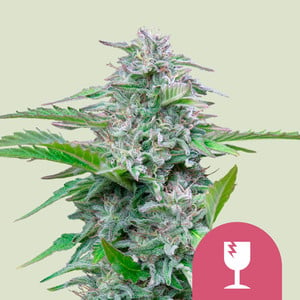 | | |
| --- | --- |
| | Afghani x Skunk |
| | 550 - 600 gr/m2 |
| | 80 - 140 cm |
| | 7 - 9 weeks |
| | THC: 18% |
| | |
| --- | --- |
| | Sativa 40% Indica 60% |
| | 600 - 650 gr/plant |
| | 180 - 220 cm |
| | Late September |
| | Heavy, Physically Relaxing, Stoned |
ROYAL CRITICAL: TASTE AND AROMA
Such bountiful yields would be worthless without an equally impressive flavour and aroma―thankfully, Royal Critical delivers on both fronts. As Royal Critical takes shape, the first thing that hits you is her aroma. Earthy and pungent, with a hint of citrus, her scent quickly fills an indoor grow room, teasing at the motherload of buds you can expect during the flowering stage.
Once harvested and cured, the earthy flavours remain, but piney undertones and a touch of sweetness linger with every toke. The Afghani heritage shines through in Royal Critical's taste, delivering a classic but never underwhelming experience. Cannabis connoisseur or complete newbie, the flavour perfectly encapsulates the phrase "dank weed"―you won't be disappointed.
GROWING ATTRIBUTES OF ROYAL CRITICAL
Our feminized Royal Critical seeds come prepared to flower quicker than most other varieties. With only 7–8 weeks of bloom, these plants have a much faster turnover than other cash crops. This makes them more efficient for growers in climates typically attuned to growth, such as California, Italy, and Spain. It also, however, opens up the possibility for growth in more northern climates, as plants can be harvested earlier in the year—before the cold and rainy seasons set in for many regions.
Thanks to short internodes that become abundantly filled with buds as growth continues, these plants produce generous amounts of product each season. As far as yield goes, you'll be hard pressed to find a crop that brings in more volume in 7 weeks than this specimen. Grown outdoors, each plant can reach a height of 220cm and produce up to 650g/plant.
The plants also do quite well indoors when grown under the right conditions. With a 600W lamp, plants can easily grow to 140cm and yield upwards of 550–600g/m². Because of the genetic cross we've created with our Skunk, these plants are sturdy enough to go through some weathering outside, and resilient enough to adapt to indoor growth, while still producing ample harvests in both settings.
ROYAL CRITICAL AUTOMATIC
After falling in love with Royal Critical genetics, our breeders couldn't pass up the opportunity to create an autoflowering version of the strain. By crossing her with a prime ruderalis specimen, they took her best traits and made her much easier to grow and faster to flower.
Following several generations of breeding, stabilisation, and perfecting these genetics, Royal Critical Automatic emerged with a genetic profile that's 50% indica, 15% sativa, and 35% ruderalis. After sampling her flowers, effects, and complex terpene profile, RQS breeders released her to the world.
Royal Critical Automatic produces relatively large and tapered flowers that display brilliant white trichomes and deep red orange against a dark green canvas. This hardy strain grows comfortably in a wide range of environments but will perform best in a mild climate.
Indoor plants grow to a small and easily manageable height of 55-65cm. Such a small stature makes them ideal for cultivating in small boxes, buckets, and cupboards. Cultivators looking to maintain privacy throughout the grow cycle will feel confident with such tamed plants. Use smaller pots and low-stress training to keep her at the lower end of the height spectrum.
Her resinous flowers produce THC levels of 14% and a sweet and spicy terpene profile. Expect a mellow and stoning high that primarily targets the body and melts the muscles. Her relaxing effects are ideal for the evenings, especially when you don't feel like getting too blasted.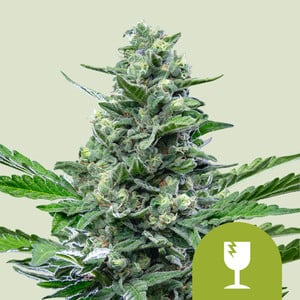 | | |
| --- | --- |
| | Critical x Ruderalis |
| | 350 - 400 gr/m2 |
| | 55 - 65 cm |
| | 6 - 7 weeks |
| | THC: 14% |
| | |
| --- | --- |
| | Sativa 15% Indica 50% Ruderalis 35% |
| | 115 - 165 gr/plant |
| | 90 - 140 cm |
| | 10 – 11 weeks after sprouting |
| | Euphoric, Laughter |
ROYAL CRITICAL'S EFFECTS
We wouldn't want to leave those using Royal Critical disappointed, so we've ensured that the stoned effect in our buds is a strong one. It manifests itself both physically and mentally, and with an 18% THC content, it packs a lot of power in every puff. As the stoned effect fades, users are left feeling mellow and relaxed―the perfect sensation for those who've had a tough day of manual labour or navigating office politics.
Royal Critical also makes the perfect companion for those who want to use her medicinally. The high won't leave you locked to the couch, but it will soothe aches and pains. Dating back centuries as a remedy and treatment for countless ailments, medical marijuana continues to grow today as an increasingly viable option for the treatment of several illnesses and conditions.
With such huge quantities of high-quality buds produced, Royal Critical is a perfect option for any large-scale grower with a penchant for abundance!