El Patron And Green Gelato Win 1st Place Awards At Two Prestigious Events
Many seed companies have won awards, but how many can say they won back-to-back awards with two different strains, all in one weekend? Well, RQS can! We took home 1st place awards at the Highlife Cup and Soft Secrets' European Plant of the Year event, and if you can't already tell, we're over the moon about it!
By
---
RQS WINS BACK-TO-BACK AWARDS
Being praised for something you've devoted time and energy to always feels good, whether it's glowing customer reviews, recognition on social media, or winning back-to-back awards at two esteemed cannabis events. The past week has been incredibly exciting for everyone at Royal Queen Seeds, as our hard work was recognised by both a verified panel of 15 judges and a public vote.
We are of course talking about the prestigious Highlife Cannabis Cup and Soft Secrets' recent European Plant of the Year event. RQS took home first place positions for "Common Weed Cultured in Soil" (Highlife Cup) and "European Plant of the Year - New Strains" (Soft Secrets). These events add two more awards to our growing collection, and act as a reminder that doing something you love can yield excellent results.
WHAT IS THE HIGHLIFE CUP?
First up was the Highlife Cup, one of the industry's premier cannabis festivals—the highlight of which was a judged event that saw strains and breeders from across the globe compete for 1st, 2nd, and 3rd place in 12 different categories. However, what makes the Highlife Cup so distinguished is the approach they take to the judging process.
The 15-strong panel is made up of proven growers and smokers with no previous affiliation with the strains being entered. They are then given eight to ten weeks to smoke, vape, and eat their way through the nominated strains, scoring them from 1–10 according to appearance, odour, flavour, and effect. Each judge is only given a bag marked with a cryptogram—the testing is entirely blind and unbiased.
The categories for the 2019 cup included Autoflowers, Indica, Sativa, CBD, and, of course, Common Weed Cultured in Soil. We will be completely honest—we would have gladly smoked any of the strains up for the award, as each represented some of the best weed the industry has to offer. However, as the saying goes, there can only be one winner, and that winner was our secret project, El Patron. Now, El Patron is a little different from the other strains we have on offer, as it hasn't been officially released yet. We don't want to go all cloak and dagger on you, but what we can say is this award is likely to be the first of many!

SOFT SECRETS EUROPEAN PLANT OF THE YEAR
Following the Highlife Cup was an entirely different event, but one of equal importance. This time, rather than a panel of judges, thousands of smokers, growers, and all-round pot enthusiasts got the chance to vote online in several categories to crown the "European Plant of the Year". The votes for groups such as Kush, Hybrids, Classics, and New Strains were tallied, and fortunately for us, the public has spoken! With a whopping 9.7 out of 10, our Green Gelato was awarded 1st place in the New Strains category!
First and foremost, we want to say a huge thank-you to everyone that voted for us; it is incredibly humbling to know that so many people enjoy the strains we're producing! With the formalities out of the way, we can get to the good stuff—giving you a rundown of everything Green Gelato has to offer.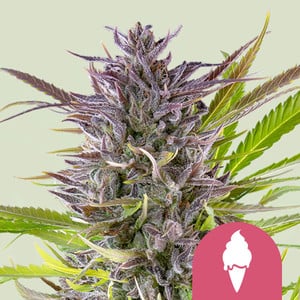 | | |
| --- | --- |
| | Sunset Sherbet x Thin Mint Girl Scout Cookies |
| | 500 - 700 gr/m² |
| | 80 - 120 cm |
| | 8 - 10 weeks |
| | THC: 27% |
| | |
| --- | --- |
| | Sativa 45% Indica 55% |
| | 800 gr/plant |
| | 150 - 200 cm |
| | Early October |
| | Clear, Physically Relaxing |
GETTING TO KNOW GREEN GELATO
Capturing the creamy dankness of Girl Scout Cookies and the citrus tang of Sunset Sherbet, Green Gelato is the girl your mum warned you about. She will slide into your joint, unassuming, before unleashing a barrage of flavours and intense waves of euphoria. Trust us, Green Gelato is no joke—over 25% THC, up to 700g/m² of delightfully sticky buds, and a flowering time of only 8–10 weeks prove she is the real deal.
Green Gelato is the result of a relentless quest to produce a strain that tastes as good as she looks. We painstakingly searched for several exquisite phenotypes before applying some cultivation wizardry with a sprinkle of luck. Green Gelato is not only a taste-sensation, but she is stable, reliable, and a solid producer to boot. Available now and backed as a community favourite, you can be confident you are getting the dankest weed on the market.

THE AWARD-WINNING EL PATRON
Usually, we would take this opportunity to give you a complete breakdown of everything El Patron has to offer, but after taking home first place for best Common Weed Grown in Soil, we want to make sure this godfather of cannabis is truly ready. For now, you are going to have to trust us when we say you are not going to want to miss its official launch.
Keep a close eye on the RQS website for future announcements, and when the time is right, you too can cultivate this 2019 Highlife Cup winner.