DynaVap M 2019: Vaporizer Review
Let's take a look at the 2019 DynaVap M vaporizer, a new and improved version of the steadfast favourite. But what are its features, and is it worth buying? Find out more in our review below!
---
DynaVap has released the DynaVap M 2019, which they managed to improve over their popular DynaVap M 2018. Considered by many to be a milestone among portable, non-electronic vapes, the new DynaVap M has a stylish body, a redesigned tip, and some other cool enhancements. Let's take a look at the DynaVap M 2019 and see whether it's worth the purchase!
DYNAVAP M 2019: QUITE THE DIFFERENT VAPE
The DynaVap M stands out among the many dry herb vapes on the market. As a flame-fuelled and non-electronic vaporizer, it combines simplicity and top performance in a brilliant way. To use it, load it with some ground herb, pack it down, then put the tip back on. Take a torch lighter and aim the flame toward the cap, but a few centimetres away. As you're heating the cap, rotate the device so that your weed is heated evenly.
When your goods are ready for vaping, the M makes a "clicking" sound—depending on your torch and the way you heat it, this can take several seconds. As soon as you hear the click, you can inhale and enjoy your vape, until you hear another "click" that lets you know you might want to go for another round of torching. What a simple, effective, and fun device!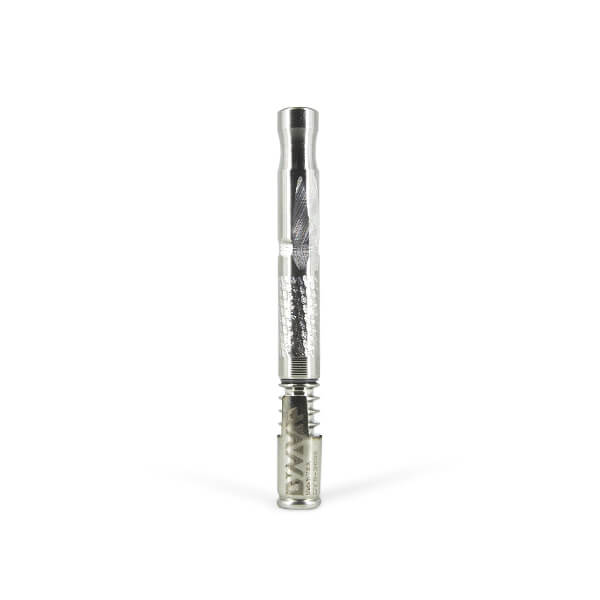 Vapcap M
Conduction & Convection
92 x 10 mm
20 gr
150°C - 230°C /
300°F - 450°F
| | |
| --- | --- |
| | 10 SEC |
| | 0,1 CM3 |
| | Manual |
| | Dried herbs |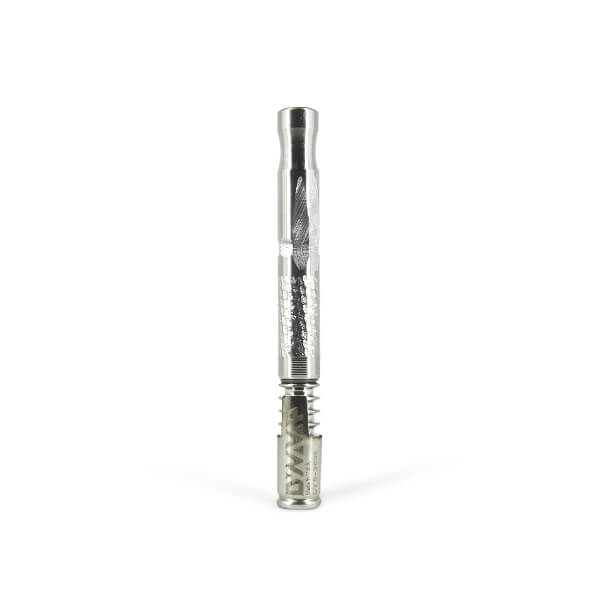 Conduction & Convection
92 x 10 mm
20 gr
150°C - 230°C /
300°F - 450°F
| | |
| --- | --- |
| | 10 SEC |
| | 0,1 CM3 |
| | Manual |
| | Dried herbs |
MORE FLEXIBLE THAN OTHER VAPES
One of the advantages of the DynaVap M is that you have more control over the temperature than with most other dry herb vapes. Manual torching with a flame allows you to fine-tune your vape just how you like it—you could even combust your weed if you choose to.
On the other hand, it may take some time getting used to using the torch to your advantage, so make sure to experiment and find what works best for you. After all, it's not as simple as just pressing a button like with other vapes. Then again, the flexibility provided by the M is, in our opinion, more than worth the minor learning curve. For the best experience, we do recommend getting a good multi-jet lighter, as this will heat it up a lot faster than a single flame. Likewise, you can also experiment a bit with how you rotate the device as it heats up, so there's lots of room for finding your preferred method.
TOP PERFORMANCE FROM A SMALL VAPORIZER
Due to the unique way it works, the DynaVap M is one of the most powerful portable vapes. No other ordinary vape pen, surely not in the same size and price range, can provide such strong hits as this little flame-fuelled beast. And the good thing is, you can decide whether you want to take fewer, monster hits, or heat the bowl so it lasts longer. What other vape can offer that?
SUPER STRONG HITS FOR MASSIVE FLAVOUR
The flavour you get with the DynaVap M is definitely up there with some of the best vapes on the market, but it comes with a slight downside. Due to the short vapor path of the M, it can at times get a bit harsh. On the other hand, this shouldn't come as a surprise given the small, sleek body of this gadget, and the fact that there's no room to equip it with cooling paths and other enhancements. Yet, we think the potency and super strong hits you can get with the DynaVap M make up for this. Compared to the previous editions, DynaVap improved the airflow with the 2019 model, which is now slightly more restrictive for a more "cigarette-like" draw.
TOP-NOTCH BUILD QUALITY
The previous models didn't exactly give off a cheap impression, but the newer model looks even more "military grade" thanks to nearly indestructible stainless steel and improved machinery. Not only will your DynaVap M likely survive a zombie apocalypse thanks to her solid build quality—improved ergonomics also lend to stylish looks and easy operation. In short: the DynaVap M 2019 looks (and feels) like a thousand bucks!
PORTABLE AND DISCREET
Portability is where the DynaVap M scores big, and not only because of its small size. Yes, it will fit in the smallest of pockets and it's the perfect vape to take with you on your travels, to music festivals, or camping. But furthermore, the portability of the DynaVap M is improved by the fact that it is non-electronic, meaning you don't need batteries, a charger, and other shenanigans. But of course, you need a lighter. Although you can use the DynaVap with any normal lighter, you'll want a nice torch for it. The good thing is, even good torches these days can be found in smaller sizes. Because of that, we think the torch requirement doesn't really hamper its stellar portability rating.
The DynaVap M also shines when it comes to discretion. Firstly, it's so tiny that you can easily conceal it should you need to. Secondly, the M can be a good choice for some brief blazing in public, as you can medicate with it very quickly, like in under a minute. Thirdly, the device comes with a practical airtight storage tube that comes in handy if you need to stash it in a pinch.

VERY EASY TO USE
The DynaVap M is very easy to use. Yes, there will likely be a small learning curve in terms of optimising temperature, but this is easily surpassed with time. When sharing with friends, you may need to give a little tutorial so they can familiarise themselves with the protocol. Perhaps heat it for them—the rest is self-explanatory and doesn't need a degree in rocket science to understand.
EASY CLEANING AND MAINTENANCE
The DynaVap M doesn't have any "sensitive" parts like some other vapes—it's all stainless steel. To clean, just take it apart and place the pieces in isopropyl alcohol. Swirl it around a bit and allow it to soak for about 20 minutes. That's it. Take the pieces out and, if needed, use a paper towel or a Q-tip for whatever goo is remaining. Your DynaVap will look and feel like new!
DYNAVAP M 2019 — SHOULD YOU GET IT?
The DynaVap M is a great purchase for every vaping enthusiast, and for more than one good reason. It's worth it alone for its high portability, super strong hits, and even just for the "coolness" factor that it has over most other vape pens out there. We do think it is one of the "best bang for your buck" vaporizers on the market.
What if you already have a DynaVap M 2018, should you upgrade? The DynaVap M 2019 is definitely an improvement over the previous one, but we wouldn't call the improvements dramatic. On the other hand, if you want the best portable, non-electronic vape you can find, you should get the DynaVap M 2019 as soon as you can. You won't be disappointed!