Crafty, Mighty, Or Volcano: Which Storz & Bickel Vaporizer Is Best For You?
Storz & Bickel's Crafty, Mighty, and Volcano are considered among the best vaporizers on the market. Their build, heating technology, and consistency allow for dense and tasty vapor every time—with exceptional ease of use. Which one should you pick, then? Read on to decide for yourself!
---
The Storz & Bickel legend starts in 1996, when this German company developed its first vaporizing technology. Yet, the newborn vape revolution found its leader only in 2000, with the release of Storz & Bickel's game-changing Volcano desktop vaporizer. Within just a few years, the company became recognised as the leading producer of top-quality vaporizers, and today's market only features very few companies that can honestly call themselves peers or competitors.
After 20 years, numerous market-changing products, and a few technical upgrades, the Volcano is still one of the most popular desktop vaporizers on the market. But that doesn't mean the Storz & Bickel team hasn't been hard at work developing a new range of products. These vapes might cost a bit more than their competitors, but in return they provide the best vapor quality alongside excellent ease of use. Whether the Volcano, the Crafty, or the Mighty is the best one for you all depends on how and where you want to use your vaporizer.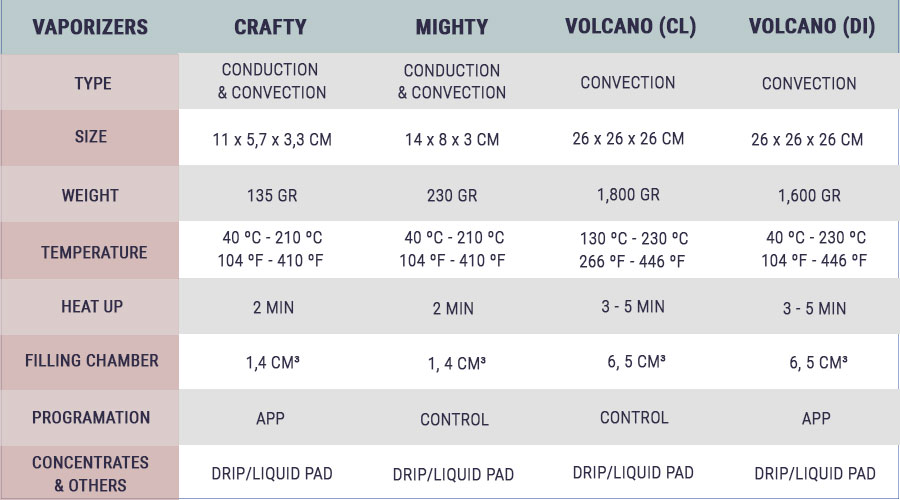 CRAFTY
Storz & Bickel's Crafty and Mighty vapes suit the needs of both novice and experienced users, with the technology based on hybrid conduction-convection heating. A single button on the Crafty turns the device on and off, while the main functions are controlled by an app. The casing is made from very durable plastic with ribbed edges, not only promoting better grip, but also helping to evenly disperse the heat. At 11.0 x 5.7 x 3.3cm and 137g, it's compact, light, and highly portable.
The app lets you customise the default temperature and the operating temperature from 40–210°C, as well as the light, sound, and vibration settings. You can also use one of the two default temperatures. The Crafty takes two minutes to heat up, and the bowl can fit up to 0.3 grams. When you draw, the vapor passes through a cooling unit that leaves no taste of plastic in your vapor. The vape takes up to two hours to charge, but you can get a quick vape in after letting it charge for 20 minutes.
The Crafty uses one internal lithium-ion battery, which allows for an average of 3–4 long vaping sessions. It even has a feature that can help you retrieve your Crafty if you can't locate it. The package contains extra screens, a USB charger, spare sealing rings, a dosing capsule, a filling tool, and other useful stuff.
MIGHTY
The Mighty is a portable vape with the same technology as the Crafty, but with more battery power and in-built controls instead of an app. This vape is larger than the Crafty and some of its competitors, yet with its dimensions of 14 x 8 x 3cm and a weight of 230 grams, it stays within the range of good portability and discretion. The package comes with the same useful accessories as the Crafty.
With robust plastic casing like the Crafty, the Mighty has neither a "plastic" feel nor will it ever give off a taste of plastic during a session. Its vapor is instead full, tasty, and smooth. Very satisfying.
A clear and bright LED display shows battery life and temperature settings. All you have to do is set the temperature using two buttons. The Mighty is powered by two rechargeable lithium-ion batteries. When the batteries are discharged, the vape can function via the power adapter after a few minutes of initial charging. This model heats up faster than the smaller Crafty, and it's reasonable to expect an average of 8 full vaping sessions on a single battery charge.
VOLCANO CLASSIC & VOLCANO HYBRID
The Volcano has a reputation for being the best desktop vaporizer on the market. This is also one of the very few vapes that's considered medical-grade equipment by various government healthcare departments. Buying the Volcano is a long-term investment in your health, pleasure, and vaping quality.
Volcano Classic is a bag-style vaporizer, which means it fills a detachable bag and you inhale the vapor from it. It also has a Hybrid version with the same features, functionality, and power, plus an LED display that lets you set your preferred vaping temperature from 40–230°C and indicates the current temperature as the vaporizer heats up. Both models also have an automatic shutoff feature when the vape is left idle for 30 minutes.
This desktop device is 18cm high and 20cm in diameter. The vape has a powerful 100W convection heater, an air pump, and a bag with a mouthpiece. The package has all the accessories such as spare screens, a drip pad, a cleaning brush and more. The device is covered by a three-year warranty and a 100% satisfaction guarantee from Storz & Bickel. The Volcano's ease of use, serious build, long-lasting battery life, and flavourful, consistent vapor make it likely to remain the best desktop vaporizer on the market.
HOW TO PICK A STORZ & BICKEL VAPORIZER
For a long time, Storz & Bickel has used precision engineering and high-quality materials to carefully fulfill the needs and desires of its customers, resulting in a top-quality product family that really speaks for itself.
The Crafty and Mighty are both portable vaporizers that share the same hybrid heating technology, so the choice depends mainly on personal preferences regarding device dimensions, battery life, and heat-up time. The powerful Volcano is obviously made for domestic use, and its larger dimensions correspond to an even larger quantity of high-quality vapor, and longer sessions. All of these vaporizers are perfect for dry herbs, but a special stainless steel drip pad inserted into the heating chamber allows users to vape resins, and any other cannabis concentrate made for dabbing.