DaVinci IQ and IQ2 Vaporizer Review
Keep reading for a detailed review of the DaVinci IQ and DaVinci IQ2 vaporizers. We've put these two units head-to-head to see which one delivers the best portable vaping experience.
By
---
DaVinci is a brand synonymous with portable vaporizing, and two of their flagship devices, the DaVinci IQ and the DaVinci IQ2, represent some of the best units in the game. How, exactly, do these goliaths of portable vaping stack up, and what, exactly, do you get for your money?
With these burning questions in mind, we're going to review both devices, dissecting their packaging, design, ease of use, and, most importantly—their vapor quality. With the mission statement set, it's time to dive straight into these veterans of portable vaping.
---
What Are the DaVinci IQ and DaVinci IQ2 Vaporizers?
The DaVinci IQ is a premium dry herb vaporizer packed with modern technology. Boasting a removable 18650 battery, 120–232°C conduction heating, and a ceramic zirconia vapor path, it offers the crème de la crème of portable vaping.
The DaVinci IQ box includes:
DaVinci IQ vaporizer with 51 LED light grid display
Replaceable 18650 battery
Micro-USB charging cable
Extra flavour chamber
10mm bubbler adapter
Pick tool
Cleaning kit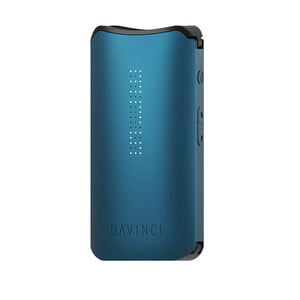 | | |
| --- | --- |
| | Conduction |
| | 4,5 x 9,2 x 2.5 cm |
| | 159 gr |
| | 0°C - 221°C / 32°F - 430°F |
| | 30 sec |
| | |
| --- | --- |
| | 0,5 gr |
| | Digital, Manual |
| | Dry Herbs |
The DaVinci IQ2 is the IQ's younger brother, a second-generation DaVinci unit that improves upon several of the original's drawbacks. The battery size and conduction heating element remain the same, but we now have compatibility with dry herb and concentrates, a microdosing chamber, and up to 50% cooler running temperatures.
The DaVinci IQ2 box includes:
DaVinci IQ2 dual-use vaporizer with 51 LED light grid display
Replaceable 18650 battery
10mm bubbler adapter
0.2g dosage pod
9 pieces of organic cotton
1 ceramic extract tab
Micro-USB charging cable
Pick tool
Cleaning kit
The micro-USB cable in both boxes makes recharging straightforward, and the cleaning wipes are a nice touch. However, these devices' real gem is the 10mm bubbler adapter. This nifty little accessory transforms functionality, making the IQ and IQ2 compatible with certain bongs and bubblers.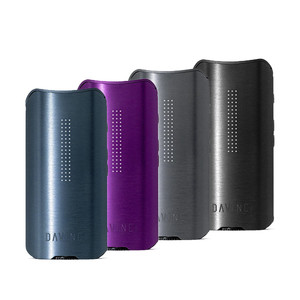 | | |
| --- | --- |
| | Conduction |
| | 4,5 x 9,2 x 2.5 cm |
| | 159 gr |
| | 38 - 222ºC / 100 - 431ºF |
| | 30 - 60 sec |
| | |
| --- | --- |
| | 0, 35 + 0,20 gr |
| | Digital, Manual |
| | Dry herbs & concentrates |
Design & Build Quality: DaVinci IQ & IQ2
The first thing that strikes you about both devices is the understated exterior—no flashy lights and no garish colouring. Instead, the DaVinci IQ and DaVinci IQ2 ooze sophistication, fitting easily in your palm without feeling inferior.
There's also a nice weight to both, while being slight enough to fit easily in a back pocket or travel bag. The IQ2 is a touch heavier than its younger brother, but unless you weigh them, you'll barely notice.
Discretion and portability are crucial features for a portable vaporizer, and both units nail it. The exterior design is nearly identical between units, with a 51 LED light grid display, power button, and temperature adjustment buttons. In fact, the IQ2's brushed aluminium exterior is the only real (but welcome) change for the updated model in this regard.
Finally, the top of both units flips open to reveal the removable mouthpiece and exclusive DaVinci IQ flavour chamber, while the bottom is home to a glass-glazed ceramic oven. The IQ and IQ2 also have a zirconia ball on the oven door that helps provide an even and consistent cook.
Features: DaVinci IQ & IQ2
Inside the DaVinci IQ, there's a 100% ceramic zirconia vapor path to keep temperatures under control and dramatically improve vapor quality and taste. For the DaVinci IQ2, we have the same zirconia ceramic vapor path and mouthpiece, but this time there's an adjustable airflow dial that alters the amount of vapor coming through.
Bluetooth connectivity exists on both, unlocking a wealth of fine-tuning options for vaping connoisseurs. With the app, you can easily adjust DaVinci's own "Smart Path" technology, tweaking temperature profiles to your heart's content. Of course, you can just opt for the units' predetermined settings and jump straight into clouds of delicious vapor.
The most significant upgrade between generations is the inclusion of a 0.2g dosage pod. With the DaVinci IQ2 vaporizer, you can efficiently microdose concentrates without sacrificing vapor quality from a half-packed oven. This is a nice touch that shows DaVinci keeps up with the latest vaping trends.
Vapor Quality: DaVinci IQ & IQ2
Honestly, if you had to vape both units side by side, you'd struggle to find any difference in their vapor quality. Both deliver incredibly flavoursome vapor, a testament to the ceramic vapor path and premium materials.
But, if we had to declare a winner, it would probably go to the DaVinci IQ2—not because the vapor is smoother or tastes better, but because the adjustable dial delivers a personalised experience. Whether you love taking fat rips or small tokes, the DaVinci IQ2 is fantastic. That being said, both units provide an even cook, great consistency, and a pure vaping experience that's representative of their price.

DaVinci IQ & DaVinci IQ2 Vaporizer Comparison
Given the superb build quality and design of the DaVinci IQ, it's always going to be hard for the IQ2 to stand out. Both are remarkably similar, and both offer some of the best vapor possible from a portable vaporizer. However, it's the minor updates to the IQ2 that make it the go-to option for vaping enthusiasts.
If you can live with only vaping dried herb, then, by all means save yourself a few euros with the DaVinci IQ—you won't be disappointed. But, if you want the latest and greatest in portable vaporizing, the IQ2 seamlessly blends versatility, functionality, and cutting-edge technology for a fantastic vaping experience every time.
Just make sure you pack the oven well with finely ground buds. Do that, and you're guaranteed to enjoy some of the tastiest vapor around. And, if you really want to maximise those dank undertones, add a small amount of other herbs into the flavour chamber for a double infusion.
Grab your DaVinci IQ or IQ2 from RQS today, and not only do you get the vaporizer delivered straight to your door, but each unit comes with an RQS grinder and 3 free seeds!