Crafty Vaporizer Review
Storz & Bickel, long revered for their iconic Volcano desktop vaporizer, have released a lightweight vape perfect for the cannabis lover on-the-go. With its versatility, cleverness, and high-tech integration, the Crafty more than lives up to its name, making it a top choice for those seeking a streamlined vaping option.
By
---
The word "crafty" refers to someone skilled at achieving their aims through clever, indirect, or deceitful methods; it can also refer to something involving fine craftsmanship. A lofty concept for a vape, but if any company can pull it off, it's Storz & Bickel, the company that produced the renowned Volcano vaporizer and the Mighty vape. But while Storz & Bickel's other products call in a reputation for power, the Crafty suggests a trickster archetype. The question is: does the Crafty live up to its name?
HOW TO USE THE CRAFTY VAPORIZER
Start by filling the bowl with your favourite bud. The Crafty can comfortably fit 0.25 grams, though you can pack in 0.3 grams if grounded finely. Be warned: if you overpack the Crafty, you may get draw resistance. The Crafty, like any good trickster, is known for its versatility: unlike many vapes, it works equally well when the bowl is a quarter full, half-full, or filled to the brim.
The Crafty comes with a filling tool, a grinder, extra screens, a USB charger, spare seal rings, a liquid pad, a dosing capsule, and a brush.
One of the cleverest aspects of the Crafty is its accompanying app. The app allows you to set the temperature for the Crafty to anywhere from 40°C to 210°C, and allows you to set preferred temperatures. Without the app, the Crafty offers two temperatures: "default" at 180°C, and "boost" at 195°C. The Crafty takes about two minutes to heat; when it's ready it'll vibrate, and its light will turn green.
Once the bowl is packed and the vape is heated, all that remains is to draw! The vapor passes through the cooling unit at the top, adding a pleasant smoothness to the Crafty experience.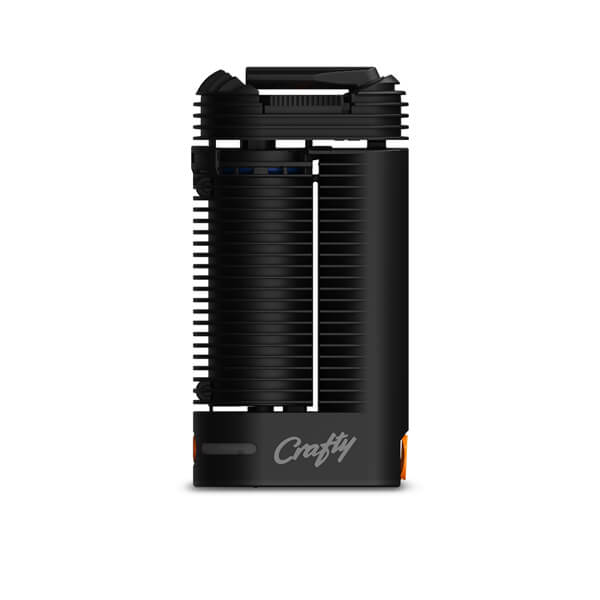 CRAFTY
Conduction & Convection
110 x 57 x 33 mm
135 gr
40°C - 210°C /
104°F - 410°F
| | |
| --- | --- |
| | 2 MIN |
| | 1,4 CM3 |
| | APP |
| | Drip, Liquid Pad |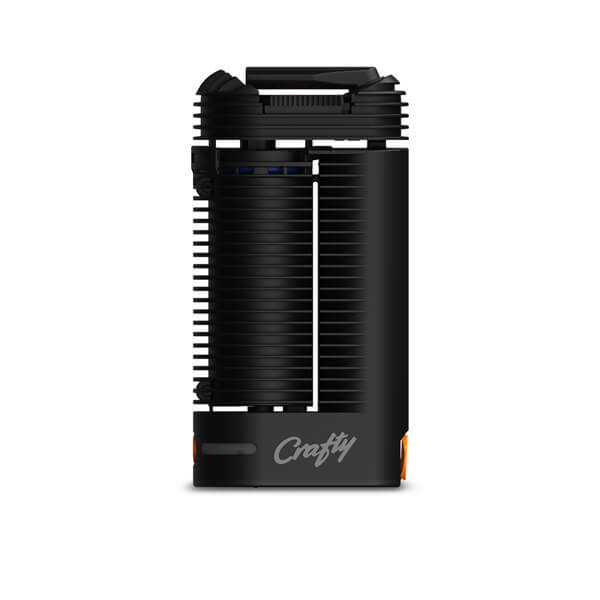 Conduction & Convection
110 x 57 x 33 mm2
135 gr
40°C - 210°C /
104°F - 410°F
| | |
| --- | --- |
| | 2 MIN |
| | 1,4 CM3 |
| | APP |
| | Drip, Liquid Pad |
MAINTENANCE
The Crafty comes with everything you need to keep it in good shape, and as far as vapes go, is fairly low-maintenance. The app will remind you when it's time for a cleaning, and includes instructions for the process, which requires a cup of soapy water and another of isopropyl alcohol. If you brush the bowl and cooling unit after each use, you can minimise how often you need to deep clean.
PROS
The app is one of the Crafty's big pros, allowing you to customise to your preferred settings and tweak what might be annoying default settings in other vapes. In addition to the features mentioned above, the app allows you to lengthen time until cooldown to five minutes, to alter vibration and light settings, and even to play your favourite song when the vape is ready. The app also has a feature that allows you to find your Crafty when lost, a useful addition to the pothead's repertoire.
The Crafty is 11.1cm by 3.2cm by 5.7cm, and weighs 137 grams, making it a truly portable and lightweight choice. If you're looking for a discreet vape you can easily conceal—perfect for those "crafty" moments—then this is the vape for you.
The Crafty is made of stainless steel and aluminum, meaning that despite its small size, it's highly durable. This is one vape that won't shatter if you drop it off a table. The Crafty uses hybrid heating techniques pioneered by Storz & Bickel, which combine convection heating early in the vaping process with a conduction finish. This dual approach preserves flavour, potency, and satisfaction during even the most lengthy vaping sessions.
One of the Crafty's greatest pros is its top-quality, powerful, and versatile high. As discussed above, few vapes offer the temperature range of the Crafty, and even fewer work so well when the bowl is only partially full. With the Crafty's cooling unit, you'll consistently get amazing-tasting, cool vapor, no matter how hot you blast your bud. The Crafty works with all kinds of concentrates and cannabis flower—there's nothing this vape can't handle.

CONS
The main con of the Crafty is its battery life. The Crafty will take about two hours to fully charge (though it'll be ready to go after 20 minutes), and on a full charge can be operated "live" for 30–40 minutes. This is enough for a full evening of vaping, but might not last you through a camping trip.
Some users might consider the time it takes for the Crafty to heat up—two full minutes—to be another con.
VERDICT
If you're looking for a lightweight, high-quality vape, the Crafty is a shrewd selection indeed. With the Crafty, Storz & Bickel have 1000% succeeded in crafting a clever, high-tech and effective product for the modern user.
For a limited time only, Royal Queen Seeds is offering an exclusive deal where if you buy the Crafty, you get three free seeds and a grinder mill along with it. If you're considering the Crafty, you're in luck: it really doesn't get much better than this!