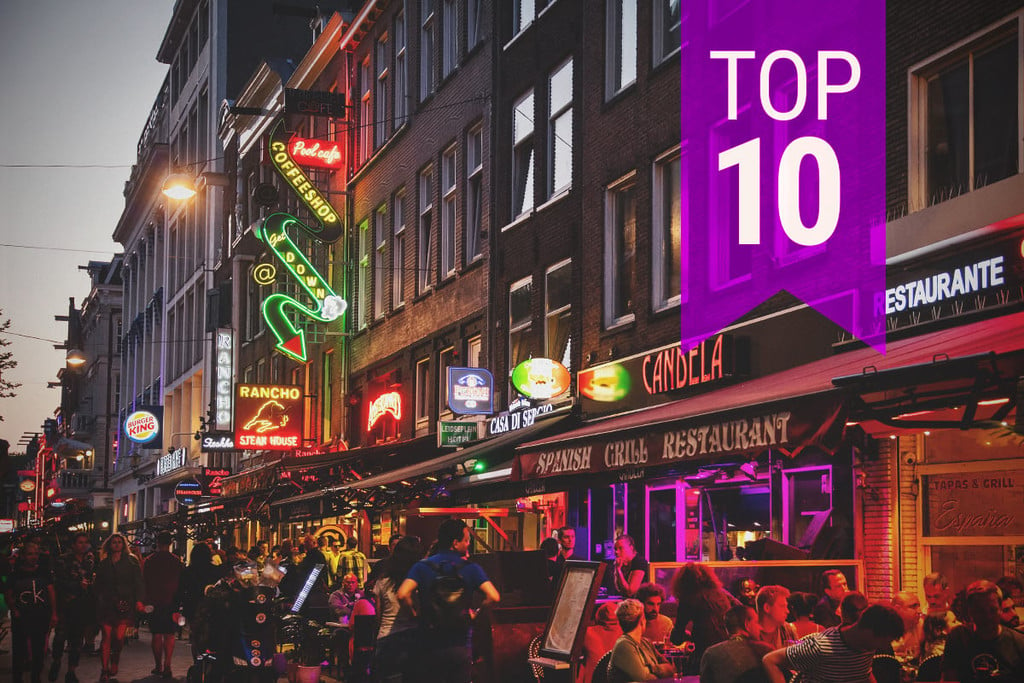 The 10 Best Amsterdam Coffeeshops To Visit In 2020
Planning a trip to Amsterdam in 2020? Save yourself from surfing the internet and scrolling through forums. We've found the 10 best coffeeshops to smoke weed at this year.
By
---
Amsterdam is an international cannabis hotspot. The Dutch city is famous for its cannabis-serving coffeeshops, red-light district, quirky bars, and bizarre museums. The relaxed laws in the city allow millions of tourists to blaze up there each year. There are dozens of coffeeshops to choose from. Some are bustling hives of activity, whereas others are much more mellow. Each venue boasts its own unique vibe, meaning there is something for every smoker.
To save you from trekking around the city in search of your favourite weed spot, we've assembled a list of the top 10 coffeeshops Amsterdam has to offer in 2020.
1. BOEREJONGENS
Boerejongens deem themselves the best coffeeshops in Amsterdam, and they might be right. They have four sites across the city, including Boerejongens West, Center, BIJ, and Coffeeshop Sloterdijk. Everyone who visits this chain reports the same thing: exceptional quality. Each site is spotless and features a classy wooden interior and old-school lighting.
Their budtenders are highly trained, knowledgeable, and welcoming. What's more, their three-piece suits and bowler hats add to the sophisticated vibe. Set and setting can make or break a high, and Boerejongens goes out of their way to ensure a pleasant experience every time. The chain has won numerous awards, including the Captain Hooter Best Coffeeshop Award and Zamnesia Best Coffeeshop Award.
Boerejongens boasts a high-quality menu and receives all of their strains from the legendary breeders at Amsterdam Genetics. Choose from indica strains such as Tangerine G13 and Green Magic G13, and sativa varieties including Blueberry Haze and Amnesia Haze.

2. DAMPKRING (COFFEESHOP AMSTERDAM)
Dampkring is another high-end coffeeshop. It's an 18-minute walk from Centraal Station, so you can soak in the city on the way there. Dampkring has set itself apart from many of the coffeeshops that line the streets of Amsterdam. Many of these establishments are dark, overcrowded, and some even intimidating. Dampkring has turned this stereotype on its head. The venue is bright, spacious, and clean. The interior draws from Arabic, Bohemian, and Buddhist sources to create a tranquil and relaxing vibe. On top of this, the staff are helpful and super friendly.
Even experienced smokers will be shocked by the size of the menu. There's a long list of strains, including Cheese, Sour OG, AK-47, Bubba Kush, and Gorilla Glue #4. The menu describes the taste, smell, and effect of every item—you'll know exactly what you're buying.

3. OLD AMSTERDAM
You'll find the coffeeshop Old Amsterdam in a relaxing part of the city. It's the perfect venue in which to retire after a long day of exploring and sightseeing. You'll feel the laid-back and friendly vibe the second you step through the door. The founders have made a considerable effort to create a pleasant atmosphere. The brick walls, large portraits, and cathedral artwork on the back wall make the relatively small space seem much bigger.
Old Amsterdam boasts an extensive menu. They sell some potent strains, including White Widow, Mango Haze, Blue Cheese, Amnesia, and Hawaii Haze. Hash smokers will also be pleased to see Nepal Cream, Golden Kashmir, and Super Polm on the menu. If you're not in the mood to roll, you can always purchase three joints for €12.

4. GREEN HOUSE CENTRUM
The Green House Seed Company founded Green House Centrum. They're one of the most successful cannabis businesses in the world and wear many hats. They produced the documentary series Strain Hunters, and have bred hybrids from landrace genetics sourced from all over the world. Their premium genetics have won countless awards, including many 1st place achievements at the High Times Cannabis Cup.
Green House Centrum is one of four Green House coffeeshops, and can be found canal-side in the red-light district. The interior is warm and inviting. There's soft lighting, comfy seating, and trippy artwork lining the walls. The venue is frequented by all manner of celebrities; you might even bump into Snoop Dogg!
The menu always exceeds expectations. Choose from Haze genetics such as Super Silver Haze, Panama Haze, and Hawaiian Snow. They also provide Green House Exclusive varieties including Jack Herer and GH Cheese.

5. AMNESIA
Amnesia has earned its title. Your short-term memory will likely be compromised several minutes after you enter this coffeeshop. The prices at Amnesia are relatively high compared to its competitors, but there's a reason for this; their buds are compact, perfectly manicured, and loaded with trichomes. The venue is located on the stunning Prinsengracht canal and provides a large selection of vapes and bongs for customers to use. If you're feeling particularly wired, feel free to play the board games!
The interior is super relaxing. Dark furniture, purple decor, and soft lighting set the tone. The menu is nothing to be scoffed at. You'll spot strains such as Killa Kush, LSD, and Cookies Kush. If you're in the mood to get extra trippy, try out their award-winning Amnesia Time Bomb edible.

6. 1E HULP
1e Hulp brings chill to another level. The interior draws inspiration from East Asian design, with deep red colours and wooden decor lining the walls. The seating and tables are low to the ground, and the soft lights add just the right touch of illumination. Overall, this coffeeshop is a delightful place to blaze up. It's a must when visiting the city.
Experienced smokers looking to shatter their tolerance won't have much trouble. They offer incredibly potent moonrocks and infused hot chocolate with 70mg of THC. If you're in the mood to get buzzed, try out their WIFI OG or Lindsay OG. If you fancy something chill, don't miss out on the Pink Sunset and White Widow.

7. TWEEDE KAMER
Tweede Kamer is a highly respected coffeeshop, so much so that it featured in Zamnesia's Coffeeshop Awards 2019. It's located in the very centre of Amsterdam and has been serving locals and tourists since 1985. The venue made history as the first establishment in the city to start weighing and packaging their flowers, allowing customers to smell their products and view them up close.
Tweede Kamer boasts an extraordinarily comforting and classic interior. The wood-panelled tables and bar alongside old-school light fixtures add some serious character. The menu is extensive and has something for every taste. Choose from sativas such as Blackberry Glue Haze and Amnesia, and indicas like Girl Scout Choco and Choco Skunk.

8. BARNEY'S COFFEESHOP
Barney's Coffeeshop was founded by the legendary seed bank Barney's Farm. This team of breeders has brought the world award-winning strains such as Cookies Kush, Liberty Haze, and Amnesia Haze. They own multiple locations throughout the city, including Barney's Coffeeshop on Haarlemmerstraat. It's located in a 500-year-old landmark building and has won numerous High Times Cup awards for its superb weed and fantastic service.
Barney's Coffeeshop features a hybrid vibe that blends a meditative feel with a futuristic one. It's a lively venue and the ideal place to enjoy some flower with a group of friends. The impressive menu features powerhouse varieties such as Blue Cheese, Laughing Buddha, and Liberty Haze.

9. KADINSKY
Kadinsky provides a relaxing and calming space. It's an excellent coffeeshop to visit when you need a break from the hustle and bustle of the city streets. Although it's a local attraction, the dark grey accents and low lighting make it easy to relax, take a breather, and get some time to yourself. The bar—positioned under several spotlights—stands out in the room, and large windows allow you to do some excellent people watching.
Pay it a visit and sample some Temple Ball Hash, Mango Haze, and AK-47.

10. 420 CAFE
420 Cafe is one of the most central coffeeshops in Amsterdam, which also means it's one of the most accessible. It's only a short walk from Centraal Station, and the first port of call for many smokers. The friendly staff give off a welcoming vibe, and the wooden decor and ceiling beams give it a "pub" feel. It's a great spot to get super baked and simply chill out. There's usually some rock music playing, and a screen playing nature documentaries.
The menu won't disappoint. Try out the White Widow, 420 Haze, and Blueberry. 420 Cafe also offers hash and flower pre-rolls.