Top 10 Coffeeshops in Amsterdam
The classic city of Amsterdam has coffeeshops aplenty on practically every corner, hangouts and haunts for each tourist or native wandering the streets. It can be hard to choose which ones to visit, but here are 10 of the top choices that all locals love and the visitors rave about on their returns home.
---
1. Old Amsterdam Coffeeshop
This coffeeshop is a fairly big tourist attraction, so you can enjoy watching them take their first legal tastes of marijuana here. It may be a little bit crowded and not exactly private, but the friendly service and excellent selections make for a great experience. The atmosphere is pleasant and laid-back, and the workers are helpful even when it's busy. Don't forget to get some coffee or a soft drink as you chill on the chairs with your joint.

2. Green House Coffeeshop
Looking for a small little shop that still has quality herbs? This is a great place for just that, as well as to hang out with some friends or to get to know new people. Enjoy the nuance of this enigmatic and introspective feel, and excite yourself on the impressive mantra over the menu: "Green House/ Winner of 38 High Times Cannabis Cup". And for good reason, with their excellent nugs such as Traincrash, Trainwreck, Flowerbomb Kush and Jack Herer. You can't find more zealous employees or customers, and it truly is a great hangout for the traveler or the local of Amsterdam.

3. Abraxas
The name of this coffeeshop is connected to the seven classic planets of the Middle Ages, but it certainly is a current place to hang out, even in the midst of all the mystical and Middle Eastern decor. With elegantly carved wood and lovely tile patterns on the walls, this bright and detailed shop has clearly been taken great care of by its owners. A clean and cozy atmosphere invites the customers to sit down and try their excellent Mako Haze, Amnesia Haze or Amnesia Lemon strains. Their great hash choices, like Ketama and Moroccan, are both a mixture of classics and unique favorites.

4. Dampkring
This spacious coffeeshop with candlelight and a southwestern/Spanish style atmosphere is just the place to come and chill. It opened in 1993 and has a wide selection of flavors and choices. You can come in to find people sitting around with beers and jars in front of them, a laid-back nuance that will let you stay until 1:00 in the morning. Some of the favorite flavors of nugs include Mexican Haze, Kali Mist and G13 Amnesia, and Dampkring has even bred winners for Cannabis Cup as well. Don't forget to try their hash, like Simpson Kush and Dutch Moonshine.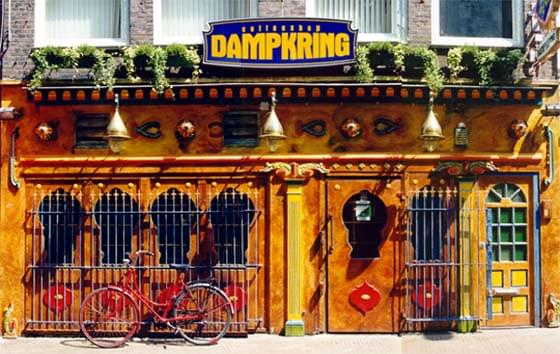 5. Amnesia
The prices at this shop are due to the excellent quality and results from the Cannabis Cup winning marijuana sold here. Getting higher than a kite won't be hard to do as you order some of their delicious Malana Cream! Lounging on one of their couches or on a comfortable stool, you can relax and let you worries disappear with each delicious puff. The name of the shop fits well, but don't forget about how much you enjoyed this shop so that you can know to come back the next time you're hungry for some good nugs.

6. Baba
This place is designed with a Middle Eastern theme in mind. Come in and enjoy the beauty of the various statues around the shop, deities in realistically created stone, with mystical robes and an abundance of arms. Other than the decorations, the atmosphere is one of friendliness and is great for socializing. A popular place for parties, you can come and enjoy some of the delicious customer favorites, like White Widow, Aghani Border, L.A. Confidential and Thai. Just a few puffs and you'll feel as good as ever.

7. Smoke Palace
A very homey atmosphere and an easygoing vibe make this quite the pleasant place for chilling with a tasty joint. What used to be called "Coffeeshop New York", this place is right near oosterpark in the east district of Amsterdam, and with their recently renovated interior and exterior, you can enjoy a breezy seat on the terrace or come inside for some cozy seating. A well-priced coffeeshop with a friendly vibe and helpful workers, you can't help but enjoy your time spent here.

8. Barney's
Quite the buzzing coffeehouse in Amsterdam, this place is hopping with a great atmosphere of enthusiasm and dressed up mellowness. From the tables with the LCD displays of helpful marijuana descriptions, to the vaporizers at each table, to the knowledgeable staff who get you whatever you need as far as marijuana, coffee and drinks, this busy coffeeshop is just right for someone who likes being in the center of a crowd. The spectacular menu sports Cannibis Cup winners such as Dr. Grinspoon, Pineapple Chunk, Utopia Kush, and their Nepali Temple Ball or Triple Zero hash. Don't miss out on this bustling place!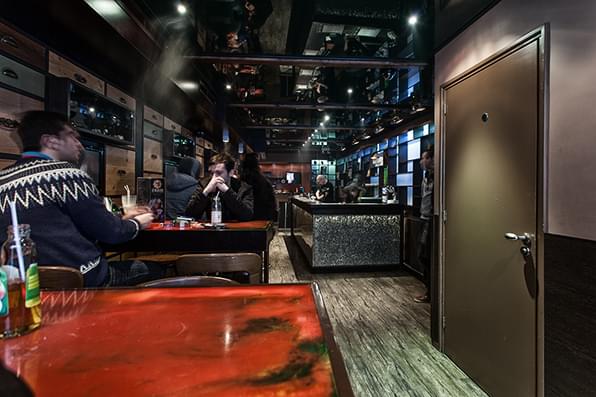 9. Kadinsky
This coffeeshop that's near Rosmarijnsteeg is a local attraction, particularly due to the friendly staff, the social nuance, and of course the fantastic menu with descriptions of each high that comes with each joint. Whether you take a smoke from a sativa or indica strain, there are so many different choices that can help you to curb your marijuana craving, like their Blueberry Cheese, Master Kush or Dr. Grindspoon. Try a taste of their Silver Haze  Ice hash with some tobacco mixed in, and you'll be feeling great when you leave.

10. Siberie
This 28-year-old hangout is located right on the lovely Brouwersgracht in Amsterdam. With an easygoing ambiance, the room is filled with the sound of reggae and hip-hop music to get you dancing in your seat, and is big enough to seat 25-30 people. You can sit at a table of strangers to enjoy some new company and taste different flavors. A small and comfy coffeeshop like this is accompanied with amazingly flavored joints; one puff will give the whole room a delicious scent that entices people to try it! Whether you prefer sweet or sour, you will find great delight in spending time at Siberie.