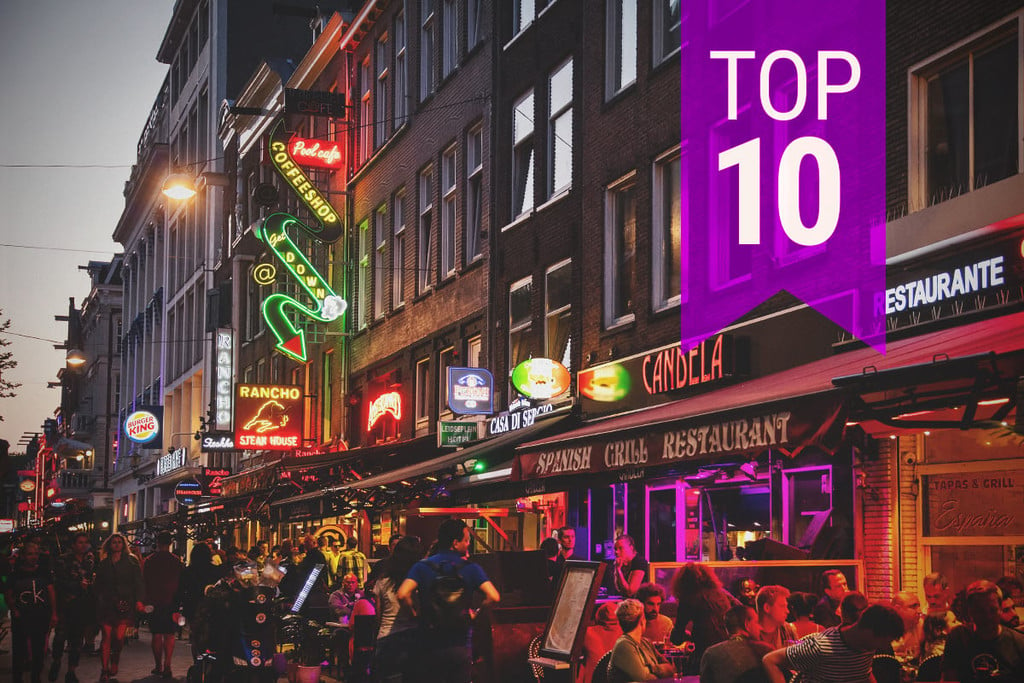 The 10 Best Amsterdam Coffeeshops to Visit in 2023
Planning a trip to Amsterdam in 2023? Save yourself from surfing the internet and scrolling through forums. We've found the 10 best coffeeshops to smoke weed at this year.
By
---
Amsterdam is an international cannabis hotspot. The Dutch city is famous for its cannabis-serving coffeeshops, red-light district, quirky bars, and bizarre museums. The relaxed laws in the city allow millions of tourists to blaze up there each year.
To save you from trekking around the city searching for your favorite weed spot, we've assembled a list of the top 10 coffeeshops Amsterdam has to offer in 2023. Some are bustling hives of activity, whereas others are much more mellow. Each venue boasts its own unique vibe, meaning there is something for every smoker.
---
1. Boerejongens
Boerejongens deem themselves the best coffeeshops in Amsterdam, and they might be right. They have four sites across the city, including Boerejongens West, Center, BIJ, and Coffeeshop Sloterdijk. Everyone who visits this chain reports the same thing: exceptional quality. Each site is spotless and features a classy wooden interior and old-school lighting.
Their budtenders are highly trained, knowledgeable, and welcoming. What's more, their three-piece suits and bowler hats add to the sophisticated vibe. Set and setting can make or break a high, and Boerejongens goes out of their way to ensure a pleasant experience every time. The chain has won numerous awards, including the Captain Hooter Best Coffeeshop Award and Zamnesia Best Coffeeshop Award.
Boerejongens boasts a high-quality menu and receives all of their strains from the legendary breeders at Amsterdam Genetics. Choose from indica strains such as Tangerine G13 and Green Magic G13, and sativa varieties including Blueberry Haze and Amnesia Haze.

2. Dampkring (Coffeeshop Amsterdam)
Dampkring is another high-end coffeeshop. It's an 18-minute walk from Centraal Station, so you can soak in the city on the way there. Dampkring has set itself apart from many of the coffeeshops that line the streets of Amsterdam. Many of these establishments are dark, overcrowded, and some even intimidating. Dampkring has turned this stereotype on its head. The venue is bright, spacious, and clean. The interior draws from Arabic, Bohemian, and Buddhist sources to create a tranquil and relaxing vibe. On top of this, the staff are helpful and super friendly.
Even experienced smokers will be shocked by the size of the menu. There's a long list of strains, including Cheese, Sour OG, AK-47, Bubba Kush, and Gorilla Glue #4. The menu describes the taste, smell, and effect of every item—you'll know exactly what you're buying.

3. Paradox Coffeeshop
If you want to soak up the sights and sounds of Amsterdam's canals while also blazing on some top-grade weed, then Paradox is the coffeeshop for you. In fact, few coffeeshops truly capture the chill vibe of Dutch life, so it's a welcome change from the flashy neon signs of more tourist-focused establishments.
If the mood alone isn't enough to convince you Paradox is worth a shot, then wait till you try their one-gram space cakes. Not only are they delicious, but they provide a genuinely intense ride, so be prepared! Besides space cakes, you'll find hash, pre-rolled joints (with and without tobacco), and several carefully selected flower strains, including Tangerine and CNA Kush.

4. Coffeeshop De Kade
Established over thirty years ago, Coffeeshop De Kade is an OG of the Dutch cannabis scene. And as soon as you set foot inside, the experience, class, and sophistication accumulated over the years are apparent. The entire place exudes quality, from the chic décor to the carefully tailored menu.
Speaking of the menu, De Kade has an excellent selection, with dozens of sativa and indica strains, hash, hash specials, and edibles. The red velvet cupcake is a must for people with a sweet tooth, but savoury lovers can also enjoy the De Kade sausage roll. If you prefer to keep things more traditional, then classic flower varieties such as Amnesia Haze, OG Kush, and Zkittlez are a must.

5. Coffeeshop Bluebird
Situated in the heart of Amsterdam, it's hard to miss the Bluebird Coffeeshop. In fact, it's rarely quiet at Bluebird, which is a sign of both its central location and the popularity it's gained over the years. That popularity is fully justified, though, especially when you start delving into the extensive menu.
The mostly indica strains include Super Skunk, Purple Punch, and classics such as Amnesia Haze or Hindu Kush. On the sativa front, Georgie Pie and Blue Haze are popular picks. While they may not have the most diverse selection of edibles, there are still space cakes and muffins on offer. Finally, what they lack in sweet treats they make up for with their Moroccan hash selection.

6. 1e Hulp
1e Hulp brings chill to another level. The interior draws inspiration from East Asian design, with deep red colors and wooden decor lining the walls. The seating and tables are low to the ground, and the soft lights add just the right touch of illumination. Overall, this coffeeshop is a delightful place to blaze up. It's a must when visiting the city.
Experienced smokers looking to shatter their tolerance won't have much trouble. They offer incredibly potent moonrocks and infused hot chocolate with 70mg of THC. If you're in the mood to get buzzed, try out their WIFI OG or Lindsay OG. If you fancy something chill, don't miss out on the Pink Sunset and White Widow.

7. Tweede Kamer
Tweede Kamer is a highly respected coffeeshop, so much so that it featured in Zamnesia's Coffeeshop Awards 2019. It's located in the very center of Amsterdam and has been serving locals and tourists since 1985. The venue made history as the first establishment in the city to start weighing and packaging their flowers, allowing customers to smell their products and view them up close.
Tweede Kamer boasts an extraordinarily comforting and classic interior. The wood-panelled tables and bar alongside old-school light fixtures add some serious character. The menu is extensive and has something for every taste. Choose from sativas such as Blackberry Glue Haze and Amnesia, and indicas like Girl Scout Choco and Choco Skunk.

8. La Tertulia
Raising the bar for style and elegance, La Tertulia offers a much more relaxed experience than many central coffeeshops. Opened in 1983, they've learnt a thing or two about what makes great cannabis, and that knowledge shines through when you look at their menu. From the excellent selection of cannabis flower to the hash, bubble hash, and edibles, there really is something for everyone.
One of the biggest appeals of La Tertulia is its location (312 Prinsengracht in the Amsterdam Jordaan), so we highly recommend taking your time to sit in and soak up the ambience. In fact, La Tertulia prides itself on a crystal garden that overlooks the canal. What could be better than watching the world go by and smoking some freshly rolled Kali Mist or Pineapple Kush?

9. Kadinsky
Kadinsky provides a relaxing and calming space. It's an excellent coffeeshop to visit when you need a break from the hustle and bustle of the city streets. Although it's a local attraction, the dark gray accents and low lighting make it easy to relax, take a breather, and get some time to yourself. The bar—positioned under several spotlights—stands out in the room, and large windows allow you to do some excellent people watching.
Pay it a visit and sample some Temple Ball Hash, Mango Haze, and AK-47.

10. 420 Cafe
420 Cafe is one of the most central coffeeshops in Amsterdam, which also means it's one of the most accessible. It's only a short walk from Centraal Station, and the first port of call for many smokers. The friendly staff give off a welcoming vibe, and the wooden decor and ceiling beams give it a "pub" feel. It's a great spot to get super baked and simply chill out. There's usually some rock music playing, and a screen playing nature documentaries.
The menu won't disappoint. Try out the White Widow, 420 Haze, and Blueberry. 420 Cafe also offers hash and flower pre-rolls.

---
Which Dutch Coffeeshop Is Your Favorite?
Do you want to know the best thing about Dutch coffeeshops? There are a lot more than ten to choose from! The list above highlights some standouts, but the world of cannabis is incredibly diverse, and so are its consumers.
Part of the fun of visiting Amsterdam is going to various coffeeshops across the city and finding the establishment(s) that meets your preferences. Whether it's one-gram edibles, super-smooth bubble hash, or a fruity sativa, we highly recommend you visit as many coffeeshops as possible and embrace their love for marijuana.