Shogun: Productive, Purple, and Potent
The mighty Shogun. This strain boasts so many impressive traits that it makes it hard to know where to start. Be it her striking purple-green buds, astronomical levels of THC, a unique earthy terpene profile, or superb yields. Shogun performs well both indoors and outdoors, but comes into her own when grown in living soil under the sun.
By
---
---
Shogun—What a beast! This noble variety requires more care than your average cultivar. Her bushy canopy requires a long outdoor growing season to develop properly and a good amount of training to tame. Her frosty colas need time under lights or the sun to fully express their profile of secondary metabolites (including cannabinoids, terpenes, and flavonoids, to name but a few). However, if you have the patience to let her reach her prime, and the tenacity to grab this bull by the horns, then you'll reap a significant reward.
Shogun will respect your dedication and repay you with stunning purple flowers, a large yield, and THC levels so high that even veteran smokers will need to tread with caution. Whether you're an experienced grower looking for a challenge, or a novice seeking to refine your cultivation skills early on, the Shogun strain will help you develop some vibrant green fingers come harvest time. Now that you know what you're in for, learn everything you need to know about this strain before popping seeds. Below, you'll discover her genetic background, her aroma, flavours, and effects, and how to grow her both indoors and outdoors.
Shogun's Genetic Background: The Progeny of Amnesia Haze and Gorilla Glue 4
How did our breeders create a strain like Shogun? Well, two very important variables made it possible. The first? Years of experience crossing and stabilising some of the best cultivars on the planet. The second? Impeccable strain selection. To kick things off, our breeders had to decide what they wanted from the progeny. After setting gorgeous buds, huge THC production, and a clear-headed and uplifting high as their targets, they started to look at possible parent strains. Amnesia Haze quickly qualified for this position. Her award-winning status made her an easy choice, alongside her energetic effects, high levels of the terpene myrcene to take the edge off, and small but important levels of CBG. This successor of South Asian and Jamaican landraces also boasts superb productivity.
Next, they needed to find a means of injecting increased potency, taste, and even more productivity into the equation. To achieve this, it only made sense to select Gorilla Glue 4 as the second parent strain. This powerhouse stems from legendary parents Chem's Sister, Sour Dubb, and Chocolate Diesel, and it shows. Her mammoth quantities of THC and flavourful terpenes secured her first-place victories in both the Michigan and Los Angeles Cannabis Cups in 2014. After crossing both parents and stabilising the progeny, our breeders successfully brought Shogun into the world. This colourful, powerful, and fecund weed strain emerged with a genetic profile consisting of 70% sativa genetics and 30% indica.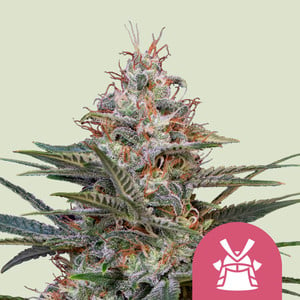 | | |
| --- | --- |
| | Amnesia Haze x Gorilla Glue 4 |
| | 550 - 600 gr/m2 |
| | 90 – 140 cm |
| | 9 - 11 weeks |
| | THC: 25% |
| | |
| --- | --- |
| | Sativa 70% Indica 30% |
| | 650 - 750 gr/plant |
| | 150 - 190 cm |
| | Late October |
| | Calming, Clear, Laughter, Uplifting |
Flavour, Aroma, and Effects of Shogun
Utilising such high-quality parent genetics made it almost impossible for Shogun to disappoint. It turns out that she took the very best traits from both Amnesia Haze and Gorilla Glue 4 and offered them in a single package. Let's start out with her terpene profile, shall we? After hitting a joint or vape packed with these flowers, you'll immediately experience heavy notes of citrus, earth, and pine rolling across the tongue. There are elements of sweetness involved, but her earthy and savoury tastes make her truly stand out in a fruit-orientated cannabis seed market. These flavours are a direct result of the terpenes found within her predecessors. Amnesia Haze passed down high quantities of myrcene, a deeply relaxing terpene that imparts tastes and aromas of earth, spice, and musk. Likewise, Gorilla Glue 4 ferried plenty of beta-caryophyllene into her offspring; this terpene and cannabinoid soothes the body and provides a pleasant peppery taste and scent. The other terpenes present in her colas round things off; pinene plays a particularly important role in ensuring refreshing notes come to the fore.
If her terpenes weren't enough to justify growing this strain, then Shogun's cannabinoid content will certainly win you over. This potent strain contains—get ready for it—25% THC. Sure, there are some freaky cultivars out there that top this. However, this level of THC production means Shogun ranks as one of the most psychoactive varieties in the Royal Queen Seeds catalogue. Paired with her mostly energising terpenes, this quantity of the cannabinoid exerts a fast-acting high that bolts straight to the brain. Her effects widen (and redden) the eyes, fill users with motivation, and get the creative juices flowing. She's a bit too much to handle before heading out to work, but she makes the perfect choice before unleashing your creative side or enjoying recreational time. Light up these buds before hiking trails, painting, writing, or tending to your garden with laser-like focus.

Growing Shogun
Shogun needs some tender love and care. She isn't a strain that you can drop into the soil and let thrive off of neglect alone. If you want Shogun weed, you need to earn it! Let's discuss her demands when grown outdoors, first. To begin with, you need to ensure you have a long enough growing season and a reasonably warm climate. If you live further north, you'll need to rely on early sowings indoors and the microclimate provided by greenhouses and polytunnels during the start and towards the end of the season. If you've yet to establish beds filled with living soil, veg and bloom nutrients will fulfil her nutritional demands through all stages of growth. However, Shogun will really strut her stuff when treated to developed beds rich in soil organic matter and covered in a layer of mulch to feed the soil life and retain moisture. Adding rhizobacteria and mycorrhizal fungi into the mix will help to stave off pathogens and ramp up organic matter decomposition. With these strategies in place, you can expect your Shogun weed plants to peak at a height of 190cm and produce 650–750g/plant after a flowering time of 9–11 weeks.
Shogun also performs very well indoors under artificial lights. Here, growers have much more control over environmental variables. You can keep this demanding plant happy by using a hygrometer, fan, and dehumidifier to keep temperature and relative humidity within the ideal ranges. Because she maintains a height of 90–140cm indoors, you can get away with growing Shogun in small grow tents and even converted cupboards—a quality appreciated by growers with limited space and those with stealthy modes of operation. To keep her closer to 90cm, employ topping early on in the vegetative phase and carry out LST to create an even canopy that won't grow out of control. By the end of the flowering phase, you can expect to start trimming and drying up to 550–600g/m² of lovely purple-green buds.
Shogun: A Rewarding Test for All Growers
Shogun will put your green fingers to the test or help to refine them if they're not developed yet. Growers need to consider her environmental demands, keep her well-fed and trained, and make sure she's protected from cold snaps. However, your extra care will only lead to immense rewards further down the line. As those flowers start to ripen and you come to the realisation of what you're about to smoke, you'll be glad you gave her a chance. Who doesn't love purple-green buds packed with earthy tastes and enormous levels of THC, after all?