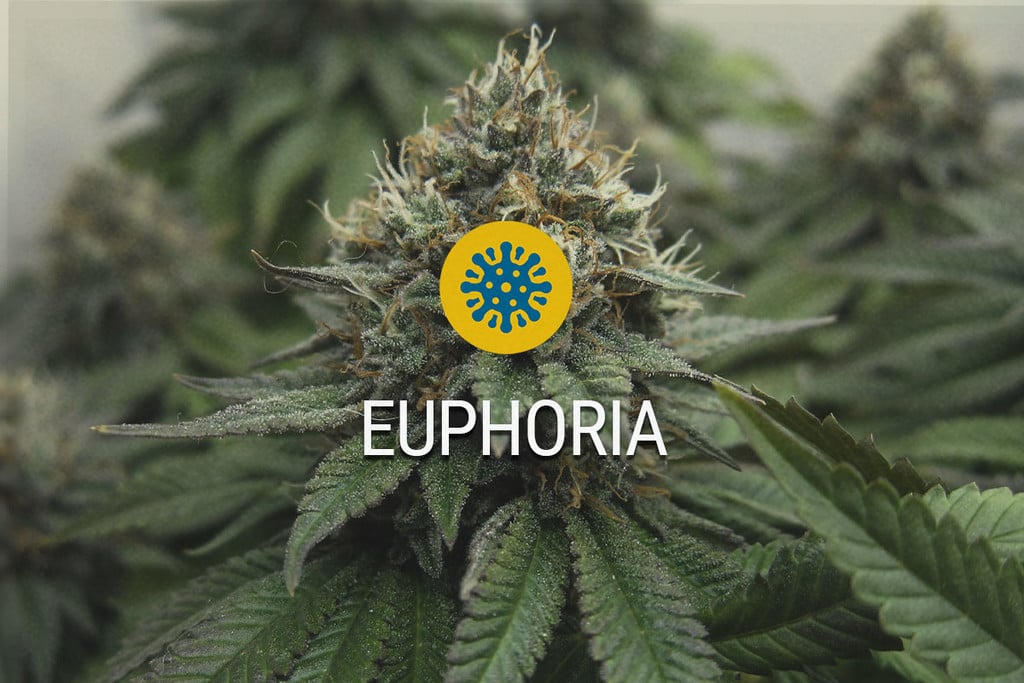 Euphoria: CBD and THC Working Side-by-Side
Some strains are aimed at those seeking pure energy, while others provide utter relaxation. Euphoria offers the best of both worlds. With some rich and award-winning parentage, this strain offers superb yields of fruity buds with a 1:1 ratio of CBD to THC. Read on for our full strain review.
By
---
Euphoria is a unique cannabis strain; on the surface, this sativa/indica hybrid may seem like it provides a knock-out high. However, it has been finely tuned to offer so much more than the usual heavy stone. With some impressive characteristics, Euphoria is a strain for those seeking bliss, serenity, and relaxation.
Euphoria: Genetic History
A result of crossbreeding Shark Shock and Royal Medic, Euphoria boasts 20% sativa and 80% indica genetics. But that's not all; Euphoria contains a 1:1 ratio of CBD:THC, making for unique effects that set it apart from the average strain (but more on that later).
The crossing of these two strains was no happy accident; both were chosen for their robust genetics and distinct cannabinoid profiles. Royal Medic contains moderate amounts of THC and CBD, but also some impressive yields. In comparison, Shark Shock is an award-winning strain that has won numerous High Times Cannabis Cups since its inception in the 1990s.
The combination of these two prominent parents allows for a great growing experience culminating in satisfying yields of euphoric flower.
Growing Euphoria
Euphoria is not a particularly fussy plant. She's robust, resilient, and well-equipped to handle most environments and climates—all attributes she inherited from her parents. Whether grown indoors or outdoors, this is one strain that will deliver.
Grown inside, she's likely to reach heights of anywhere between 60–100cm. Plants cultivated outdoors grow slightly larger at 120–150cm. Not a huge plant, Euphoria won't overcrowd your growing area, and she can be easily maintained with some light LST.
Euphoria is generally easy-going and only requires minimal pruning and upkeep during her whole growing cycle. The fact that she's not a particularly bushy plant makes Euphoria easy to care for. Some additional nutes can help push production to the higher end.
Once in flowering, you'll quickly notice just how stunning this plant is. A purple hue will engulf the leaves, giving her an appealing look as she continues to mature. Towards the end of her growing cycle, you'll begin to see dense buds glistening with trichomes.
As we know, looks aren't everything, but her yields are equally impressive. Grown indoors, she'll be ready after a period of eight weeks, with returns of anywhere between 450–500g/m². Plants grown outside will be ready to harvest in early October, with yields of 450–500g/plant. A sizable reward for the efforts of growing her, we're sure you'll agree.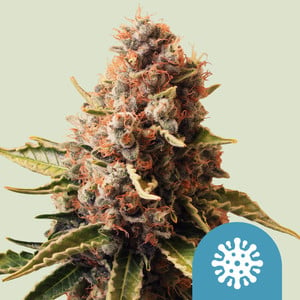 | | |
| --- | --- |
| | Great White Shark x CBD dominant plant |
| | 450 - 500 gr/m2 |
| | 60 - 100 cm |
| | 8 - 9 weeks |
| | THC: 9% |
| | |
| --- | --- |
| | Sativa 20% Indica 80% |
| | 450 - 500 gr/plant |
| | 120 - 150 cm |
| | Early October |
| | Balanced, Calming, Physically Relaxing |
Effects of Euphoria
As mentioned, the effects of Euphoria are quite distinct from the average THC-rich—or CBD-rich—strain. A THC content of around 9% means users can expect psychotropic effects; however, an equal amount of CBD balances out the high. This makes Euphoria a strain that can be smoked or vaped at any time of day.
Relaxation is the main payoff with Euphoria, but, as her name suggests, she also offers an initial energetic boost that lights up the mind with positivity. This strain is noted to make users a little more outgoing in social situations, as the combo of THC and CBD supports a relaxed but alert mindset.
Due to its cannabinoid profile, the high from Euphoria may not last as long as other strains. Still, even once the cerebral buzz subsides, users can expect to experience waves of soothing relaxation.
Flavour and Aroma of Euphoria
Not only are the effects of Euphoria something special, but her flavour and aroma are impressive as well. Opening your stash jar or holding her buds in your hands will instantly overwhelm the senses. Full-bodied berry notes accented by earth and herbs will hold the nose hostage well after the stash jar has been closed.
Whether you choose to vaporize or smoke Euphoria, expect big bursts of sweet, sugary berries that will leave your mouth watering after that initial toke.
Euphoria: Bask in Pure Bliss
Euphoria is a unique indica-dominant hybrid that offers something different from your run-of-the-mill strain. Because of her 1:1 ratio of CBD to THC, the high is initially energetic but settles into deep—but manageable—feelings of relaxation. This dynamic makes Euphoria a truly versatile strain that can be enjoyed on practically any occasion. Couple this with fruity flavours and aromas and ample yields, and you've got a strain that's ready to impress at every stage!