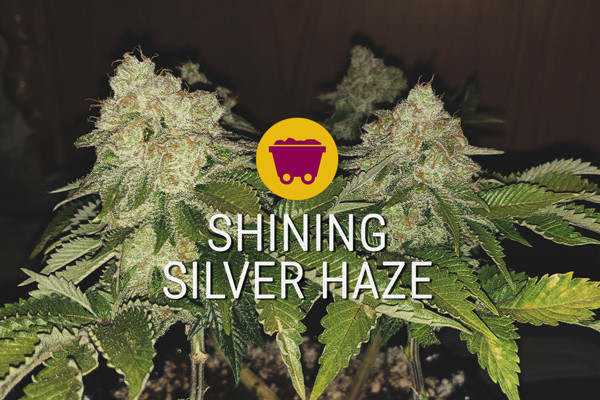 Shining Silver Haze: The New Generation Of Sativas
Haze strains are known throughout the cannabis world for their surging sativa highs and towering heights. Our breeders infused world-class indica genetics into the mix to make for an equally exciting, but more relaxing, experience. Allow us to introduce Shining Silver Haze.
By
---
Royal Queen Seeds harnessed world-renowned genetics to give rise to Shining Silver Haze. We've sampled our fair share of Hazes, and have become intimately familiar with the invigorating effects attributed to this family of strains. But there was always something missing. The cerebral stimulation was always satisfying, but it lacked an indica touch. Our team of expert breeders set out to remedy this very issue.
WHEN LEGENDS CONVERGE: GENETIC HISTORY OF SHINING SILVER HAZE
You probably think we've lost the plot attempting to improve upon Haze genetics. Don't fix what isn't broken, right? We can't argue with that, but we never set out to replace the original Haze—we simply desired to create a distinct hybrid of our own that would be on par with the original.
Cannabis breeders laid down the foundations of modern sativas using Haze varieties. These strains are characterised by sweet flavours, euphoric effects, and bountiful yields. Marijuana historians have so far failed to identify the precise origins of this lineage. The original landraces are believed to stem from all across the world; Colombian Gold, Acapulco Gold, Mexican Sativa, Thai, and Indian Sativa are all speculated to have played a role.
It was the so-called "Haze Brothers", a talented duo of Cali breeders, who combined the aforementioned cultivars. Rumour has it that legendary breeder Nevil Schoenmakers was responsible for transporting this genetic material to the cannabis mecca of Europe: Amsterdam. Here, Schoenmakers founded the first European cannabis seed bank—The Seed Bank of Holland—and began distributing his stock.
Haze went on to conquer the cannabis world. The cultivar won the hearts of sativa lovers and was used to create countless hybrids. Shining Silver Haze is one such manifestation that is leading the new generation of Hazes.
Our goal was to infuse a touch of indica to balance out the ruthless sativa high. We didn't want to dampen this key trait per se—just alter it. Like adding a pinch of seasoning to complete a dish. We decided to source the indica genetics from the most impressive specimens available. Anything else would have been a sacrilege.
Our top breeders selected the progeny of cannabis titans Skunk and Northern Light. These award-winning varieties are notoriously stoning and full of flavour. Skunk is an ultra-reliable hybrid strain that smashes pain and induces an uplifting effect, but it was the addition of Northern Light that contributed just the right touch of indica.
West Coast breeders in the US birthed the 100% indica cultivar using landrace genetics originating from Afghanistan. She gained traction in North America, and soon the rest of the world, for her sedating high. Users praise Northern Light for her ability to melt the muscles and diffuse stress.
The offspring of Skunk and Northern Light was crossed with Haze over multiple generations. Finally, we developed a stable and impressive hybrid composed of 75% sativa and 25% indica. Shining Silver Haze was ready for the world.
UPLIFTING WITH RELAXING ELEMENTS: EFFECTS OF SHINING SILVER HAZE
Shining Silver Haze delivers an immediate high that cuts through physical tension and arrests stress. Her fast-acting nature drives high levels of cannabinoids to their compatible receptors—a blissful state ensues. The sativa elements send a pulse of energy to the brain. You'll be reaching for instruments, notebooks, and paintbrushes to release the subsequent rush of creative thoughts.
Shining Silver Haze's effects can't be equated to an old-school Haze high. What was once overwhelming has been shifted down a gear, but is no less enjoyable. The indica touch erects a barrier between being totally baked and overwhelmed. This is exactly what we were aiming for.
This cultivar performs at her best during the daytime. The motivating effect enables users to plough through their day without so much as an instance of procrastination. You may elect to smoke her buds in the evening, but be prepared to spend more time thinking than sleeping.
The flowers of this strain are visibly crystalline with glandular trichomes. These bud-inhabiting structures churn out a THC level of 21% in conjunction with a medium level of CBD. Shining Silver Haze draws upon the flavours and aromas of each of her ancestors. Her flowers produce a terpene profile that generates notes of sweetness, citrus, and earth.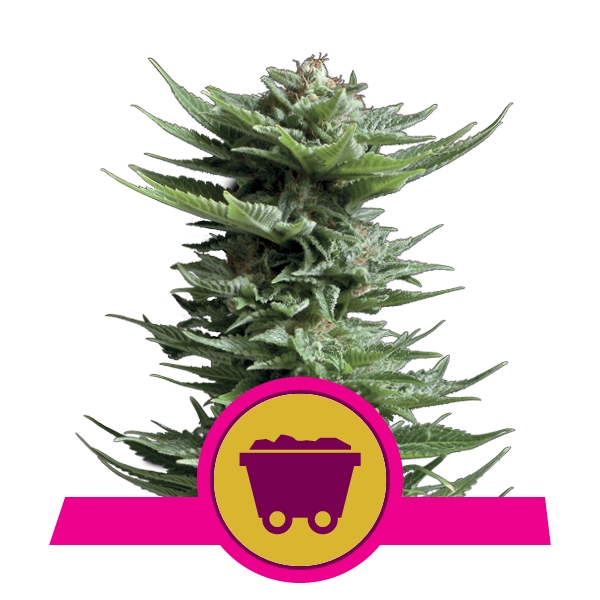 Shining Silver Haze
Haze x (Skunk x Northern Light)
2
80 - 120 cm
9 - 11 weeks
THC: 21% (aprox.) / CBD: Low
| | |
| --- | --- |
| | 75% Sativa, 25% Indica, 0% Ruderalis |
| | |
| | 180 - 220 |
| | Late October |
| | Physical, clear high |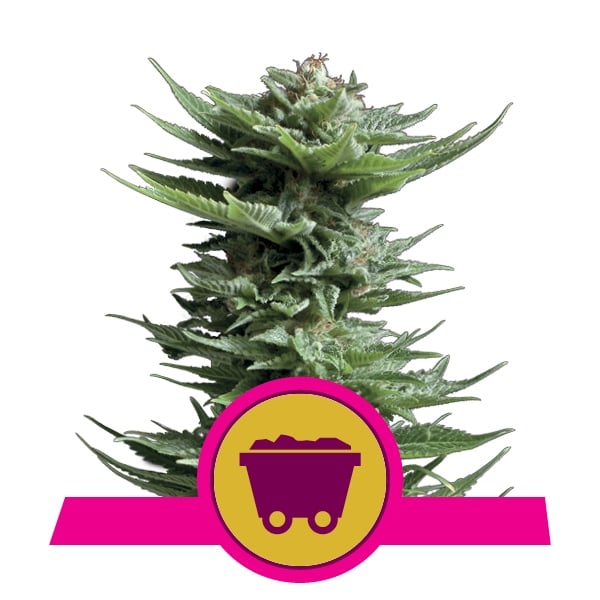 | | |
| --- | --- |
| | Haze x (Skunk x Northern Light) |
| | 2 |
| | 80 - 120 cm |
| | 9 - 11 weeks |
| | THC: 21% (aprox.) / CBD: Low |
| | |
| --- | --- |
| | 75% Sativa, 25% Indica, 0% Ruderalis |
| | |
| | 180 - 220 cm |
| | Late October |
| | Physical, clear high |
WEIGHTY YIELDS AND LARGE COLAS: GROWING SHINING SILVER HAZE
Beginner growers tend to be intimidated by sativa strains. Their lengthy flowering period, lanky structure, and high demands are enough to sway preference toward indicas and autos. Shining Silver Haze bypasses these daunting traits, and is significantly easier to grow than pure sativa specimens. Her bounty consists of large, tall colas decorated with glistening trichomes and large sugar leaves.
Indoor plants peak at a manageable height of 80–120cm and can be cultivated with ease in small grow rooms. They provide a rewarding yield of 600–650g/m² after a relatively brief flowering time of 9–11 weeks. Outdoor plants climb to taller heights of 180–200cm and provide a hefty yield of up to 600g/plant. Outdoor specimens will be ready to harvest during the tail end of October.
Shining Silver Haze is a hardy lady that can handle cold climates. She's an ideal choice for growers located far from the equator.
SHINING SILVER HAZE WAS DESTINED FOR SUCCESS
The triad of legends behind this strain set her up for greatness from the beginning. Haze, Skunk, and Northern Light sit high on the pantheon of all-time classics. RQS breeders merged them with skill and accuracy. Shining Silver Haze is a sativa-dominant specimen that delivers an underlying indica body stone. This strain belongs in the collections of cannabis connoisseurs and in the grow rooms of Haze lovers. She outpaces most sativas and offers massive colas dripping with THC and taste.