How to Make Weed Shortbread Biscuits
This easy recipe for marijuana shortbread calls for premade cannabis-infused butter. If you don't have any on hand, we've got instructions for that too! Don't be afraid to mix it up and add your own twist to these delicious homemade edibles.
By
---
Cannabis shortbread biscuits are a delightful way to enjoy the effects of cannabis while indulging in a sweet treat. Here is a simple recipe for cannabis shortbread using premade cannabis-infused butter.
---
What Are the Benefits of Eating Marijuana Shortbread Biscuits?
Homemade edibles? Delicious biscuits with a psychoactive twist? What's not to love? Here are some benefits of making weed shortbread:
Very simple recipe
Great vehicle for cannabutter
Delicious with tea, coffee, or hot cocoa
Perfect for the holidays (or any time of year)

Weed Shortbread Recipe
This is an easy recipe for cannabis shortbread that you can make at home. If you don't already have cannabutter, use our step-by-step recipe to make your own before baking.
Ingredients
1½ cups all-purpose flour
½ cup granulated sugar
½ cup premade cannabis butter, softened
¼ teaspoon salt
1 teaspoon vanilla extract
Equipment
🥣 Mixing bowl
🥄 Electric mixer or wooden spoon
🥤 Measuring cups and spoons
🍪 Biscuit tray
📃 Parchment paper
🔪 Biscuit cutter or knife
⏲️ Oven
Instructions
Preheat your oven to 180°C and line a biscuit tray with parchment paper.
In a mixing bowl, cream together the premade cannabutter and granulated sugar until light and fluffy.
Add the flour, salt, and vanilla extract to the mixing bowl and continue to mix until a dough forms.
Once the dough is well-combined, transfer it to your lined biscuit tray.
Roll out the dough until it is 1cm thick and cut into shapes, or press the dough evenly into the dish or sheet. Use a fork to create a decorative pattern on the surface of the dough.
Place the tray in the preheated oven and bake for approximately 20–25 minutes, or until the edges of the shortbread start to turn golden brown.
Remove the shortbread from the oven and allow it to cool completely.
Once cooled, cut the shortbread into your desired size with a knife. Skip this step if you cut your shortbread before baking.
Serve and shop any extra biscuits in a sealed container in the fridge or freezer.
Note: The potency of the cannabis shortbread will depend on the strength of the cannabutter used. It is important to start with a small serving size and wait at least an hour before consuming more.
Top Tips for Making Marijuana Shortbread Biscuits
Want to mix it up? Here are our top tips for baking and customising your cannabis shortbread biscuits (or shortbread cookies, for our American friends).
1. Don't Be Afraid to Use Your Hands
Shortbread dough is quite dense. If you have trouble mixing the dry ingredients with the butter, don't be afraid to use your hands. Get in there and massage the flour into the butter with your fingers. Just avoid working the dough more than necessary to combine.
2. Chill Out
Sometimes working with the dough will soften the butter too much. To ensure the biscuits hold their shape, firm the dough up in the fridge for about 20 minutes.
3. Use Different Types of Cannabis Infusions
This recipe calls for cannabutter, but you can infuse your shortbread with cannabis in other ways. Here are some great options:
Coconut oil: Substitute the cannabutter with room temperature cannabis-infused coconut oil for a tropical flourish.
Concentrates: Mix cannabis concentrates into regular butter instead of using cannabutter.
Cannabis sugar: Replace the cannabutter with regular butter and the sugar with pre-infused cannabis sugar instead.

4. Get Creative With Presentation
Consider making this a mini-art project. Try carving creative designs into the top of your shortbread. Use food colouring or cut your shortbread into fun shapes with a biscuit cutter or knife before baking. You can even create a cannabis leaf shape, guaranteeing nobody will eat your "special" biscuits by mistake.
5. Spice Up the Recipe With Fresh Flavours
Add other ingredients to the shortbread to customise your biscuits. Consider which flavours might complement the terpene profile of the strain you used to make your cannabutter. Some possible additions include:
Lemon zest: Pairs well with citrusy strains like Quick One and Power Flower
Dried lavender flowers: Pairs well with floral strains like Royal Moby
Ginger, cinnamon, and/or cloves: Pairs well with spicy, earthy strains like White Widow
Chocolate chips: Never goes out of style
Rose water and pistachios: Adds a Persian twist
Earl Grey tea leaves: For a touch of sophistication
Matcha powder: Makes a vibrant addition; rich in antioxidants
6. Use the Shortbread Strain for Total Synergy
Since you're making shortbread, why not infuse your biscuits with the strain of the same name? Shortbread is a hybrid strain derived from a cross between Animal Mints and Kush Mints. It has notes of violet, chestnut, and lavender. Use this strain to make your cannabutter or other infusion before baking. Pair it with a touch of lavender flowers, rose water, or Earl Grey tea in your biscuit recipe for complete Shortbread-on-shortbread synergy.
Another great option is the Royal Cookies strain. Its sweet aromas are a nice addition to any baked good.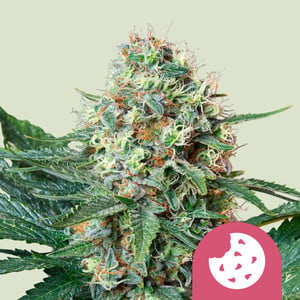 | | |
| --- | --- |
| | Forum Cookies S1 |
| | 450 - 525 gr/m2 |
| | 80 - 110 cm |
| | 8 - 9 weeks |
| | THC: 23% |
| | |
| --- | --- |
| | Sativa 20% Indica 80% |
| | 450 - 500 gr/plant |
| | 140 - 180 cm |
| | Middle of October |
| | Euphoric, Physically Relaxing |
Bake Cannabis-Infused Shortbread Today
Baked goods are the king of homemade edibles for good reason—they are easy to make and taste delicious. Shortbread biscuits traditionally use a lot of butter in the recipe, making them an ideal vehicle for cannabutter. They only require a few simple ingredients, and are a nice alternative to brownies. So, grab some cannabutter, flour, and sugar, preheat your oven, and whip up some marijuana shortbread today.