Medical Cannabis for treating Multiple Sclerosis or Muscle Spasms
With continual advances in the field of medicine and pharmacology, the recent trend seems to be in favor of the use of medical marijuana as one method to decrease pain and muscle spasms experienced by people suffering from multiple sclerosis and other diseases and conditions that cause severe muscle spasms.
---
One popular spokesman for the use of medical marijuana to alleviate symptoms of multiple sclerosis is US talk show host Montel Williams, who was diagnosed with the disease in 1990. Mr. Williams is a staunch advocate of the use of cannabis as a viable alternative to prescription medication for control of the deleterious effects of the disease on the human body.
Medical Studies on Medical Marijuana and Muscle Spasms
Medical researchers in Israel have been studying the effect of the various chemical components in cannabis on different medical conditions for years, isolating key components in an effort to synthesize THC and CBD.
A recent study published by the Journal of Neuroimmune Pharmacology reports that some of the chemicals occurring naturally in cannabis may decrease brain and spinal cord inflammation. So far experiments have advanced to animal testing only, but the implications for people suffering from severe muscle spasms are encouraging. Further testing will reveal how much relief marijuana can provide for sufferers of severe muscle spasms and multiple sclerosis.
US clinical trials that have been conducted in the state of California have produced results supporting the medical benefit of the use of cannabis for reduction of muscle spasms, according to the Center for Medicinal Cannabis Research at the University of California, San Diego.
Anecdotal evidence offered by patients who have chosen to use medical marijuana to alleviate symptoms such as severe pain, muscle tremors and spasms generally tend to be positive: Patients who are using medical marijuana seem, as a majority, to believe they are receiving medical benefits as a result. Patients are achieving results that improve their quality of life.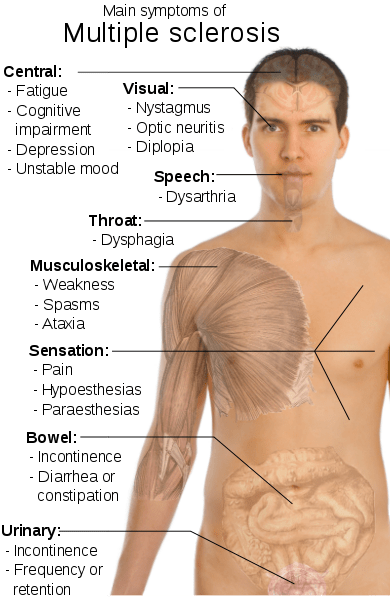 What is MS and How Does It Impact the Body?
Multiple sclerosis is basically an inflammatory disease in which the body uses the immune system to attack the nervous system. There are numerous issues that result from this disease, including symptoms such as muscle twitching or spasms, weakness in one or more limbs, pain in various parts of the body, electric shock-type sensations, muscle tremors and tiredness. The pain and muscle spasms can increase over time, leading to a worsening of the condition. Patients find their entire life is negatively impacted by the disease.
What is the Standard Treatment for MS?
The typical treatment for severe muscle spasms include anti-inflammatory drugs, pain medication, muscle relaxers, anti-anxiety medication and, in some cases, Botulinum toxin. These medications are prescribed in order to provide pain relief, decrease the muscle spasms and help the patient return to some sort of normal existence. In many cases, however, these palliative remedies are not effective and often result in serious side effects. A more natural therapy,deep tissue massage, may offer additional relief, but in general, patients are not achieving control over the symptoms by traditional means.
Will Medical Marijuana Become an Option for MS Patients?
In many countries, physicians are already prescribing components of marijuana as a way to provide relief to multiple sclerosis patients. As further research is completed, medical marijuana may soon be a commonly-prescribed option for relief from pain and muscular spasms suffered by victims of MS and other similar diseases and medical conditions.
Choosing to use cannabis to alleviate pain and muscle spasms and tremors may be a viable option for patients who wish to pursue a different approach to treatment than the standard medications prescribed by their physician.
Medical DisclaimerInformation listed, referenced or linked to on this website is for general educational purposes only and does not provide professional medical or legal advice.

Royal Queen Seeds does not condone, advocate or promote licit or illicit drug use. Royal Queen Seeds Cannot be held responsible for material from references on our pages or on pages to which we provide links, which condone, advocate or promote licit or illicit drug use or illegal activities. Please consult your Doctor/Health care Practitioner before using any products/methods listed, referenced or linked to on this website.