CBD And Degenerative Disc Disease: An All-Natural Aid To Treatment?
CBD is more than just the second most abundant cannabinoid in Cannabis sativa. In fact, research shows that cannabidiol is a powerful ingredient with a potential to one day aid in treating symptoms of Degenerative Disc Disease.
---
It seems like every week that new research is revealed proving CBD's potential for aiding the treatment of certain conditions. Despite the slow-moving progress of gaining universal backing from the medical community, CBD is finally being recognised as a cannabinoid with a lot of therapeutic power. One condition where CBD displays significant promise is degenerative disc disease.
DEGENERATIVE DISC DISEASE: AN OVERVIEW
German exercise legend Joseph H. Pilates once said[1]: "You are only as young as your spine." What Pilates meant is that the spine plays an irreplaceable role in maintaining physical stability and mobility. Degenerative disc disease is a broad term used to describe a condition where intervertebral discs become compromised and damaged, causing them to degenerate.
While some disc degeneration is a natural part of the ageing process, physical trauma from injuries, labour, obesity and more can cause severe degeneration. This can lead to back and neck pain, numbness and even nerve damage. Degeneration can also contribute to other long-term conditions like osteoarthritis.
HOW DOES CBD HELP?
To understand how CBD is applied to degenerative disc disease, you must first become acquainted with the potential of cannabidiol. As the second most abundant cannabinoid in the Cannabis sativa plant, CBD displays potential as a form of treatment for such conditions as Dravet Syndrome and Chronic Pain, among many others.
CBD is widely accepted as an anti-inflammatory and is gaining traction as in ingredient in mental health care. CBD is non-psychoactive and contains no known adverse side effects. However, it is worth noting that research into CBD is still ongoing, and it is not recognised as a medicine throughout most fo Europe - although the potential as one is being acknowledged. Much more large scale testing need to be done before it moves forward in the eyes of medicine.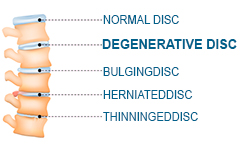 CBD AND DEGENERATIVE DISC DISEASE: THE RESEARCH IS IN
Unlike other tissue in the body, intervertebral discs are made up of fibrous cartilage and do not receive adequate blood flow. Therefore, discs cannot heal themselves once the damage has been done. It then becomes much more difficult to regain mobility, and nearly impossible to repair fully. A main instigator of disc degeneration is inflammation and swelling resulting from different triggers.
A 2014 study[2] conducted by PLoS One concluded the "protective effects of cannabidiol" on lesion-induced degenerative disc disorder. Studying 19 rat subjects, researchers used needles to create injuries in their tail bones to mimic degenerative disc disease in humans. The rats were separated into three groups and given different concentrations of CBD. The first group was given 30 nmol, the second: 60 nmol and the third: 120 nmol of CBD. Subsequently, each group was individually examined via MRI and under a microscope, to get as accurate a picture as possible of CBD's effects.
RESEARCH CONCLUSIONS
The study concluded that although the rat subjects given 30 and 60 nmol of CBD did not show marked improvement, the subjects given 120 nmol did display reduced damage from the lesions. Throughout all fifteen days of examination, the CBD's effects remained after showing up originally within the first 48 hours or so.
The researchers went on to explain that despite the small sample size and non-human subjects used, CBD's lack of adverse side effects makes it a viable candidate as medical treatment for degenerative disc disorder symptoms. At present, scientists are working to understand the exact reasoning behind how CBD is so beneficial and therefore how to apply it to a course of treatment.
PAIN MANAGEMENT AND PSYCHOLOGICAL SYMPTOMS OF DEGENERATIVE DISC DISEASE
CBD shows great potential when used as a pain management ingredient for "DDD." It also has the ability to mediate some of the negative side effects of prescription medications. Opioids, which are used for acute and chronic pain management are extremely addictive and pose many greater health risks than both THC and CBD.
Individuals who suffer from severe degenerative disc disease or chronic pain often experience psychological symptoms of anxiety and/or depression. Fortunately, CBD is useful to help calm anxiety. When consumed, the cannabinoid administers a pleasant physiological sedation and mental relaxation.

Some of CBD's most oft-cited medical implications are anti-inflammatory properties. Indeed, CBD encourages natural suppression of inflammation and is a promising alternative and supplement to prescription drugs.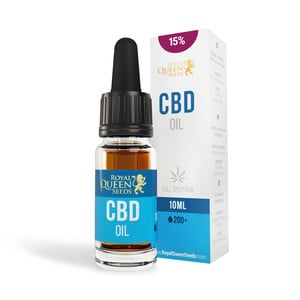 | | |
| --- | --- |
| | THC: 0.2% |
| | CBD: 15% |
| | CBD per drop: 7.5 mg |
| | Carrier: Olive Oil |
THE ENTOURAGE EFFECT
An important topic of discussion regarding CBD medicine is the "entourage effect." First penned by Dr. Ethan Russo in 2011, this theory argues the synergistic power of CBD and other plant compounds when administered as holistic therapies, rather than in isolation. Some pharmaceutical drugs on the market feature isolates of THC and CBD which are less powerful and sometimes completely ineffective.
When consumed in its unadulterated form, CBD displays a number of ancillary benefits that can help sufferers of degenerative disc disease.
Russo's groundbreaking research has been cited hundreds of times and has become the basis for understanding the human endocannabinoid system. In recent years, the entourage effect has been a harbinger of change in the medical cannabis community toward more well-rounded cannabis supplements and strains.
CBD FOR PETS?
In addition to treating humans, researchers indicate that CBD has similar efficacy on animals. There are a number of safe, non-psychoactive CBD pet supplements on the market which target similar symptoms as human subjects. Concerning degenerative disc disease, CBD shows legitimate potential in treating symptoms. Given that some animals are sensitive to pharmaceutical drugs, CBD is an all-natural way to help soothe disc pain in injured and ageing pets.
Before purchasing a CBD supplement for your four-legged best friend, make sure the product is sourced from a reputable manufacturer whose intended audience are domesticated animals. While CBD may very well be comparably effective for both pets and people, it's important that owners exercise caution when choosing treatment options.
THE FUTURE OF MEDICAL CBD FOR "DDD"
Cannabis culture is experiencing a renaissance of hard-earned acceptance in some parts of the world. While this forward motion is encouraging to cannabis cultivators and consumers as a whole, recreational cannabis has in some cases overshadowed the importance of medical patients.
As tensions relax over marijuana's debunked moniker as a gateway drug, it is important to advocate for further advancements[3] in cannabinoid research. Although there is evidence of CBD's efficacy in treating "DDD," lack of financial and political support keeps CBD research from breaking into the mainstream. Degenerative disc disease will affect most people in their lifetime, which is why it's important to consider the safest options for medical care.