The Best Soil For Growing Autoflowering Cannabis
Autoflowering cannabis strains are known to be hardy and easy to grow. Despite their low-maintenance and photo-independent nature, they can still benefit from optimised soil and nutrients to reach maximum yield and quality.
By
---
Autoflowering cannabis strains are known as the easy option when it comes to cultivating the herb. Their hardy nature, fast growth, and ability to flower without a change in photoperiod make them a prime choice for both beginner and advanced growers alike. These sturdy strains often require little maintenance and allow sufficient room for error; however, when chasing the optimal yield and bud quality, a few boxes need to be checked. One such box is adequate soil.
Autoflowering strains contain genetics from Cannabis ruderalis, a subspecies that evolved and adapted to extreme weather and light cycles far into the Northern Hemisphere. Such adaptations and the resulting hardy nature of autoflowering strains mean that they aren't too picky about soil. However, to encourage them to reach their true potential, an optimal soil mix should be applied.
Light And Airy Soil
Autoflowering strains favour light and airy soil with less nutrients than photoperiod strains would prefer. It's best to buy special light soil for cannabis (e.g. Lightmix) or to make your own soil mix, as opposed to purchasing a ready-made mix from regular garden shops, as they may be too high in nutrients like nitrogen.
Heavy potting soil will stress autoflowering varieties, preventing their roots from accessing adequate amounts of air. Roots may also have a difficult time penetrating and growing through a heavy medium.
This basic recipe offers a soil mix that contains adequate nutrients, as well as materials that will help to boost the aeration of the soil medium.
3 parts peat moss
3 parts compost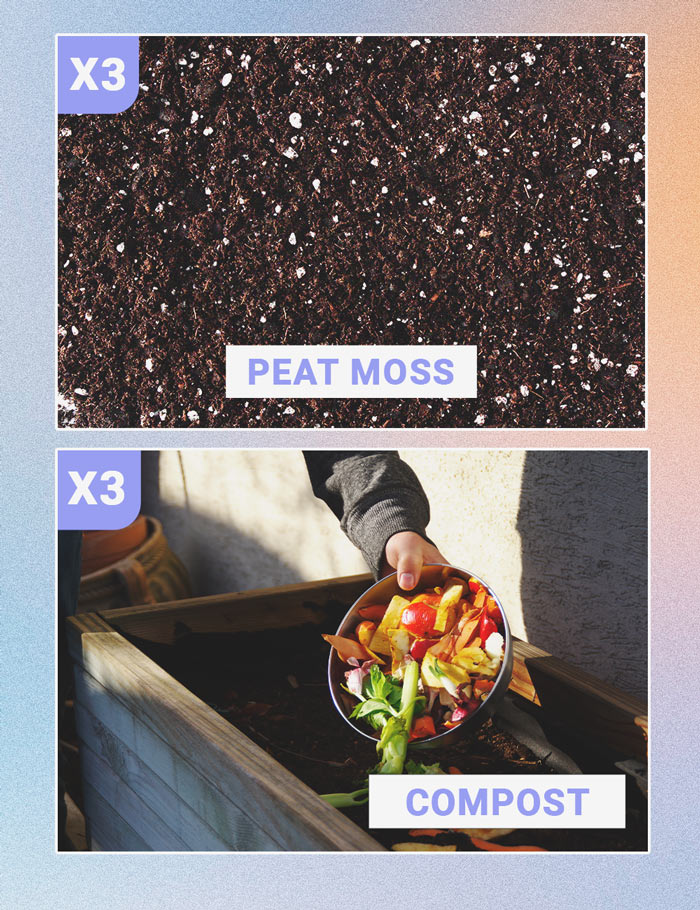 2 parts perlite, pre-wet
1 part vermiculite, pre-wet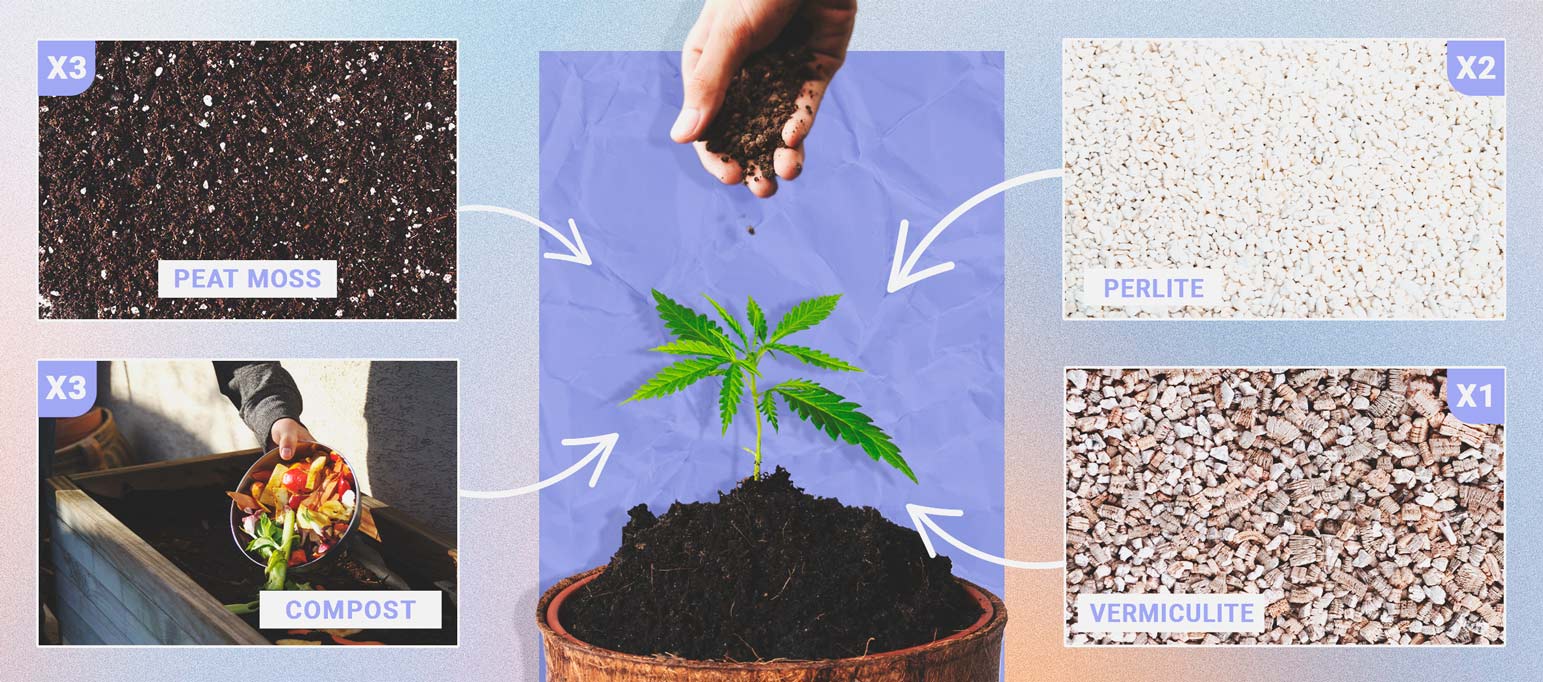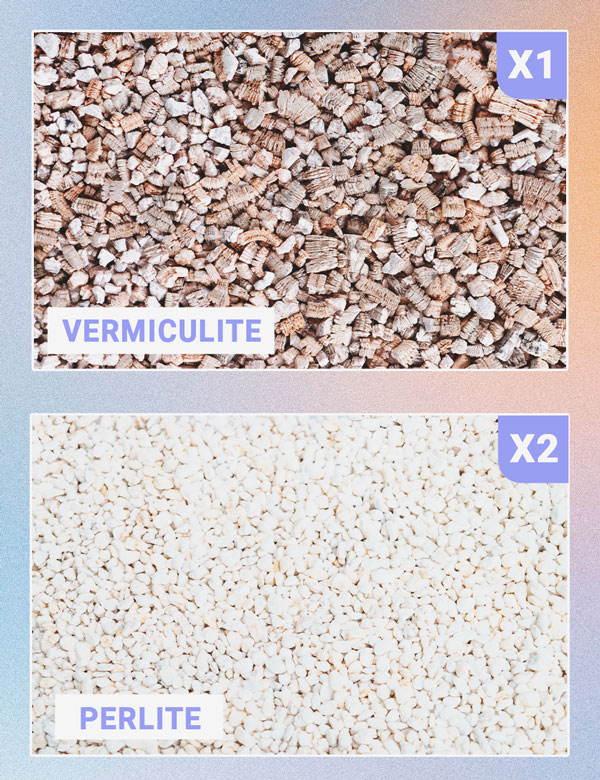 Go Easy On The Fertiliser
Autoflowering strains are usually short and compact, a genetic trait stemming from the ruderalis subspecies. This characteristic, along with their rapid growth times, means that autoflowering strains don't actually need that many additional nutrients.
Most autos will only stay in the vegetative phase for a short period of time, meaning they won't require a huge amount of veg nutrients like nitrogen. Adding too much can actually burn autoflowering strains, so feed them conservatively.
During the seedling phase, your autoflowering plants won't need any nutrients. Growers can start supplementing with nutrients about 2 weeks into the grow, but should do so lightly to avoid damaging the crop.
Even during the flowering phase, autoflowering varieties don't need a huge amount of extra food. Bloom nutrients and boosters can still be applied, but with a less-is-more approach. Pay close attention to your crop and apply when you deem necessary.
Soil PH
The pH scale is a measurement of how acidic or alkaline a substance is. The scale features 14 readings, with 7 being neutral, numbers lower than 7 being acidic, and numbers over 7 being alkaline. Soil can vary in pH, with differents plants thriving in varying levels. Autoflowering strains are similar to photoperiod varieties in that they prefer a slightly acidic soil medium.
Growers should try to keep their soil within an optimal pH range of 6.0–6.5. If purchasing soil, make sure the product is suitable in terms of acidity. If you need to regulate the pH of your soil, there are numerous products available to achieve this.

Microorganisms
The soil that your autoflowering plants are growing in isn't merely a medium that the roots sit in while the plant grows—it's much more than this. The soil is a diverse and thriving web of life that includes symbiotic organisms and pests alike.
Whether you are cultivating your plants indoors within a grow room or tent, or outdoors within greenhouses or garden beds, your soil can be supplemented with beneficial microorganisms.
As all growers will know, especially those who raise their crop in the great outdoors, there are many pests out there with an appetite for fresh cannabis leaves, roots, stems, and flowers. These critters take many forms, and lots of them reside within the soil. Parasitic nematodes can be a problem, eating cannabis roots from both the insides and outsides.
Growers can supplement their soil with predatory nematodes that feed on these invaders and reduce their numbers within the rhizome.
Another microorganism that will benefit the soil of your autoflowering plants are mycorrhizal fungi. These type of fungi form a symbiotic relationship with the roots of your plants. The roots of cannabis plants produce exudates, a variety of excretions including sugars. Beneficial fungi attach to the roots and feed off these sugars. In return, they act as an extension of the root system, reaching out over a greater surface area than the plant could achieve alone, ferrying in nutrients from afar.
As well as helping plants to obtain nutrients from soil, mycorrhizal fungi can help to trap and kill pests, such as parasitic nematodes.