About Royal Queen Seeds

Our Vision and Mission
We love sharing our passion for cannabis with eager growers. Our goal is to deliver the best genetics. We support every grower.
Our motto is simple: If you have the passion, you can grow quality genetics!
We believe in cannabis and its potential, and we want to help growers and consumers learn more about this mighty plant.
We do that by breeding and searching for the best genetics that will satisfy all types of cannabis consumers, by sharing our growing expertise, debunking myths and being on top of the latest studies and developments. We also strive to create and help the community of growers and cannabis enthusiasts and we invest time and resources to aid developments in the cannabis sector.
At RQS, we aim to provide only the best genetics and we cater for all kinds of growers. All of our seeds are hand-picked from organic plants and tested for genetic purity. We also test our seeds daily to ensure industry-leading germination success. We deliver the purest CBD products available on the market and we partner with organic and sustainable producers.
At Royal Queen Seeds, we never stop evolving. With our dedicated brand RQS Pro, we are working on developing high-quality seeds for the professional market, which will also improve the genetics available to every grower.
As leaders in the field of medicinal and recreational cannabis, we have the tools and the power to redesign the future of cannabis breeding. And with innovation and creativity, we make a positive difference in the cannabis community worldwide.
We are aiming for more stable and pure genetics to the benefit of both cannabis cultivars and the consumers. We are as excited about the green future of the world as each and single one of our valued customers.

Our team at RQS are enthusiastic and passionate. We are keen growers that enjoy sharing our cannabis love and knowledge and we are always happy to help and educate every customer.
You can find us on popular social media platforms, where we enjoy being part of the community. We frequently sponsor and hold contests on the most-frequented cannabis communities.
Being in touch with our customers and sharing our knowledge with them is crucial for us at RQS. The latest communication technologies allow us to directly interact with our growers and build trust and confidence in our brand and experts.
Sustainability
As leaders in the field of cannabis cultivation, we have a big responsibility when it comes to the environment, which is why we promote organic and sustainable growing methods. We use organic hemp sources for and we believe in the sun as the best and most natural choice of light for our gardeners.
The history of cannabis, and specifically its consumption and cultivation, is turbulent and exciting. Previously shunned by the mainstream and only talked about, grown and consumed by what was considered a "subculture", cannabis is now becoming widely accepted and is seeing a huge popularity boom in modern society.
Cannabis enthusiasts are not "rebels" any longer, but comprise of all kinds of people. We here at RQS are doing our part to unite everyone with our philosophy: "Growing, together!". It's all about sharing and spreading the love for cannabis plants!
In addition to our web shop, we're also physically present in the hearts of Europe's cannabis destinations with three store locations.
In RQS's first "brick and mortar" store right in the heart of Amsterdam, on Damstraat, we offer an extensive menu of impressive genetics. And our newest location in Barcelona, Spain, is styled like a cannabis museum so you can marvel at exotic bongs and beautiful glass rigs while shopping for popular and classic genetics.
Come and meet our friendly staff and stock up on seeds and other goodies!
RQS Storyline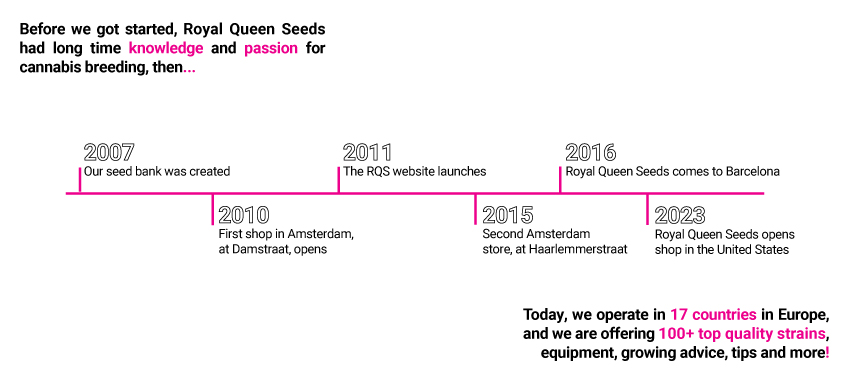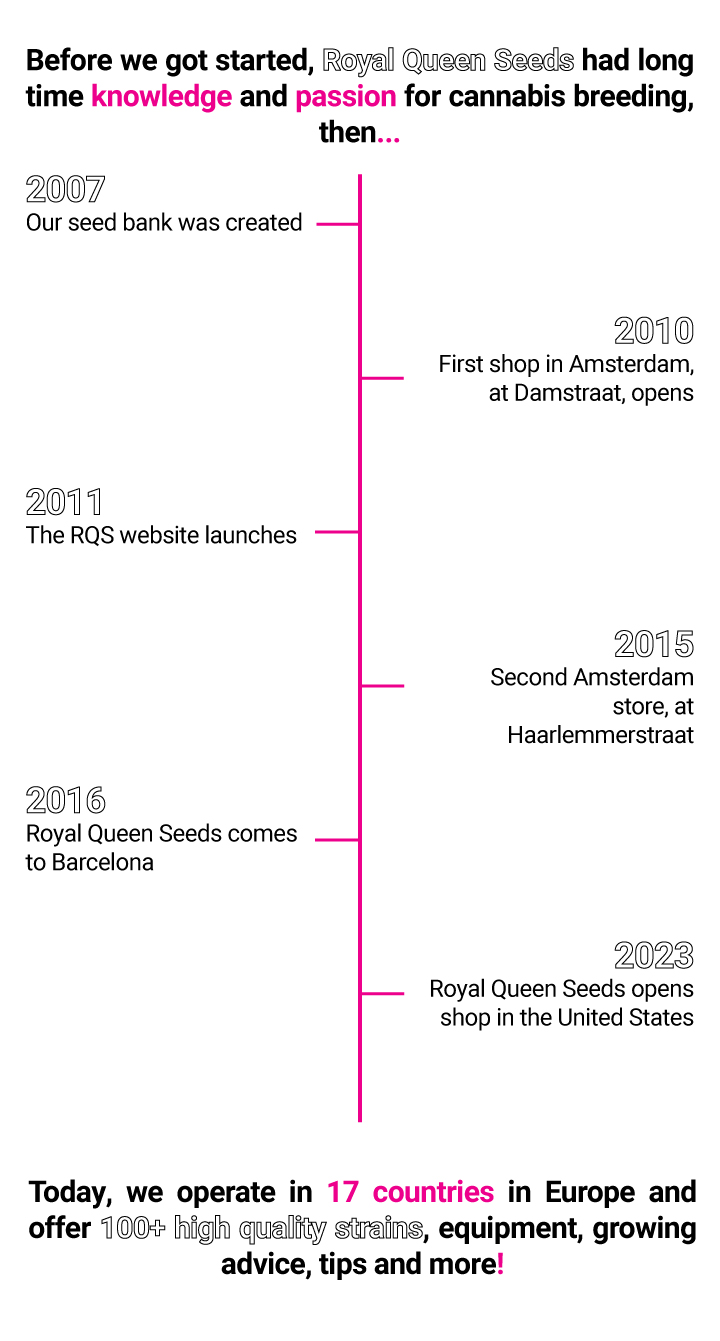 Before our seed bank was created in 2007, RQS had long-time knowledge and passion for cannabis breeding. Following enormous interest in our strains, we opened our first shop in Amsterdam, the Damstraat location, in 2010.
In 2011 we launched the Royal Queen Seeds website. In 2016 we welcomed first clients in our shop at Carrer dels Tallers in Barcelona, Spain. In 2022, we opened our newest location in Bangkok, Thailand. In 2023, we started operating in the United States and launched the first true F1 Hybrid Cannabis seeds in the market!
Today, RQS operates in 17 countries in Europe and offers 90+ high-quality strains, growing equipment, growing advice, knowledge, tips and more!
Questions & Answers: About us
📍 Where Are Royal Queen Seeds Shops Located?

We currently have three physical store locations, with two stores in Amsterdam (Damstraat and Haarlemmerstraat) and one store in Barcelona, Carrer de Tallers.

🏠 Where Is the Headquarters of RQS Located?

Royal Queen Seeds operates online and from physical stores in the Netherlands and Spain, with headquarters in Barcelona. A fourth store location is planned for the near future.

🌱 Can I Buy Seeds From Royal Queen Seeds?

We deliver all over Europe. Obtaining cannabis seeds is by-and-large entirely legal. We offer free standard shipping, UPS Standard shipping and delivery to UPS access points. We also offer Stealth Packaging, which means your seeds are neatly enclosed within a DVD case.

📥 How Can I Contact Royal Queen Seeds?

If you have any questions or comments, you can always contact us by sending us a message via our Contact Us page.

Alternatively, feel free to reach out to us via phone or email. The friendly Royal Queen Seeds team is at your disposal!

Email: [email protected]
t. 34 93 737 98 46 (from 8:00 to 16:00 CET)
VAT: ESB-65812810
Coc Number: B-65812810

SNORKEL SPAIN SLU
Apartado de Correos nº 146
08170 Montornès del Vallés
Barcelona
The Royal Queen Seeds team.