What Are Autoflower Seeds?

---
Autoflowering cannabis seeds produce plants that flower on their own after 2–4 weeks of growth. Growers don't need to worry about switching the light schedule to initiate and maintain the flowering phase, like they would if growing feminised photoperiod cannabis.
Autoflowers also need much less time to grow. Some varieties are ready to harvest in a short 8 weeks after sprouting. Plus, autoflowers are compact, which makes them great for indoor growing. Because they are so convenient, autoflowers are (not just) ideal for beginners to cannabis cultivation. More experienced growers can also take advantage of the unique growing traits of autoflowering cannabis.
Non-Photoperiod Strains: What Does It Mean?

Feminised (photoperiod) cannabis plants flower depending on the hours of light they receive. Out in nature, they start to bloom when the days get shorter at the end of summer. Indoors, cultivators initiate flowering by adjusting their grow lights to 12 hours of light and 12 hours of darkness.

In contrast, autoflowering strains flower based on age, independent of light hours, which means they are non-photoperiod strains. Autoflowers have several noteworthy characteristics:

Plants flower automatically after 2–4 weeks.
The average period between planting and harvest is 10 weeks.
Autoflowering seeds are also feminised. No need to worry about male plants.
Plants stay small (30–100cm).
They don't attract too much attention. Ideal for stealthy grows.
You can harvest several crops per season.
Particularities of Autoflowers
The autoflowers that first appeared on the market in the early 2000s didn't really impress. They weren't very potent, their aroma was lacking, and their yields were not great either.
But autoflowers have come a long way since then. Modern autoflowers rival feminised photoperiod strains (and some even surpass them) in terms of potency, yield, and aroma. Yet, they still provide the same great benefits as mentioned above, along with having a reputation for being particularly stable and sturdy.
These days, autoflowers can satisfy even the most demanding of users: Recreational users won't have difficulties finding automatic varieties rich in THC, and holistic users can get autoflowers low in THC but high in CBD to benefit from the non-psychoactive cannabinoid.
How Are Autoflowering Plants Created?
Autoflowering strains are created by crossbreeding indica or sativa plants with ruderalis. Ruderalis is a wild subtype of cannabis that grows in regions where the summer is very short but features many hours of daylight (e.g. Northern Europe or Siberia). These plants have evolved to not rely on daylight hours to flower, instead flowering according to age.
Ruderalis on its own isn't too useful: Its buds won't produce a high, and the plants are small with low yields. However, breeders discovered that they could crossbreed high-quality indica and sativa strains with ruderalis to make them autoflowering. This has revolutionised cannabis cultivation by fusing the best traits of all the cannabis subspecies.
Who Uses Automatic Cannabis Strains, and Why?
Growers: Growers like autoflowers because they are convenient and easy, producing a fast harvest with decent yields. With their compact size, they are among the best plants for growing in small spaces—great for micro-grows or putting a plant or two on a balcony. They also make good strains to grow outdoors as they are resilient and robust. Plus, their small size makes them a good choice for stealthy guerrilla grows.
Smokers: Recreational users can enjoy autos just like feminised photoperiod cannabis. If you're smoking for the high, which can be anything from relaxing to uplifting, fun, and giggly, you can find the right autoflower to suit your tastes! Some autoflowers are slightly lower in THC than the average strain, making them ideal for people who like a milder and more balanced effect when smoking cannabis.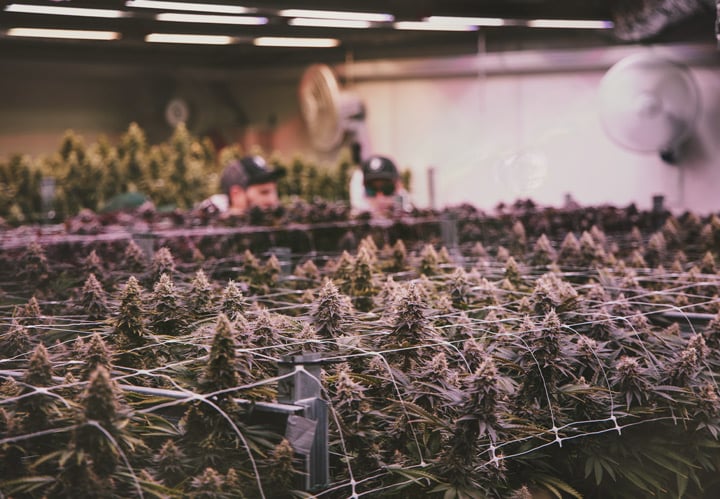 The Influence of Terpenes in Autoflowering Strains

Terpenes are the aromatic compounds in cannabis. Each strain has a different terpene profile, which gives them their distinct aromas and tastes. So, if you're smoking your autoflower buds and you can taste or smell citrusy, flowery, fruity, skunky, or even fuel notes, this is due to the distinct terpene profile of your strain. It is also suggested that terpenes do more than offer appealing tastes and smells; they may even influence the effect a strain has.
How to Grow Autoflowering Seeds
1. Use light, well-draining soil
For autoflowers, you want soil that is even lighter than that used to grow feminised photoperiod cannabis plants. If needed, amend your soil with perlite to increase airiness and drainage.
2. Indoors vs outdoors
Indoors: No need to switch your lights to a flowering schedule like with photoperiod cannabis. You can keep your autoflowers on an 18/6 (18 hours of light, 6 hours of darkness) or 24/0 light schedule from seed to harvest.
Outdoors: You are not as beholden to the natural seasons as with photoperiod plants. You can plant your autos at any time of the year, provided there is no frost. Harvest 8–10 weeks after planting. If you plant your autoflowers several weeks apart, you can achieve several harvests per year! Autoflowers are stealthy and compact. This makes them perfect for low-key outdoor operations.
3. How much time do you need to grow autoflowers?
It depends on the strain. But in general, autoflowers will be ready much quicker than feminised photoperiod cannabis. The average life cycle of autoflowers is about 10 weeks, with some strains ready as soon as 8 weeks after germination.
4. Can you grow feminised photoperiod and autoflowering cannabis in the same grow room?
You can, but it isn't optimal. One issue can be the difference in size between the two types. The other is that you'll need to switch your lights to 12/12 to flower your photoperiod plants, meaning your autos will get less than the recommended 18 or 20 hours, and your yields will be smaller as a result.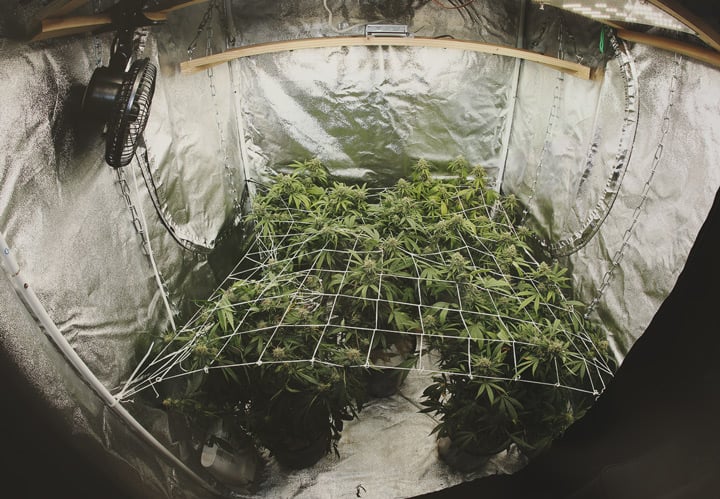 5. Optimal temperature and humidity for growing autoflowers
Keep your grow room's temp at a moderate 21°C (room temperature) for healthy growth. Colder temperatures or excessive heat can lead to growing problems. For best results, grow in an environment where you can maintain full control. Use heating and/or cooling if necessary.
Optimal humidity for your autoflowers depends on your plant's age. In the first few weeks, they prefer a more humid environment. Reduce relative humidity to 40–50% when your plants start to flower to reduce the risk of mould.
6. What kind of nutrients do autoflowers need?
In general, autoflowers are smaller than feminised photoperiod cannabis. Smaller plants require less nutrients than large plants.
If you're using commercial cannabis nutrients, give only ½ or ¼ of the recommended dose to your autoflowers. When using commercial potting mixes that are pre-fertilised, you will likely not need to feed until your autoflowers start to bloom, at about week 3 or 4.
7. What kind of water for autoflowers?
With autoflowers being smaller and having a smaller root system, they will also drink less than large feminised photoperiod plants. Don't overwater, and allow the soil to dry out between waterings.
When growing in soil, the optimal pH level of your water/nutrient solution is 6–7. You can adjust your water to the correct pH level using natural pH "up" or "down" products.
8. What about plant training with autoflowering cannabis?
Plant training techniques such as topping, FIM, super cropping, and defoliation are not recommended for autoflowers. Any training that involves damage to your plants will temporarily slow or halt their growth and requires time for recovery—time that autoflowers don't have (given their limited lifespan). You'd end up with greatly diminished yields.
On the other hand, you can try gentle plant training such as LST (low-stress training), where you bend down the stems and branches to create an even canopy and optimise light exposure. Skip the parts that involve any cutting or pinching.

Popular Autoflowering Cannabis Strains
Here are some of the most popular autoflowering varieties based on well-known cannabis strain families.
🚗 Lowryder (Quick One, Diesel, Solomatic CBD)
Lowryder was the very first "commercial" autoflower, released in the early 2000s. Based on these legendary genetics are Royal Queen Seeds' Quick One, Diesel Automatic, and Solomatic CBD—the latter of which is aimed toward holistic users, as it contains 21% CBD and less than 1% THC.
🍁 Kush (Bubble Kush Auto, Royal Kush Auto)
The "mother of all indicas", Kush is also well-represented in the autoflowers you can get at Royal Queen Seeds. Check out the fruity Bubble Kush Auto or Royal Kush Auto, both autoflowering variants of classic strains.
🌫️ Haze (Amnesia Haze Auto, Royal Haze Auto, Royal Jack Auto)
The famous Haze family of strains provides a cerebral buzz that makes it top for daytime smoking. RQS has autoflowering variants of the classic Hazes, including Amnesia Haze and an autoflowering Jack Herer called Royal Jack Auto. Royal Haze Auto is a cross between Amnesia Haze, Skunk, and ruderalis.
🔮 Afghan (AK Auto, NL Auto, Critical Auto)
Enjoyed in the Middle East for centuries, Afghan is another classic cannabis variety loved by smokers and growers alike. Enjoy the relaxing effects and spicy notes of RQS' AK Auto, Northern Lights Auto, or Critical Auto, along with their great yields.
🍪 Cookies (Gorilla Auto, Cookies Auto)
From the West Coast of the US hails the immensely popular Cookies family of strains—famous not just for their sweet dessert flavours, but also their uplifting and social effect. Some of the best autoflowers with Cookies genetics are Royal Queen Seeds' Gorilla Auto (based on the ultra-potent Gorilla Glue) and Cookies Auto.
🍇 Blueberry (Haze Berry Auto, Bluematic)
Renowned for their sweet berry notes is the famous "Blue" family of cannabis. Originally from the US West Coast, Blueberry has been infused into two popular RQS offerings: Haze Berry Auto combines Haze Berry and Blueberry Auto, while Bluematic is the automatic variant of the original Blueberry.
💜 Purple (Purple Queen Auto, Purplematic)
Made from select Kush varieties from Afghanistan and Pakistan, the Purple family of cannabis features plants with a gorgeous appearance. Purple Queen Auto is an automatic variant of Purple Queen, and Purplematic CBD has 17% CBD and only trace amounts of THC for a clean and clear high.
🍌 Banana (Fat Banana Auto)
What do you get when you add Cookies genetics to one of the fruitiest Kushes, Fat Banana? That's right, you get an incredibly fruity cannabis delight. With 22% THC, this one is also remarkably potent, providing a double-whammy for cannabis aficionados.
🍦 Gelato (Green Gelato Auto)
Lovers of great Cali weed won't say no Green Gelato Auto by RQS. This girl was made by combining Green Gelato with an autoflowering Girl Scout Cookies. The result: an incredible aroma and mind-blowing potency (24% THC).
🦨 Skunk (Royal Dwarf, Sweet Skunk Automatic)
No list of good cannabis would be complete without the legendary Skunk family. Royal Dwarf blends ruderalis with Skunk, while Sweet Skunk Automatic adds autoflowering magic to Early Skunk and Critical. Spicy and skunky flavours galore!
🧀 Cheese (Royal Cheese Auto, Blue Cheese Auto, Fast Eddy)
For all the fans of the famous Cheese from the UK, Royal Queen Seeds has you covered as well: Royal Cheese Auto has a spicy taste and provides a deep stone. Fast Eddy Automatic CBD is also made with these legendary UK genetics: Low in THC (9%) and rich in CBD, she provides a clear and mellow high.
---
TOP TIPS FOR MAKING THE MOST OF YOUR AUTOFLOWERING CANNABIS
TOP TIPS FOR MAKING THE MOST OF YOUR AUTOFLOWERING CANNABIS
---
CHOOSE THE BEST AUTOFLOWERING CANNABIS SEEDS FOR YOUR CLIMATE
CHOOSE THE BEST AUTOFLOWERING CANNABIS SEEDS FOR YOUR CLIMATE
---
THE BEST AUTOFLOWERING CANNABIS STRAINS BY CATEGORY
THE BEST AUTOFLOWERING CANNABIS STRAINS BY CATEGORY
1