The Gravity Bong: What Is It And How To Make One
Imagine yourself unscrewing a pre-filled soda bottle filled with marijuana smoke, and then inhaling the entire thing into your lungs. This is called a gravity bong, famous for providing smokers with the same rush of a huge bong rip, with far less effort and minimal bud. Not to mention, it's made using everyday objects found in the home.
By
---
Gravity bongs have long been a favourite among cannabis smokers, providing massive hits at the cost of minimal bud. Keep reading to learn how to make a gravity bong to get high as hell without running down your stash.
---
What Is a Gravity Bong?
A gravity bong, as the name suggests, harnesses the laws of gravity to squeeze every last drop of mind-boggling cannabinoids and terpenes out of your weed and deliver them to your lungs in one huge hit. It's a great way to get high if you're running low on weed, or for large group sessions, as a single gravity bong can get at least two (maybe even three) seasoned stoners very buzzed.
Gravity bongs come in two types; the bucket bong and the waterfall bong, both of which we'll explore in more detail below.
What Is the Science Behind a Gravity Bong?
Gravity bongs are DIY smoking devices that use the principles of gravity and air pressure to deliver potent hits of highly concentrated smoke right to your lungs. Typically, you'll submerge a plastic bottle with a makeshift bowl on top into a larger container of water, such as a bucket or another large bottle. As you light your weed, you'll slowly pull the bottle out of the water, creating a vacuum that pulls large amounts of air through the bowl and fills the bottle with a large hit of concentrated smoke.
Then, you'll want to remove the bowl, stick your mouth on the top of the bottle, and slowly submerge the bottle back into the water so that the same vacuum propels the smoke into your lungs to send you flying sky-high. See more below for detailed walkthroughs of how to make—and smoke!—a gravity bong.
How to Make a Bucket Bong-Style Gravity Bong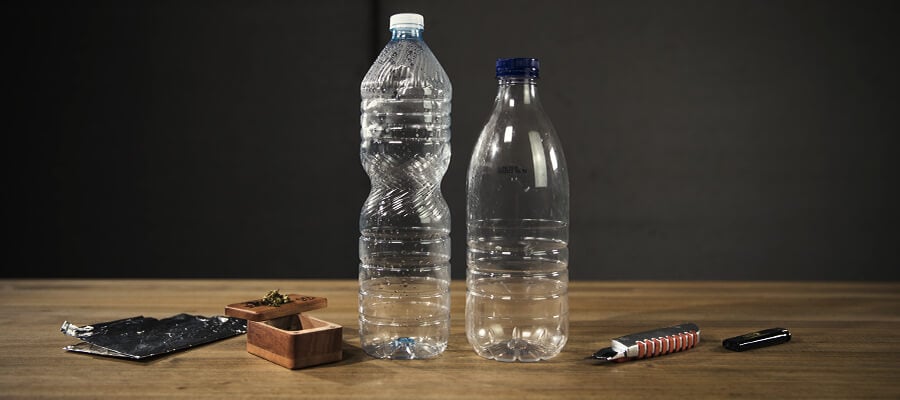 WHAT YOU WILL NEED
Box cutter or scissors
Two different-sized plastic bottles
Aluminium foil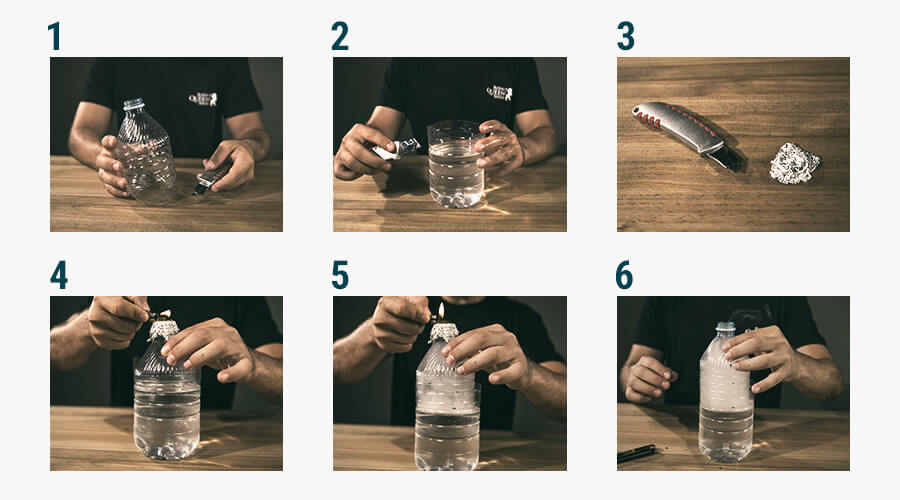 INSTRUCTIONS
STEP 1
If your makeshift gravity bong has a bucket style, the bottom of the smaller bottle needs to be cut off. The larger this top chamber is, the more smoke it can hold.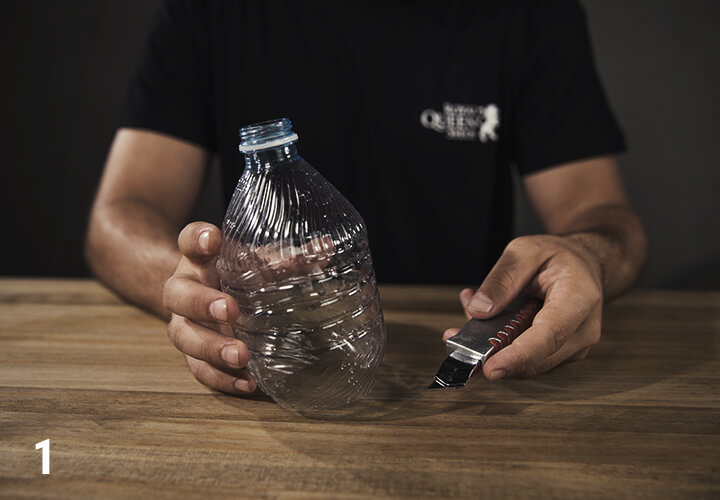 STEP 2
Cut the larger bottle in a way, so that all you're left with is a plastic "bucket". Now, fill this bucket with water so that the smaller bottle will be mostly submerged, but not to the point that the water level in the small bottle reaches over the last say 4cm.
STEP 3
Next, take some aluminium foil and form it to a small bowl. The problem here is, that the burning weed has to be ABOVE the plastic—serious, you don't want to enhale any degassings of it! You may have to try twice or thrice, but trust us, the effort is well invested. Poke around three or four small holes in the bottom of your foil bowl (without ripping it) to allow for sufficient airflow. Trim off any excess foil if necessary. Remember: In order to take that toke you will have to remove the bowl later on, so make it seal off as good as possible but also easy to remove.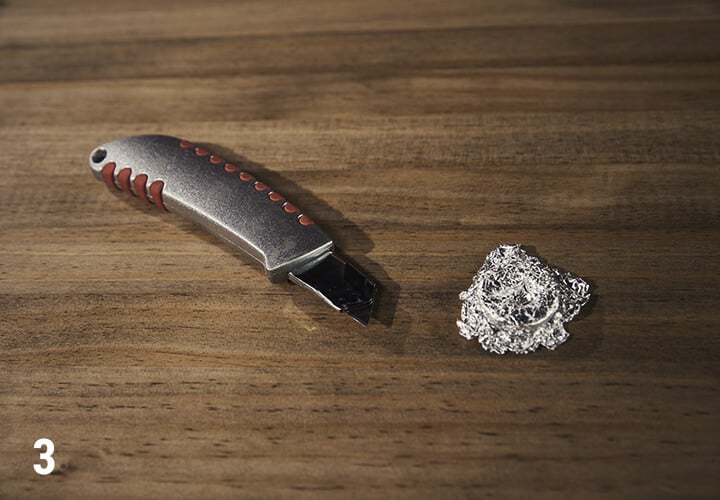 STEP 4
This step requires some care and caution. Submerge the smaller water bottle in the larger bucket bottle, leaving the topmost region of the smaller bottle safely above water.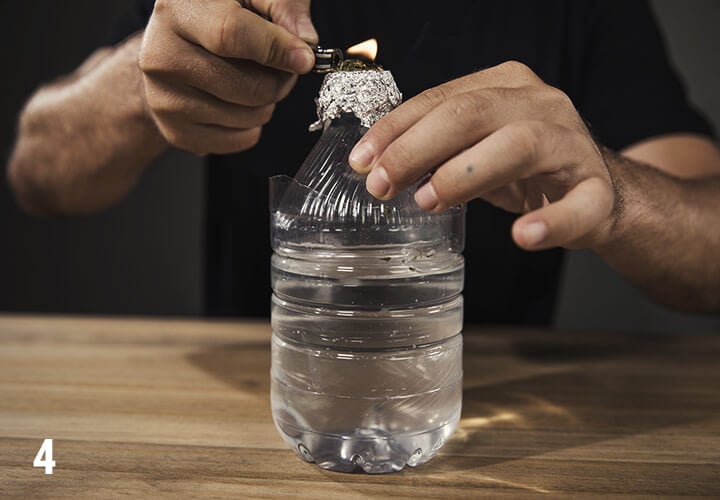 STEP 5
Load your bowl with your desired amount of cannabis and secure it on the upper orifice of the small bottle.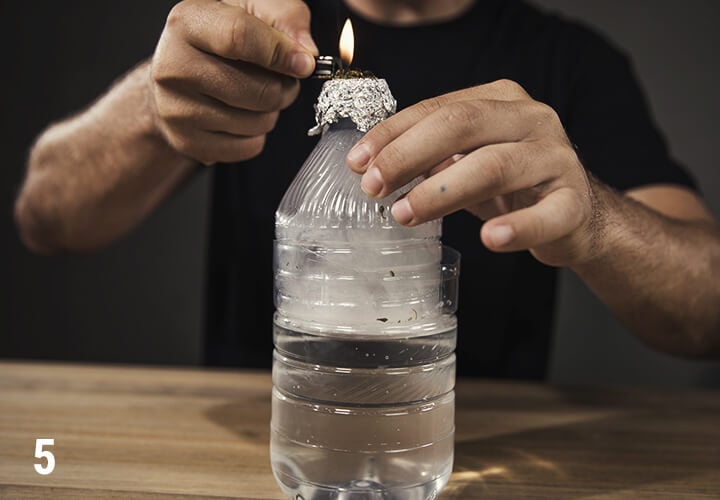 STEP 6
Now it's time to light the cannabis. While holding a flame to your cannabis, slowly pull the small bottle upwards and watch it fill with smoke. Once the bottle is filled to maximum capacity, very carefully remove your bowl, and put your mouth securely over the opening. Slowly push the smaller bottle back into the water. As the water floods back into the bottle, the smoke will be pushed deep into your lungs.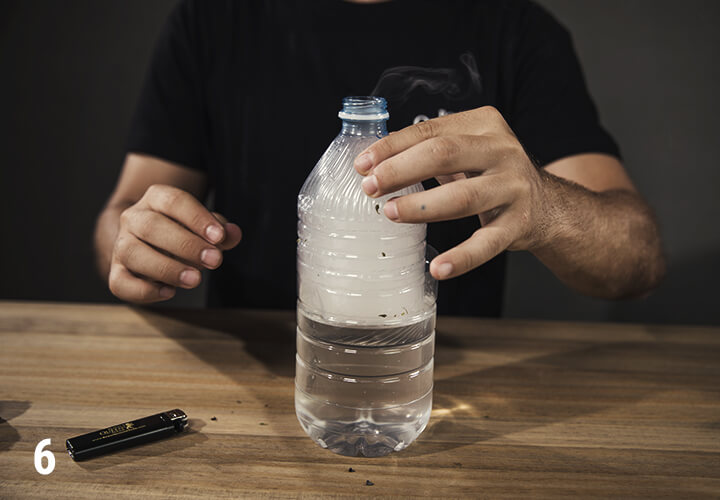 And there you have it!

HOW WATERFALL BONGS WORK
Waterfalls are the same concept, except they only require one large plastic bottle; and unlike the bucket bong, it actually uses gravity to produce the smoke. The waterfall experience saves your lungs the effort of getting your bong started up, but clearing it is on you my friend. Here's how to make one.
How to Make a Waterfall-Style Gravity Bong

WHAT YOU WILL NEED
Box cutter or scissors
One large plastic bottle
Aluminium foil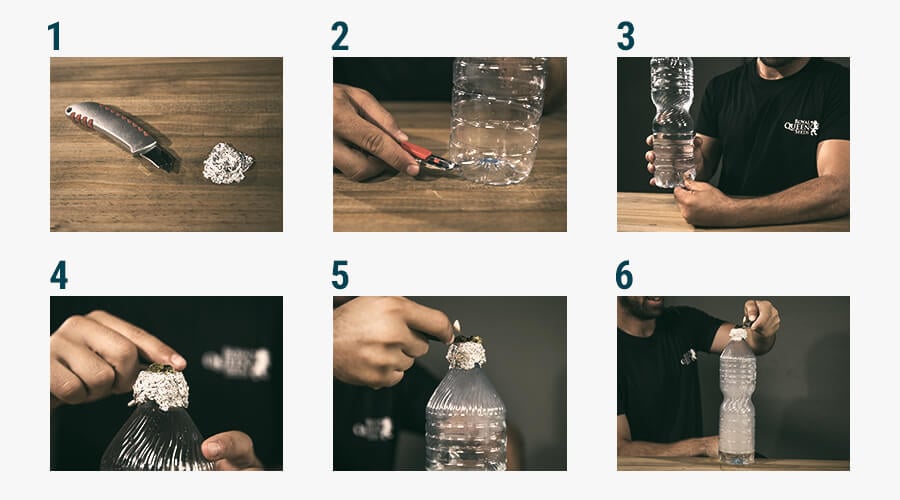 INSTRUCTIONS
STEP 1
Unlike the bucket gravity bong, the "waterfall" only requires one large 2-litre bottle. Same as before, make an aluminium foil bowl. Jab three holes in the bottom of the bowl to allow for airflow. Fill the bowl with weed and set aside.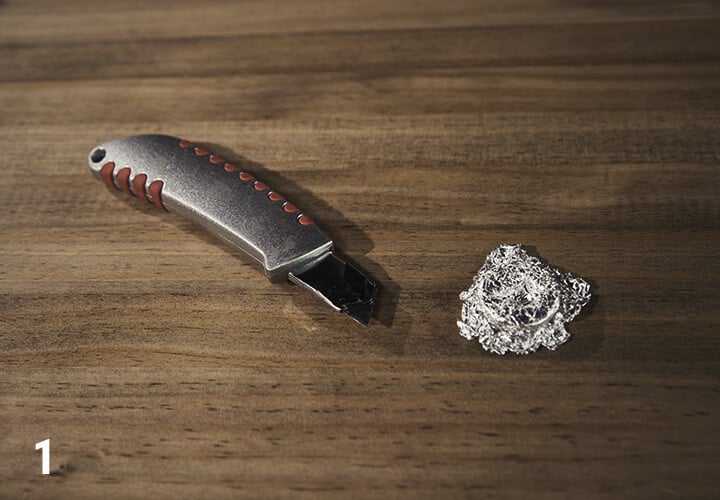 STEP 2
Now, take your sharp object and make a carb hole on the lower-half of your bottle, small enough to cover with one finger.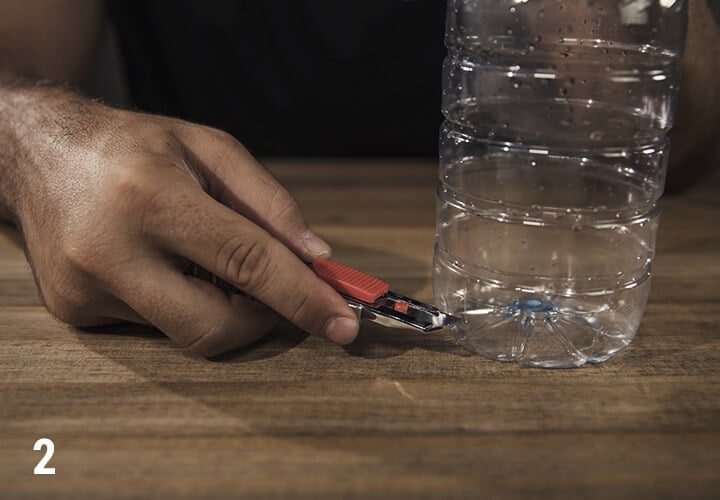 STEP 3
Holding the carb hole closed securely, fill your bottle with water, leaving a few centimetres at the top. The key here is that you must keep your finger on the carb hole until you are ready to smoke.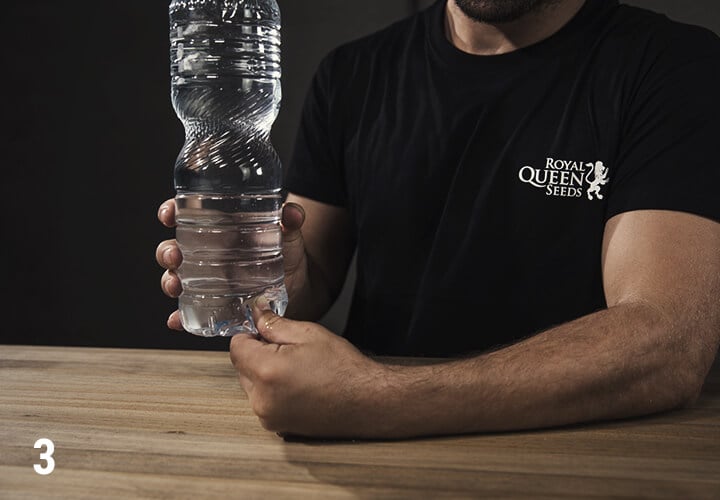 STEP 4
Make sure you're in an area that can get wet, because all the water is about to spill out of the bottle. Attach your bowl with the weed to the bottle neck opening. Now, let go of the carb hole; as water begins to rush out, light the bowl. As the water pours out, the smoke from your bowl will be drawn into the bottle, filling it up. When the water is completely gone, quickly put your finger back over the carb hole to keep the smoke from leaving.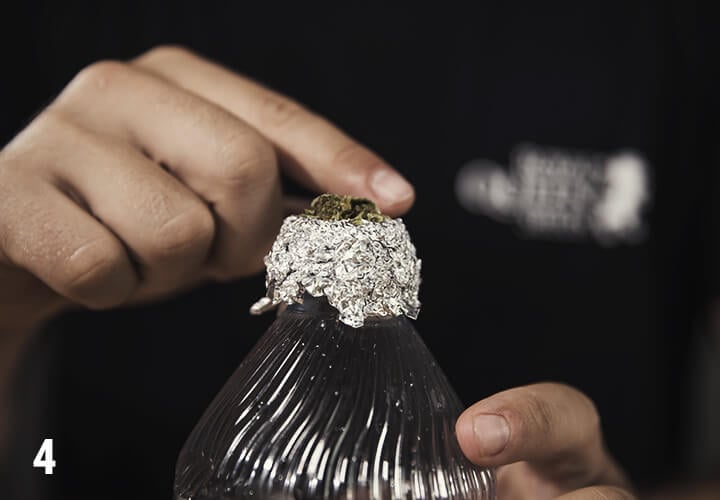 STEP 5
Now, the smoke is finally ready to be inhaled. Screw off the bowl top and start sucking in. As you let go of the carb hole, the suction will draw the smoke into your lungs. Get ready, because it's gonna be a huge hit!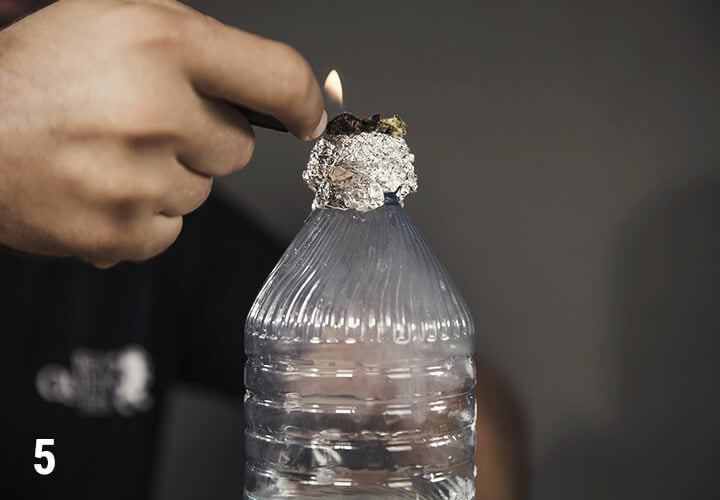 Not so difficult after all!

Gravity Bong: FAQ
Q: Do gravity bongs use less weed?

A: Yes! Through the use of gravity and air pressure, gravity bongs can pull extra-large amounts of air through a bowl in a really controlled manner, enabling you to create massive and potent hits even from small amounts of flower or concentrate.

Q: Do gravity bongs get you more high?

A: Yes! Gravity bongs force a lot of concentrated smoke into your lungs and fill them far beyond the hit of a normal joint, pipe, or bong. Hence, your lungs will receive a ton of cannabinoids and other active compounds from your weed, sending you sky-high in a matter of minutes. If you're new to cannabis or have a low tolerance for THC, keep this in mind if you're thinking of trying a gravity bong.

Q: What household items do you need to make a gravity bong?

A: To make a bucket bong, you'll need:
• 1 or 2 plastic bottles (depending on what type of bong you're making)
• Tin foil
• Bottle cap
• Scissors

Q: Why won't my gravity bong work?

A: If you're bucket bong isn't working, it may be due to:
• A leak in the bong: If air is able to escape through the bong, it won't create the vacuum needed to work properly.
• Pulling the bottle up too quickly: This may cause your bud to burn too fast and hot, not creating enough smoke to properly fill the bong's chamber.
• A poorly packed bowl: Tightly packed bowls won't burn and cherry properly, which is essential for a gravity bong.
• You're not using enough weed: Gravity bongs need a full bowl to work properly!
Are Gravity Bongs Safe?
Gravity bongs deliver extra-large and concentrated hits. While they ultimately aren't dangerous (weed isn't toxic, after all), we do recommend you proceed with caution when smoking one for the first time! This homemade smoking method has been specially designed by seasoned stoners to get super blazed almost immediately, so beware if you have a low tolerance or are new to/unfamiliar with weed.
DISCLAIMER
It could be hazardous to your health to inhale combustible materials from a plastic smoking device, so please proceed with caution. These bongs shouldn't be reused or relied upon as a regular method of cannabis consumption.